Langtang short trek but wondering where to begin, then don't worry we have come up with detailed information containing the Langtang valley 7 days trek, itinerary, cost, trekking route, difficulty, etc. in detail. So, keep on reading the Langtang valley trek blog, to get all your answers. 
Langtang Valley Trek
Between the Tamang Heritage Trek and the Gosaikunda Lake Trek, there is a delightful trek called the Langtang Valley Trek. The Langtang area is the Himalayan region nearest to Kathmandu. It is a renowned hiking location in Nepal, located in the northern section of Kathmandu. The Langtang region is iconic for the Tamang culture due to its Himalayan setting, breathtaking scenery, and welcoming locals who adhere to the Buddhist faith and practice traditional village life.
7 DaysLangtang ValleyTrek is a quick one among the several hiking alternatives in the Langtang area. To get to Langtang Village and Kyanjin Gompa, the furthest point of the 7 day-Langtang trek, you must go through Rhododendron, Pine, and Oak woods, towns, streams, and many other breathtaking locations.
The valley resembles the Tibetan highlands since Tibet borders the Langtang region to the north. The customs and culture of the people are closely tied to those of the Tibetans. At the foot of the snow-capped mountains, there are a variety of housing styles, yaks, and open pastures that may quickly revive any weary travelers.
7 Days Langtang Short Trek Highlight
Panoramas of Dorje lakpa, Langtang Lirung, and more
It has a wide variety of fauna, including the endangered red panda, as well as a variety of plant life.
Having traversed glaciers, an adventurous pass, and a forest is an experience of a lifetime.
Panoramic perspective of the Himalayas, including Langtang Lirung, Pemthang Ri, Langshisha Ri, Kangchenpo, and Dorje Lakpa.
When it comes to treks in Langtang Valley, this is one of the shortest options.
Outstanding Sunset and sunrise across the Himalayas from Khynjing Ri (4810m) and Tserko Ri (4998m).
The Best or Among the Best Experiment with the Tibetan way of life on this short yet rewarding hike.
Gorgeous walk in rhododendron woodland.
How do I get from Kathmandu to Langtang?
There are two possible beginning points for a trek to Langtang from Kathmandu. You may either go to Syabrubesi and start your hike there or you can go to Sundarijal and begin your adventure there.
Each hiking path leads you on a great adventure of its own. You may see stunning mountain peaks clad in the snow while taking these routes.
Along the walks, you may also witness a variety of wildlife and unusual plants and animals. You will be awed by the magnificence of the rhododendron-filled, colorful woodlands.
These hiking trails help you appreciate how wonderful nature is. Another intriguing aspect of this walk is seeing the culture and customs that have been inspired by Tibet. The Langtang trip will be tranquil since the paths are still less busy than other trekking locations.
Additionally, a jeep, a private car, local buses, express buses, and others may all be used to get to the beginning location of this walk. While private transportation is more luxurious, municipal buses are less expensive. Based on your preferences, needs, and spending capacity, you may choose the ideal mode of transportation.
Here in this article, we will only talk about the short Langtang trek 7 days that will begin from Syabrubesi.
7 Days Langtang Trek
The beautiful scenery and mountain streams of the Langtang valley, 61.8 kilometers from Kathmandu, astonish visitors. The rhododendron and pine woods that adorn the valley are surrounded by Mount Langtang Lirung (7246m). In the Langtang valley, you will feel at home thanks to the kind people and lively culture.
The highest elevation of the Langtang walk is Kang Jing Gompa, which is located at 3900 meters above sea level. The journey begins at Syabrubesi (1460 meters). A day from Kang Jing Gompa, you may choose to hike Kang Jing Ri to enjoy the breathtaking 360-degree vistas of the Himalayas.
The path of the journey provides several opportunities for ascents and descents, as well as breathtaking views of the surrounding countryside, painted chortens, Buddhist prayer flags, and much more.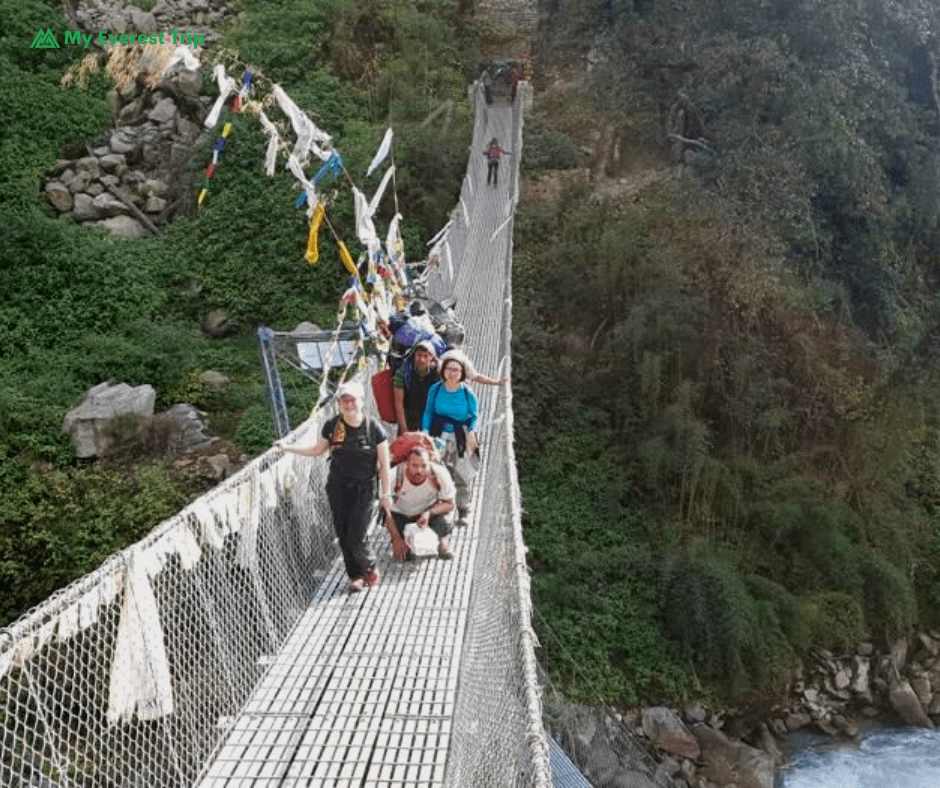 The shortest amount of time you may spend trekking in the Langtang valley is 7 days, which includes two days for travel to and from Kathmandu and five days of active hiking. To get to the starting point of the Langtang Short Trek from Kathmandu, you will take a picturesque bus ride for around 6 to 7 hours.
You will walk six hours a day on average. Your two-day journey to Kang Jin Gompa(3870 m), the highest point of your hike, begins when you set out on foot from Syabrubesi (2380m). Following that, you will travel back to Syabrubesi and descend there in two days before continuing over to Kathmandu.
The path starts off in a forest filled with rhododendron, pine, bamboo, juniper, and other uncommon plants before passing fast mountain streams, craggy rock, and snow-capped peaks. The valley widens at Ghoretabela as you continue the Langtang Short Trekking Trail, providing a magnificent vista of the Langtang Himal range as you make your way into the Langtang and Kyanging Gumba settlements.
The high mountains seem to be greeting you with a gorgeous white face if you visit Langtang Short Trek in the spring, and the blossoming rhododendrons, magnolias, and orchids, in the jungle make for a vivid sight.
The majority of your trek will take place inside Langtang National Park, where you may go on the lookout for endangered species including red pandas, Himalayan black bears, wild boar, and Langur monkeys.
The majority of the area's residents are of Tamang ethnicity, and they continue to practice the same cultural norms, agricultural practices, and customs as their ancestors did. If you've been to Tibet before, you'll recognize the Tibetan landscape in the Langtang Short trek. Culture, lifestyle, and religion are all quite similar to Tibetan ways of life.
Langtang Short Trek is highly recommended for visitors visiting Nepal on short vacations who still want to experience the country's distinctive culture and mountain landscape. This may be organized throughout the whole year.
One of the several treks offered in the Langtang National Park, the seven-day Langtang Short trip is renowned for being quick and simple and offering views of the high Himalayas. It would be our great pleasure to use our life experience as local guides and porters to make your vacations more pleasant and relaxing as you like.
In accordance with your vacation plans and areas of interest, we can organize a 7-day itinerary for the Langtang Trek. Even in the winter (December, January, and February), you may complete the Langtang Short Trek; all you need is warm clothing and appropriate trekking gear. We cordially invite you to join us on this adventure with us.
7 Days Langtang valley Trek Itinerary
Day 1: From Kathmandu to Syabrubesi (1460m)
Drive duration: 6-7 hours
Overnight at Syabrubesi
We'll take you to Syabrubesi on day 1. Syabrubesi is 6-7 hours distant by car from Kathmandu. Syabrubesi may be reached by bus or private jeep. Travel price or Langtang valley trek cost depends on how you get there. Local buses cost around $10 however it can cost up to $150 for a private jeep.
On the journey, you may see the Trishuli river, the countryside, towns, and hills. You'll check into a Syabrubesi lodge and have the day to explore.
Day 2: Trek to Lama Hotel (2560m )from Syabrubesi
Trek duration:6-7 hours
Overnight at Lama hotel
We are quite thrilled about our first day of hiking. The initial section of the path passes through Bhote Koshi, following the Langtang Khola, and gradually ascends to Bamboo (1960m). Enjoy the rhododendron and bamboo woods. This forest is home to a variety of animals, including yellow-throated martens, wild boars, langur monkeys, red pandas, and Himalayan black bears.
Following that, your trip ascends gradually to Rimche (2400m) through Bamboo, which is located on the bank of Langtang Khola and has just a few dwellings. If you like, we can eat lunch here. And at the conclusion of the path, we arrive at the Lama Hotel for an overnight stay.
Day 3: Trek from Lama Hotel to Langtang Village (3430m)
Trek duration: 6-7 hours
Overnight at Langtang village
The trek continues towards the Langtang valley after breakfast. Ghore Tabela is reached by dense woodlands and rugged routes. On the journey, you will enjoy a fantastic view of Langtang Lirung. As you gain altitude, the environment becomes cooler and the atmosphere becomes thinner.
Continue on your trek to an open meadow where Langtang village is located. Langtang is a Tibetan-influenced Tamang and Sherpa settlement. Houses are stone-walled and have flat roofs. The head office of Langtang National Park is also in the village.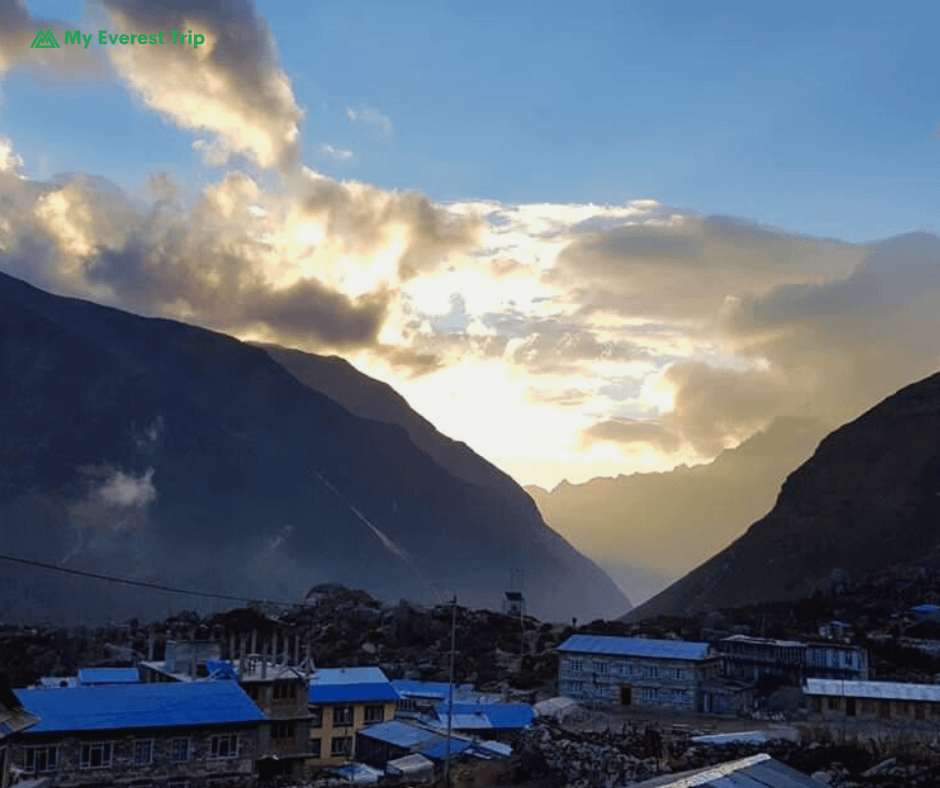 Day 4: Trek from Langtang village to Kang Jing Gompa (3870 m)
Trek duration: 3-4 hours
Overnight at Kang Jing Gompa
You will climb today to reach Kang Jing Gompa, the last stop on the hike, which is at 3870 meters. You will go off after breakfast and arrive at your destination after a three- to four-hour stroll. From here, you can see Mount Langtang Lirung and Mount Ganchempo, which both provide breathtaking vistas. Local towns, the Kang Jin Monastery, and the Yak Cheese Factory are all worth seeing.
Day 5: Trek from Kang Jing to Lama hotel
Trek duration: 6-7 hours
Overnight at Lama hotel
Your travel back to the Lama Hotel will begin on this day. You'll need around 6-7 hours to complete the hike. The scenery, trees, and animals you may see along the trip are all beautiful. Stay the night in a lodge.
Day 6: Trek from Lama Hotel to Syabrubesi
Trek duration: 5-6 hours
Overnight at Syabrubesi
You will go out on your walk at your own speed on the sixth day. The Lama Hotel is where you will leisurely make your way back to Syabrubesi while taking in the scenery. You'll need around 5 to 6 hours.
Stay the night in a lodge.
Day 7: Drive back to Kathmandu
Drive duration: 7-8 hours
Overnight at Kathmandu
This will be the last day of your Langtang village 7 days trek. From Syabrubesi you will return to Kathmandu.
Best Time For Langtang Valley Trek
Spring (March-May) and fall (September–November) are ideal for the Langtang Valley Trek. In the fall, you can see the mountains in all their glory against a backdrop of brilliant foliage, and in the spring, you may marvel at the rhododendron-filled woodlands.
During these times, the weather is mild and consistent, with temperatures ranging from 10 to 15 degrees Celsius. There's almost little risk of rain, so you may explore the area's hiking trails without worry.
Snow-capped mountains are a sight to see, and you can see them up and personal on a winter journey. The environment and weather, however, may make the journey more challenging than expected.
In the upper elevations, the temperature goes below zero. Extreme weather, including heavy snowfall, gusty gusts, and icy conditions, might make the journey more challenging than expected.
If you have 10–15 days to explore the Langtang area, you may combine the Langtang Valley Trek with the Langtang Gosaikunda Trek, the Helambu Trek, or the Tamang Heritage Trail for a fantastic vacation.
These trails are ideal for people who wish to get away from the crowds and explore a side of the nation that few tourists ever get to see.
Langtang Valley Trek Package
Accommodation during the Langtang Valley Trek
You'll be staying in a three-star hotel during your time in Kathmandu, but for the remainder of the Langtang Valley Trek, you'll be sleeping in tea houses. On your trip, you may choose from a variety of hotels offering anything from suites to ordinary accommodations.
As you gain elevation, the amenities you have access to will advance accordingly. As you go up the paths to more remote locations like Lama Hotel, Kyanjin Gompa, and others, you may expect more primitive accommodations.
Each room comes standard with amenities including electrical outlets, Wi-Fi, and steaming bathrooms. However, because of the location and lack of transportation, many services may only be available at greater heights.
Rooms on a single, double, or triple basis, with or without a private bathroom, may be found on lower floors. Each room has a bed outfitted with a foam mattress, a blanket, a pillow, and sheets.
You won't be able to afford the luxury of private accommodation in the mountains, so be prepared to bunk with other travelers. Two single beds, complete with pillows, foam mattresses, and blankets, are provided in each room. There are also no private restrooms, just community ones.
Meals on the Langtang Valley Trek
During your trek through the Langtang Valley, you will have the opportunity to sample a wide variety of delicious cuisines, from those of the West to those of Nepal. In Kathmandu, you will only be provided with breakfast, but while on the walk, you will be fed three times a day.
The tea establishments along this path provide a wide range of cuisines from which to choose. Breakfast, lunch, and supper are all provided, and they are all balanced and nutritious options for both vegetarians and non-vegetarians.
The breakfast selection of porridge rotates daily. Bread with jam, eggs, pancakes, soup, and potatoes are the major staples. Biscuits, parathas, pudding, and other sweets are also available.
Eat some carbohydrate-heavy items at lunch to keep your energy up throughout the afternoon. You may also choose from a variety of pasta, noodles, momo, and pizza.
You've probably been walking for hours now and after all that exertion you deserve a hearty Nepalese meal. Rice, lentils, meat (for non-veg), paneer (for veg), pickles, and many more accompaniments are available at the tea shops.
Bottled water, tea, coffee, honey, lemon, and alcohol are all available to help you quench your thirst. The food in teahouses is usually prepared with organic ingredients grown or raised in the area.
Langtang trekking route map
The trek often begins in Kathmandu, where you may see the Langtang Trekking Route map. Trekking Route that encompasses the whole valley. Langtang II and Langtang Lirung are seen from the highest point.
Langtang trek altitude
It is regarded as a moderate hike to reach Langtang. In particular, if you are wary of the more challenging high-altitude adventures, it's a fantastic start to hiking the Himalayas. At 3,870 meters, the trail's highest point.  However, if you want, you will have the choice to ascend higher. Anyone with a basic degree of fitness and some persistence may finish the Langtang trek.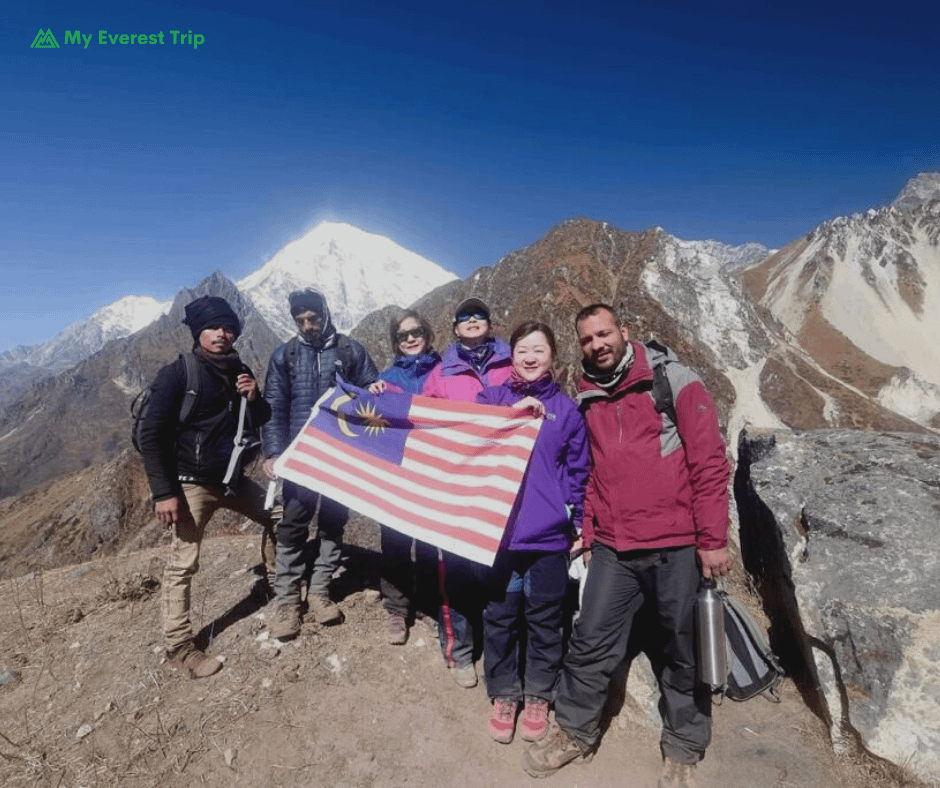 Langtang Valley Trek Map
You may easily obtain a hard copy hiking map of Langtang in Kathmandu if you're looking for one. MyEverestTrip will also provide you with a hard copy of the Langtang valley trek map.
 Langtang Valley Trek Climate
In terms of weather, the months of June, July, and August are the warmest possible times to do a Langtang trek throughout the summer.
Daytime highs in Langtang hover around 25 degrees Celsius. Temperatures peak in the summer months of June and July. Even at night, summertime temperatures in Langtang may reach dangerous levels. Nighttime lows average about -3 degrees Celsius, with daytime highs around 5 degrees. The weather in June and July is quite close to each other.
The months of September and November are when trekkers go to the Langtang region. At this time of year, the Langtang begins to feel the chill of winter. Starting in September, highs drop from a high of 20 degrees to a low of 12 degrees by November. It's to be anticipated that the sun won't feel as hot as it does in the summer. The average low in September is little about 3 degrees. Temperatures begin to drop in November, eventually reaching lows of -15 degrees.
Temperatures and precipitation for a Winter Langtang Trek in the months of December, January, and February.
Winter is the coldest time of year in Langtang, and it presents significant difficulties for visitors. During the winter in Langtang, the average daily temperature is a cool 8 degrees Celsius.
The months of December, January, and February are all quite similar in terms of temperature. There is no warmer month than the others. There is usually a significant drop in temperature after dark. At night, it drops to a minimum of -7 degrees and may go to -15 degrees.
If you want to experience Langtang at its finest, go in March, April, or May. The average high for March is 12 degrees. In April, the temperature rises to the high teens, and by May, it has reached about 20 degrees.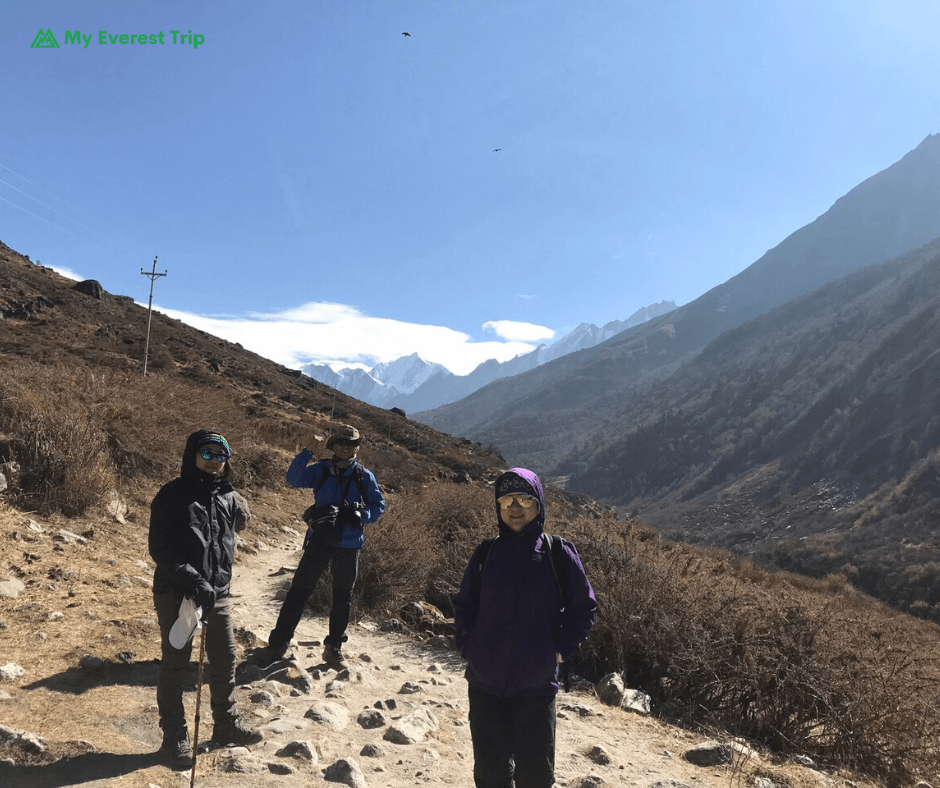 If you adore Langtang but hate the piercing cold and the steamy, rainy summers, now is your moment to shine. It may become rather cold at night, although it's usually not too dangerously cold. In March, overnight lows may dip below minus 8. In April it will be -5, and in May it will be -3.
Trkking Gear for the Langtang Trek
If you put in the time and effort to properly prepare and pack, you'll have a fantastic day trekking. Both Kathmandu and Pokhara, Nepal are excellent locations to either purchase or rent hiking equipment at reasonable prices. Following is the packing list for a hassle-free Langtang hike.
Suitcase for a day hike
Wearing a windbreaker, a poncho, gloves, and extra layers is a good idea.
Sunscreen
Lip balm
Bandana or a hat with a wide brim (for sun protection)
Iodine Tablets for Water (personal preference)
Items such as water bottles and aviator sunglasses
Carrying spare batteries for your headlamp
Bags that can withstand water, perfect for storing devices or documents
Additional batteries and memory cards for the camera
Whether you need protection from the sun or a little rain, an umbrella is a smart investment.
Applying adhesive tape or moleskin to a blister
Using Trekking Poles as Toilet Paper (optional)
Thermos (optional for hot beverages)
Head/Hands
Extensive brimmed hat
To keep your ears warm, use a wool hat or a balaclava.
Gloves that Don't Weigh You Down
Hand Warmers with Down and Wool Insulation
Gaiters (optional)
Body/Leg
Long-sleeved wicking T-shirts (2)
Long-underwear pants (2)
Underwear (5 to 7)
Insulated down or fleece coat
Tops with Long Sleeves (2)
Hoodie (optional)
trekking Pants
Shorts (two pairs) (optional)
Weatherproof Trousers
Ankle-supporting hiking footwear
Boots or sneakers for the outdoors
Carry-on plastic bag for an extra pair of shoes
Tent socks and sock liners (optional)
Bag for the Night
Low-temperature sleeping bag (down to -20 degrees Celsius)
The inner layer of a sleeping bag (optional)
Useful item for stuffing a sleeping bag
Backpacks/Duffle Bags
To Transport Your Equipment, a Duffel Bag (we provide this for the trek)
Hiker's Day Pack: Designed to Hold Essentials on the Trail
Compact Padlocks for Traveling Purses
Pack ponchos for rainy days
Numerous sizes of watertight containers
Garbage bags for used apparel and footwear.
Toiletries/First-Aid Kit
Over-the-counter pain relievers like Advil or Ibuprofen Diamox (for altitude sickness)
Drug Prescriptions
Indicated for use in healthcare settings, medical tape (for preventing treating blisters)
Treatment for traveler's diarrhea with antibiotics (often Cipro)
Treatment for Diaper Rash (Can treat rashes or chaffing)
Articles of personal hygiene 
soap and deodorant
Wet naps
Pads and tampons
Lotion
Comb
Clips for hair
Hot hand warmers
Hearing protection earplugs
A Passport, or Other Form of Identification and Payment, and Money (needed at the entry gate for registration)
 How difficult is Langtang Trek?
We classify the Langtang Valley as a "moderate" trekking destination. The walking distance and elevation gain for intermediate treks are both greater than those of simple hikes. There are several really steep ascents and descents along the way. To have a pleasant hiking experience, you need to be somewhat fit.
On the other hand, you won't need as much preparation, experience, or training for a moderate hike. Although more preparation, familiarity, and experience are helpful for tough hiking, they are not essential for moderate trekking. If this is your first time trekking, you could find it enjoyable to begin at Langtang. Stop often and take shorter strides if you're overweight or elderly.
How long is the Langtang trek?
The trek duration to Langtang varies based on the route taken, the budget, and the time we have.
In general, a 7-day trip is feasible for those with little time, while a 20-22 day trek is the norm for those looking for a more comprehensive experience.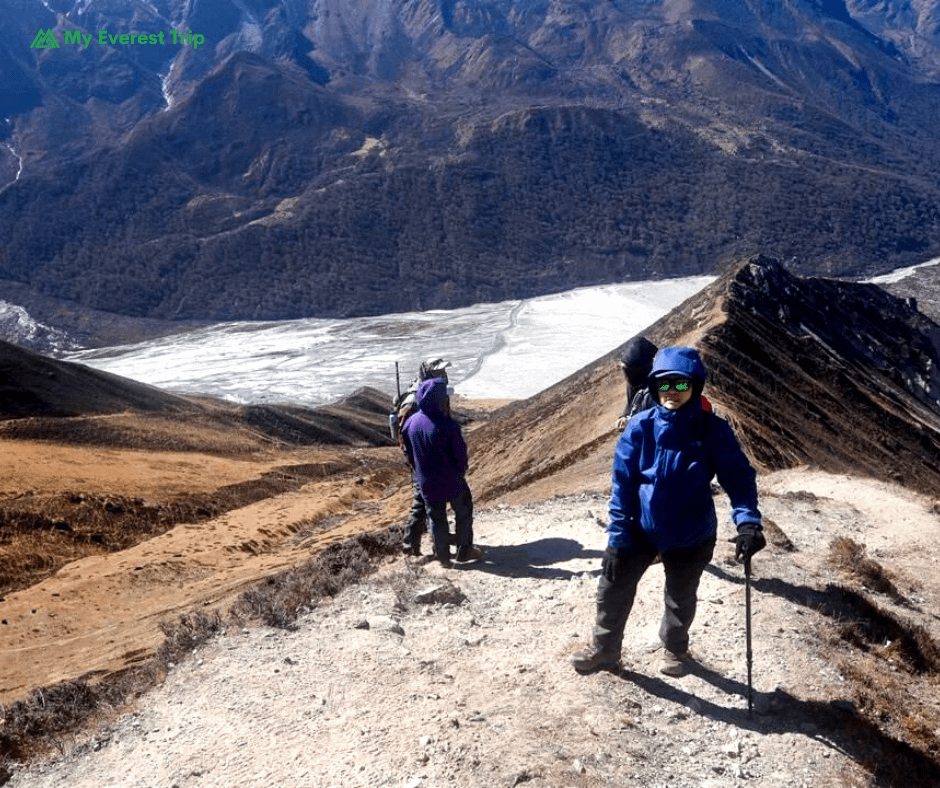 The hiking days and the travel agency itself are key factors. The cost is also influenced by several different things such as personal expense habits, choice of accommodation packages, etc. The Langtang Valley Trek is expected to cost between  $600-$900.
Trek permits
Permission to enter and depart a country, as well as to go on certain hiking trails, often requires a permit. The Nepal Tourism Board (NTB) in the capital city of Kathmandu is the place to acquire one. If you plan on traveling, remember to include your passport and identification photos.
TIMS card
A TIMS card is permission issued by the Trekker's Information Management System. At several checkpoints, these licenses will be requested. The TIMS Card for the Langtang Trek is a record that may be used to locate missing hikers and rescue them in the event of an earthquake or other natural disaster.
It cost around Rs. 2000 ($20) for solo hikers and approximately Rs. 1000 ($10) for guided groups. However, if you book your trip with us, we will handle your TIMS Card.
Langtang National Park Entry Fee
Your entry fee for Langtang National Park will be around Rs 3000 (about $30). You must request this license from the Dhunche or the Kathmandu Tourism Board
Langtang Gosaikunda Trek
The greatest option for tourists searching for trekking locations close to the Kathmandu Valley is the Langtang Gosaikunda Trek Itinerary. While discovering their culture and way of life, the paths lead you through the lively Tamang villages.
Gosaikunda Langtang 15 days In the Rasuwa district, Trek is located 52 kilometers north of Kathmandu. The trip will take you to Gosaikunda Lake and Kyanjin Gompa, two of Langtang's most well-known attractions.
The combination of easy terrain and picturesque scenery on this tour is fantastic. An ideal alternative for hikes to Annapurna and Everest Base Camp is the Langtang Gosaikunda route.
15 Days Langtang When visiting Langtang National Park, the Gosaikunda Trek is the pinnacle of priestliness. The park has a wide variety of fauna, vegetation, and human settlements.
The woodland paths are a great place to observe a variety of flora and fauna. The red panda, musk deer, Himalayan tahr, snow leopard, Ghoral, serow, Daphe, and many more all belong to this category.
You may see snow-capped peaks like Dorje Lakpa, Kanjin Ri, Langshisha Ri, Changbu, Langtang Lirung, Gangchenpo, Yansa Tsenji, and more from the routes.
The majority of Langtang's residents are of Tamang descent, so you'll have the chance to immerse yourself in their way of life. Because of the profound impact, Tibetan culture has had on their way of life, the inhabitants of this region are kind and generous.
The inhabitants of the Himalayas are kind and welcoming, doing their utmost to accommodate visitors. The wants and comforts of the guests come first.