My Everest Trip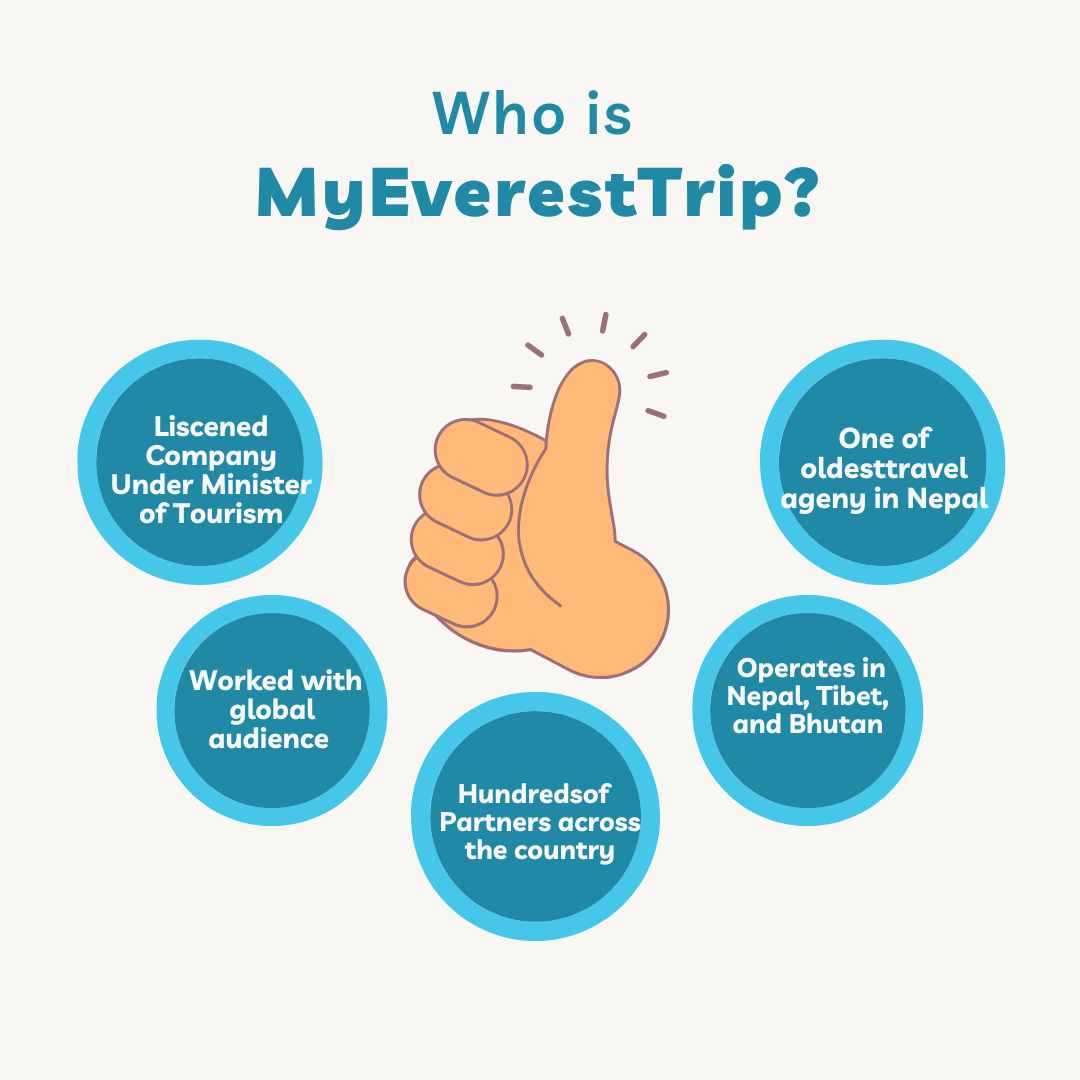 MyEverestTrip is a team of passionate people who have fallen in love with the absolute beauty of South Asia. Travelling in the awe-inspiring parts of Asia, we have been known to all the terrain, challenges, attractions, and hidden mysteries of Nepal, Tibet, and Bhutan. Based in Kathmandu, Thamel, the core of Nepal's tourism activity, MyEverestTrip is among Nepal's oldest and most reliable travel agencies. And our founder Puru Thapaliya is a highly experienced trek guide in Nepal. The exploration of mind-blowing geography while travelling to Nepal needs to be guided by a trusted travel agency in Nepal. And we are here to guide you with the best.  
Whether you plan to visit Tibet and don't know where to start OR want to explore the best of Bhutan and Kathmandu, Everest Trip is here for you. Making paper works such as visa processing and international transactions easy, our holidays in Tibet and Bhutan are popular. However, MyEverestTrip is specialized in conducting different treks in Nepal. We regularly travel to Everest, Annapurna, Langtang, Mustang, Dolpo, and Manaslu regions. Along with organizing different treks in Nepal, we are also engaged in adventure sports in Nepal, flight ticket booking in Nepal, city tours, peak climbing, and several other activities. 
MyEverestTrip's mission is to make your vacation in Nepal a life-changing journey. Winning your hearts with our hospitality, we want all trekkers to Nepal to be a part of our family forever. Unlike other travel agencies in Nepal, we have built partnerships with various companies to accommodate you at the best available facility. Furthermore, our team monitors each trip 24/7, so you can enjoy your adventure worry-free.  
Raising our standard from a private company solely working for monetary benefit, our team is committed to promoting reliable and eco-friendly tourism in Nepal. And we are sure that all our actions are guided towards our motives. In short, we are committed to ensuring you have the best travel experience possible and giving back to the communities that make our treks memorable. 
Licensed Services
My Everest Trip is a Licensed and certified tour operator with the Nepal Ministry of Tourism, Civil, and Culture. In addition to our adventure services, we firmly commit to local development and the conservation of local cultures and the environment. As such, we are a member of the Nepal Mountaineering Association and the Trekking Agencies Association. We are also a Kathmandu Environmental Education Project member and actively promote rural children's education. Since 2006, we've operated a charity program delivering reading and school supplies to children near our trekking locations. When you travel with us, you can be assured that you give back to the communities you are journeying through.