My Everest Trip is first and foremost a team. The company founder, Puru Thapaliya grew up in the mountains and has been trekking since he was a child. With the mountains in his blood, he has made it his mission to share the magical effect the Himalayas has over him, with adventurers coming to Nepal, and has crafted the perfect team to make this possible.
My Everest Trip comprises some of the best peak climbing, biking, rafting, and trekking guides in the industry, who provide exemplary professional services to trekkers, ensuring their trips are both fun and safe. So you can be sure that whoever is leading your adventure will have a good attitude, sound knowledge of the respective area, and vast experience in adventure-based travel. However, it is not just our tour guides who make sure your trip is unforgettable. We also have a great team working to take care of you from the moment you arrive, providing you with any necessary help – from miss-placed luggage to finding the best nightspots – they've got it covered.
With this wonderful team, MyEverestTrip has developed some of the most unique tours and experiences in the region, ensuring that whoever joins us will have a truly memorable experience. With access to sacred temples, mystical lakes, century-old traditions, the world's highest peaks, and all the countries that they bless – each trip is undeniably special. And with a variety of lengths, prices, difficulty levels, and itineraries, we are confident that we have the right trip for you. So please browse our website, read our past traveler's experiences, and see what we have on offer.
If our range of affordable treks has interested you but isn't quite what you had in mind, then don't worry – here at My Everest Trip, you have the option to personalize your journey! Just let us know the personal twist we need to add, and together let's make your dream trip a reality.
Puru Thapaliya (MD/ Founder)
My name is Puru (Purushottam Thapaliya). Since completing the Government Guide Training from Nepal's Ministry of Tourism and Civil Aviation (KEEP and HRA), I have been a specialist in mountain trekking and peak climbing. With specific expertise in the Nepal, Tibet, and Bhutan regions, I have now been a trekking guide and tour operator in Nepal, and across the Himalayas, since 2006.
I have been working as a trekking guide for 13 years but my passion dates right back to my childhood. Born and raised in the Langtang region, the mountainous area of Nuwakot, from when I was a young boy I would run up and down the mountains. Whether it was to get to school, to help with farming, or to play with my friends, I don't remember a time when the mountains weren't my home.
I began my work in Nepal's tourism industry as a porter – learning my talent and passion for working with visitors to our country. Then a few years later I completed my guide training and I started doing what I love best – I returned to the mountains. Still fueling my passion for working with travelers, I worked on a variety of trekking routes and tours across Nepal and other Trans-Himalayan destinations, such as Tibet, Bhutan, and India.
Then in 2006, I founded my own company, MyEverestTrip. Using my skills with travelers and the mountains alike, I have created unique and eco-friendly trips, to give others the opportunity to experience the magical powers that Everest and the Himalayas have always had over me. I am proud of the team I have crafted and the excellent reputation that we have built together here in Kathmandu, and can't wait to meet the next adventurers who choose to join us!
Marketing Manager ( Germany and Italy)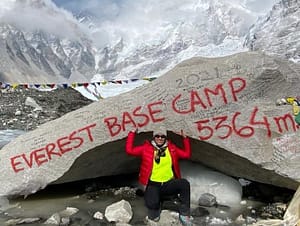 My name is Isabel Wald, born in Germany near the Alps and actually living in Italy since I was a little child I loved to trek in Nature and mountains. My big dream was to trek in Nepal and to Everest Base Camp with many other Nepal Himalayas. Finally, I get the opportunity to trek in Nepal. I trek with this company after my trip is finished I really love to travel and work in the Nepal tourism industry. Then I started to talk with Puru and we made a good decision, so now my part is handling the European trekking Market (Germany, Italy, Austria, and Switzerland) so if you have any inquiries about traveling in Nepal, or Tibet, and Bhutan, please let me know. I can give you all the information you need about this beautiful experience. It's worth it. 
Marketing Manager in Taiwan
Mr. Salik KC, Marketing Manager, who is currently living in and taking care of Taiwan Market was born in Nepal. He spent his earlier childhood in the valley of mountains and later grew up in the North-East regions of India studying in Army Public School.  He made a long career (2000-2018) in Cruise Ships allowing him to acquire wide exposure gaining in-depth knowledge of traveling and Tours from Asia to the Europe Market. His keen interest and beliefs in tourism as one of the very important sectors to create adventures and entertainment for the people of the world brings us together. And, having him on the team we believe to set new boundaries in Nepal Tourism!
Ratna Lama: Trekking Guide
Hello and Namaste. My name is Ratna Kumar Lama And I can't wait to welcome you to Nepal. Working for My Everest Trip, showing our guests my beautiful country gives me the highest pleasure and I believe working with a great team is essential to give our guests a memorable trek. I am a certified guide and have been working with MyEverestTrip since 2015.  I have been guiding treks in all parts of Nepal. I was born in Kavre and the Himalayan blood runs in my veins. Every individual guest is something special and I will always make an extra effort to give our guests the best experience feeling safe and comfortable. 
Ratna Tamang : Trekking Guide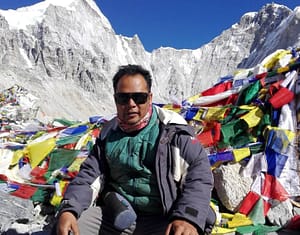 Hi, I'm Ratna. I was born in the Langtang region which is north of Kathmandu, Nepal. Basically, I am a calm person. I'm passionate about trekking and hiking. I am a professional trekking guide. I have been working as a trekking guide since 1998. Working as a trekking guide for more or less over 20 years, this period I got lots of knowledge about the topography and flora and fauna, and different cultures of Nepal.
I have traveled extensively throughout Nepal and Tibet. I try to always make my clients comfortable and happy, that's my motto too. So if you would like to know more about me, please read our website and look for more reviews from my previous clients.
Ishower : Trekking Guide
Hi, I am ishower. I am from the Dhading region and have been working here since 2015. I am pro on Manaslu, Langtang, and Annapurna region. I love those territories since I know everybody and everything. There resemble home regions for me.
I am experienced, persevering, and idealistic. I love my work since it is my obsession. I appreciate each second while on the trek and help others to appreciate it. My greatest quality is my inspirational disposition and neighborly nature.
My office isn't just doing the expert business yet in addition to being your agreeable and reliable visit administrator in Nepal. On the off chance that you offer an opportunity to manage us then you will feel come as a visitor and go as a companion, I attempt consistently to make my customers increasingly cheerful and need to give the best assistance that is our objective Come with us and see genuine Nepal.