When it comes to extreme activities, peak climbing in Nepal is right up there. There are several reasons why people climb mountains. Thrill-seekers looking for an adventure want to push themselves, and although some climbers are motivated only by a need for adrenaline, for others, the urge to scale Nepal's highest peaks has been building for years.
Traveling across mountain ranges and highlands is a sight to see, and it's easy to see why some individuals devote many hours of their lives to the pursuit of reaching the peak of a mountain. Climbing mountains is inspiring for more than just the sights you'll see at the top.
Peak climbing in Nepal is a great way to meet new people and learn about their cultures, as well as experience life in more remote locations. Climbing a mountain is a rewarding activity since it provides opportunities to learn and grow personally and professionally and to broaden one's horizons.
Are you dreaming to be on the top of the mountains of Nepal? But, wondering what to do? Don't worry MyEverestTrip has come up with detailed information regarding peak climbing in Nepal. So, keep on reading the article.
Why Nepal for peak climbing?
In the field of mountaineering, Nepal has seen some incredible successes. Nepal, known as the "Land of the Himalayas," is home to eight of the world's ten tallest mountains, including the highest peak in the world, Mt. Everest (8,848.86m), and more than 1300 peaks higher than 5500 meters. Because of this, mountaineering and peak climbing are Nepal's primary tourist attractions.
There are now more than 326 peaks in Nepal that may be climbed on expeditions and another 33 summits that are considered minor peaks have been certified as "Trekking Peaks in Nepal."
Most likely, Nepal is the only country where you may climb the most incredible mountains on earth. In contrast to challenging hiking, peak climbing is the most exciting and daring activity in Nepal. To experience unparalleled fulfillment at the summit is both a vocation and a leisure activity.
In Nepal, a beautiful Himalayan country, you may begin your exploration of the Himalayas and its wild, fascinating culture. Anybody who wants to climb mountains on foot will find a warm welcome in the Himalayas. The adrenaline rush you get from summiting one of these Himalayan peaks in Nepal cannot be matched by anything on this planet.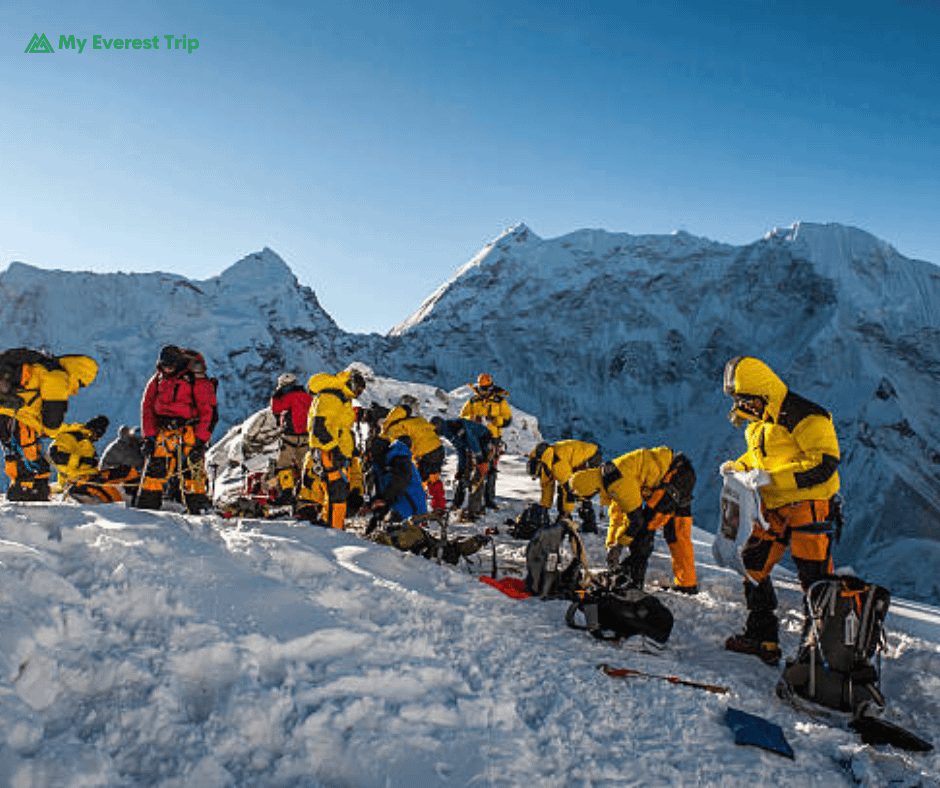 How one can do peak climbing in Nepal?
If you are planning for peak climbing, first you must be in good physical and mental health. Climbing mountain peaks necessitates the services of a certified climbing guide.
Get all the gear and supplies you'll need for peak climbing ready to go. You may buy or rent climbing equipment in Kathmandu, Pokhara, or anywhere close to your trek's starting point.
If you plan on climbing a mountain higher than 6,000 meters, or any other technically challenging peak, you will need to apply for and get a trekking permit via a trekking company registered under the Nepal Mountaineering Society (NMS).
Best season for peak climbing in Nepal
All peaks, from the easiest to the most difficult, require favorable conditions and weather for climbing. Weather extremes, whether hot or wet or cold, make the mountains hazardous to climb. During the winter, the snowfall might spell the end of all life.
Spring and fall are the optimum times to attempt mountain climbing in the Himalayas of Nepal. High summit success rates have historically been recorded in the spring and autumn seasons.
Peak climbing in the spring season
Peak climbing and hiking in Nepal are most popular in the spring. At this time of year, temperatures are just right, and the air is clean enough to see well. There is less of a probability of precipitation now than there would be at other times. Spring is the peak climbing season for several mountains, including Everest, Lhotse, Makalu, Manaslu, Mera, Island, Kanchenjunga, and many more.
There is less snow and warmer temperatures in the spring, making it the ideal time to climb the mountain's peaks. Taking into account all circumstances, spring is the greatest time to climb in the Himalayas of Nepal, despite the fact that high winds might be a concern.
Peak climbing in the autumn season
In Nepal, autumn is the second-best time of year for peak climbing expeditions. If you want to successfully summit the Himalayas, fall is your best bet, since the weather is ideal, the routes are well-worn, and the risk of snow slides is low.
Major attractions at this time of year include the snow-capped peaks of the Himalayas and the gorgeous, lush green hills of the lower half of the mountains.
As the dry season follows the wet one, the temperature is ideal for mountaineering. With temperatures that are neither too low nor too high, autumn is the ideal season for exploring the great outdoors and climbing the lofty peaks of Nepal.
The winter and rainy seasons are not ideal for peak climbing in Nepal, yet there are documented ascents of peaks between 6000 and 7000 meters in altitude at these times.
Peak climbing difficulty
An ideal way to get your feet wet in the sport of mountaineering is with a peak climbing expedition in Nepal. It will need proper planning and a certain level of fitness. In Nepal, there exists a mountain that can be climbed by everyone from complete novices to seasoned mountaineers.
If you are an experienced climber, you can scale 8,000m peaks, and if you want to plunge into the world of mountaineering, you can choose peaks above 6,000m. Peaks above 6,000 meters in elevation are accessible to both experienced climbers and those new to climbing. Trekkers and amateur mountaineers both go to Nepal's two most renowned peaks, Mera and Island. . If you are expert mountaineers, you may choose peaks rated as tough or very difficult. Climbers with a lot of experience tend to focus on the tallest mountains, including Everest, Lhotse, Dhaulagiri, and Manaslu.
Peaks for mountaineering have been officially divided into two categories—Trekking Peaks and Expedition Peaks—by the Nepal Mountaineering Association (NMA). Trekking peaks are those that are just somewhat more difficult than an easy climb, but yet do not demand a high level of technical climbing expertise. When compared to easier summits, however, climbing an expedition mountain requires technical climbing expertise and is a significant challenge.
Accommodation during peak climbing
Before setting off on a trip, it's a good idea to learn about the lodging options that will be accessible to you. The hiking trail has a number of tea shops and lodges along the way. They have rooms available and serve regional cuisine.
Even if you stay at a hotel or guesthouse in the highlands or hills, you should carry a sleeping bag since evenings may become chilly. Your trekking and climbing agency can also set you up with chefs and porters, allowing you to relax and enjoy the outdoors without worrying about the logistics of setting up camp.
Homestay in rural areas are also an option. Tented camping at the mountain's foot is likely to be a part of your peak climbing itinerary, either for a single night or for many nights.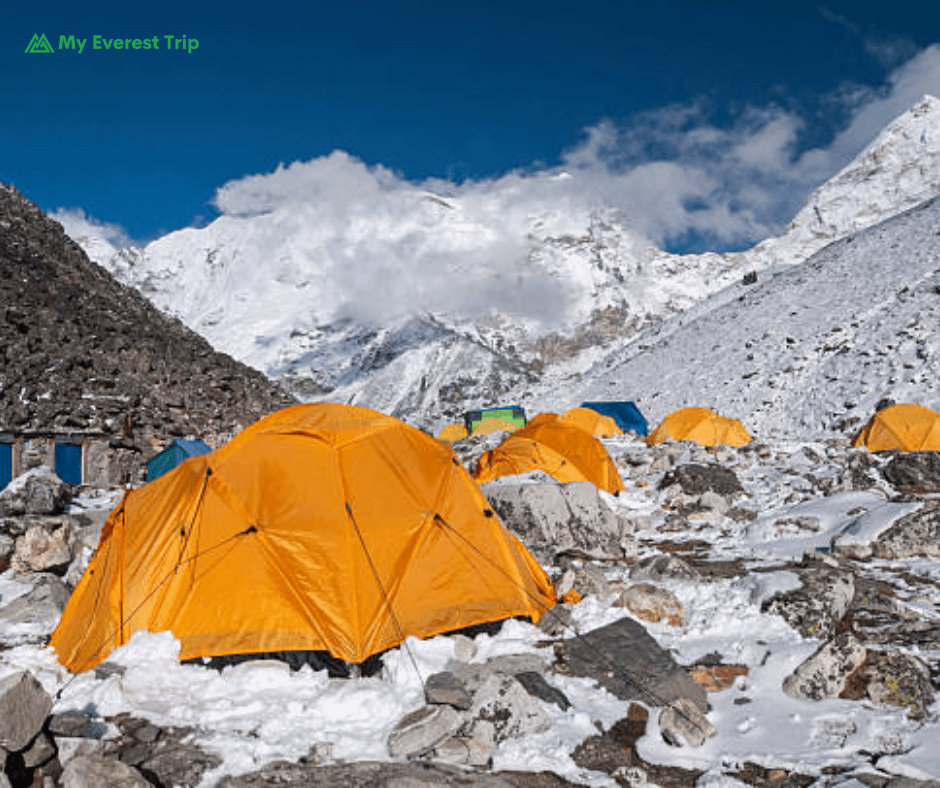 Food during peak climbing in Nepal
Generally speaking, it is not necessary to stress excessively about eating a highly balanced meal when climbing particularly if it lasts for less than two to three weeks.
However, up to half of your meal should include carbohydrates such as rice, noodles, chapatis, bread, etc. Because it provides a lot of useful energy and is simple to break down. To the same extent, the rest of your meal should consist of protein and fat such as meat, beans, tofu, unsaturated fats, butter, etc.
Ready-to-eat meals may be a lifesaver for climbers, so don't forget to pack some. They have a long shelf life, so you may store them without worrying about them spoiling.
Getting adequate calories is especially crucial for climbers. If you want regular bowel movements to stay regular, you need to consume enough water.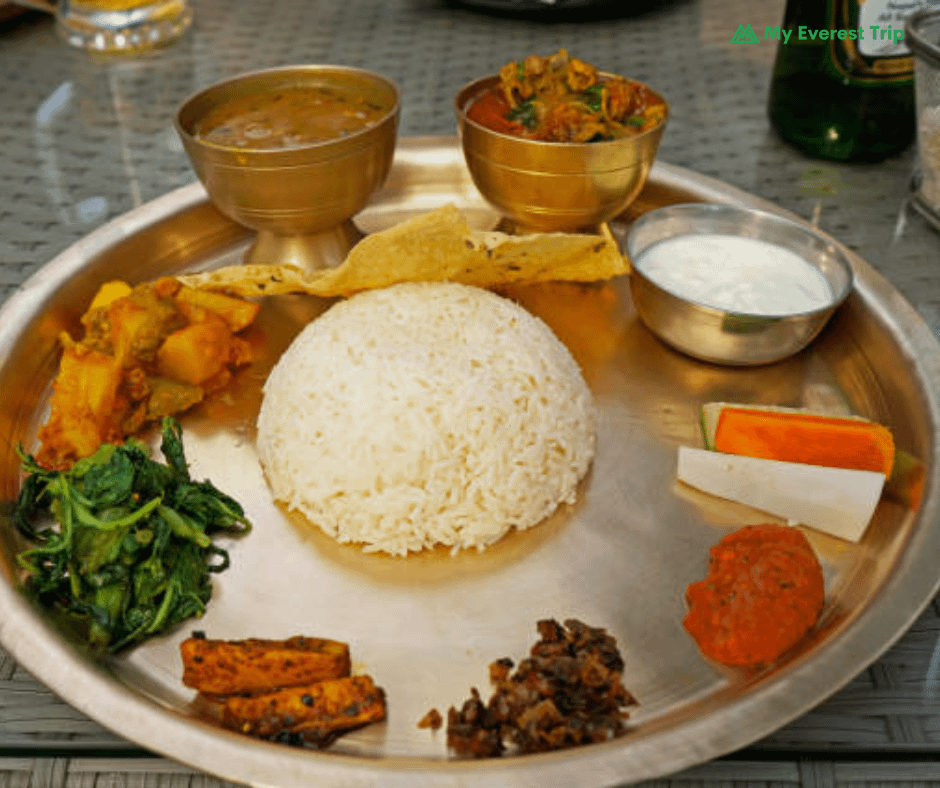 Permit required for peak climbing
Climbing a peak is a difficult technical and physical endeavor. Before beginning an actual climbing activity, there are a number of things to think about. If you want to climb a Nepalese mountain, you'll need a peak climbing permit, for which you'll have to pay a little charge. Peaks within the NMA have varying permit costs based on the time of year and the number of climbers on the team.
Special permission is required to climb any mountain greater than 5,000 meters. Climbing a mountain without the proper authorization is a crime. There are checkpoints where police officers and park rangers will verify permits. If you're found without the proper documentation, the fee will double.
Permits, which your trekking agency must get on your behalf, are required for this trip, although there is always the option of returning back. You'll need a few different licenses in order to climb a mountain, including a conservation area or national parks permit, a Trekkers Information Management System (TIMS) card or permit from the local government, and a peak climbing permit. A limited area permit is required in addition to the climbing permit if you want to climb within the restricted area. Permit card prices vary by region, elevation range, and whether or not you go in a guided group.
Safety guidelines and tips for Peak climbing in Nepal
Going directly to a high elevation for the first time might be a bit of a shock to the system, even if you follow all the rules. When you're at an altitude of 5,000 meters, even the act of walking uphill is a huge effort. To prevent becoming ill from the altitude and to allow your body time to acclimate, it's important to follow the "300-meter-a-day guideline" in your acclimatization plan. Add in some buffer time in case the weather is less than ideal; these are two things that most trekking firms overlook but that end up being the main reasons their trips don't go off without a hitch. Not all climbs that are planned into a trek's schedule yet only take a few days to completely fail. Create a peak expedition out of the journey, using the ascent and descent as training and acclimatization.
Here are some of the safety factors, you need to consider before planning for peak climbing in Nepal.
Dangers of High Altitude:
It's possible that you'll become ill from the altitude when you climb a mountain. While hiking, you should always be aware of the warning signs and never disregard them. Keep yourself hydrated, and return if anybody in your group starts feeling sick.
Descend to a lower elevation if the symptoms don't go away. Take the appropriate altitude-related medicines.
Contamination of both food and water
Antibiotics are a must-have for bacterial and parasitic illnesses. Avoid purchasing bottled water on the hike if at all possible since there are no facilities for disposing of plastic there. Use the inexpensive local water fountains. Alternatively, you may purchase filtered and boiling water from any resort. Some visitors feel comfortable using a purification pill or another method they bring with them to cleanse the local tap water.
Insurance coverage
Check that your travel insurance includes coverage for all of the situations and activities that may arise during your mountaineering expedition before you go out. Many reputable trekking companies may require evidence of insurance before booking your trip. Both the ascent itself and its elevation should be covered by your insurance.
Likewise, the cost of chartered medical evacuation and treatment in an emergency must be covered by insurance. You should get insurance from your home country, or at the least, cover it through an insurance agency in Nepal.
Hiring an expert guide and porter
Do not attempt peak climbing in Nepal without a seasoned guide's assistance. If you're planning on hiring a guide, check if he/she has NMA advanced course completion or not. This is the very minimum need; ideally, you'd choose a guide who is also certified by the UIAGM (Union Internationale des Associations de Guides de Montagnes) or the IFMGA (International Federation of Mountain Guides Associations). 
A good guide will always have ropes in case you run into any crevasses or very steep slopes, no matter whatever peak you climb. All across the mountains of Nepal, Sherpa people /Guides have years of climbing expertise. Most of them have spent years conquering the peak around the nation and internationally.
 With MyEverestTrip you will get an expert guide. All of our guides are fluent in English and eager to share their extensive peak and mountain climbing skills with you. They have undergone basic and advanced climbing training, first aid instruction, and crisis management training. 
Similarly, our guides are quite skilled at facilitating climbing that is secure, easy, and allows visitors to enjoy the splendor of the Himalayas. Every member of our highland crew is equipped with well-trained machinery and insurance. They are a great asset on climbs because of their first-hand knowledge, local skills, and sense of humor.
The trekking industry depends heavily on porters, who are paid to carry goods along the trail. A wonderful method to boost the tourism industry and add a new stream of revenue is by hiring a porter. Between trailheads, a porter is capable of carrying up to 30-40 kg of your luggage so that you can climb without the burden.
Tipping cost for guide and porter
The price charged while hiring porters and guides varies depending on the trekking periods and the activity type. The porters handle your bulky bags and priceless items throughout the whole day without complaining. Many tour guides have made it their life's work to lead tourists and other visitors both within and outside the nation.
The porters carry your bulky bags and priceless items throughout the day without complaining about being worn out. As opposed to the mentioned guides, who are all certified and experienced from their many trekking expeditions throughout the course of their lives.
Well, the tips are not set; they vary depending on your pleasure, the region of the hike, and the time of year. You may contribute as much as you are pleased with Guide and Porter's services. Usually, is suggested to split them equally by 10% of the total payments.
Can I perform solo peak climbing in Nepal?
Many climbers are eager to try peak climbing in Nepal on their own, preferring to carry their own equipment up the mountain. Most of the time, this isn't feasible. It is advised that you use at least two porters via the company issuing your permit in order to make the most of your time on the path and lessen some of the hassles of hauling luggage.
The most crucial reason to have an expert mountain climber as a Guide or at the very least an English-speaking porter-guide is they assist in finding the route after leaving the main trekking trail.
The location of your base camp and even navigating the Nepali highlands may be. The second, more terrible reason for hiring a guide is that they will assist you in any medical emergencies.
We suggest if you are planning your solo peak climbing at least hire a guide or porter. Also, be in contact with the group on the trekking route.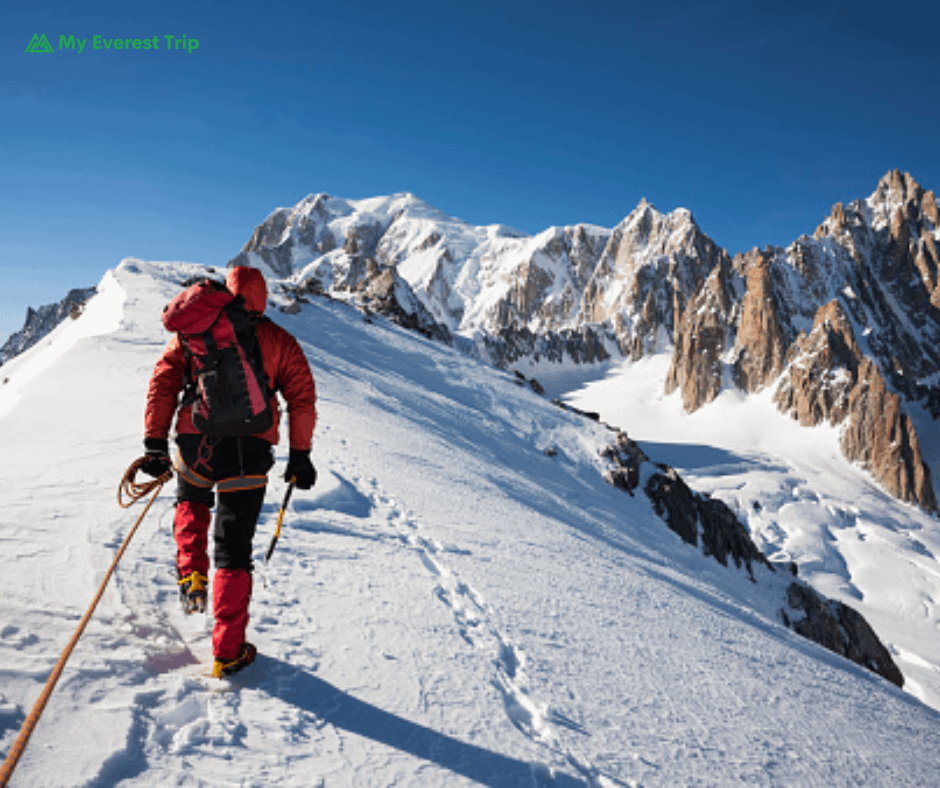 Types of peak climbing
Nepal is home to eight of the world's ten tallest peaks, including Everest, Lhotse, Kanchenjunga, Annapurna, and Dhaulagiri, and every year, hundreds of climbers attempt to summit Everest.
Not everyone is successful in reaching the summit of Mount Everest, despite all efforts. As a result, Nepal offers some of the best lower peaks to meet the demands of adventure seekers in a comparable amount of time and money.
So, MyEverestTrip has come up with different packages for peak climbing in Nepal for novice to experienced climbers too.
Duration: 23 days 
Altitude: 6,189m/20,305ft
Island peak climbing is one of the most popular excursions for all climbers around the world. Get ready to dive deep into the Sherpa way of life in the Khumbu area of the Himalayas. Mt. Everest, along with the surrounding 8000-meter peaks of Lhotse, Cho-Oyu, and Makalu, will be among the first sights you see.
It is possible to combine a climb of Island Peak with Everest Base Camp and the Kala Patthar trek. It's not technically difficult and getting to the top isn't all that challenging until you get stuck on the steep -100-meter-high ascent just before the peak.
Although the climb to the top of Island Peak, with its majestic, high glacier facing west and rising from the Lhotse glacier is challenging, the breathtaking views from the peak are more than worth the trouble.
The 23-day hike to the top of an island peak is a once-in-a-lifetime opportunity to soak up the rays, explore new things, and refresh the spirit in the midst of nature.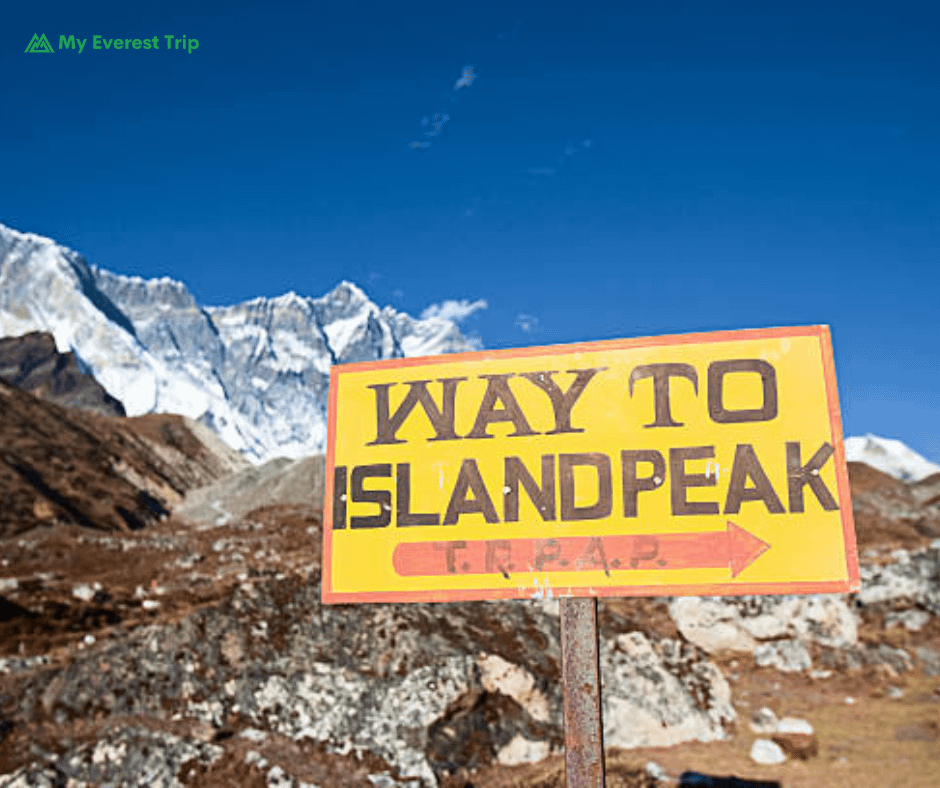 Major highlights:
Reach the top of a mountain in the Everest area that is 6,189 meters high.
Gorgeous vista of Island Peak, or Imja Tse, from Dingboche.
The Everest Region is home to some of the world's most impressive peaks, including the namesake
Sagarmatha National Park is home to a wide variety of flora and animals, all of which are worth exploring.
Learn about the Sherpa people and their unique culture.
Great for those seeking an exciting challenge at a difficulty level that is manageable for novice climbers.
Duration: 19 days
Altitude: 6,119 m
Extreme adventure seekers and those interested in seeing stunning views of the Khumbu glacier and the Everest range can consider making the ascent to Lobuche peak.
In Nepal's Khumbu Region, you may go on a once-in-a-lifetime experience by climbing Lobuche Peak. The elevations of the East and West Lobuche Peaks are 6,119 and 6,145 meters, respectively.
One of the most difficult Everest-area peaks to climb, especially in comparison to the nearby Mera and Island Peaks. Lobuche East has a more technical feel than Island Peak.
A climb of Lobuche East and Island peak can be accomplished in the same trip. After a strenuous climb to the peak, you may take in the breathtaking panorama of the Himalayas, including Everest.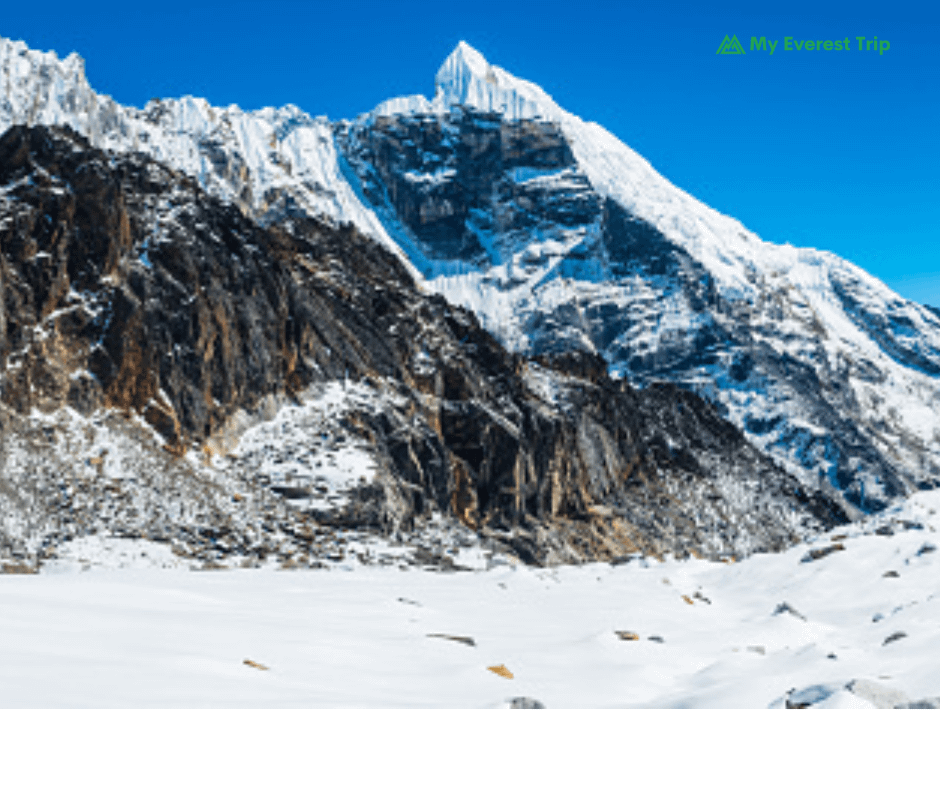 Major highlights
Lobuche Peak Climb (6,119 m)
Immersed in genuine Sherpa culture in one of the world's highest cities
Crossing the dangerous Kongma La Pass (5535m)
Rural life in the Sherpa region, including its history, customs, and modern practices
From the top of Lobuche Peak, you can see Everest, Amadablam, Nuptse, Lhotse, and many more peaks covered in snow.
The locals' kind hospitality at the teahouses
Duration: 16 days
Altitude:5520m
The Yala Peak is a popular mountain in the Langtang area, which lies around 30 kilometers (19 miles) north of Kathmandu. The Yala Peak climb connects with the more well-known Langtang trek, and the combined experience is culturally enriching and fascinating.
The Langtang region is an excellent option for any hiker looking for a peaceful and beautiful setting. Both the hike and the peak provide stunning natural beauty and a culturally rich Himalayan landscape.
Beautiful views of the Himalayas, including Langtang Lirung, the Manaslu range, Dorje Lakpa, the Ganesh Himal and Naya Kang range, and many more may be seen from the peak (6388m).
The route used by mountaineers on their way to the summit of Yala Peak passes through Langtang National Park. There are many beautiful vistas, rhododendrons in full bloom, and even the rare Snow Leopard and Red Panda.
Major highlights
A safe climb for beginning climbers.
Take a trip through the beautiful Langtang Valley.
Tune in to listen to the roar of the rivers and the songs of the birds.
Walk and experience the rich nature of Langtang National Park.
Get familiar with the Tamang people and their culture, as well as their experiences
Go by a lot of Buddhist mani walls, prayer flags, gompas, and monasteries.
Get your hands on Yala Peak and take in the sights of Langtang Lirung, Dorje Lakpa, Shishpangma, Yansa Tsenji, and more.
Get familiar with the Tamang people and their culture, as well as their experiences
Duration: 21 days
Altitude: 6,091m / 19,978ft
This peak is located on the eastern side of the Annapurna range, above the little town of Pisang, in the Manang valley's northern reaches. The hike to the peak may be combined with the well-known Annapurna Circuit Trek. The Thorong La Pass, at 5416 m, is one of the highest passes on the route. The hike gradually ascends along a ridge that is easy to follow until you reach the pyramid at the peak.
Some climbing expertise is helpful since the ascent is quite challenging. The summit provides a breathtaking vista over the whole Annapurna range.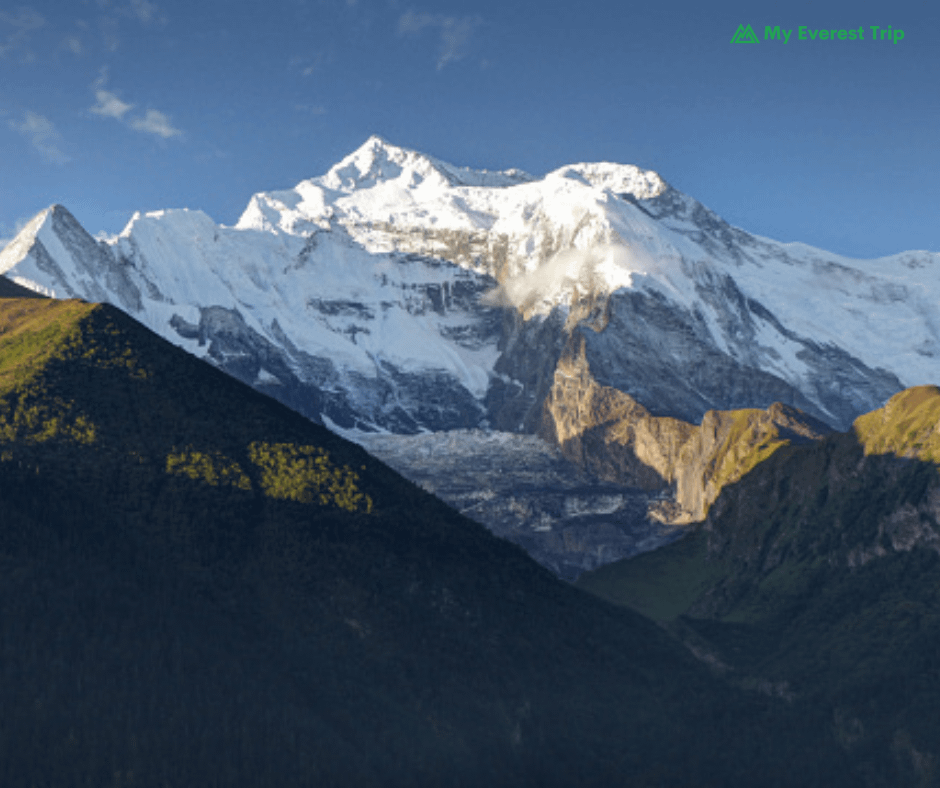 Highlights
Challenge yourself with a 6,000-meter ascent.
Annapurna Circuit Route Walking
Magnificent panorama of snow-capped mountains, including Annapurna, Manaslu, and more.
Visit the incredible Annapurna area.
See the sacred Muktinath Temple.
Travel across Thorong La, one of the world's highest mountain passes.
Duration: 18 days
Altitude: 6,476m/21,247ft
Mera Peak, located in the legendary Everest region, has been a climbing destination ever since it was opened. Located in the northernmost Solukhumbu area of Nepal, the Mahalangur region of the Himalayas is home to the world's tallest mountain, Mera Peak.
Mera Peak is a great place for inexperienced climbers because of the low technical difficulty of the peak. Because of this, it's generally agreed that it's the ideal peak from which to start an ascent.
The route to the summit of Mera Peak passes via the world-famous Khumbu area. This area is filled with amazing sights, such as indigenous Sherpa villages, verdant woods, swaying suspension bridges, ancient monasteries (known as gompas), prayer flags, and more. Too many words would be needed to describe the benefits of this Mera peak climbing adventure.
Major highlights
When it comes to peak climbing in Nepal, the Mera Peak (at 6,654 meters) is the highest peak in Nepal.
Incredible panoramas of Mts. Everest, Kangchenjunga, Makalu, Cho Oyu, and Lhotse (over 8000m)
Adventuresome and stimulating ascent
Treat yourself to a stroll across the most breathtaking scenery
The top selection for those just starting out in climbing
The lakes and brooks in Sagarmatha National Park are stunning
Duration: 23 days
Altitude: 6584m
The ascent of Chulu East Peak is one of the most exciting excursions a person can do. The summit, at an altitude of 6,584 meters, provides breathtaking panoramas of the surrounding mountains, including the Annapurna range, Dhaulagiri (8,167 m), Manaslu (at 8,163 m), Tilicho (7,134 m), and many more.
The ascent is combined with the standard Annapurna trip, which involves ascending the Marshyangdi valley and passing the Thorong La before descending via the Kali Gandaki River to Pokhara. Since the ascent is fairly difficult, only hikers with relevant expertise should attempt it. The sheer variety of things to see and do in this area makes traveling here an unforgettable adventure.
Major highlights
Tilicho Peak and Gangapurna are seen in the shimmering snow peak vista of the Annapurna Circuit. Exploring ancient monasteries and distant communities for cultural interaction
Passing while spinning wheels and seeing mani walls
Savoring Tilicho Lake's serene blue water
While moving through the woodland, coming across several wild creatures
Duration: 30 days
Altitude:  6812 m 
With a height of 6856 meters, the trip to Mt. Amadablam is one of the most attractive in the Himalayas. Many climbers from all over the globe consider it to be one of their favorite spots to scale. The peak is directly above the greatest monastery in the Everest area, Tengboche, which is located in the center of the Khumbu region.
Expeditions to Mt. Amadablam provide a challenging climbing experience in a stunning location that also has a wide variety of cultural, local, and aesthetic attractions. Ama Dablam stands at a modest 6812 meters, yet the route to the summit is fraught with peril due to the steep ice, rock, and snow.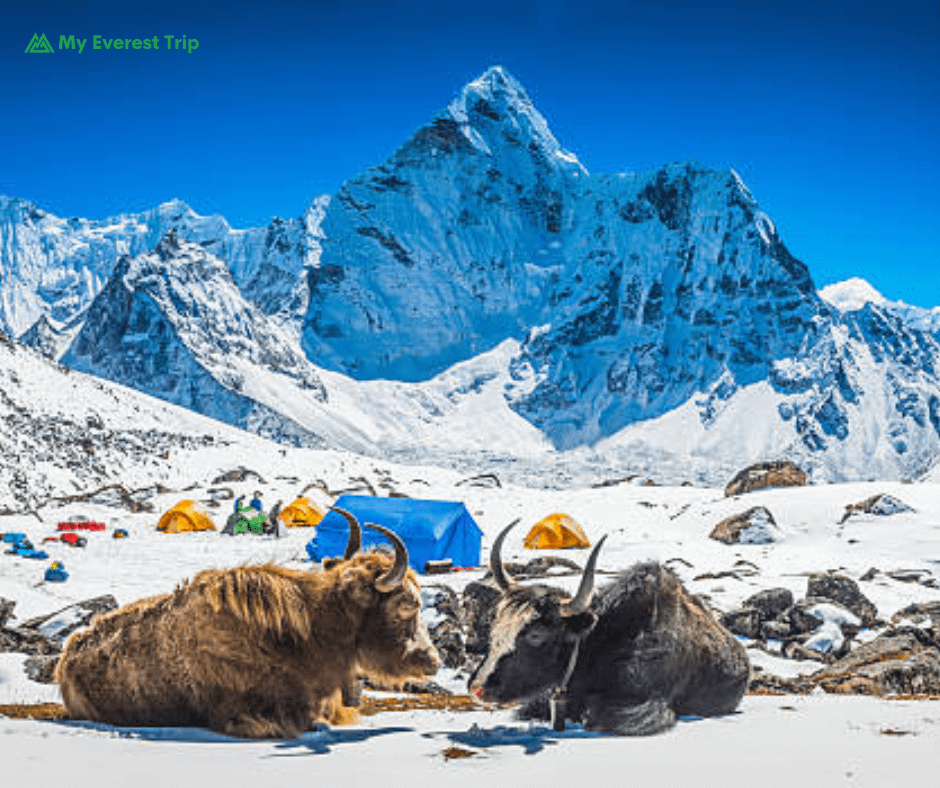 Major highlights
Flight from Kathmandu to Lukla, which is surrounded by beautiful scenery
Explore Tengboche Monastery, the biggest in the Khumbu area.
Discussion on Sherpa customs and practices with locals
Mount Ama Dablam may be reached by a series of steep ascents and descents as well as a southerly ridge.
Exciting, yet demanding, rock and ice climbing adventures
The Holy Grail for Mountaineers
Reach the peak via the southwest ridge.
Summing all up,
Amazing experiences await you in Nepal, the country of the Himalayas, with its stunning landscapes, gushing waterfalls, picture-perfect towns, and towering peaks. The ascent of a mountain peak is one of the most thrilling experiences a person can have. Discover new cultures, take in a breathtaking sunrise, float down a rushing river, and wander through a mystical forest. Get the most out of your travels by arranging them with us.