Short Helambu Trek  Highlight
Helambu region is a popular trekking region in Nepal, famous for its rich Tamang heritage and exclusive homestay experience. For a wholesome experience, trekkers often prefer an entire Langtang Helambu Gosaikunda trek which is about 18 days of Journey. However, if you want to indulge in the rich Buddhist culture and witness the beauty of Nepal in a Short time, this Short Helambu Trek is the best choice for you. However, the Helambu trek in 3 days is not possible from Sundarijal. The tip to the core of this Tibetain Buddhism village is at least 5 days long.
Day 1: Drive to Sundarijal and trek to Chisapani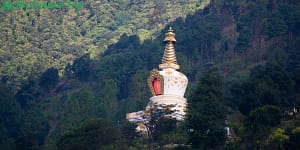 Crossing the 15 km road from Kathmandu takes you to the Sunderijal Shivapuri Nagarjun National Park is the main attraction of the Sundarijal. Now our trail begins to reach Chisapani. After hiking a certain distance on concrete step takes us to a Mulkharka where the indigenous Tamang community lives. There you can take some time to fresh yourself and drink tea at tea houses. Again your journey continues to Chisa Pani by crossing dense rhododendron forest.
Driving time: 1 hour
Maximum altitude 2300m
Trekking distance 4-5 hrs.
Day 2: Chisapani to kutumsang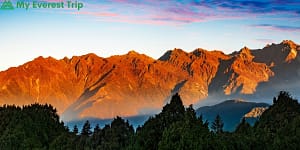 We will wake up early in the morning to see the sunrise from the Chisapani viewpoint. We travel to Kutumsang after breakfast, which takes around five to six hours. While admiring the breathtaking scenery of the Langtang mountains, the trek goes past various grasslands and farmland. The trail goes frequently uphill and downhill. The further trek takes us to Pathi Zhanjiang and Gul bhanjyang. As you go downhill from there route takes you to kutumsang. 
Maximum altitude: 2470 m
Trekking distance: 17 km
Trek time: 5-6 hours
Day 3 : Kutumsang to Threpati
After having breakfast, trekking begins with a climb in the woods area and the blooming of rhododendron. Today's section of hiking offers some spectacular views. From Yurindanda, you can enjoy spectacular views of the Himalayas, which are part of the Langtang Mountains, and enjoy the wonders of beautiful nature. After trekking for 6 hours we reach Threpati Which is a small place with few tourist facilities. the local lodge offers you to stay overnight. 
Maximum altitude:3690m
Taking time:6-7 hours
Day 4: Trek from Threpati to Tarke Ghyang
Today's trek from Threpati offers a majestic view of the Himalayas with Sherpas culture. We first plunge into a river in the woods, cross a stream, and uphill to Melamchi Gaun and then Tarke ghyang. About 6 hours of the trek takes us to Tarke Ghyang Where you can explore the fusion of Sherpa culture and spirituality. In the evening you can take a short walk village monastery and its surroundings. 
Maximum altitude: 3690 m
Trekking time:6hrs
Day 5: Trek from Tarki Ghyang to Sarmanthang
The Tarke Ghyang trail takes you through deep forests, streams, and waterfalls, providing amazing scenery. Between Parain and the Sherpa village Gangul, you will pass through a number of small villages. From Gangyul, continue walking to Sermanthang. It's a lovely town with a number of Buddhist priests. 
Take a bus to Kathmandu from Sarmanthang, passing through Melamchi Bazaar. For a short distance, the scenic road follows the Melamchi River, providing stunning views of the natural countryside and farming.
How do I get from Kathmandu to Helambu?
From Kathmandu, you can take a bus or Jeep to Sundarijal which is the starting point of your trek. From there trekking trail passes through Chisopani, Gulbhanjyang, Kutumsang, Thadepati, and Sermathang. At Sermathang our short Helambu Trek 3 days comes to the End.