If you are planning to trek in Nepal soon and want know about the top Nepal trekking packages for 2023; this post is for your comfort. We have short list the top trekking packages in Nepal for private and group joining hiking adventure.
Nepalese tourism market is gradually increasing after the COVID-19 pandemic. Nepal is fully ready to celebrate the year 2023 with various travel and tourism opportunities for a wide variety of travelers.
To promote tourism in Nepal and present the world with its immense beauty, Nepal warmly welcomes travelers to visit Nepal and enjoy a unique travel experience. Come join us at My Everest Trip where we make traveling worth your time and resources!
We have worked on creating various travel programs for our clients as part of promoting the year 2023. Everest region is the darling destination for travelers and houses various natural and cultural wonders.
With the glorious specialties of the Everest Region, we have crafted wonderful trekking packages for our clients. Below are some of our special packages.

One of Nepal's most prized natural wonders, Mt. Everest (8848m) is the tallest mountain in the world. As such, a bundle of adventurous treks has been constructed along the trails of this mountain. Everest Base Camp Trek is one such journey that is full of Himalayan panorama and cultural marvels.
A journey to the foot of the world's tallest mountain is a one-of-a-kind adventure. Experience the surreal beauty of the Khumbu; a region sheltered by gigantic massifs such as Everest, Lhotse, Nuptse, Cho Oyu, and Ama Dablam on the Everest Base Camp Trek.
The beauty of this trek starts from the thick forests of Lukla to the melting glaciers and the snow-clad peaks at the Everest Base Camp.
Everest Base Camp is the main highlight of the trek and, at an altitude of 5,364 meters, you just might even feel like you are at the top of the world!
Furthermore, as you stand atop Kala Patthar, parallel to you will be arguably the best possible view of Mt. Everest (8848m).
The Everest Base Camp trek route covers a major portion of the Khumbu region which allows you to get a full insight into the region and its composition.
Due to the challenging accessibility of the region, reaching there by flight is the easiest option. Your flight takes you to Lukla, where you commence the trek following the route; Lukla, Phakding, Namche Bazaar, Tengboche, Dingboche, Lobuche, Gorakshep, and the Everest Base Camp.
The Everest Base Camp trek has a 14-day itinerary including acclimatization stops and touring breaks. For those who wish to go a step further in their adventure, we make available various options to extend or shorten the trip to our client's wishes.
The Everest Base Camp trek isn't very strenuous, but it sure does require you to be physically fit to walk through the long hours. The trails are well-built and traveling along these trails can be fairly easy. Anybody with adequate physical fitness can complete this trek with ease.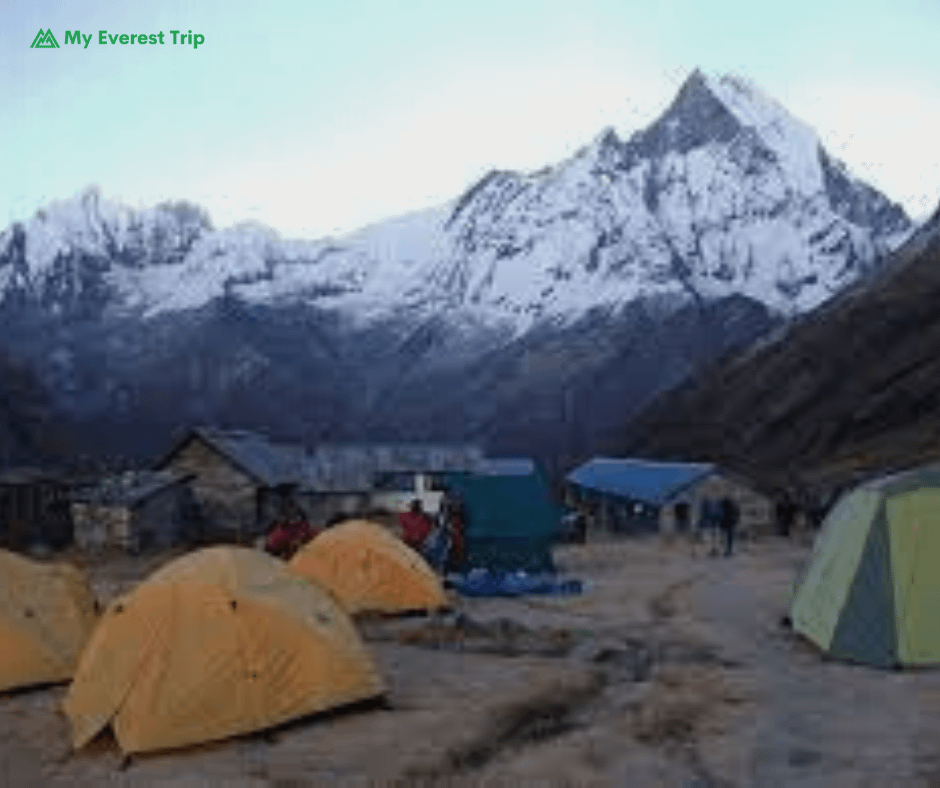 Closely next to Everest Base Camp Trek, the Annapurna Base Camp trek is yet another sought option for trekkers coming to Nepal. Nestled on the laps of the Annapurna, the Annapurna Base Camp trek traverses across the incredibly beautiful region of Annapurna.
The Annapurna (8,091m) is the tenth tallest mountain in the world. Residing in the serene region of Annapurna, the mountain is surrounded by a group of great peaks such as Machhapuchhre, Dhaulagiri, Lamjung Himal, etc.
The trek starts from the lowlands of Pokhara and gradually ascends towards the greater heights of the Annapurna Base Camp. The foothills are covered with colorful forests of Rhododendrons, pines, bamboo, and several more lush green trees.
The rich biodiversity of the Annapurna Sanctuary is also a major highlight of this trek.
You come across several villages of local settlements mostly of Gurung and Magar communities. Whilst exploring the richness of nature, you also get to learn about the unique culture of these tribes and their everyday lives.
The mountains on the horizon accompany you all while you explore this beautiful region. As you get closer to the mountains, the excitement within starts increasing with each step.
The Annapurna Base Camp trek gives you a good view of the Annapurna region and its beauty in abundance. Like the Everest Base Camp trek, you can explore various elements of this region through this trek.
The trek begins from the lively city of Pokhara; which itself is a wonderful place to relax and ease the mind. From here, you follow the route: Pokhara, Nayapul, Birethanti, Ulleri, Ghorepani, Poonhill, Chile, Sinuwa, Deurali, and finally Annapurna Base Camp. You can also wish to add some more destinations to this itinerary at your will. But doing so can cause the total time to extend and the price to go up.
This itinerary runs for a total of 14 days and includes rest days en route. As the Annapurna Base Camp trek altitude does not go to great heights in comparison to other major treks, this trek is fairly moderate and is recommended to almost all types of trekkers.
If you are seeking to complete this trek earlier, you have various other options such as the Short Annapurna Base Camp trek, Annapurna Base Camp Heli Trek, and similar options that take a shorter time to complete.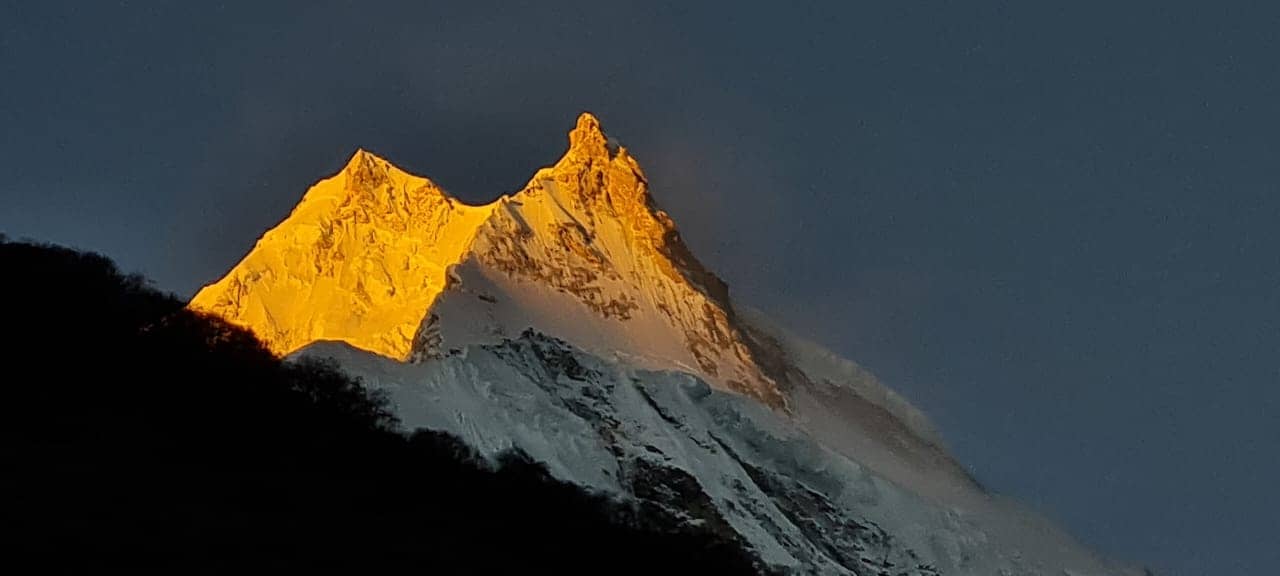 Manaslu Trek which just recently opened has now become increasingly popular amongst trekkers. This beautiful Manaslu region lies in Gorkha, Shadowed by the great Manaslu (8,163m), the eighth tallest mountain in the world. The remote and off-beat trails on the Manaslu Circuit Trek offer surreal adventures to the trekkers.
Villages like Sama Gaon, Lho, Sho, and Samdo are some of the culturally decorated destinations in the Manaslu region. The most difficult part of this journey is crossing the Larkya La pass which stands 5,160 meters. But upon making the climb up the pass, you get splendid views of the Himalayas in Manaslu, Cheo, and Himlung Himal ranges. Some notable peaks you will see are Manaslu (8163m), Annapurna I (8091m), Cheo (6812m), and Himlung Himal (7126m).
The Manaslu region trek gives you a solid trip around Gorkha. This is a great opportunity to explore both the culture and natural richness of Nepal.
The topography throughout this trek changes rapidly. You will be traveling across lowlands amidst lush green forests and arid higher altitudes on the laps of the Himalayas.
The remoteness also builds up an atmosphere suitable for those who wish to travel in solitude.
The trek also offers an array of diverse flora and fauna along with rugged landscapes and insight into the rural Nubri and Tsumba communities of Nepal.
Manaslu trek begins with a scenic drive to Soti Khola from where trekking commences. You take the route; Machha Khola, Jagat, Pewa, Namrung, Lho, Sama Gaon, Dharamsala, Larkya La pass, Bimthang, Tal, and back to Kathmandu. Between your stop at Sama Gaon and Dharmashala, you can take a side trip to Manaslu Base Camp and Birendra Lake as well.
The above-mentioned itinerary is for 14 days however, it can be extended as well. You may add more elements from various other treks such as Manaslu Round Trek and Manaslu Larkya Pass Trek into your Manaslu region trekking package and choose to extend or shorten the trek distance.
For those wishing to complete this trek earlier, you may also take a look at the itinerary for the short Manaslu circuit trek. Due to the long walks and off-beaten trails, this trek can be demanding at times. You are recommended to involve in some physical exercises for around a month before developing the physical fitness for the trek.
It is recommended that you look into specific details of the trips given above to gain more knowledge regarding tips and essential information such as permits and packing lists.
All three of these treks take you to high altitudes that are considered risky. Thus, the itinerary for these trips includes rest days for acclimatization. It is highly recommended that you take these rest days and not skip them or rush to complete your trek.
It is also encouraged that you have travel insurance that covers high-altitude travel. When having travel insurance, you must make sure to include Heli rescue and immediate evacuation as well.
Regarding the season for the trip, all three of these treks have a common time that is recommended for trekkers. The spring and autumn seasons are considered the best season for trekking in the Everest, Annapurna, and Manaslu regions. Spring occurs from March to May and autumn occurs from September to November. These months have moderate/warm temperatures and clear weather with the lowest chances of rainfall or snow. This does not imply that trekking outside these months is impossible.
Conclusion
We are very excited to begin the new year 2023 as a remarkable year by serving our greatest trekking packages to our clients. We are dedicated to making this campaign successful and thus have worked very hard to provide our clients with the best services possible. To our clients, we want to give a memorable trip and for our nation; a successful campaign!