Overview
Annapurna Base Camp Trek, also famous as ABC trekking, is the busy trekking route in the Annapurna region. This ABC trekking package offers easy access to land transport from Kathmandu and Pokhara. The trek offers an incredible view of mountains, landscapes, and villages and a taste of the authentic Nepalese lifestyle. You can customize the trekking duration based on your available time.
Annapurna Base Camp Trek is an adventurous venture in the Himalayas, precisely in the mid-western Himalayan mountains. This trek is known for its exceptional landscapes, phenomenal views of snow-capped mountains, rich biodiversity, and vibrant cultural heritage. The trail moves along with dense forests and beautiful remote mountain villages. One of the main highlights of Annapurna Base Camp Trekking is the lap of the world's tenth-highest mountain, Annapurna Base Camp.     
Annapurna Base Camp trek goes through the Annapurna Conservative Area, home to numerous bird species and wildlife. If you are lucky, you might see rare birds and animals on the way. Moreover, the Annapurna Base Camp Trek is a paradise for biologists. Witnessing surreal landscapes, you will gradually ascend to the base camp. Throughout the trek, you get accompanied by giant mountains like Annapurna Range (8,091 m), Mt. Dhaulagiri (8,167 m), Mt. Gangapurna (7,455 m), Khangsar Kang (7,399 m), Mt. Hiunchuli (6,441 m), Mt. Fishtail (6,993 m), and so on.      
While passing the villages, you can see the locals' daily lifestyle, culture, and practices. Annapurna region is resided by people from several communities like Gurung, Magar, etc. These communities have distinct values, norms, languages, and traditions. You will visit old monasteries, temples, and stupas on the route.   
Ghorepani is one of the Annapurna region's most famous and beautiful villages. Spending a night here, you hike to Poon Hill, a renowned viewpoint, to see gorgeous sunrise and scenery. While returning, you will come across natural hot springs at Jhinu Danda, where you can spend time relaxing your sore muscles. 
As trekkers love Annapurna Base Camp Trek 11 Days throughout the globe, the trail gets crowded during peak season. Still, you will get ample time to unwind your mind and enjoy the soothing Himalayan environment. Read below to know more in detail about this once-in-a-lifetime journey. You can also contact us anytime if you have any queries related to the trek.
Annapurna Base Camp Trek Permit and Cost  
Annapurna Base Camp Trek explores one of the conservative areas of Nepal, which requires permits from the government of Nepal to enter. You must get TIMS Card (Trekkers Information Management Systems) and ACAP (Annapurna Conservation Area Permit) to go on this trek. You can get these permits from Pokhara or Nayapul (starting point of the trek). 
Note: Both of these permits are valid for single entry only. You cannot get any refund or transfer to other people. 
There are two types of TIMS Cards. You will get a green TIMS card if you are a single trekker. Similarly, you will get a blue TIMS card if you trek in a group. Read below to know the charges of the TIMS card and ACAP permit. 
Annapurna Base Camp Trek Agency
Choosing a trustworthy and reliable trekking agency is crucial for the best trek experience. Every company has its vision and values. Go through the Annapurna base camp trek company about us page and learn as much as you can about them before booking any trip. 
The team of My Everest Trip are professional trekkers and climbers running all sorts of adventurous journeys in the Himalayas. We are transparent and clear regarding our values and management. Our main goal is to provide our guests with the best and safest experience while running sustainable trips. 
We also pay equal attention to our team members (office team, guide, porter, and business partners) and ensure they grow with us. Similarly, we contribute immensely to supporting the locals of the remote mountain region.
Annapurna Base Camp Trek Map with Guide
We provide an online Annapurna Base Camp Trek map that follows our Annapurna base camp trek itinerary. We also offer a map for a tailor-made Annapurna base camp trek if you have opted for it. You can see the trail flow, highlighted views, and villages for the night stop through the map. 
You can also get a hard copy of this map to carry along the trek. We highly suggest you go through the Annapurna base camp trek map before joining it to get an overview of the trail and ask your queries with your guide (if you get any).
Annapurna Base Camp trek Clothing 
Below is the list of things you will need during the trek. We also offer a printable checklist for Annapurna Base Camp Trek packing while travelling with us. 
Annapurna Base Camp Trek Itinerary
Annapurna base camp trek begins with your arrival at Tribhuvan International Airport in Kathmandu. The next day, you will take a fantastic drive to Pokhara. Spending a night here, you drive to the starting point of the trek, Nayapul, and continue trekking along the bank of Burundi Khola to reach Tikhedhunga. The trail from here ascends to the beautiful Ghorepani village via Ulleri and Banthanti. Before leaving Ghorepani village, you hike to Poon Hill to witness the breathtaking sunrise. Later, drop down to Tadapani, trekking through forests of rhododendron. 
From Tadapani, the trail descends steeply to Kim rung Khola and crosses a suspension bridge; you climb to Chhomrong. Further, you walk through fine villages like Bamboo, Dovan, the Himalayas, and Deurali to reach Annapurna Base Camp. After spending some time at the ABC, you follow the same path and descend to Jhinu Danda via Deurali. Jhinu Danda is famous for its natural hot spring. Enjoy the hot spring before leaving for Pothana, from where you drop down to Phedi and drive back to Pokhara.    
We believe in leaving only our Footprints behind!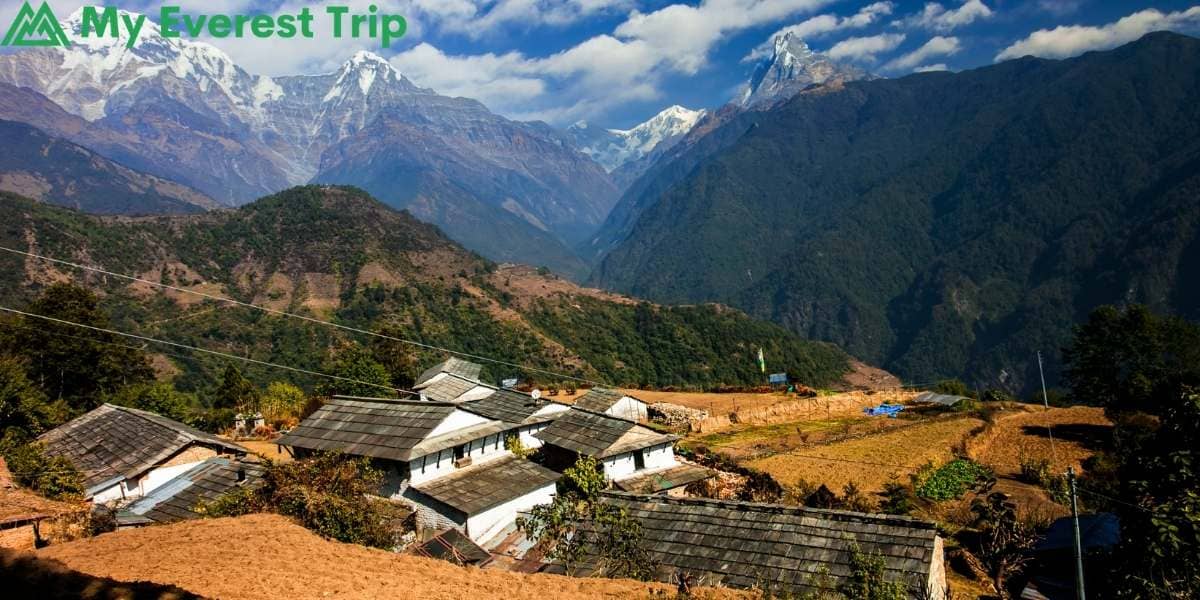 Read More
Read Less
Your Itinerary
Outline Itinerary
Day 01: Drive/Flight to Pokhara.O/N at Hotel.
Day 02: Drive to Nayapul and trek to Tikhedunga [1,560m/5,116ft] for 5 to 6 hours. O/N at Tea House.
Day 03: Tikhedunga to Ghorepani [2,860m/9,380ft] 7 to 8 hours. O/N at Tea House.
Day 04: Ghorepani to Tadapani [2,630m/8,626ft] 7 to 8 hours. O/N at Tea House.
Day 05: Tadapani to Chhomrong [2,170m/7,176ft) 6 to 7 hours. O/N at Tea House.
Day 06: Chhomrong to Himalaya [2,902m/9,577ft] 6 to 7 hours. O/N at Tea House.
Day 07: Himalaya to Annapurna Base camp [4,130m/13,546ft] 6 to 7 hours. O/N at Tea House
Day 08: Annapurna Base Camp to Bamboo [2,310m/7,576ft) 7 to 8 hours. O/N at Tea House.
Day 9: Bamboo to Jhinu Danda [5838 ft, 1780m] 7 to 8 hours. O/N at Tea House.
Day 10: Jhinu Danda to Pothana [6199 ft, 1890m] 7 to 8 hours. O/N at Tea House
Day 11: Pothana to Pokhara [2690 ft, 1400m] 3 hours .O/N at Hotel.
Day 12: Drive/Flight to Kathmandu .O/N at Hotel.
---
Detail Itinerary
Day 01: Drive/Flight to Pokhara.O/N at Hotel. 
Today you have a choice of travel. You can take the scenic route or drive to Pokhara (6-7 hours) through the terraced rice fields, taking in the Trishuli and Marsayangdi Rivers and lush green hills. Or you can take a quick 20-minute flight. The famous Phewa lake shall greet you, and you can spend the day relaxing by the lakeside. O/N at a hotel. You included: Accommodation, Breakfast.
Day 02: Drive to Nayapul and trek to Tikhedunga [1,560m/5,116ft] for 5 to 6 hours. O/N at Tea House.
From Pokhara, we will drive for 1.5 hours to Nayapul. Once there, we will trek through Birethanti and Ramghai, along the bank of Burundi Khola, to Tikhedunga. This lovely easy warm-up trek will be particularly popular with nature lovers and bird enthusiasts. We have included: Accommodation, Breakfast, Lunch, and Dinner.
Day 03: Tikhedunga to Ghorepani [2,860m/9,380ft] 7 to 8 hours. O/N at Tea House.
After a walk up the stone steps that lead to Ulleri, we will take a break at Banthanti. Then we will trek for 6-7 hours through beautiful oak and rhododendron-filled forests until we reach Ghorepani. O/N in the lodge. We have included: Accommodation, Breakfast, Lunch, and Dinner.
Day 04: Ghorepani to Tadapani [2,630m/8,626ft] 7 to 8 hours. O/N at Tea House.
We will take an early morning walk to Poonhill to watch the stunning sunrise and witness the panoramic view of the mountains in the Annapurna Range, including Mt. Dhaulagiri (8167m), Mt. Annapurna (8091m), and Mt. Machhapuchhre (6993m). After a break back at the lodge, we will trek through a rhododendron forest trail to Tadapani. O/N in the club. We have included: Accommodation, Breakfast, Lunch, and Dinner.
Day 05: Tadapani to Chhomrong [2,170m/7,176ft) 6 to 7 hours. O/N at Tea House.
We will begin our day by descending through the forest and walking down a steep hill to Kimrung Khola. We will then cross the suspension bridge, then takes us on our walk to Gurjung. The trail then ascends to Chhomrong– the gateway to the Annapurna Sanctuary – inhabited by the Gurung community. O/N in the lodge. We included: Accommodation, Breakfast, Lunch, and Dinner.
Day 06: Chhomrong to Himalaya [2,902m/9,577ft] 6 to 7 hours. O/N at Tea House.
On day 7, we trek down stone stairs, cross Chhomrong Khola, and climb up to Sinuwa – a nice, leisurely walk through forests adorned with orchids and ferns. Then we descend more stairs to Bamboo and then onto Dovan before finally approaching the great Himalayas. O/N in the lodge. We have included: Accommodation, Breakfast, Lunch, and Dinner.
Day 07: Himalaya to Annapurna Base camp [4,130m/13,546ft] 6 to 7 hours. O/N at Tea House
Begin the day by ascending to Deurali. Climb the ancient stone stairs leading to the scenic White Mountains, Machhapuchhre Base Camp, and Annapurna Base Camp. Here you will see a 360-degree mountain view, including the giant Annapurna I (8091m), Annapurna South (7219m), Machhapuchhre (6997m), and several other magnificent peaks. O/N in the lodge. Included: Accommodation, Breakfast, Lunch, and Dinner
Day 08: Annapurna Base Camp to Bamboo [2,310m/7,576ft) 7 to 8 hours. O/N at Tea House.
Start by trekking down to Machhapuchhre Base Camp, where you can enjoy more stunning views of the mountains in the Annapurna Range, including Machhapuchhre (6993m), Lamjung Himal (6983m), Annapurna I (8091m), Annapurna II (7937m), and Annapurna III (7555m). Then trace through Deurali and Himalaya back to Bamboo. O/N in the lodge. They included: Accommodation, Breakfast, Lunch, and Dinner.
Day 9: Bamboo to Jhinu Danda [5838 ft, 1780m] 7 to 8 hours. O/N at Tea House.
An exciting start to the day that has us ascending through a wild jungle to Sinuwa, heading down to Chhomrong Khola, and climbing more stairs to Upper Chhomrong. Then we go down to Jhinu Danda, where your efforts will be rewarded with a relaxing bath in the natural hot springs. O/N in the lodge. They included: Accommodation, Breakfast, Lunch, and Dinner.
Day 10: Jhinu Danda to Pothana [6199 ft, 1890m] 7 to 8 hours. O/N at Tea House
Begin the day by crossing the suspension bridge over the Modi River to reach Landruk. Then walk through the magnificent Oak Forest to Tolkha and finish the day with a 3-hour walk to Pothana. O/N in the lodge. They included: Accommodation, Breakfast, Lunch, and Dinner.
Day 11: Pothana to Pokhara [2690 ft, 1400m] 3 hours .O/N  at Hotel.
It begins with a challenging trek through varied terrain to Dhampus. Once in Dhampus, you will walk past crop fields and traditional houses to reach Phedi. From here, you can rest as we drive back to Pokhara, where you can enjoy the evening in one of the country's most relaxing spots—including Accommodation, Breakfast, and Lunch.
Day 12: Drive/Flight to Kathmandu .O/N at  Hotel.
Whether you drive or fly back to Kathmandu, you will be transferred to your hotel and can enjoy the last day of your trip to the heart of the capital. Included: Accommodation, Breakfast, and Dinner
Additional Info
The difficulty of Annapurna Base Camp Trek   
"How difficult is Annapurna Base Camp Trek?" is our most asked question. So, let's answer that now first.    
Annapurna Base Camp's difficulty is "moderate", as per the trekking experts of Nepal. This means it indeed demands good Physical fitness. However, it doesn't need any training in mountain climbing. Annapurna Base Camp Trekking is a popular trek. Therefore the trail is full of trekkers from all around the world. To be more precise, the route is rocky and steep at some points. If you are trekking in the winter season, the trail can get quite challenging because of the snow, but on the other hand, the trail will be less crowded. If you are an experienced trekker, then Annapurna Base Camp Trek will not be too difficult for you. 
During the trek, you will traverse a remote region of Nepal, where the essential infrastructures are also underdeveloped. Likewise, the available services are crucial, and as you touch the Annapurna Base Camp, the region will get more secluded. Adjusting to surroundings like this can be difficult for some trekkers. However, with us, you will get full support, the best possible facilities, and a friendly guide to make the journey pleasant. 
The difficulty of the Annapurna Base camp trek can be due to its distance, altitude, and remoteness.
Annapurna trek distance 
Annapurna Base Camp Trek distance from Nayapul to base camp and back is 110 km. This 110-kilometre will be covered in 9 trekking days, i.e. you cover about 15 km daily. This means one needs to walk for 6 to 7 hours. Covering such a distance daily in a complex mountain landscape demands a few months of cardio exercises and good strength.
If you are looking for a short and easy trek in Nepal, go for the Royal trek in Pokhara. 
Annapurna Base Camp height
The altitude of the Difficulty of Annapurna Base Camp Trek is the hardest part. The Annapurna summit is 8091 m above sea level, making it the 1st tallest mountain in the world. And the base Annapurna base camp size is 4130 M. At this altitude, the chances of altitude sickness are higher. Your body might show symptoms of body aches, headache, vomiting, and shortness of breath. Even then, the Height of Annapurna Base Camp is relatively lower than the famous Everest Base Camp Trek, making it easier than the trek on Everest reason.
Annapurna Trek Remoteness
 Despite being a remote trek route in Nepal, there are pretty good tea houses and hotels on the Annapurna Base Camp Trek route. These hotels provide comfortable rooms, good food, Wi-Fi, a hot shower, and many other facilities. So, as long as you carry everything you need, like clothes and personal care items, the remoteness of the Annapurna Base Camp trek will not be a big problem.
Annapurna base camp trek altitude
The Annapurna Base Camp Trek begins from Nayapul, situated at 2,070 meters, and gradually takes you to Annapurna Base Camp, located at 4,130 meters. This is the highest point on Annapurna Base Camp Trek 14 Days. Likewise, during the trek, you ascend to a famous viewpoint called Poon Hill at 3,210 meters. The Annapurna Base Camp Trek gains moderate altitude compared to other famous treks like Annapurna Circuit Trek or Everest Base Camp Trek. Still, the chances of altitude sickness are always there if the itinerary is not planned correctly. Altitude sickness or Acute Mountain Sickness happens because of a sudden drastic change in altitude. And, if not treated effectively on time, it can be life-threatening. 
We have designed our Annapurna Base Camp trek itinerary, maintaining the altitude gap from one place to another and adding great rest days. Headache, dizziness, loss of appetite, shortness of breath, and insomnia are the symptoms of altitude sickness. If you feel like you are suffering from these symptoms, drop down to a lower altitude as soon as possible and take a few rest days before deciding to continue the journey or return.
Annapurna base camp trek best time
Spring and autumn are the best times to venture to Annapurna Base Camp Trek. These two are the peak seasons to explore the Annapurna region. The weather is usually stable during this time of the year, which is essential for a successful trek. Likewise, the climate is mostly moderate, and the views are phenomenal. The vegetations are also at its peak, and you will become part of vibrant festivals.
Annapurna base camp trek in spring
In Nepal, spring includes months from March to May. In these two months, hundreds of trekkers trek all around the Annapurna region, including the Annapurna Base Camp trek. The mild climate and freshly covered snowy mountains make the journey exceptional. The days are warm, with chilly mornings and nights. The lower region is more generous than the upper region. The average temperature during the Annapurna base camp trek temperatures in April range from around ten °C to 0 °C. Especially in April, the route gets covered with colourful rhododendrons, lush green vegetation, and other floras. 
Annapurna base camp trek in autumn
September, October, and November are the months that fall under autumn in Nepal. This is the second-best time in the year to traverse ABC. The fresh earthy smell just after the end of the monsoon is spread throughout the trail, which makes the journey soothing. Even though you will be trekking along with many other trekkers, the trip will be gentle, and there will be many my-time for you to unwind & relax. 
Crisp sun over your head, mild wind, and low precipitation create a beautiful trek scenario. The views are incredible. The average temperature ranges around 20 °C in the daytime and five °C at night. The best part of trekking in autumn is witnessing and becoming part of the biggest festivals like Dashain, Tihar, Chhat, etc. 
Annapurna base camp trek in monsoon season
July to August includes both summer and monsoon in Nepal. Even though summer is the best season to trek in the Himalayas, the monsoon ruins the journey with heavy rainfall and unclear views. Travelling in these months requires careful planning, yet a successful trek is not guaranteed. These are our least favourite months on the Annapurna Base Camp trek. The trail also gets slippery and full of bugs. The temperature ranges between 5 °C to 23 °C. 
Annapurna base camp trek accommodation
In Kathmandu and Pokhara, we will book a three-star or standard tourist hotel (per your budget). You stay overnight in the lodge during our Annapurna base camp trek for 14 days. We will book you the best possible accommodations along the way. Even the best lodge offers basic service; as the elevation increases, the service gets limited. 
You can choose a twin-sharing room or a single room at your convenience. Single rooms are a little more expensive than shared rooms. The washroom can be either private or shared. The rooms are generally small with few pieces of furniture, good enough to spend a night.
Annapurna circuit trick vs Annapurna base camp trek
Annapurna Circuit Trek and Annapurna Base camp trek are the two most popular treks in the Annapurna Region, with their merit and demerit.
Difficulty: Since the Annapurna circuit trek includes the trek to high passes, it's more complicated and demanding than the Annapurna base camp Trek. 
Duration: The Annapurna circuit trek is 16 days long trek that starts from the Lamjung district at the point called Syange. On the other hand, the Annapurna Base Camp trek is 14 days from a place in Pokhara called Nayapul.
Cost: Due to the higher cost of transportation and longer duration, the Annapurna circuit trek is slightly expensive. The Annapurna Circuit Trek costs $ 800 to 1000, whereas the Annapurna Base Camp Trek costs $800 to 1000.
Views: The Annapurna base camp takes you right to the foot of the Himalayas, giving closer views of the Himalayas range. Conversely, the Circuit Trek doesn't take you to the base camp. Its circumference is around the mountain, exploring places like Manang and Mustang, a heavenly village. If you have enough time and energy, the Views From Annapurna Circuit trek can be diverse and more interesting than the base camp.
Popularity
Annapurna circuit trek and Annapurna base camp trek are Nepal's most famous treks. However, the Annapurna Circuit trek has been open for over half a century and is more familiar among international tourists.   
Why US
MyEverestTrip is a Nepalese Travel and Trekking Agency based in Kathmandu. We have been operating in different trekking regions for more than a decade, traveling with hundreds of trekkers and travelers all around the world.
With the pure intention to bring trekkers to Nepal's safety and comfort, we have an entire team of travel planer, guides, and porters. We also have connections to hotels and restaurant lines all over Nepal for ensuring that our trekkers get the best possible facilities.   
So, here is the reason why you should travel with MyEverestTrip.  
Customize your itinerary:
We have designed a well-planned Itinerary for all travel destinations around Nepal. However, this Itinerary is customizable as per the need and requests of our trekkers. Just let us know when and how long you are staying so that we can arrange the rest. 
Our Expert guide: 
Although all travel agency claims to have a good guide, many of them are not informed about the place you are traveling to. However, MyEverestTrip has its own licensed guide in Nepal. They have been working in this field for over three decades, collecting all the information about the place/ culture, and learning to keep the travelers safe. Also, our guide is good at the English language. Upon special request, we can even hire a guide who can speak Chinese and other European languages for trekking in Nepal.
Fair and reasonable Cost:
MyEverestTrip has been known for its very economic trek packages in Nepal. You can compare the price we offer with any other travel agency in Nepal and only book with us if you are satisfied with our cost. We try to include all needed expenses during the tour so that you will not be overwhelmed with hidden expenses after the packages are booked. 
Your safety is our priority:
Obviously, the safety of our trekkers and our team is the utmost priority of MyEverestTrip. Our guide and porters who shall accompany you for the trip will have insurance of their own. We also encourage Travel insurance for our trekkers. Our treks and trip have been so designed that you only walk an appropriate distance. In any case of emergency, you will always have our back.
Responsible and Eco-Friendly 
MyEverestTrip operates with the belief in responsible tourism. This includes 
We are transparent about the services covered on the trip. There shall be no hidden cost (informed in advance if there's any)

We cover all the places that have been promised before the trek (the trend of skipping places once you book the package has to be discouraged). 

All our guides and porter are above 18yrs. We highly discourage child labor in the tourism industry

We do not leave any wastage behind on the trekking routes. We either dispose of the waste appropriately or carry them back with us and send it to the municipality

We do not engage in any activities that affect the people in the trek places of Nepal we stay.  
FAQ
How much does it cost to trek to the Annapurna base camp?     
You can do Annapurna Base Camp Trek on a budget by going solo or cutting off the facilities during the journey. Trekking alone is not a good option if travelling for the first time in the Himalayas. We highly recommend getting a trekking company to experienced trekkers to arrange the trek for you. While trekking with a trekking agency, you can traverse freely. The guide will show you the trail and inform you about the region, culture, and locals. 
The second option is limiting the facilities you will have during the trek. The accommodation gets very basic, along with limited services and meal options. We also organize budget-friendly expeditions for our guests who need them. Get in touch with us, and share your requirements and budget. We will design the best Annapurna Base Camp budget-friendly trek for you. Annapurna Base Camp Trek costs anywhere from USD 800 to USD 1,200 for a 12 13 days trip. The package cost includes all the permits needed to enter monuments and the Annapurna region for trekking. Likewise, the Annapurna Base Camp Trek package includes accommodation, meals, a guide, a porter, ground transportation per the itinerary, and a one-way flight to Kathmandu-Pokhara or Pokhara-Kathmandu. Other things like travel insurance for the visitor, visa charges, personal expenses, expenses for equipment, etc., are not included in the package cost. You can check our price includes and exclude section to know in detail about the services you will get paying package cost. 
 Do you know what's cheaper than Annapurna Base Camp Trek? That's the Annapurna Cycling tour. 
Annapurna Base Camp Trek transportation cost will be about $ 400 in a private vehicle. Transportation in public Vehicles in Nepal is a lot cheaper, but it might be uncomfortable. The accommodation in Annapurna Base Camp Trek is affordable, i.e.$ 5 to dollar $7. The food cost is about 25 to 30 per day, and the guide plus Porter costs about dollar 40 per day. The price of the Annapurna Base Camp permit is dollar 50.
You might be able to find a cheap Annapurna Base Camp trek package for up to $500. However, these Annapurna base camp treks are shorter and do not include guide Porter or transportation fees. So make sure you inquire about all contains and excludes before getting excited about the lower Annapurna Base Camp price. 
How long is Annapurna Base Camp Trek?
MyEveresTrip Annapurna Base Camp trek Itinerary is 14 days long, and the Annapurna Base Camp trek distance is 110 km. These include a day in Kathmandu and two additional days for arrival and departure. Including two days for transportation to Pokhara and back, the trekking days to Annapurna are 9 Days. The Annapurna Base Camp trek from Pokhara is about nine days, and that from Kathmandu is 11 days long. If you want to skip Poonhill, you can make a shorter Annapurna best camp Trek Itinerary that can be completed in 7 days. Let us know your schedule so we can plan the Annapurna Base Camp trek Itinerary accordingly.
Nayapul, the starting point of the trek, is a 40 km drive from Pokhara. And Pokhara is 200 km away from Kathmandu. The drive from Kathmandu to Pokhara takes 8 hours, and from Pokhara to Nayapul is about 3 hours. 
Is the Annapurna Base camp trek without a guide possible?
Yes, Annapurna's best camp trek can be done without a guide. The Government of Nepal has marked some specific areas as restricted trekking regions and made hiring a guide in those trekking areas compulsory. And, since the Annapurna Base Camp trek doesn't fall in one of those areas, you can travel there as an independent trekker. 
However, having a guide for Annapurna Trek makes your hikes to Nepal extremely easy. Since the population of Nepal in the Himalayas are not familiar with English, and that trial moves along the thick forest, having a guide makes it easy to find the way. They also help you with bookings hotels in Annapurna and during altitude sickness. The Annapurna trek guide cost is minimum, and the price is worth the service they provide 
Is Annapurna Base Camp Trek safe?
Despite all the difficulty and remoteness, the Annapurna Circuit trek is safe. You will be safe if you plan an excellent Itinerary, tour with experts, and trek with a guide. In our decade of experience travelling in Annapurna, thankfully, we haven't seen any death casualties. And if things go out of control, we will take Helicopter evacuation. So, don't be afraid even for a Solo Trek in Annapurna Base Camp. 
Equipment Checklist
Light and expedition weight thermal tops
Sunglasses with UV protection
Fleece jacket or pullover
Sleeping bag rated to 0 degrees (3/4 season)
Fleece Wind-Stopper jacket (optional)
Head lamp (eg Petzl) spare bulbs & batteries
Lightweight thermal gloves
Small padlock to lock trek bag
Underwear (4)
Basic First Aid Kit (see First Aid Medicine below)
Waterproof shell jacket (preferably breathable fabric)
Plastic bags – for keeping items dry inside trek bag
Shorts (2)
Daypack (35-40 litres/2500-3000 cubic inches)
Lightweight cotton long trousers/pants
Camping mattress, eg thermarest pad
Light and expedition weight thermal bottoms
Water bottles (2)
Sun hat or scarf
Toiletries
Warm fleece hat or light balaclava
Small wash towel
T-shirts (2)
Footwear appropriate to the trip
Thin, lightweight (inner socks) (4)
Waterproof shell trousers/pants (preferably breathable fabric)
Map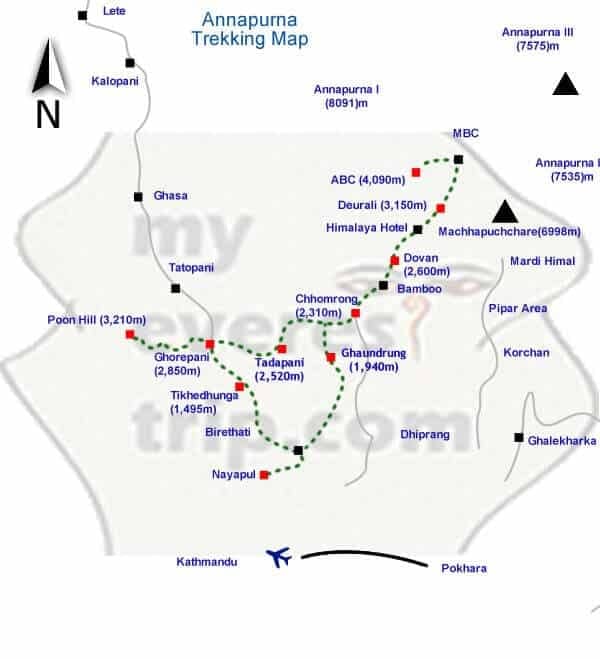 What's included
Airport/hotel pick up and drop off by private car.
Two nights 3-star hotel in Kathmandu / Pokhara Bed and Breakfast plan
Meals on the entire board (breakfast, lunch, and dinner) during the whole trekking
Kathmandu – Pokhara – Kathmandu By tourist bus or up to your request
Trekking map
An experienced Government license holder guide
Trekking porter/Sherpa who will carry your bags during the trekking
Insurance, salary, equipment, transportation, local tax for guide and porter
Group medical supplies (first aid kit will be available)
All necessary paper works and national park entry permits
Travel and rescue arrangement
TIMS (Trekkers' Information Management System)
All government taxes and tourist service charges
What's not included
Meals in Kathmandu before and after trekking
Your travel insurance ( Rescue )
Tips for trekking staff and driver
Drinks (hot, cold, and alcoholic)
Personal shopping and laundry etc
Personal trekking equipment
Choose a Private Trip
If you already know who you would like to take your adventure with and would prefer to enjoy your 'My Everest Trip' experience with your own group of friends, then we've got good news! All of our trips are also available as private adventures! Our private adventure specialists are on hand to give you a quote or talk you through some of the different options that we offer.
So feel free to give us a call on +977 9851069558 or Email us at [email protected]
Reviews
If you have already travelled with us and want to share your story and experiences to the world please send us your experiences by cliking the button below:
These reviews are from the travellers who have travelled with us previously.
Annapurna Base Camp and Pokhara Tour
I had the best adventure with my friends doing the Annapurna Base Camp Trek.
When the manager from My Everest Trip picked us up at the airport, we were so excited about Nepal and our trek. We had a few days in Kathmandu before our tour, and Puru was very helpful in ensuring the taxi drivers would not cheat us, showing us good places to eat and shop, and helping with everything we needed. Before the trek, he made sure we had an excellent briefing, and we were amazed to hear he would guide the tour himself and his assistant guide Ratna.  
The trek was hard work and great fun. All the staff joining in on tour was passionate about their work. Some of the porters did not speak much English, but we communicated the best we could and laughed a lot because one of my friends is a bit of an actor and always tried to act out what she wanted to tell them. Puru was the whole trek present and kind, not only to us but to everybody we met; one day, we walked with a group from another company, and Puru noticed that one of the girls was struggling a bit and without a word, he just took her backpack so she could walk more accessible. 
I do not doubt that the people at My Everest Trip, led by Puru, represent modern Nepal with deep roots in tradition, culture, and humility. They are modest people with excellent knowledge of their country.
After the trek, we had plans to stay a few days on our own in Pokhara to relax and do paragliding. Before Puru returned to Kathmandu, he arranged for a nice hotel and our bus ticket back to Kathmandu, where he would meet us and go for dinner.
We are very thankful for the personal service we received; we could not have wished for anything more, except maybe for more time in Nepal, so I think we need to go back and meet all the good and warm-hearted people again.   
I give you my warmest recommendation.
Top Agency in Nepal
My Everest trip is a top professional and highly valued Trekking agency. Due to my work as a teacher on a Danish "Højskole", I go every second year to Nepal for trekking. I started to work with My Everest Trip 6 years ago and I appreciate the hard work they put into making our stay in Nepal pleasant.
I did the Annapurna Base Camp trek twice with different groups of students both times with the guide Yam, who always does a great job connecting with the young people, leading the way, and spreading happiness when they struggle on the trails.
Many years of experience and good management place this agency among the top trekking agencies in Nepal and I will continue working with this agency in the years to come. 
Amazing ABC Trek in Nepal
I highly value the service offered by the staff at My Everest Trip. Friends recommended the agency and the Annapurna Base Camp trek, and I understand why. All members of the team are responsible and polite people. 
I always travel alone to meet new friends, so I specifically asked for a fixed departure where I would be grouped with other people.   
Ratna, an experienced guide in the Annapurna region, led the group. This shows in the way he manages everything. Before starting the trek, any concern I might have had was blown away the minute I met the guide and the porters. I saw how well the manager treated them, and they were pleased and just as excited to go as I was. After a few days, I spent the evenings playing cards with the porters, who were great fun.
The days in these beautiful surroundings passed so quickly, and I was unfortunate when I had to say goodbye to all my new friends.
I hope to return to Nepal one day and meet all my new friends again. 
4 weeks in Nepal
I had the privilege to spend four weeks in Nepal in the autumn of 2018. I wanted to do a long trek mixed with relaxation and cultural experiences. I aimed to get out of Kathmandu as quickly as possible after my arrival and start the tour. Puru put up a perfect schedule for me.
The day after I arrived in Kathmandu, we took off for Pokhara, and on day 3, my trek started. This was a perfect option for me as I needed peace of mind, and this trek and the staff that followed me did a fantastic job giving me just that.
After the trek, I spend a few days in Pokhara, visiting beautiful sights and enjoying life. Then I went by bus to Chitwan, where Puru had booked a room at a lovely resort and arranged for activities like jungle safari and bird watching.
After some quiet days in Chitwan, I was ready to face Kathmandu and spend a few days here visiting all the must-sees and shopping in Thamel.
Puru is not only an expert in putting up trips but also an expert in reading his clients and what they need. Customizing this journey down to every little detail, like bus tickets, was just what I needed, and I left Nepal feeling like a new person.
I cannot thank Puru and all his employees enough and will return one day.
Super Annapurna Trek
I understand why this trek is one of the most popular treks in Nepal and why My Everest Trip is so highly valued by its clients. I had the pleasure to do this trek with the guide Krishna and he did a fantastic job.
All aspects of the trek were very well taken care of by Puru and I could just enjoy every moment of my walk. If I faced an obstacle on the way, Krishna would help me to overcome it in a nice and polite way. This trek has a long daily walk, but in good company with nice people, it's not a problem.
I would love to do another trek with all my new friends at My Everest Trip in the future, and I recommend the company to other trekkers, who want good value at a reasonable cost
Top Trek
This is a trek that should be on everybody's to-do list. I did this trek with sine friends, Before, during, and after The trek, The team at My Everest Trip did a fantastic job making this an unforgettable trip. The trek is a bit hard but Our guide always makes it The Best way for us.
I highly recommend this Company and will Absolutely to here again if I come back to Nepal In The future
Thank you everybody at My Everest Trip. Hope we meet again.
Best Trekking Guide in Nepal
Best trip in Nepal. Puru is the best guide you could wish for. I went to Nepal alone for a trekking trip and to Anapurna with Puru. I was a little scared about the trip, but when I knew Puru everything relaxed.
The best trekking with the best guide.
It is recommended!
Why we need Guide in Annapurna Base Camp Trek
I Get By With A Little Help From My Friends Nepal is an incredible country with many different layers and attractions. It's no wonder this country that's tucked away in the mountains attracts so many different kinds of people: hippies in hemp clothing with dreadlocks and ukuleles strapped to their hips, old retirees looking for adventure in their moonlight years, adrenaline junkies looking to challenge their selves and conquer some of the world's most enticing and deadly peaks. Regardless of what sort of person you are when you arrive here, this place will change you! I've heard it being said that you do not go to Nepal for a vacation; you go for an adventure. Any adventurer will tell you that if you're setting out on an experience that's going to be physically demanding and where you'll know it will be pushing you to limits you hadn't come close to yet, it's essential to have a plan and understand what you're getting involved with. That, my dear reader, is where my good friend comes to your rescue. Puru is a guide who I met during my first Nepal trek as we climbed up to Poon Hill and then up to Annapurna Base Camp. He was guiding a middle-aged Chinese woman, and our group of three finished our first day off at their heels, talking about the trek and our hopes for the weather. As the girls, he was very kind and patient with us from the beginning, and I asked him various questions about what we were getting ourselves into. Throughout the next week, our two groups were always around each other. Sometimes we stayed in the same lodges in the same towns; other days, we would catch each other on the trails and stop for water breaks. This was all very friendly and kind; Puru was highly knowledgeable about the mountains and willing to help us with whatever questions we had (while still having the self-confidence to laugh if we were asking stupid,  redundant questions and would tell us so). It wasn't until the end of our trek that I realized what a fantastic man Puru is, what sets him aside from the several other guides I had already met. When we were all at the top of Annapurna Base Camp, we were caught in a heavy snowstorm with a mean wind. There was a group of us close to 10 people at the top, and we were all outside laughing and screaming into the wind that threatened our descent. I wrote about this situation in one of my previous blogs. Still, essentially Puru had taken me aside and, knowing that I was familiar with copious amounts of snow and being in the mountains, told me that it was up to the two of us to get the rest of the group down safely. The snowstorm had erased the trail we had used the day before, so we would have to create our new path down the mountain through the avalanche zone. Puru fearlessly leads the way through uncharted territory with enough confidence to make the entire group, including myself, feel just as confident as he.
One of our group slipped from the edge of our path and began falling, but  Puru instantly jumped from the ledge and caught her from falling too far down the mountain face, me hot on his heels. We weren't even part of his group, just a crew of tourists he had taken under his wing to ensure that we would enjoy our time and make it through safely. I contacted Puru once we got back to Kathmandu and asked him for advice on planning my hike up to Everest Base Camp. With a great smile and a cup of tea, he welcomed me into his office in the heart of Kathmandu and helped me plan everything I needed for this next adventure of mine. Puru and his team have trekked through all of the areas in Nepal and are apparent experts. He helped me customize my itinerary and helped arrange everything from the flights to what sort of clothing and snacks we should bring. As if that wasn't enough, after we had booked flights, he could change our flight dates multiple times for us – free of charge. He even arranged for my friend and me to take a helicopter up into the mountains without additional cost – a scarce thing, I'm told! Puru was not just a man looking to expand his business but genuinely wanted to help you have the best time possible in his beautiful country. His company can help arrange any treks you are interested in doing. He is an excellent guide who can take the fittest of the fit and the frailest up these mountains.
But most importantly, he is a great human with a kind heart. Over the few weeks that Puru and I came to know each other, I'm honoured to be able to call him a brother. If you ever go to Nepal and are yearning for adventure, look no further than Puru at My Everest Trip for all the help you could ever need. Check out his website for information on how to get a hold of him and what services he provides to his family.
https://www.myeveresttrip.com.
Package Summary
Highlights of Annapurna Base Camp Trek
Drive from Kathmandu to Pokhara and continue to Nayapul Pul, enjoying the breathtaking scenery.  

Spend a night in a beautiful Ghorepani village surrounded by snow-capped mountains and rhododendron forests.

Hike to Poon Hill to witness gorgeous sunrise with the backdrop of western Himalayan mountains

Trek through remote mountain villages and lush green forests.  

Come across a range of flora and fauna along the Trail.    

Observe the daily lifestyle, culture, and traditions of the locals.

Explore Annapurna Base Camp, the base of Mt. Annapurna (the tenth-highest mountain in the world).

Enjoy a natural hot spring in Jhinu Danda.

Himalayan mountains like Annapurna Range, Mt. Dhaulagiri, Mt. Gangapurna, Mt. Hiunchuli, Mt. Machhapuchhre, and many others decorate the entire Trail.
| No. of Persons | Price per Person |
| --- | --- |
| 1 | US$ 980 |
| 2 | US$ 910 |
| 3 - 7 | US$ 825 |
We are your ultimate adventure partner.
MyEverestTrip is a reliable, Eco-friendly, and experienced tour company in Nepal – so if you're looking for the ultimate  Himalayan adventure, you've come to the right place. Our seasoned guides offer mountain trekking and peak climbing across Nepal, Bhutan, and Tibet – as well as a myriad of jungle safaris, sightseeing, bungee jumping, cycling, and paragliding packages. So to learn more about us click below and choose us as your ultimate adventure partner! Learn More About Us
Why Book With Us
70% Repeat Customers
Guaranteed Departures
Team of destinations Experts
Competitive Prices
99% Success Rate
Places of attractions, travel tips, news and more.Recent From Our Blog
April is a great time to trek in Nepal, with stable weather conditions, clear skies, and blooming rhododendron forests. Here are the top 5 trekking packages for April 2023 that offer a mix of adventure, stunning scenery, and cultural immersion. Everest Base Camp Trek 12 Days Duration: 12 days Max Elevation: 5,545m The Everest Base…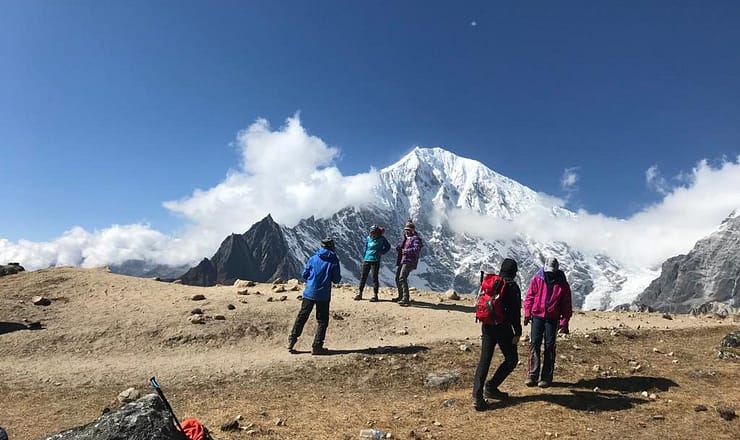 Know about the major Highlights of Langtang Valley Trekking before you book your trip. This article gives you an overview of the Langtang trekking route, including difficulty level, the best time for the Trek, walking hours, packing lists, permits and guide porter services. Let's imagine a place that has a great mountain range in the…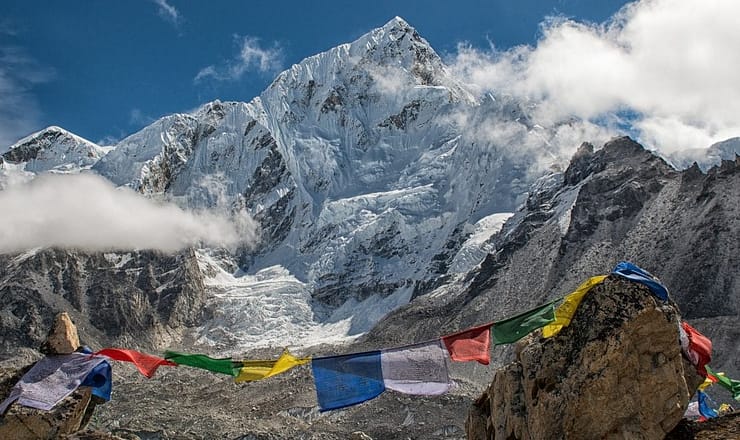 If you plan to trek in Nepal soon and want to know about the top Nepal trekking packages for 2023, this post is for your comfort.