Overview
The Annapurna Circuit Trek is one of the most well-known treks in the world. Join us on this adventure and we will take you on a journey to discover Nepal and its surreal scenery. Discover the tranquility of Tilicho Lake, the snow-covered paths of Thorong La, the sacred temple of Muktinath, and the picturesque villages of the Gurungs, Manangis, and Thakalis – all framed by the epic Annapurna mountain range.
This 16-day Annapurna trek begins in Kathmandu, from where you will head to Syange to begin your trek. After journeying through Chame, Pisang and Manang you will be led to Tilicho Lake's pristine. From the lake, we will venture.
Yak Kharka ascends to Thorong Phedi, taking in the impressive view of the Dhaulagiri and Annapurna ranges along the way. From here we will begin our hike up to the pass, a challenging trail that leads you to spectacular views of Gangpurna, Annapurna III, and Chulu West – as you venture ever closer to the Annapurna Circuit.
Once making it through the Throng pass trek portion of our journey, you will enter the district of Mustang and visit Muktinath, a Vishnu temple that is sacred for both Hindus and Buddhists. You can then opt to drive or trek to Tatopani where you can relax in the natural hot springs. The next day you will hike through the vibrant rhododendron forests of Ghorepani and onto Poon Hill for the breathtaking sunrise over the Annapurna and neighboring ranges.
This trip is a strenuous but extremely rewarding experience. You will have acclimatization days throughout and full support from our professional and experienced local climbers and guides to ensure that you have a safe and worry-free trip. Our staff is local experts who will also help to deepen your understanding of the local culture, wildlife, and nature along the way. We recommend that you join us on this trek between March and May or September and December.
My Everest Trip is a trusted company for trekking in Nepal, offering various Annapurna trek packages ranging from a short Annapurna trek to around Annapurna trek. For more information about the Annapurna circuit cost or Annapurna difficulty, please feel free to contact our friendly team. Or, if you would like to read more about what it's like to join us on this journey then you can read our Annapurna trek blog below.
Read More
Read Less
Your Itinerary
Day 01: Arrival in Kathmandu (1300m/4264ft).O/N at hotel   
One of our friendly representatives will be there to greet you at the airport and take you to your hotel. You are then free to spend the rest of your day exploring the vibrant and ancient city of Kathmandu.
Day 02: Drive from Kathmandu to Syange (1100m/3608ft). O/N at Tea House (A, B, L, D)
Early morning, we embark on a road trip to Syange. Here you will get your first look at the lush countryside of Nepal and green rice terraces set against the backdrop of the Himalayas. O/N in Syange.
Day 03: Trek from Syange to Dharapani (1960m/6430ft).O/N at Tea House (A,B,L, D)
Time to put on your hiking boots for your first day of trekking. We enter the Manang district and begin our ascension through barley and potato fields. After trekking for a few hours, we will rest in Kodo village before making our way to Dharapani, where we will spend the night.
Day 04: Dharapani to Chame (2710m/8891ft).O/N at Tea House (A, B, L, D)
Making our way to Chame, enjoy amazing views of Lamjung Himal (6983m), Annapurna I (8091m) and Annapurna IV (7525m), and take some time to relax with a dip in the hot springs.
Day 05: Chame to Pisang (3300m/10824ft), O/N at Tea House (A, B, L, D)
Be prepared to walk up steep trails through thick forests before crossing the valley via a bridge. Here you can get a clear view of the Paungda Danda rock. Then we will head to the village of Pinang, where we will stay overnight at a guesthouse.
Day 06: Pisang to Manang (3540m/11482ft), O/N at Tea House (A, B, L, D)
Heading to the Manang district, we trail uphill to Mungji. As we continue past Mungji and the hidden village of Bryanga, we can see Annapurna III (7555m) and Gangapurna (7455m) towering behind the town of Manang. We will stay overnight at a guesthouse in Manang.
Day 07: Manang: Acclimatization day.O/N at Tea House (A, B, L, D)
Today it is essential that we rest and take time to acclimatize to the altitude. Relax and enjoy the beautiful view of the mountains that Manang has to offer. We can enjoy Bhojo Gumba, Gangapurna Lake or walk to Vraga, where we can visit a monastery. Afterwards, we will return back to our accommodation and spend the night at the guesthouse.
Day 08: Manang to Yak Kharka (4050m/13,020ft).O/N at Tea House (A, B, L, D)
On our way to Yak Kharka, the landscape becomes otherworldly as you see the snow-covered peaks of the Annapurnas and Gangapurna, clash in contrast with the desert-like terrain. O/N in Yak Kharka.
Day 09: Yak Kharka to Thorang Phedi (4420m/14501ft).O/N at Tea House (A, B, L, D)
We hike uphill until we cross the suspension bridge and reach Ledar village. On leaving the village, we ascend for an hour and experience magnificent views of Mt.Gundang, Mt. Syagang, Thorung Peak and Mt. Khatungkan. O/N in Thorang Phedi.
Day 10: Thorong Phedi to Thorong La Pass (5416m/1176ft) to Muktinath (3800/12467ft).O/N at Tea House (A, B, L, D)
This is where the trail becomes slippery and snow-covered. Be prepared for a challenge as we ascend to the highest altitude in the trek, Thorong La Pass. The pass connects the district of Manang with Mustang. We descend down Muktinath Valley to the holy temple of Muktinath, a holy pilgrimage site for both Hindus and Buddhists. O/N stay at the hotel.
Day 11: Trek or Drive from Muktinath to Tatopani (1200m/3937ft).O/N at Tea House (A, B, L, D)
On the way to Tatopani, we can visit Kagbeni and Marpha – a Thakali village famous for organic apple production. Dhaulagiri (8167m) and Annapurna (8091) become visible as we reach Kalopani, and as we reach Kaligandaki valley, you can see a myriad of flora and fauna amidst the sub-tropical climate. O/N IN Tatopani.
Day 12: Tatopani to Ghorepani (2850m/9350mft).O/N at Tea House (A, B, L, D) 
We trek up steep trails towards Ghorepani. We cross Palate and Chite with spectacular views of the ranges along the way. In the springtime, expect to be trekking through vibrant forests packed with colourful rhododendrons. After 6 hours we reach the Gurung village of Ghorepani. O/N at a local lodge.
Day 13: Ghorepani to Poon Hill to Ghandruck (1950m/6396ft).O/N at Tea House (A, B, L, D)
We wake up early to hike to Poon Hill for an unforgettable sunrise over Dhaulagiri (8167m), Manaslu (8163m), Annapurna (8091m), Nilgiri (6940m) and Machhapuchhre (6997m). Afterwards, we head back to Ghorepani and start to walk towards Tadapani, through lush pine forests. O/N at a local lodge.
Day 14: Trek to Nayapul then drive to Pokhara. O/N at 3 Star Hotel (A, B, L)
Today is the final day of the trek. From Ghandruk, we will descend through rice fields and villages before arriving at Birethanti. From here, we ascend uphill to Nayapul and drive back to Pokhara. O/N in Pokhara.
Day 15: Drive from Pokhara to Kathmandu. O/N at  Hotel (A, B, D)
We drive back by bus to Kathmandu, with views of lush green hills following us along the way. When we reach Kathmandu you can explore or get some much-needed rest after such an exhilarating and challenging trek. O/N at a 3-star hotel.
Day 16: Final Departure (B)
After breakfast and a group photo, our representatives will take you to the airport 3 hours before your scheduled flight time.
Additional Info
Annapurna Circuit Trek Accommodation     
Before starting the trek you will have to stay in Kathmandu where you can have good accommodation and services free WiFi, a private bath, and a shower.
If you prepare mentally and keep in mind that the Annapurna circuit region is quite remote, the minimal lodging alternatives provided in your journey will be enjoyable. Many teahouses and guesthouses are available all the way from Besisahar to Jomsom with a good accommodation facilities. Each teahouse has a twin-share bed with plenty of space to stretch out.
As the altitude increases the facility that is provided by the teahouses are more basic and most teahouses make their income more from the food. You'll be able to enjoy hot, solar-powered showers until you reach Manang but you do have to pay for hot showers, but it's definitely worth it due to the cold condition of high-altitude areas.
During the travel, you will have the ability to charge your electronic devices such as a camera and mobile phone at a reception at a small cost but if you have a solar charger, there's no need to worry because most of the day sun kisses you.
 Best time to Trek the Annapurna Circuit
Annapurna circuit trek covers a wide range of natural landscapes with various cultures. Trek can be done all around the year but the most favorable condition to trek is during autumn and spring. Sept-Oct has a clear sky and thus you can enjoy your journey and in the spring you can have opportunities to see the blooming of Rhododendron. During winter, snow often blocks Thorong La pass which can limit your trek. So with viewing the different seasons' spring is the best time for your trek because you can enjoy the true natural beauty such as the sweet fragrance of wildflowers. Moreover, the skies are clear most of the day, making a more attractive environment in the Annapurna circuit area and the chances of snowfall and rainfall are also minimum.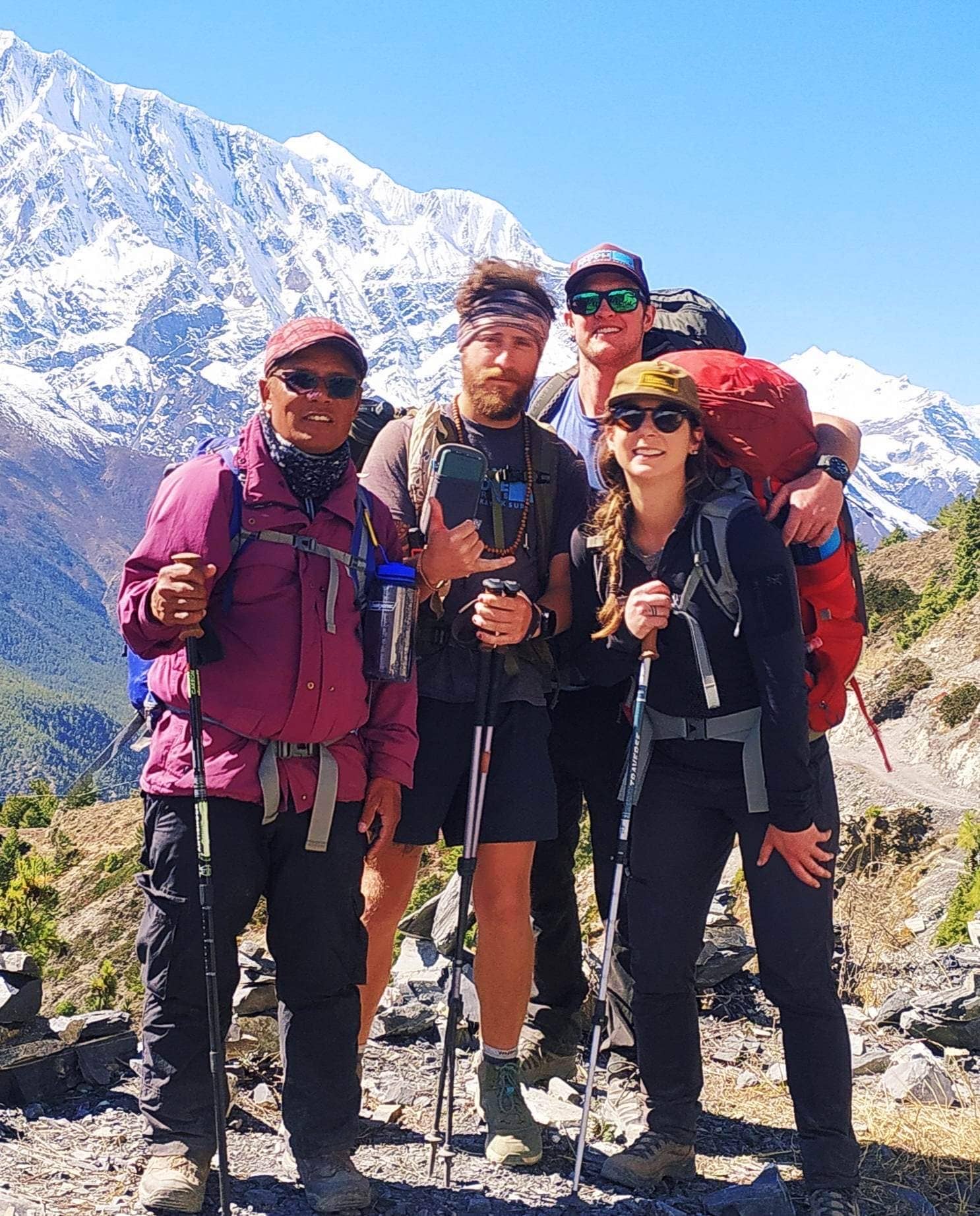 Check Ghorepani Poonhill Trek
Highest altitude
Annapurna Circuit Trek reaches a height of around 17770 feet whereas the Annapurna Base Camp Trek reaches a maximum elevation of 13780 feet. As you can see, the two walks differ by about 4000 feet, which is a significant difference. At 13780 feet, you can see some vegetation, but at 17770 feet, it's all desolate fields, frozen cliffs, and massive glaciers.
The difficulty of Annapurna Circuit vs. Annapurna Base Camp Trek
As already discussed above, the Annapurna circuit trek covers a high elevation so you can think that it must have more slopy areas. However, the truth is, that the Annapurna base camp trek has a more steep slope than the Annapurna circuit trek with lesser steep and more inclined sections. You can decide according to your time, interest, and capabilities to trek as both treks are fantastic.
Trekking Route of Annapurna Circuit vs. Annapurna Base Camp Trek
Both the trek starts from the subtropical zone and take about a fortnight for the starters. The trans-Himalayan deciduous forest along with the alpine zone in the upper altitude is the main feature of both routes. If we talk about a major difference, the Annapurna circuit trek takes you to Manang and Thorong Phedi. Thus, it's a more challenging trek than the Annapurna base camp trek.
Annapurna circuit trek covers the four districts of Nepal and these are Lamjung, Manang, Mustang, and Mygdi. Lamjung and Myagdi offer magnificent green subtropical valleys with towns and terraced crops at a lower level. Manang and Mustang are higher in height, with Buddhists controlling the arid Tibetan terrain.
Annapurna base camp trek lies within a Kaski district although it covers the various agroclimatic region and ultimately the alpine zone.
The walking trail for the Annapurna Trek goes to the base camp, which is reached after traveling through well-known ethnic Tamang and Gurung communities like Ghorepani, Dovan, and Deurali. The Annapurna Base Camp Trek takes you through high alpine settlements and to the vantage point of Poon Hill, whilst the Annapurna Circuit Trek takes you to high mountain passes and well-known places such as Muktinath.
Time to complete the treks
The Annapurna Circuit Trek is nearly twice as long as the Annapurna Base Camp Trek. It takes more than two weeks to complete the Annapurna Circuit Trek i.e. about 19 days. Due to road upgrades, it may now be shortened to 14 or 16 days. As a result, the Annapurna Circuit trip needs a little more endurance and patience than the Annapurna Base Camp Trek. On the other side, the Annapurna Base Camp Trek may be done in 10 or 11 days. If the Annapurna Base Camp tour is combined with the Poon Hill trek, the total time spent on the mountain will be 14 days. . On both tours, the daily trekking hour spans from 5 to 7 hours.
 Annapurna Circuit Trek Permit
Annapurna circuit trek is considered one of the famous trekking routes that cover varied natural landscapes and ultimately take you upper alpine zone. Nowadays, you have to take a trekking permit to Annapurna as the Nepalese government implements it as a necessary protocol to conserve the environment. Annapurna circuit trek requires two types of permits: ACAP and TIMS.
Annapurna Conservation Area Entry Permit(ACAP) is a must for you as the trekking route covers the Annapurna conservation area. Some portion of the Annapurna permit Cost goes to manage the Annapurna conservation area, the largest of its kind in Nepal.
Every traveler requires a Trekkers Information Management System(TIMS) for the Annapurna circuit area. It is implemented jointly by the Nepal Tourism Board (NTB) and Trekking Agencies Association of Nepal (TAAN) to consider the safety and security of travelers.
Annapurna permit Cost:
TIMS costs per person are as follows:
Nationals of SAARC: NPR 600 ($6)
NPR 3000, roughly $30 for all other nationalities
For a foreign trekker, the fee for accessing the Annapurna Conservation Area or ANCAP permit is as follows:
Nationals of SAARC: NPR 200 ($2)
NPR 2000, roughly $20 for all other nationalities
It should be noted that these prices do not include the 13% VAT (Value Added Tax).
Why US
MyEverestTrip is a Nepalese Travel and Trekking Agency based in Kathmandu. We have been operating in different trekking regions for more than a decade, traveling with hundreds of trekkers and travelers all around the world.
With the pure intention to bring trekkers to Nepal's safety and comfort, we have an entire team of travel planer, guides, and porters. We also have connections to hotels and restaurant lines all over Nepal for ensuring that our trekkers get the best possible facilities.   
So, here is the reason why you should travel with MyEverestTrip.  
Customize your itinerary:
We have designed a well-planned Itinerary for all travel destinations around Nepal. However, this Itinerary is customizable as per the need and requests of our trekkers. Just let us know when and how long you are staying so that we can arrange the rest. 
Our Expert guide: 
Although all travel agency claims to have a good guide, many of them are not informed about the place you are traveling to. However, MyEverestTrip has its own licensed guide in Nepal. They have been working in this field for over three decades, collecting all the information about the place/ culture, and learning to keep the travelers safe. Also, our guide is good at the English language. Upon special request, we can even hire a guide who can speak Chinese and other European languages for trekking in Nepal.
Fair and reasonable Cost:
MyEverestTrip has been known for its very economic trek packages in Nepal. You can compare the price we offer with any other travel agency in Nepal and only book with us if you are satisfied with our cost. We try to include all needed expenses during the tour so that you will not be overwhelmed with hidden expenses after the packages are booked. 
Your safety is our priority:
Obviously, the safety of our trekkers and our team is the utmost priority of MyEverestTrip. Our guide and porters who shall accompany you for the trip will have insurance of their own. We also encourage Travel insurance for our trekkers. Our treks and trip have been so designed that you only walk an appropriate distance. In any case of emergency, you will always have our back.
Responsible and Eco-Friendly 
MyEverestTrip operates with the belief in responsible tourism. This includes 
We are transparent about the services covered on the trip. There shall be no hidden cost (informed in advance if there's any)

We cover all the places that have been promised before the trek (the trend of skipping places once you book the package has to be discouraged). 

All our guides and porter are above 18yrs. We highly discourage child labor in the tourism industry

We do not leave any wastage behind on the trekking routes. We either dispose of the waste appropriately or carry them back with us and send it to the municipality

We do not engage in any activities that affect the people in the trek places of Nepal we stay.  
FAQ
 Annapurna Circuit Trek Difficult
The Annapurna Circuit Journey is a challenging and lengthy trek in the area. As a result, without prior preparation and planning, a novice trekker may find it more difficult to complete the trip. So during the preparation phase, we recommend you do Cardio. Annapurna Circuit Trek distance is about 160-230 km depending upon the vehicle available during the trek. Crossing Thorang Phedi to reach Mustang is the hardest part of this trek.  As you have to travel at a higher elevation, the oxygen level decreases. So, you must consult your doctor before booking the Annapurna Circuit Trek package.
Can you see Everest from ACT?
No, you cannot see Everest from the Annapurna Circuit Area. Since the Annapurna region lies in the western north of Nepal and Everest is in the east north of Kathmandu, these two mountains lie in different locations. You can see Everest either from Nagarkot in Kathmandu or take an Everest Helicopter Tour to Namche or even camp.
Annapurna Circuit Per Day Cost?
Without a guide and porter, per day Annapurna Circuit trek cost about $40 per person, and with a guide and porter $75 per person. The one-time cost for Permit, transportation, Visa, Insurance, etc should be added.
Equipment Checklist
Light and expedition weight thermal tops
Sunglasses with UV protection
Fleece jacket or pullover
Sleeping bag rated to 0 degrees (3/4 season)
Fleece Wind-Stopper jacket (optional)
Head lamp (eg Petzl) spare bulbs & batteries
Lightweight thermal gloves
Small padlock to lock trek bag
Underwear (4)
Basic First Aid Kit (see First Aid Medicine below)
Waterproof shell jacket (preferably breathable fabric)
Plastic bags – for keeping items dry inside trek bag
Shorts (2)
Daypack (35-40 litres/2500-3000 cubic inches)
Lightweight cotton long trousers/pants
Camping mattress, eg thermarest pad
Light and expedition weight thermal bottoms
Water bottles (2)
Sun hat or scarf
Toiletries
Warm fleece hat or light balaclava
Small wash towel
T-shirts (2)
Footwear appropriate to the trip
Thin, lightweight (inner socks) (4)
Waterproof shell trousers/pants (preferably breathable fabric)
Map
What's included
Airport/hotel pick up and drop off by private car
At least two nights 3-star hotel in Kathmandu bed and Breakfast plan
Meals on full board (breakfast, lunch, and dinner) in the whole trekking
Kathmandu – Syange Drive with local bus or by Car & Pokhara – Kathmandu by tourist bus or by car up to your request
Trekking map
An experienced Government license holder guide
Trekking porter/Sherpa who will carry your bags during the trekking
Insurance, salary, equipment, transportation, local tax for guide and porter
Group medical supplies (first aid kit will be available)
All necessary paper works and national park entry permits
Travel and rescue arrangement
TIMS (Trekkers' Information Management System)
All government taxes and tourist service charge
What's not included
Meals in Kathmandu before and after trekking.
Your travel insurance ( Rescue )
Tips for trekking staff and driver
Drinks (hot, cold, and alcoholic)
Personal shopping and laundry etc
Personal trekking equipment.
Choose a Private Trip
If you already know who you would like to take your adventure with and would prefer to enjoy your 'My Everest Trip' experience with your own group of friends, then we've got good news! All of our trips are also available as private adventures! Our private adventure specialists are on hand to give you a quote or talk you through some of the different options that we offer.
So feel free to give us a call on +977 9851069558 or Email us at [email protected]
Reviews
If you have already travelled with us and want to share your story and experiences to the world please send us your experiences by cliking the button below:
These reviews are from the travellers who have travelled with us previously.
Amazing Annapurna Circuit Trek
2019 was the year I decided to visit Nepal and go trekking. I had 3 weeks so doing a long trek was a good option for me. My Everest Trip was recommended to me by friends and Puru was a great help when I had to choose a trek. 
The Annapurna Circuit trek has it all. The views of the mountains, the highlights of trekking destinations (like Poon Hill), the challenging walk, and best of all, enough days to get the feeling of being one with nature. 
When you are a first-time trekker it is important to get good guidance about equipment and what to expect during trekking and Puru willingly answered all my questions. 
Upon my arrival in Kathmandu, everything was arranged for me nicely. I had agreed that he could group up with other trekkers, which actually was very nice as they were great companions. Our guide Ratna was always very helpful and a great guy to be around, he knows how to interact with people and give me any information, and throughout the whole trekking, I always feel safe and happy.
The Annapurna Circuit Trek is just amazing. Because of the good service provided to me by Puru and his staff I absolutely recommend this agency to everybody who wants a trouble-free trip to Nepal.  
A great guide
I visited Nepal in March 2012 with my friend Thomas from France. The first person that I might be in Nepal was Puru, he Organized transport to get us picked up at the airport at the arrivals hall which then transported us to the heart of Thamel in Kathmandu.
After this Puru helped us find accommodation and he told us everything that we needed to know about Nepal. Puru helped us organize everything we needed for our trip in Nepal, which included trekking Permits, reliable porters, finding good quality trekking equipment, and trekking route advice he took care of all transportation which included our flights to Lukla taxis in Kathmandu and good quality bus services to the rest of Nepal.
Puru also helped us with our shipping and cargo needs, as after our trekking we needed to post some equipment home, and Puru found us the best courier service at a very reasonable price. Puru is a very nice man, he has extensive knowledge about Nepal and trekking. In the short time, I have known Puru I can say he is a very smart, honest, friendly, and reliable guide and agent and a friend for life. I would recommend his services to anyone visiting Nepal. any further questions do not hesitate to contact me at [email protected]
Nepal was amazing and the trip was incredible
I am a solo female trekker and in 2012. I  did my Annapurna Circuit Trek, Everest Panorama Trek, Langtang Trek, Kathmandu Valley Trek with Puru and his company My Everest Trip Travel & Tour Nepal. Nepal was amazing and the trip was incredible. If you are like me, looking for a reliable company which is trusted to provide personalized service with reasonable price and long-lasting friendship, this is the place to go to!
Package Summary
Meet the mountain individuals in the core of the Annapurna Himalayas.
Perspectives on Mountains topping at 8,000m: Dhaulagiri, Manaslu, and Annapurna.
Manang Village
Cross the Thorong La Pass at 5,416 m.
The journey of Muktinath.
Trekking through the world's most profound crevasse, Kaligandaki valley.
Common underground aquifers at Tatopani.
Great dawn sees from Poon Hill.
| No. of Persons | Price per Person |
| --- | --- |
| 1 | US$ 1050 |
| 2 | US$ 930 |
| 3 - 5 | US$ 880 |
| 5 - 10 | US$ 825 |
We are your ultimate adventure partner.
MyEverestTrip is a reliable, Eco-friendly, and experienced tour company in Nepal – so if you're looking for the ultimate  Himalayan adventure, you've come to the right place. Our seasoned guides offer mountain trekking and peak climbing across Nepal, Bhutan, and Tibet – as well as a myriad of jungle safaris, sightseeing, bungee jumping, cycling, and paragliding packages. So to learn more about us click below and choose us as your ultimate adventure partner! Learn More About Us
Why Book With Us
70% Repeat Customers
Guaranteed Departures
Team of destinations Experts
Competitive Prices
99% Success Rate
Places of attractions, travel tips, news and more.Recent From Our Blog
Once you've done the Everest base camp trek, the next most popular trek in the world is the Annapurna trek in Nepal. A goddess in Hindu mythology, "Ma Annapurna," whose name means "full of grains" or "giver of sustenance," is said to have given the peak its current name. The Annapurna Base Camp Trek is…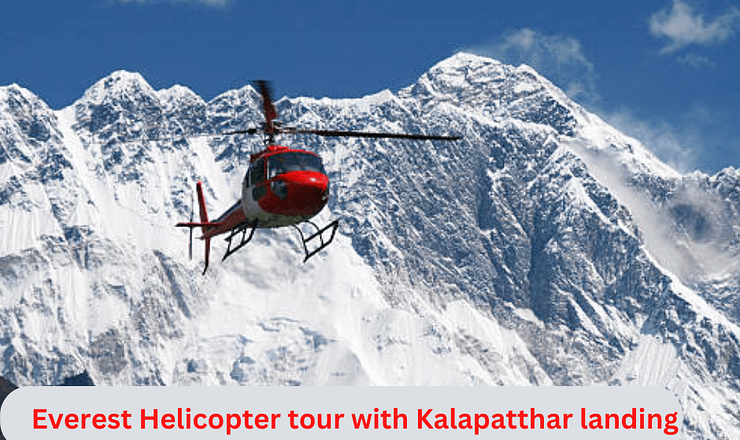 Are you dreaming of Everest Helicopter Tour With Landing at Kalapathar to see Mount Everest? If yes, a Helicopter tour to Everest is the best option. The Everest Base Camp Helicopter Tour with Landing at Kalapathar is the most popular helicopter ride in Nepal. The helicopter tour is a single-day package starting from Kathmandu airport…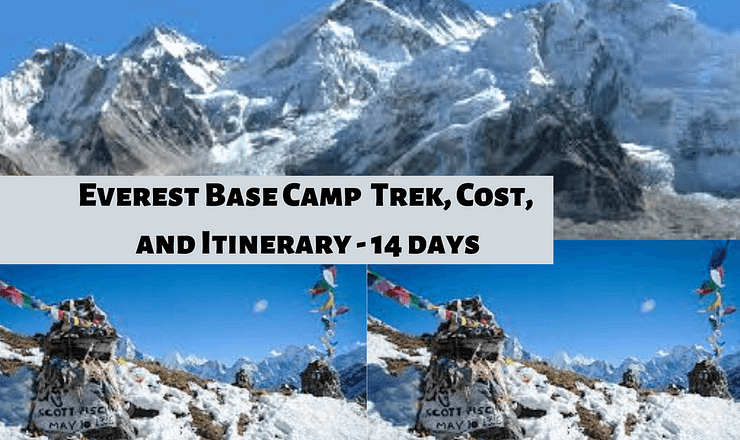 Everest Base Camp Trek Overview The Everest Base Camp trek journey is a top-tier adventure since it leads you to the base of the world's tallest mountain, Everest (8,848.68 m/29,029ft). Traveling through stunning high-altitude landscapes, high-altitude wildlife, traditional Sherpa culture, Buddhist monasteries, and snow-capped mountains, this tour will offer you a natural thrill at an…