Overview
The Everest Base Camp Trek (EBC Trek) is one of the most enthralling ways to go trekking in Nepal. It has long been on the priority list of adventure seekers around the world. With its picturesque mountain peaks and the warm loyalty offered by the indigenous Sherpa and locals culture.
Mount Everest Base Camp Trek offers two weeks trekking packages here in Nepal. Trek begins with the Kathmandu to Lukla flight which has long been famed for the breathtaking views. It offers those on their way to begin their hike to Everest.
The exciting and extensive itinerary then has our trekkers starting at Lukla. From here, you will climb to Dudh Khosi Valley, Namche Bazaar, and Gorak Shep, before finally reaching Camp (Mt. Everest Base Camp elevation: 5,364 m). After reaching the base of the amazing Mount Everest, get ready to marvel at the massive and magnificent Himalayas. This jaw-dropping and picturesque landscape giving you the best view of your life.
After reaching Everest Base Camp, you will later trek to the viewpoint at Kalapathar. A beautiful walk that will lead you through trials of dense rhododendrons, fragrant magnolias, and lush fir forests. The deep valley will leave you in awe and the hospitality bestowed by the locals in Namche Bazaar will make you feel at home. The Monasteries on the way will also give you an insight into the culture and architecture. The insight of the Buddhist community, making EBC trek a scenic as well as a spiritual journey for travel fanatics.
Many people ask about the Everest Base Camp Trek difficulty, and although the routes along the trails are strenuous. We ensure that you are supported throughout your journey to its highest point (5,367 m). There are many Everest viewpoints that make ideal spots to rest along the way. It takes you in the breathtaking views of snow-capped mountains such as Everest (8848 m), Lhotse (8516 m), Makalu (8481 m), and Cho Oyu (8201 m).
My Everest Trip operates various Everest trekking packages along with other options for trekking in Nepal. We have an outstanding team of knowledgeable trekking guides. Aptly experienced Sherpa to give you an enjoyable, comfortable, and stress-free trekking experience. Your trek to Everest Base Camp worth it with this experience.
For more information about the Everest Base Camp trek cost or to see trek map of the area that you will cover, please feel free to contact our friendly team. Or if you would like to hear more about what it is like to join our trekking journey, you can read our summarized blog below.
Read More
Read Less
Your Itinerary
Day 1: Arrival in Kathmandu (1300 m) O/N at 3-Star Hotel.
Upon arrival in Kathmandu, you will be warmly welcomed by our team and taken directly to your hotel. Feel free to enjoy your day here in the capital and overnight stay in the hotel.
Day 2: Fly to Lukla (2860 m), trek to Phakding (2652 m): 3 to 4 hours. O/N at Tea House.
On day 2 we will fly to Lukla and enjoying the view of amazing snow-capped mountains along the 40-minute journey. Upon arrival, we will trek from Lukla to the village of Phakding and stay overnight in a local lodge.
Day 3: Phakding – Namche Bazaar (3440 m): 5 to 6 hours. O/N at Tea House.
Day 3 sees us following steep inclines uphill until we cross high suspension bridges and head towards Namche Bazaar. We'll walk along with the traditional huts and shops that showcase crafts and arts near Beyul Khumbu Park till we reach Namche Bazaar, also known as the Gateway to Everest, and stay overnight in a local lodge.
Day 4: Namche Bazaar Acclimatization Day O/N at Tea House.
On Day 4 we will spend our time exploring the outskirts of Namche, as we take time to acclimatize to the air and altitude. We then hike up to the Sherpa Cultural Museum and Syangboche, from where we will trek up to Everest View Hotel for a stunning view of Mt Everest (8848 m). We then walk to Khumjung village (3800m) to see the local culture, tradition, and artifacts. After we have finished exploring, we will come back to Namche where we will stay overnight.
Day 5: Namche Bazaar to Tengboche (3820 m): 5 to 6 hours O/N at Tea House.
We follow the narrow and sparsely paved trails from Namche Bazaar as we head on to our destination for the day, Tengboche. We walk through thinning trees, over suspension bridges, and climb steps to reach Tengboche which is famous for the Tengboche Monastery with Ama Dablam (6812 m), Nuptse (7861m), and Everest (8848m) as its backdrop. Here we will stay overnight in a local lodge.
Day 6: Tengboche to Dingboche (4360 m): 4 to 5 hours .O/N at Tea House.
Today's trail is the easiest as we descend down wider paths past ample luscious greens. Then, as we ascend uphill, closer to Imja River, we journey on flat and paved grounds until we reach Dingboche. Here we can see the amazing view of the beautiful Ama Dablam (6812m), and explore the local Sherpa village where will stay overnight in a local lodge.
Day 7: Dingboche Acclimatization Day (4360 m) O/N at Tea House.
Today we will be exploring the surrounding Imja and Chukhung Valley. You will see stone fences, yaks, and bushes filled with the sea buck throne berry used to make local medicine. We will then hike back to Dingboche and stay the night at a local lodge.
Day 8: Dingboche – Lobuche (4940 m): 5 to 6 hours. O/N at Tea House.
On day 8 we trek uphill, alongside the rivers within the valley, and climb into open savannahs settled between epic mountains. We pass Thukla and walk upon the steepest paths to Dughla Pass (4830 m) before finally reaching Lobuche where we will stay overnight in the local lodge.
Day 9: Lobuche – Gorak Shep (5170 m) – Everest Base Camp (5364 m)- Gorak Shep: 8 to 9 hours. O/N at Tea House
Day 9 sees us walking along frost-covered paths that lead us to climb up steep trails to Gorak Shep. En route to Everest Base Camp, we pass through Khumbu Glacier and icefall, and at the base camp itself, the view of the mighty Everest is surreal. Later, we wind down challenging trails to a local lodge in Gorak Shep.
Day 10: Gorak Shep – Kala Patthar (4320 m) – Pheriche (4280 m): 8 to 9 hours. O/N at Tea House.
We start our journey early in the morning as we hike up to Kala Patthar for a view of the Himalayas at sunrise. We continue uphill till we reach the large plateau of Kala Patthar. From Kala Patthar, we can see widespread peaks of Pumori (7145 m), Lingtren (6697 m), Khumbutse (6623 m), Nuptse (7861 m) and Changtse (7550 m) along with the mighty Everest (8848 m), Cho Oyu (8201 m), and Ama Dablam (6812 m). We then descend to Pheriche for the night.
Day 11: Pheriche – Namche Bazaar (3440 m): 6 to 7 hours. O/N at Tea House.
We descend from Pheriche and walk back towards Namche Bazaar. We pass through the villages of Pheriche, Orsho, and Shomare. This is the easiest part of the trek as it is all downhill, continuing as we walk down to Imja Khola and Debuche. It is followed by a 3-4 hours trail to Namche Bazaar, passing Tengboche along the way. The trails can be difficult because of the gravel and sand that cover the paths that take you to Namche Bazaar, where we will stay overnight.
Day 12: Namche Bazaar – Lukla (2,800 m): 6 hours .O/N at Tea House.
On day 12 we retrace our trail from Namche Bazaar to Lukla. We cross suspension bridges over Dudh Koshi and travel down the familiar route to see open plains, rhododendron, and pine forests – crossing Buddhist villages crisscrossed with prayer flags along the way. On reaching Lukla, we celebrate our accomplishments and stay overnight in a local lodge.
Day 13: Fly Lukla to Kathmandu (1300 m) O/N at 3 Star Hotel.
Today you will board the Lukla flight again, but this time you will have an amazing story and experience to share back home. Feel free to spend your final day exploring Nepal's wonderful capital city. O/N in hotel.
Day 14: Final Departure
Today will be the end of the trip. After breakfast and of course a photo, our team will drop you at the airport before the scheduled time of your flight.
What's included
Airport/hotel pick up and drop off by private car
Two nights 3-star hotel in Kathmandu – bed and breakfast plan
Meals on full board (breakfast, lunch, and dinner) in whole trekking
Kathmandu – Lukla – Kathmandu By Flight
Trekking map
An experienced Government license holder guide
Trekking porter/Sherpa who will carry your bags during the trekking
Insurance, salary, equipment's, transportation, local tax for guide and porter
Group medical supplies (first aid kit will be available)
All necessary paper works and national park entry permits
Travel and rescue arrangement
TIMS (Trekkers' Information Management System)
All government taxes and tourist service charge
What's not included
Meals in Kathmandu before and after trekking
Your travel insurance ( Rescue )
Nepal entry visa fee.
Tips for trekking staff and driver
Drinks (hot, cold and alcoholic)
Personal shopping and laundry etc
Personal trekking equipment
Join Our Fixed Departures
Departing
Duration
Trip status
Price (per person)
6 Sep,2020
Days
Booking Open
$1,250
6 Sep,2020
Days
Booking Open
$1,250
13 Sep,2020
Days
Booking Open
$1,250
13 Sep,2020
Days
Booking Open
$1,250
20 Sep,2020
Days
Booking Open
$1,250
20 Sep,2020
Days
Booking Open
$1,250
27 Sep,2020
Days
Booking Open
$1,250
27 Sep,2020
Days
Booking Open
$1,250
5 Oct,2020
Days
Booking Open
$1,250
12 Oct,2020
Days
Booking Open
$1,250
19 Oct,2020
Days
Booking Open
$1,250
26 Oct,2020
Days
Booking Open
$1,250
2 Nov,2020
Days
Booking Open
$1,250
9 Nov,2020
Days
Booking Open
$1,250
16 Nov,2020
Days
Booking Open
$1,250
23 Nov,2020
Days
Booking Open
$1,250
30 Nov,2020
Days
Booking Open
$1,250
7 Dec,2020
Days
Booking Open
$1,250
14 Dec,2020
Days
Booking Open
$1,250
21 Dec,2020
Days
Booking Open
$1,250
28 Dec,2020
Days
Booking Open
$1,250
Show More
Choose a Private Trip
If you already know who you would like to take your adventure with and would prefer to enjoy your 'My Everest Trip' experience with your own group of friends, then we've got good news! All of our trips are also available as private adventures! Our private adventure specialists are on hand to give you a quote or talk you through some of the different options that we offer.
So feel free to give us a call on +977 9851069558 or Email us at [email protected]
Reviews
If you have already travelled with us and want to share your story and experiences to the world please send us your experiences by cliking the button below:
These reviews are from the travellers who have travelled with us previously.
Highly Recommended Everest Base Camp Trek
We did our trek to Everest base camp with My Everest Trip. During the trip, we get good lodges and food, guide and porter, and Flight to Lukla especially Everythings is well done our Guide Ratna was with us always so that makes us more comfortable cause if we need any help he can manage everything as we need it. Ratna and Porter Birman were very helpful and experienced. They did a great job. And finally, we realize without them we could not manage our trip. They choose a good lodge and food during the trek and. With a happy smile.
After Tengboche, the view was stunning most of the time. We did both base camp and Kalapatthar during our trek. Trekking up to the Kalapatthar was hard but it was a fantastic viewpoint and we see Everest is closed with us and it is so worth. Exploring the base camp is an amazing adventure of a life time. We would like to give many thanks to My Everest Trip and our crew Ratna and Birman for their great effort. We will highly be recommended this trip with our friend and this company who arrange everything with any problems.
Perfect Everest Base Camp Trip
We joined the Everest Base Camp Trek with My Everest Trek in Nepal. When we arrived at Kathmandu airport  Our Guide Hari was waiting to receive us After we meet. Him we took the car from the airport to the hotel and he gives for us all the information about our trip and what equipment we need it luckily we buy few things in Kathmandu which is we forget to take with us. So in the evening owner, Mr. Puru comes and he took for us a good restaurant for well come dinner so we are very impressive when he talks about his courier and became boos and he gives us few tips about our trek so we have more confidence than to do this trek and he is such a kind person he gives us his WhatsApp number if incase any things happen to call or text me. So We feel comfortable booking our trip with My Everest Trip.
Our Guide Hari was helpful knowledgeable and He cares for us as much as he can. he welly manage our flight schedule to Lukla also, We have every day good weather and we enjoy it as much as in out trip Thank For My Everest Trip and our guide Hari once again.
Lovely Trekking Holiday in Nepal
I made a lovely Trekking holiday in Nepal. well taken care of all our requirements it was so enjoyable from the main arrival to final departure from Kathmandu, Everest Base camp trek is, of course, it was a marvelous adventure For us. Thank you for a great wonderful experience and take care of us.
Everest Base Camp kalapathar Trek
Everest Base Camp Trek is So beautiful overlooking gorgeous panorama of high towering Himalayan peaks with Mt. Everest at a very close distance from the top of high Kalapathar it was at the breathtaking experience in my Life. I Haven't expected I am that much closed and to touch my soul to Everest,
Thanks to all staff and especially Mr. Hari who cares for me each and every stapes for much care on Everest Base Camp Trekking.
Memorable Everest Base Camp Trek
Thank you all at My Everest Trip for wonderful and marvelous adventure on Everest base camp trek in my Lifetime time adventure, enjoyed every day from stunning views of Everest and more high peaks to lovely accommodation on the nice local lodge, including great meals and help full guide and porters.
Thanks to all especially to our guide Ram and owner Mr. Puru who makes my trip memorable. I hope soon I will have another trip to Mustang.
Best Trekking Agencies in Nepal
I have done the Everest Base camp Trek, the classic route, last November and it has been simply amazing!  This is the kind of journey that you have to prepare well before you are going and I have been assisted step by step, from the Kathmandu office, who helped me through the whole process replying promptly to all the questions that came to my mind as I was going further with the planning.
Everything from the picking up at the airport to the goodbye dinner has been very well organized, making this journey the experience of a lifetime. I had been to Nepal a few years before and at that time I did a tour of this beautiful country with.
My Everest Trip, I really enjoyed it so when I started checking the several agencies that run Everest Base Camp  Trek I decided to choose them, During the trekking my guide  Hari answered hundred of times patiently to my questions about every single peak we would see. he is a very friendly person as well as our porter. I also changed a bit the scheduled plan by adding, while we were on our way up, an additional day for trekking to the Ama Dablam Base Camp which is really so amazing then Everest base camp which by the way I strongly recommend), accommodation and many other things) so that it has been possible for me to have that extra experience also. This journey has been one of the best holidays of my life, I have so many beautiful memories!
I will highly recommend this agency if anyone looking trekking or tours in Nepal
EBC Trek of my life
I participated in this great Trek with my friends. It was really thrilling and fun. I trekked with My Everest Trip a few years back, so I had big expectations and of course I was not disappointed! As last time everything was planned at our arrival and the company even gave us the same guide as last time, so it was like trekking with and old friend.
The EBC trek is a very nice trek with good itinerary, great nature and loads of culinary places to see.
The days just passed by so quickly since we were having such a good time.
My friends and I are so happy about the way My Everest Trip organized this adventure and want to send a special greeting for the manager mr. Puru for doing such a great job. I give my highest recommendation for this reliable company and wish you all the best
En oplevelse for livet
Everest base camp trekket var en fantastisk oplevelse. Ruten, naturen, kulturen og alle historierne der er knyttet til det legendariske Mount Everest. Min søster og jeg var slet ikke forberedt på at vi ville blive så meget blæst bagover af denne fantastiske rejse.
Vi fandt My Everest Trip på internettet og bookede turen via hjemmesiden, det var utrolig enkelt og vi havde under hele processen en god dialog med ejeren af bureauet, så vi hele tiden var opdateret og kunne stille alle de spørgsmål der meldte sig.
Bureauet bruger kun certificerede guider og forsikrede portere, hvilket giver en stor tryghed. I det hele taget er nepaleserne utrolig venlige og servicemindede og vi kan ikke sætte en finger på den service der blev ydet os under hele vores ophold i Nepal, ikke kun på selve trekket, men også både før og efter.
Trekket var godt tilrettelagt, dagene planlagt så sikkerheden altid var i højsædet og vores guide var virkelig dygtig til sit arbejde.
At vandre i Himalaya er en oplevelse for livet. Dagene er fulde af indtryk fra de smukke omgivelser, men i høj grad også en indre rejse, hvor man virkelig kommer til at tænke over livet og hvad der har betydning, det var helt utroligt som vi rykkede os mentalt. Den nepalesiske tilgang til livet smitter af på én og som dagene gik, blev vi bedre og bedre til at være til stede i nuet og takle små forhindringer når de dukkede op.
En stor tak skal lyde til bureauet for at give os denne fantastiske oplevelse og vi giver dem vores varmeste anbefalinger
EBC- Helt fantastisk!
Jeg vil gjerne sige takk til My Everest Trip for denne fantastiske turen til Everest base camp.
Fra start til slutt oplevde vi bare hyggelige folk og top service. Både før og under turen fik vi al den informasjon vi trengte og alle vore spøgsmål blev besvart kjapt og præsist.
Himalaya er helt fantastisk, jeg er vant med fjeld hjemme i Norge, men plutselig blir Glittertind bare en liten hump på veien sammenlignt med dette.  Trekket var superfint tilrettelagt med passe timer til dagens rute, tid til pause og dage til avklimatisering. Alle klarte sig gjennem uten sykdom nettop fordi vores guide var veldig påpasselig med hvordan vi spiste og drakk, at vi fik passe med pauser og søvn og gik i passe tempo.
Både vores guide og portere var kjempe koselige folk, porterene var ikke så flinke i engelsk, men vores guide lærte os et par nepalesiske ord så vi kunne sige takk og andre små ord og ellers oversatte han bare.
Alle gjorde en kjempe bra job og vi hadde så mye moro hver dag, selv på dagen hvor vi skulle fly tilbake til Kathmandu og ikke kunne komme tilbake på grunn av dårligt vejr fikset de alting på en blund.
Vi vil så gjerne tilbake til Nepal igjen om et par år og så kontakter vi helt sikkert My Everest Trip igjen og da må vi se hvilket eventyr vi drar på, vi vet vi kan stole på de
Tusinn tusinn takk
Highly recommended!!
Me and my friends completed Everest Base Camp Trek with Krishna. I could not recommend this company enough!!!! Firstly, puru was so helpful and answered so many of our questions before we got to Nepal including organizing a customized itinerary for us. He then personally picked us up from the airport and settled us into a very very nice hotel! The next day we met our guide Krishna who took us to fly into Lukla. This was no problem at all My Everest Trip all of this things before we arrived so it is much easy for us . Krishna was extremely knowledgeable throughout the entire trek.
He knew so much about the history, geology, geography and everything in between. He was also very switched on in assessing myself and my friends when we started to get slight altitude sickness and changed the itinerary slightly to allow for some extra acclimatization. Krishna has done the hike over 50 times so knew the trek back to front and the owners of the tea houses. He always ensured our food was cooked to a perfect standard and our tea boiled sufficiently. When my friends and I suffered different bouts of altitude sickness he also carried our bag to alleviate the weight. We felt completely comfortable. so I have kept in regular contact throughout our time in Nepal ensuring that they are still of assistance if we need more recommendations or assistance. You will have a fantastic time in Nepal with Nepal With My Everest Trip and truly feel well looked after!
Do yourself a favor and book with My Everest Trip !! I will be recommending to all my friends and family.
Everest – A dream come through
Doing this trek in the spring of 2019 was a dream come through. Dreaming about this for years, building high
expectations and Puru did not let me down. First of all the trek itself is nice, but the kind and well prepared staff made this an even bigger experience. Always helpful and making sure I was safe and comfortable.
Considering everything is included, except from a few personal things, this is also very reasonable price.
Nepal has won my heart and I definitely want to come back for another visit some day and do another adventure with the people from My Everest Trip.
Fantastisk service fra My Everest Trip
Jeg vil gerne takke Puru for en helt fantastisk service i forbindelse med min rejse til Nepal og mit trek til Everest Base Camp. Dagen efter jeg ankom til Kathmandu var jeg så uheldig er pådrage mig et maveonde der gjorde det svært for mig at gennemføre trekket. Puru sørgede for at jeg kom på hospitalet og assisterede mig med at kommunikere med lægen. Uden at kny skubbede han turen et par dage så jeg kunne nå at blive rask. Han tilbød mig også et andet trek hvis jeg hellere ville have et kortere, men da jeg havde en uge at give af efter trekket var det ikke et problem.
Efter et par dage havde jeg det bedre og kunne tage af sted. Jeg fik en super venlig guide, Yam, som under hele trekket sikrede sig at jeg havde det godt og ikke blev syg igen, han var meget påpasselig med hvad jeg spiste og sørgede for at jeg fik de pauser jeg havde brug for.
Jeg er rigtig glad for at jeg valgte at gennemføre trekket som planlagt, også selvom det betød at jeg havde færre dage i Kathmandu efterfølgende. Jeg har sjældent oplevet så storslået natur og så venlige mennesker overalt hvor vi kom frem. EBC trekket er virkelig anbefalelsesværdigt for alle der elsker at vandre i bjergene.
Jeg har aldrig tidligere oplevet så høj grad af service og omsorg som jeg oplevede med Puru og hans personale hos My Everest Trip og jeg tager virkelig hatten af for at der stadig findes den slags helt specielle mennesker.
Tusind tak for en helt fantastisk oplevelse, jeg kan slet ikke anbefale jer nok!
Your Trekking Partner in Nepal
I did previous the Annapurna Base Camp with My Everest Trip and was impressed by the way they manage their trek, so I had no doubt when I wanted to do the Everest Base Camp; I wanted to go with this agency again. Puru is very easy going and he always hires the best people and actually I was lucky to go with Ratna again. I'm sure the guides and the porters did this trek so many times, but it doesn't become routine to them when it comes to how to treat their clients. It's a nice safety precaution they know the trails so well, but they have the greatest respect for the clients who experience everything for the first time. I don't think Ratna ever gets tired of telling his stories and it is obvious he holds great love for his country and the mountains.
You can always be sure Puru does everything in his power to give you the best trek possible. I think actually the only thing he can't provide for is nice weather! Before my trek he assisted me in buying some equipment and made sure I get a good bargain.
I would never go to another company,  My Everest Trip is my only trekking partner in Nepal.
EBC Trek With My Everest Trip
I was fortunate to find My Everest Trip when searching the internet for EBC trek. I looked for company with 3 criteria in mind. Price, safety and service. Reading the itinerary for EBC from My Everest Trip I could see they put the acclimatization days necessary, the hours of daily walking are reasonable and there are no hidden costs.
Puru took the time to guide this trek himself and he is a very pleasant person to be around. Due to his many years of experience he has great knowledge about his Mountains and his clients, he is patient and always polite and he knows exactly when to step in with help and good advice and when to leave you in peace.
I understand why the EBC is a popular trekking destination and arriving your starting point by plain just adds so much value to the experience. Walking with a good guide who shares his knowledge and takes his time to answer questions is a blessing.
I have only good things to say about how My Everest Trip planned this trek. Transport, accommodation, food, guiding … everything spot on and trouble free. The best service I could wish for and I could not feel more safe.
I give my best recommendation for Puru and My Everest Trip and if I return Nepal I will choose this company again.
My best wishes for all good things in years to come.
Everest Base Camp Trek 14 days
It is my first time trekking in Nepal. And my dream was Everest base camp trek. I am looking so many trekking agencies asking some questions about this trip but Puru always give me the best answer and he knows each and every question answer, so I chose his company and he sent guide Ratna, he was very helpful and developed a good itinerary for us.
We enjoyed the daily hikes, mountain views, and accommodation very much and Ratna was incredibly helpful and jovial throughout the trip. Puru was there for us when we had to cut our trip short and even met us at the hospital to ensure that our friend was OK and even helped us with the change in plans, which was truly very thoughtful and helpful. I will highly recommend this company and Ratna.
EBC … Dream Of my life
Some years ago I make a plan "what to do before I die"  Mt. Everest was on that list.   A friend of mine had been in Nepal a few years earlier and he recommended My Everest Trip. The next morning I contacted the company and started corresponding with Puru. We wanted to go in the October 2018 and Puru gave me many good advice how to prepare for the trek.
We planned for 3 weeks because we wanted to see all the sights in Kathmandu also without rushing through it. Puru planned everything and booked hotel close to the office. This way it was very easy for us to go there when we wanted a guide for sightseeing or ask for advice if we wanted to go on our own. He also assisted us buying for some equipment.
The day we fly to Lukla started out a bit cloudy, but after 10 minutes the sky cleared and we could enjoy the most amazing view of the Himalayas…wow.. I can't describe that feeling … just wooooww.
On day 2 of the trek we reached Namche Bazaar, the gateway to Everest and what a place! So vibrant. We were happy the next day was acclimatization day so we had time to explore the surroundings. The following days Tengboche and Dingboche. Ratna always taking care of us, make sure we walk good pace and take time to enjoy the views and take pictures. This amazing landscape, the snow-covered peaks, the prayer flags, the suspension bridges (even my girlfriend developed love for them) and then the day arrived where we reached the Everest Base Camp. I was blown away. The Queen of my life standing there with the king of the mountains behind her.  So I did something I had not prepared for. I picked a small rock from the ground and went down on my knee and asked her to marry me. Luckily Ratna was quick to capture this special moment on camera. And (lucky me) she said yes!
This trek was fantastic in all aspects. My Everest Trip did an amazing job. They know the importance of safety, do not rush through leaving out acclimatization days to make good profit or cut any corners short. All the staff is polite and kind and speak good English. When we returned to Kathmandu Puru took us for dinner to a very nice restaurant to "celebrate Happy Trek" as he put it. He even suggested we do our honeymoon in Nepal … and guess what … that's exactly what we are planning to do!!!
Excellent guide! Once in a lifetime opportunity !
My Everest Trip and Ratna made my experience in Nepal incredible. The service and attention to detail as well as the knowledge brought by Ratna made this for a really special trip.
I was hesitant and nervous to undertake such an arduous trek–to Everest Base Camp–but with the proper preparation and support and Ratna's smile, we all had a blast.
Thank you Ratna!
Best Experience
Me and my brother came to Nepal to do the Everest Base Camp Trek and we were really lucky to have done it with this guys! They took care of all our needs and Yam (our tour guide) was always ready to help us with a big smile. He made our experience of trekking the nicest ever.
Thanks a lot, My Everest Trip for making our trip so neat! I totally recommend this guy if you are thinking of doing some trekking in Nepal, they will definitely not disappoint you!!
Thanks, Puru for the experience you made my brother and my experience, if we come back to Nepal we will contact you again.
A trek to remember
Excellent Facilitation of a short Himalayan Trek. I'm a regular visitor to Nepal and have been so since the early eighties (of the past century). My visits to Nepal are predominantly centered around work or conducting professional studies. I continue such visits into the present. In my early years in Nepal, I lived in the Western (Karnali-Beri) Region and was based in Jumla district. Subsequently, I had my residence in Kathmandu, from where I undertook extensive travel across much of the country. My work, both in and outside Nepal, is centered around agriculture, forestry, rural development, with a special interest in nature conservation, non-timber-forest-products, and specifically medicinal plants. The Himalayan region is well known for the latter. My most recent visit to Nepal was in November 2017. This visit combined professional activities with the meeting of Nepali friends and a short Himalayan trek. While in Kathmandu I looked for someone or an agency to facilitate required trekking permits, road transport, and flight arrangements. I relied for these services on Mr. Puru Thapaliya of My Everest Trip, after meeting him in his Thamel – Chhetrapati office. Initially, Puru assisted me with the international shipment of goods. The small size of the company office believes the extent of services it provides and the high level of efficiency with which it does so.
I believe many of the positive company characteristics are thanks to Puru Thapaliya himself. He started off as a porter in his native rural area, then quickly became a certified guide, and following this started his own business. This means he knows the trekking business in Nepal from the inside out. I learned to know Puru as a dedicated travel agent/service provider, who regularly keeps track of you even when you undertake a short not too complicated trek (Jiri – Lukla). It needs no explanation that the preparatory services to arrange this trip where carried out smoothly and moreover at a most reasonable cost. I usually opt for individual or simple guided trips in case remote areas are concerned. In 2017 my available time for logistical preparation and trekking did not allow for more complex trips such as Dolpo, Upper Mustang, or Arun Valley. In Nepal. I'm favoring such trips because of their lower tourism density and high offering of authentic cultural aspects as well as rich natural history and scenery. During the personal communication I've had with Puru, he convinced me that he does not only possess experience and flexibility to support custom organized trips. He also has the required local contacts to support such travel. I do strongly recommend the services of "My Everest Trip" and Puru. For sure I will avail of these services myself later in 2018, this together with a small group of friends.
Being a great fan of Nepal
Being a great fan of Nepal, I travelled with Puru on Mount Everest Base camp trek a while back in 2009. It was thoroughly well organized and Puru was exceptional in his service and always made sure that we were safe, comfortable and well motivated (which is sometimes needed!). What I very much appreciated was his style in guiding. I was travelling  with my partner and he respected that we needed our space but was always close by should we need anything.
I can highly recommend Puru for anybody going on a trek in Nepal. Just book your flights to Kathmandu and he will make sure to arrange the rest.
Map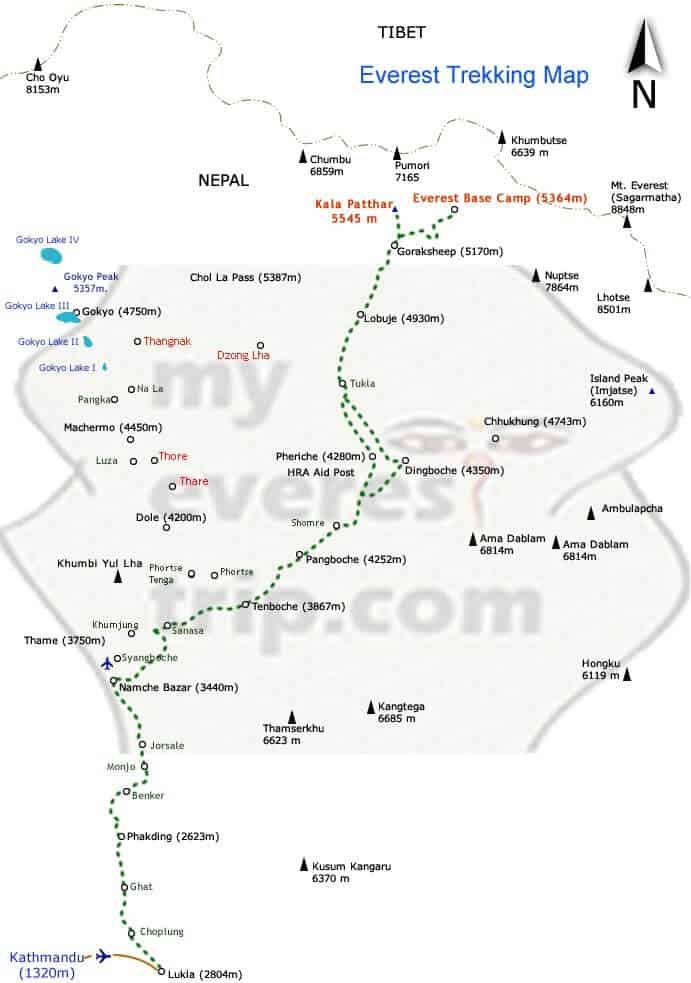 Package Summary
A Scenic Flight From Kathmandu to Lukla.
Getting acquainted with Sherpa culture.
Visiting the heart of Khumbu Namche Bazzer and Khumjung Valley.
Visiting the Tengboche Monastery.
Reaching Mt.Everest Base Camp.
Experiencing Kalapatthar's Majestic viewpoint.
Witnessing views of the Khumbu Icefall.
Seeing Nepal's biggest Khumbu and longest Ngozumpa glaciers.
We are your ultimate adventure partner.
My Everest Trip is a reliable, Eco-friendly and experienced tour company in Nepal – so if you're looking for the ultimate Himalayan adventure, you've come to the right place. Our seasoned guides offer mountain trekking and peak climbing across Nepal, Bhutan and Tibet – as well as a myriad of jungle safaris, sightseeing, bungee jumping, cycling, and paragliding packages. So to learn more about us click below and choose us as your ultimate adventure partner! Learn More About Us
Why Book With Us
85% Repeat Customers
Guaranteed Departures
Team of destinations Experts
Competitive Prices
99% Success Rate
Places of attractions, travel tips, news and more.Recent From Our Blog
Consistently, Nepal invites a huge number of Trekking travelers every year.  scarcely any a large number of travelers visit Nepal for the sole reason for trekking and adventure actives. Since the nation is fundamentally the home for the greater part of the tallest mountains Mt Everest on the planet, trekkers think that it's hard to…
Everest Base Camp Trek is a well-known trek in Nepal. In real existence, everyone has a dream to touch Mt. Everest once upon the life time Experience.
Adventure and interest, visitors can go for trekking culture program, wildlife/ birdwatching, village visit, mountain biking popular in Upper mustang route pony rides, etc.