Overview
The Everest Cho La Pass Trek is one of the most recognized treks for adventure seekers across the Everest region. Long famed for its wild route and extensive itinerary, the High Pass Trek is an extended version of the classic Everest Base Camp Trek. So it is the perfect choice for anyone wishing to take the challenge one step further.
This 17 – day Everest base camp and Gokyo Ri trek so are the ideal trek for anyone looking for a trek. That gives them enough time to absorb the culture and spirituality that is rooted in the region. It is packed with glaciers, waterfalls, and some of the world's highest peaks. It is an unbeatable adventure for anyone wishing to try Trekking in Nepal.
It all begins with a flight to Lukla, long famed for its unbeatable views. From here we will start our journey along the Dudh Koshi River to Namche Bazaar. The first of many local settlements that we will venture through on your journey. As well as educating you on the tradition and culture of the local community. A stop here allows you to view the biggest glacier in Nepal, 'Ngozumpa'. On our journey to Everest Base Camp Trek, we continue trekking through Tengboche and Kala Pathar before reaching the High pass Cho la.
From the pass, we head to Gokyo Ri. Peaking at 5,420m, the Gokyo Ri Valley and Gokyo Lakes are known for their beauty and serenity and are scary for both Buddhists and Hindus alike. This will offer you your first taste of the deep spirituality that is rooted in the region. An insight that will continue as we go through renowned regions like Lukla, Namche Bazar, and the Khumbu district. Then passing natural waterfalls and visiting majestic monasteries. However, the true peak of this trip is the Everest viewpoint – sit, relax, and take in the panoramic views that you have challenged yourself to reach.
 The Highlights of the Everest Cho la Pass Trek
My Everest trip is a respected and renowned Everest trekking company here in Nepal. We have qualified and experienced guides to ensure that your Gokyo Cho La Pass trekking experience is fun, memorable, and above all, safe. So for more information about the Everest trek cost or the Everest trekking difficulty, please feel free to contact a friendly member of our team. Or, if you would like to read about what it's like to join us on this adventure, then check out our blog below.
Read More
Read Less
Your Itinerary
Day 01: Arrival in Kathmandu (1,350 m/4,428 ft), O/N at 3 – Star Hotel (A.D)Upon our arrival at the Tribhuwan International Airport (TIA) in Kathmandu, you will be greeted by a representative from the My Everest Trip team who will take you to your hotel. In the evening there will be a welcome dinner in a traditional Nepali Restaurant where we will be able to enjoy authentic Nepali cuisine with a brief cultural program.
Overnight in Kathmandu. Included: Dinner and Accommodation.
Day 02: Fly to Lukla, trek to Phakding (2,651 m/8,700 ft): 3 – 4 hours trek, O/N at Tea House (A.B, L D)
During the 30-minute flight from Kathmandu to Lukla, you will enjoy one of the most beautiful air routes in the world. From Lukla, we will start our trek with a one-hour gradual descent to Cheplung village, from where we have a glimpse of Mt. Khumbila (18,900 ft). From Cheplung, we then gradually descend until we reach Phakding and spend the night. Included: Breakfast, Lunch, Dinner, and Accommodation
Day 03: Phakding to Namche Bazaar (3,438 m/11,280 ft): 5 – 6 hours, O/N at Tea House (A.B, L D)
Walking through a beautiful pine forest, we follow the trail north up the valley of Benkar. We then cross the Dudh Koshi River and go on to pass the Chumoa to Monjo, the entrance to Everest National Park. Then after crossing a suspension bridge, we pass Jorsale village and walk alongside the Dudh Koshi and Bhote Koshi rivers. A steep ascent brings us to the prime heartland of Namche Bazaar, where we can view Mt. Everest, Lhotse, and Ama Dablam. Overnight stay in Namche Bazaar. Included: Breakfast, Lunch, Dinner, and Accommodation
Day 04: Acclimatization Day – Namche Bazaar: (3,440 m/11,284ft)O/N at Tea House (A.B, L D)
Today we will spend the day acclimatizing in Namche Bazaar, the main center of the Khumbu region. Our guides will take you to explore the real charm of Namche Bazaar, with a hike up to Sagarmatha National Park which rewards you with a sunrise view of Mount Everest, Lhotse, Nuptse, Ama Dablam, Thamserku, and Kongde – with the option to trek to Khumjung village (12401 ft). Included: Breakfast, Lunch, Dinner, and Accommodation
Day 05: Namche Bazaar to Dhole (4,110 m/13,480 ft): 5 – 6 hours, O/N at Tea House (A.B, L D)
Today we start our Gokyo Valley trek with a walk that leads to Khumjung Hill and descent to Dudh Koshi. We will reach a chorten on the ridge top at 3973m, which descends from Mt. Khumbila (5761 m), and visit Mohangla. Following this, we walk downhill to Phorta Thanka and visit one of the most sacred Tibetan monasteries in the world. The trail descends in a series of steep sandy slopes taking us to Dush Koshi, Prortha Thanka, and Dhola.
We stay overnight in Dhola. Included: Breakfast, Lunch, Dinner, and Accommodation
Day 06: Dhola to Machhermo (4,470 m/ 14,663 ft): 4 – 5 hours, O/N at Tea House (A.B, L D)
From Dhola, it is an uphill climb to Machhermo. The walk follows a trail alongside a rhododendron forest and passes through a waterfall. We continue our uphill trek and pass through Labarma and Luza villages before reaching Machhermo. Overnight in Machhermo.Included: Breakfast, Lunch, Dinner, and Accommodation
Day 07: Machhermo to Gokyo (4,800 m/15,744 ft): 4 – 5 hours, O/N at Tea House (A.B, L D)
We begin today by climbing a ridge for excellent views of Kangtaiga and Cho Oyu (8153 m). The valley now widens as the trail passes through Phangkha, followed by a steep trail up to Ngazumpa Glacier. We then finally reach the Goyoko Valley lakes and explore Lake Longpongo, Taboche Tsho, Cho Oyu, and Dudh Pokhari.
Overnight in Gokyo. Included: Breakfast, Lunch, Dinner, and Accommodation
Day 08: Gokyo Valley: Acclimatization Day – Optional Hike to 5th Lake: 6 – 7 hours, O/N at Tea House (A.B, L D)
We will spend this day taking a rest in the Gokyo Valley – with an optional hike to the 5th lake of the Valley and Gokyo Ri, from where you can see more than 84 different mountains scaling over 6000 m, as well as enjoy a view of the biggest glacier in the world, 'Ngozumba'. Included: Breakfast, Lunch, and Dinner
Day 09: Gokyo to Thagnak (4750 m/15,580 ft): 4 – 5 hours, O/N at Tea House (A.B, L D)
We will start the day by climbing to the top of Gokyo Ri, a steep and demanding trek that leads to panoramic views of mountains like Kusum Kanguru, Thamserku, Kangtega, Taboche, Cholatse, Makalu, Lhotse, Nuptse, Everest, Changtse, and Pumori. We then trek through the Ngazumpa Glacier, traverse along the edge of a mountain, and walk to Thagnak. Included: Breakfast, Lunch, Dinner, and Accommodation
Day 10: Thagnak to Cho La pass (5,367 m/17,604 ft) to Dzongla (15,939 ft): 7 – 8 hours, O/N at Tea House (A.B, L D)
Today is one of the most challenging days of the trip. The Cho La pass is not itself difficult, but it is steep and involves a glacier traverse on the eastern side. The trail from Phedi climbs through a ravine and a rocky trail, we then trek by the side of a frozen lake, before we reach the top of the pass decorated with multi-colored prayer flags. We need to pass through some mountain crevasses before we reach Dzongla Village, which provided stunning views of Cholatse, Ama Dablam, and the Lobuche mountains along with the Pheriche Village far below. Included: Breakfast, Lunch, Dinner, and Accommodation
Day 11: Dzongla to Lobuche (4940 m/16,207 ft): 2 – 3 hours, O/N at Tea House (A.B, L D)
This will be a very short trek so we have a lot of time to relax and enjoy the beauty that surrounds us. We climb down from Dzongla and walk through a grassy trail while enjoying the view of Lobuche Peak. The trail curves through the wide river bed before reaching Lobuche, where we can spend the remainder of the day taking rest in preparation for the following day and exploring the Khumbu glacier.Overnight in Lobuche. Included: Breakfast, Lunch, Dinner, and Accommodation
Day 12: Lobuche to Gorak Shep (5,170 m/16,961 ft) visit Everest Base Camp (5,364 m/17,594 ft): 6 – 7 hours, O/N at Tea House (A.B, L D)
We take the trail to Everest Base Camp through the Gorak Shep Lake, across Indian army mountaineers' memorials, through rocky dunes, by mesmerizing moraines, and along sparkling streams before reaching the Everest Base Camp. From here you can soak in your sense of achievement while admiring the Nuptse, Khumbuste, and Pumori mountains. Overnight in Gorak Shep. Included: Breakfast, Lunch, Dinner, and Accommodation
Day 13: Gorak Shep to Kala Patthar (5,545 m/18,192 ft) to Pheriche (4,288 m/14,070 ft) 7 – 8 hours, O/N at Tea House (A.B, L D)
We prepare for an early morning departure, amid pre-dawn darkness, and set out amongst familiar peaks such as Lingtren, Khumbutse, and Changtse tower to the east. Upon reaching Kala Patthar, we get to see an up-close view of Mt. Everest and enjoy the magnificent mountain panorama, before returning back to Lobuche for a good night's rest. Overnight in Lobuche. Included: Breakfast, Lunch, Dinner, and Accommodation
Day 14: Pheriche to Namche Bazaar: 6 – 7 hours, O/N at Tea House (A.B, L D)
We trek down through the hillside blanketed by rhododendron and juniper trees. After crossing the prayer-flag festooned bridge over the Dudh Koshi River, our trail follows the Dudh Koshi gorge descending rapidly through pine forests. The path eventually reaches Sansa from where we can enjoy views of Ama Dablam, Thamserku, and Nuptse. We then pass winding trails to return to Namche Bazaar. Overnight in Namche Bazaar. Included: Breakfast, Lunch, Dinner, and Accommodation
Day 15: Namche Bazaar to Lukla (2,800 m/9,186 ft): 6 – 7 hours, O/N at Tea House (A.B, L D)
The trail takes a steep descent downwards, over rocky terrain. After crossing one of the Dudh Koshi River suspension bridges, the trail becomes more adventurous and we arrive in Lukla, where we can rest and celebrate finishing our trek. Overnight in Lukla. Included: Breakfast, Lunch, Dinner, and Accommodation
Day 16: Fly to Kathmandu, O/N at 3-star Hotel (A.B, D)
We catch an early morning flight to Kathmandu, where you are free to spend the day exploring. The day will end with a farewell dinner to celebrate the successful completion of our journey. Overnight in Kathmandu. Included: Breakfast, Dinner, and Accommodation
Day 17: Final departure ( B)
Today is the final day of your adventure. A friendly member of our team will take you to the airport approximately 3 hours before your scheduled flight. Included: Breakfast
Additional Info
Everest Chola Pass Trek Accommodation
Being an off-beaten trail in the Everest region, Chola Pass Nepal is also the tea house trekking route. This means you will be staying in small hotels made by locals that let you crash for the night and serve good food. In comparison to the classic Everest Base Camp trek route, the tea houses on the Chola pass Trek map are quite old and basic.
There are dozens of very well-built tea houses with private bathrooms up to Namche. Beyond that, each stop like Machhermo, Gokyo, and Thagnak only have a few (3-4 tea houses) with bathroom on sharing basis. In the peak season, make sure that you book these accommodations in Chola Pass Trekking in advance since they are occupied for most of the Year.
Each room will have 2 to 3 small beds that can be shared among the trekkers. There will be a fine mattress, a small blanket, and also a pillow for the trekkers. Since the room does not have any heating system, you need to carry your own sleeping bag that can protect you from the freezing temperature during Chola Pass Trekking Nepal.
Everest Cho La Pass difficulty
This particular trek takes you beyond Everest to the rather remote reason of Khumbu. Chola Pass Nepal is among the most challenging treks in Nepal. Since we cross the high pass of Cho La Pass at 5330m, it will be more physically demanding than normal treks in the Everest region.
From Lukla to Namche Bazaar, the path is quite easy and the accommodation is also good. However, from Dhole, you will be exposed to a rather higher altitude i.e. 4,000 m or above. Trek to Gokyo and Gokyo Ri is also hard. However, the most difficult part is to reach Dzongla from Gokyo by crossing the Cho La Pass. The rough mountain route and the dropping level of oxygen at this part of Everest make the trek more difficult. Trekkers might face altitude sickness which results in the development of headaches, nausea, vomiting, and similar symptoms. If the symptoms are severe, you might have to take a Helicopter rescue. There's even been Chola Pass' death, so don't take it lightly.
This 18 days of Everest Chola Pass Trek demand seven to eight hours each day by crossing about 20 km in a single day. The Chola Pass Trek distance is about 170kms of the round walk. Such walks demand some good pre-preparation i.e. cardio exercises before the trip.
Remoteness and poor accommodation at the Cho La Pass are also big issues during this trek. If you choose the best time for the Cho-la Pass trek i.e. Autumn and Spring, it's reactively easy. Winter trek is the hardest one while summer trek with the slippery path is also challenging.
Looking for something even more challenging? How about an Everest Three Pass Trek?
Weather and temperature of Everest Chola Pass 
At 5000+ above sea level, the weather of Everest Chola Pass is very unpredictable. However, we can differentiate the four climates of Everest based on temperature and precipitation. The average temperature of Chola La Pass throughout the year is -2.3 °C, but the profound change in weather is observed in different seasons. Information on the weather in the mountains helps you plan a safe and comfortable trek. So let's get started.
Autumn:
Autumn in Nepal begins in September and ends in November. These are the warmest and calmest months for the trekkers. The temperature of Chola La Pass in September is about 3°C, and that of Gokyo is about 6°C. The nights are also bearable with no snowfall. The rainfall in Everest is lowest in November, with an average precipitation of 8 mm. September has about 13 rainfall days, and you should plan your trip accordingly.
Winter:
Right after the blissful autumn, the harsh winter makes its space in the mountains. The climate of Everest Chola Pass Trek is the biggest challenge for winter trekkers. The temperature drops to -15°C during Nights in January. All three passes mentioned above are covered with snowfall in December. The snow remains up to a few mm in early February. The mountains glitter with the snow, and the overall surrounding looks amusing. Everest Base Camp Helicopter tour is the best option for winter.
Summer:
Summer in Nepal, especially in eastern Nepal, is the time for rainfall. Pre-Monsoon begins in late May with about ten days of rainfall. The climate of Chola Pass marks precipitation of 227 mm in the month of July only. August is relatively dry with some post-monsoon rain. The average daytime temperature goes up to 15°C and the night temperature in Namche is about 6°C. Most of the rainfall occurs in the evening and morning. Leaches and mosquitoes are very active in summer, and you must prepare accordingly. Everest Short trek is the better option for Summer.
Spring:
This is another beautiful season for the trek with stable weather at Everest passes. The March Temperature at passes is about 3°C. However, as the spring becomes prominent, the surroundings become warm and the maximum temperature can go up to 10°C in May. The chances of rainfall in the Everest region are very less and one shouldn't worry about the precipitation. The wind speed is about 19km/ hr, which is not that big of a deal. The mountains are still covered with snow remaining from winter, but the trail is clear.
Why US
MyEverestTrip is a Nepalese Travel and Trekking Agency based in Kathmandu. We have been operating in different trekking regions for more than a decade, traveling with hundreds of trekkers and travelers all around the world.
With the pure intention to bring trekkers to Nepal's safety and comfort, we have an entire team of travel planer, guides, and porters. We also have connections to hotels and restaurant lines all over Nepal for ensuring that our trekkers get the best possible facilities.   
So, here is the reason why you should travel with MyEverestTrip.  
Customize your itinerary:
We have designed a well-planned Itinerary for all travel destinations around Nepal. However, this Itinerary is customizable as per the need and requests of our trekkers. Just let us know when and how long you are staying so that we can arrange the rest. 
Our Expert guide: 
Although all travel agency claims to have a good guide, many of them are not informed about the place you are traveling to. However, MyEverestTrip has its own licensed guide in Nepal. They have been working in this field for over three decades, collecting all the information about the place/ culture, and learning to keep the travelers safe. Also, our guide is good at the English language. Upon special request, we can even hire a guide who can speak Chinese and other European languages for trekking in Nepal.
Fair and reasonable Cost:
MyEverestTrip has been known for its very economic trek packages in Nepal. You can compare the price we offer with any other travel agency in Nepal and only book with us if you are satisfied with our cost. We try to include all needed expenses during the tour so that you will not be overwhelmed with hidden expenses after the packages are booked. 
Your safety is our priority:
Obviously, the safety of our trekkers and our team is the utmost priority of MyEverestTrip. Our guide and porters who shall accompany you for the trip will have insurance of their own. We also encourage Travel insurance for our trekkers. Our treks and trip have been so designed that you only walk an appropriate distance. In any case of emergency, you will always have our back.
Responsible and Eco-Friendly 
MyEverestTrip operates with the belief in responsible tourism. This includes 
We are transparent about the services covered on the trip. There shall be no hidden cost (informed in advance if there's any)

We cover all the places that have been promised before the trek (the trend of skipping places once you book the package has to be discouraged). 

All our guides and porter are above 18yrs. We highly discourage child labor in the tourism industry

We do not leave any wastage behind on the trekking routes. We either dispose of the waste appropriately or carry them back with us and send it to the municipality

We do not engage in any activities that affect the people in the trek places of Nepal we stay.  
FAQ
What is the Culture of Everest Like?
Mountains are the home to the renowned Sherpa people who have been known for their exceptional mountaineering skills. These brave Sherpa have managed to save their classic Tibetan-Buddhist tradition from foreign invasion. From their unique home decor to the interesting custom, everything is very classic, and you will have a wonderful time learning about the lives of these mountain people. If this is sometimes you find interesting, better aim for Everest Cultural Trek. 
Is there Internet for the Everest Chola Pass Trek?
Up to Namche, the Wi-Fi in Everest has pretty good speed. You might get Wi-Fi up to Gokyo but beyond Namche, the speed is quite less. In the Chola Pass area, the tea houses usually don't have a connection to Wi-Fi. Even if they do, you cannot load high-quality videos. However, one needs to pay $3 to $5 per day for such internet. That adds a lot of cost to your Everest Trek Cost. So, that is why you can buy Everest Link Card for about $20 in Lukla or Namche. Or, just get an NCell SIM card in Kathmandu and use the cheap data.
What are the Permits For Everest Chola Pass?
Firstly, you need a visa to enter Nepal that can be received on arrival at Airport. You need $40, a passport-size photo, and a passport with six months of validity. Besides these, you need two more permits for trekking in the Khumbu/ Everest region.
First, you need a local area permit that costs about $20, and next is the Sagarmatha National Park permit which costs $30 USD. The local permit is called Khumbu Pasang Lhamu Rural Municipality Entrance Permit and was issued at Lukla upon landing. The National park permit can be made in Monjo, just before Namche Bazaar at the gate of the National park. Basically, you shouldn't worry about collecting permits in Kathmandu. The officers will prepare them within minutes if you have your passport, visa, and photos.
Map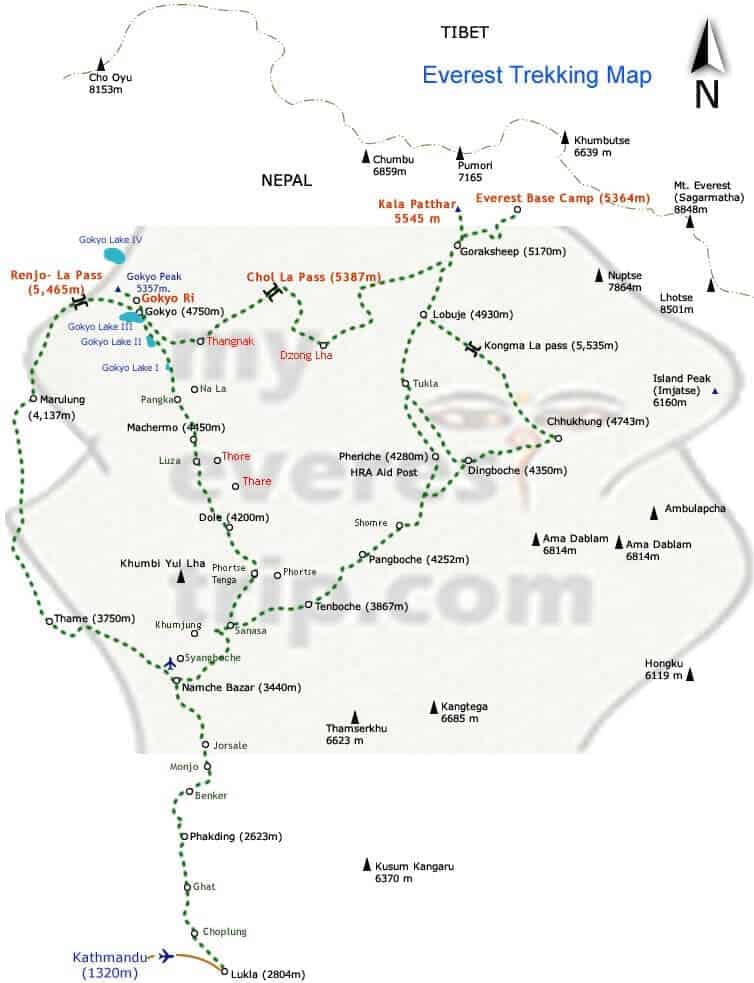 What's included
Airport/hotel pick up and drop off by private car
Two nights 3-star hotel in Kathmandu – bed and Breakfast plan
Meals on full board (breakfast, lunch, and dinner) in the whole trekking
Domestic flights (KTM-Lukla-KTM) with all surcharges airport taxes for guests and guide
Trekking map
An experienced Government license holder guide
Trekking porter/Sherpa who will carry your bags during the trekking
Insurance, salary, equipment, transportation, local tax for guide and porter
Group medical supplies (first aid kit will be available)
All necessary paper works and national park entry permits
Travel and rescue arrangement
TIMS (Trekkers' Information Management System)All government taxes and tourist service charge
What's not included
Meals in Kathmandu before and after trekking, allowing US$ 15 – US$ 20 per day
Your travel insurance (Rescue)
Nepal entry visa fee.
Tips for trekking staff and driver
Drinks (hot, cold, and alcoholic)
Personal shopping and laundry etc
Personal trekking equipment
Choose a Private Trip
If you already know who you would like to take your adventure with and would prefer to enjoy your 'My Everest Trip' experience with your own group of friends, then we've got good news! All of our trips are also available as private adventures! Our private adventure specialists are on hand to give you a quote or talk you through some of the different options that we offer.
So feel free to give us a call on +977 9851069558 or Email us at [email protected]
Reviews
If you have already travelled with us and want to share your story and experiences to the world please send us your experiences by cliking the button below:
These reviews are from the travellers who have travelled with us previously.
Veltilrettelagt Trek til Cho La Pass
Det var en sand fornøjelse at gennemføre dette utroligt veltilrettelagte trek. Kunsten er jo netop at man ikke føler man følger et strengt program og det mestrede vores guide til fulde.
Trekket er en skøn blanding ag natur, kultur og traditioner og det oplagte valg hvis man ønsker at udfordre sig selv og alligevel have overskud til at nyde de smukke omgivelser.
De daglige ruter var af passende længde og jeg havde god tid til at restituere til næste dags udfordringer, idet jeg hverken skulle spekulere over overnatninger eller måltider.
Jeg er utrolig glad for at jeg valgte My Everest Trip for sjældent har jeg mødt så søde og professionelle folk, der med den største lethed og selvfølgelighed sætter deres gæster i højsædet. Jeg følte mig tryg og i gode hænder under hele mit ophold.
Jeg giver drengene på My Everest Trip fem stjerner og anbefaler dem gerne til alle der rejser i Nepal
Adventurous Trip to Everest
Puru promised me that this extended Everest Base Camp Trek was a good choice as I was seeking a special adventure in the Everest region. Yes, it sure was! This long trek is a great adventure and accompanied by the clever staff Puru send with me this was a pleasure. Not only is this trek a beautiful walk, I learned so much about the culture and traditions of this magnificent part of Nepal. The flight to Lukla was a thrill and visiting Namche Bazaar was fun, but nothing compares to the views of the Himalayas. I could easily have spent another week here.  
I send special gratitude to Puru and his staff. I'm sure without these guys the trip would not have been the same. High level of safety and added great fun I will always remember this trip as something very special. Starting out as client/staff, ending up as friends.
Thank you so much, hope we will meet again.  
Package Summary
A Scenic Flight From Kathmandu to Lukla.
Becoming acquainted with Sherpa culture.
Namche Bazaar and Khumjung valley.
Exploring  Everest Viewpoint.
Everest base camp
Kalapather with Sunrise views of Mt.Everest Himalayas range.
Cross the Cho-la pass (5360 M)
Excursion to the fifth lake.
Great view of Mt Everest, Mt Lhotse, Mt Makalu, Mt Cho Oyu, and other mountains from Gokyo Ri.
We are your ultimate adventure partner.
MyEverestTrip is a reliable, Eco-friendly, and experienced tour company in Nepal – so if you're looking for the ultimate  Himalayan adventure, you've come to the right place. Our seasoned guides offer mountain trekking and peak climbing across Nepal, Bhutan, and Tibet – as well as a myriad of jungle safaris, sightseeing, bungee jumping, cycling, and paragliding packages. So to learn more about us click below and choose us as your ultimate adventure partner! Learn More About Us
Why Book With Us
70% Repeat Customers
Guaranteed Departures
Team of destinations Experts
Competitive Prices
99% Success Rate
Places of attractions, travel tips, news and more.Recent From Our Blog
Once you've done the Everest base camp trek, the next most popular trek in the world is the Annapurna trek in Nepal. A goddess in Hindu mythology, "Ma Annapurna," whose name means "full of grains" or "giver of sustenance," is said to have given the peak its current name. The Annapurna Base Camp Trek is…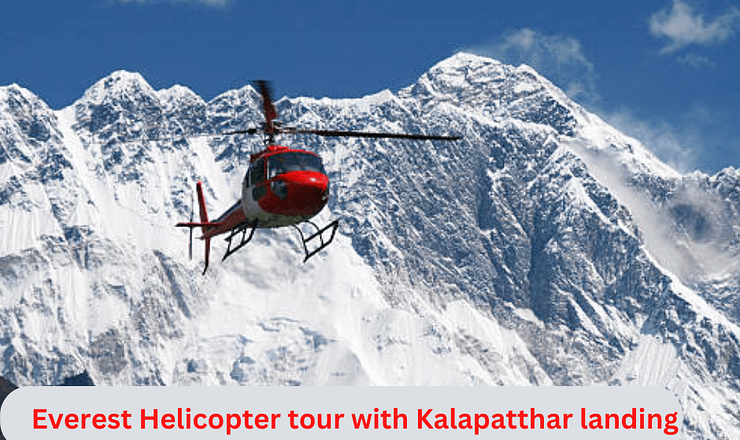 Are you dreaming of Everest Helicopter Tour With Landing at Kalapathar to see Mount Everest? If yes, a Helicopter tour to Everest is the best option. The Everest Base Camp Helicopter Tour with Landing at Kalapathar is the most popular helicopter ride in Nepal. The helicopter tour is a single-day package starting from Kathmandu airport…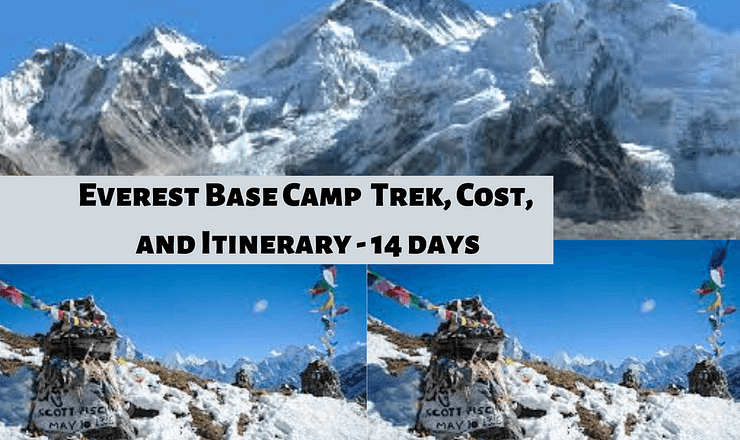 Everest Base Camp Trek Overview The Everest Base Camp trek journey is a top-tier adventure since it leads you to the base of the world's tallest mountain, Everest (8,848.68 m/29,029ft). Traveling through stunning high-altitude landscapes, high-altitude wildlife, traditional Sherpa culture, Buddhist monasteries, and snow-capped mountains, this tour will offer you a natural thrill at an…