Overview
Everest Gokyo Ri Trek and Gokyo Lake Trek are rated as one of the best places to experience trekking in Nepal. It is recommended for those who want to experience Everest trekking and want an alternative to the Everest Base Camp / EBC Trek. This 13-day Gokyo Ri Trek leads you to the delightful Gokyo Valley.
It is considered one of the highest settlements in Nepal. This trek allows you to experience an authentic Nepali life. First, explore the Sherpa settlement in Namche Bazaar, where you can enjoy the brilliant vista of Everest, the 'Peak of Heaven'—later passed through Dhole, Luza, and Machhermo.
One of the unique things about this Everest Gokyo Trek is the opportunity to experience such diverse landscapes within two weeks. This will start with the Gokyo Valley trek portion of your adventure. As you walk around the Gokyo Lakes, comprised of the six crystalline lakes, which make up the highest freshwater system in the world. From here, you will venture to the lush green forests of the lower Khumbu region. You will tackle the dry and rocky terrain of the Gokyo region and marvel at the icy moraines of the Ngozumpa glacier.
Throughout your adventure, you will enjoy the mesmerizing sights of Everest (8848m), Cho Oyu (8201m), Lhotse (8516m), Makalu (8481m), and Amadablam (6812m). The Gokyo Ri trek is rated as having moderate difficulty. It will include full support and rest stops throughout. Your most memorable stop will be as you reach the Everest viewpoint. You can relax as you take in the unparalleled panoramic views surrounding you.
My Everest Trip is a trusted name in the tourism business for Nepal trekking. We offer various Everest trekking and tour services around Nepal with experienced guides and support staff. This will ensure you have a safe, comfortable, and enjoyable trip. We recommend you make this trip between March and May or September and mid-December.
For any more queries regarding the Gokyo trek cost, Gokyo Ri Trek difficulty, your itinerary (including Flight to Lukla ), or anything else, then please don't hesitate to get in touch. Or, if you would like to read about what it is like to experience this adventure, please see our  Gokyo Ri trek Blog below.
Read More
Read Less
Your Itinerary
Outline Itinerary
Day 01: Kathmandu – Lukla [2,800 m/9,184 ft] – Phakding (2,652 m/8,700 ft): 3 – 4 Hrs
Day 02: Phakding – Namche Bazaar [3,440 m/11,283 ft]: 5 – 6 Hrs
Day 03: Namche Bazaar: Acclimatization Day
Day 04: Namche Bazaar – Dhole -[4110 m/ 13,480 ft]: 5 – 6 Hrs
Day 05: Dhole -Machhermo-[4,470 m/ 14,663 ft]: 5 – 6 Hrs
Day 06: Machharmo – Gokyo [4800 m/15,744 ft]: 5 – 6 hours
Day 07: Explore Gokyo Valley: Climb Gokyo Ri [5357 m/17,570 ft] and hike to the fifth lake: 5 – 6 Hrs
Day 08: Gokyo – Dhole: 5 – 6 Hrs
Day 9: Dhole – Namche Bazaar: 4 – 5 Hrs
Day 10: Namche Bazaar – Lukla: 6 – 8 Hrs
Day 11: Fly back to Kathmandu/Rest Day
---
Detail Itinerary
Day 01: Kathmandu – Lukla [2,800 m/9,184 ft] – Phakding (2,652 m/8,700 ft): 3 – 4 Hrs
From TIA, you will board a flight to Lukla airport, the gateway to Everest. After about 40 minutes aboard one of the World's most scenic flights, you will arrive at Lukla. You will then trek for about 3 hours until you reach Phakding. O/N in Phakding. Included: Accommodation, Breakfast, Lunch, and Dinner.
Day 02: Phakding – Namche Bazaar [3,440 m/11,283 ft]: 5 – 6 Hrs
You will move towards Namche Bazaar alongside the Dudh Koshi River from here. We will walk past Chumao and Monjo, from where we will enter the Sagarmatha National Park. We will then follow a steep trail to the Sherpa town called Namche Bazaar, which includes: Accommodation, Breakfast, Lunch, and Dinner.
Day 03: Namche Bazaar: Acclimatization Day
You will require an acclimatization day to adapt to the changing climate. To make the most of this time, you will hike up to Syangboche airport for an astonishing view of Everest (8848m) and the surrounding peaks of the Khumbu region. Then we will return to Namche Bazaar and visit the Sherpa Museum to glimpse Sherpa heritage. We will then spend the day enjoying the view of the enticing landscape and Sherpa Villages. O/N in Namche Bazaar. We included: Accommodation, Breakfast, Lunch, and Dinner.
Day 04: Namche Bazaar – Dhole -[4110 m/ 13,480 ft]: 5 – 6 Hrs
Leaving Namche, you first descend towards Dudh Koshi River and ascend towards Dhole. The trail is mostly stone steps amid rhododendron forests that take you past 'Mani walls' encrypted with Buddhist prayers. Upon arrival in Dhole, you can experience the simple and humble lifestyle of the Sherpa people. O/N in Dhole. Included: Accommodation, Breakfast, Lunch, and Dinner.
Day 05: Dhole -Machhermo-[4,470 m/ 14,663 ft]: 5 – 6 Hrs
From Dhole, you move towards Machhermo – following the trails of the Dudh Koshi River. The course takes you on a steep ascend to a panoramic view of Cho Oyu (8201m), Taboche (6542m), and Thamserku (6623m). In Machhermo, you will witness the warm hospitality of the Sherpa people. O/N in Machhermo. Included: Accommodation, Breakfast, Lunch, and Dinner.
Day 06: Machharmo – Gokyo [4800 m/15,744 ft]: 5 – 6 hours
You will walk through Phang Kha and descend to the riverbank before climbing up to the terminal moraines of Ngozumpa Glacier – the largest glacier in the Nepal Himalayas. You will explore three Gokyo lakes as you walk to Gokyo village. O/N in Gokyo. Included: Accommodation, Breakfast, Lunch, and Dinner.
Day 07: Explore Gokyo Valley: Climb Gokyo Ri [5357 m/17,570 ft] and hike to the fifth lake: 5 – 6 Hrs
You will hike up from Gokyo village and climb the Gokyo-Ri. You can view Mt. Everest (8848m), Cho-yu (8201m), Lhotse (8516m), Makalu (8481m), and the vast Ngozumpa glacier from Gokyo-Ri – along with the tranquil Gokyo lakes, the highest freshwater lake system in the World, made up of six lakes. O/N in Gokyo. Included: Accommodation, Breakfast, Lunch, and Dinner.
Day 08: Gokyo – Dhole: 5 – 6 Hrs 
From Gokyo, you descend straight down toward the village of Dhole. Dropping alongside the Dudh Koshi River, you will walk through pastures and mesmerizing flora and fauna to reach Dhole – enjoying the vista of the Khumbu Himalayas. O/N in Dole Included: Accommodation, Breakfast, Lunch, and Dinner.
Day 9: Dhole – Namche Bazaar: 4 – 5 Hrs
After walking downhill past Phortse Thanga and Mong villages, you will finally reach Namche Bazaar. You will feel exhausted but exhilarated and can celebrate your accomplishment with local Sherpa cuisine. O/N in Namche. Included: Accommodation, Breakfast, Lunch, and Dinner.
Day 10: Namche Bazaar – Lukla: 6 – 8 Hrs
You will trek back from Namche Bazaar to Lukla, leaving behind the pine and cedar forests as you reflect upon your trek and complete your journey. O/N in Lukla. Included: Accommodation, Breakfast, Lunch, and Dinner. 
Day 11: Fly back to Kathmandu/Rest Day
Soak in your last sight of the Himalayas as you fly back to Kathmandu from Lukla and enjoy your final night in the city's heart. O/N at the hotel. You included: Accommodation, Breakfast, and Dinner.  
Additional Info
Gokyo Ri Trek Difficulty      
As you have to spend much time above 4000m altitude while trekking, We say it's moderately complex. However, Gokyo Valley trekking doesn't need any technical skills to climb. It involves 5-7 hrs of daily walking and crossing Rocky terrain at high altitude areas, thus increasing Gokyo Trek's difficulty. Gokyo Ri summit, Cho La Pass, Everest Base Camp, and the Kala Patthar are areas above 17000 ft, and you have to trek at this altitude.  
Weather is another determining factor in the Everest Gokyo trek difficulty. The weather during the winter season becomes harder for regular trekkers. Cold wind with snowfall causes problems during the trek. You have to wait for the regular season for your trek, which is around autumn and spring.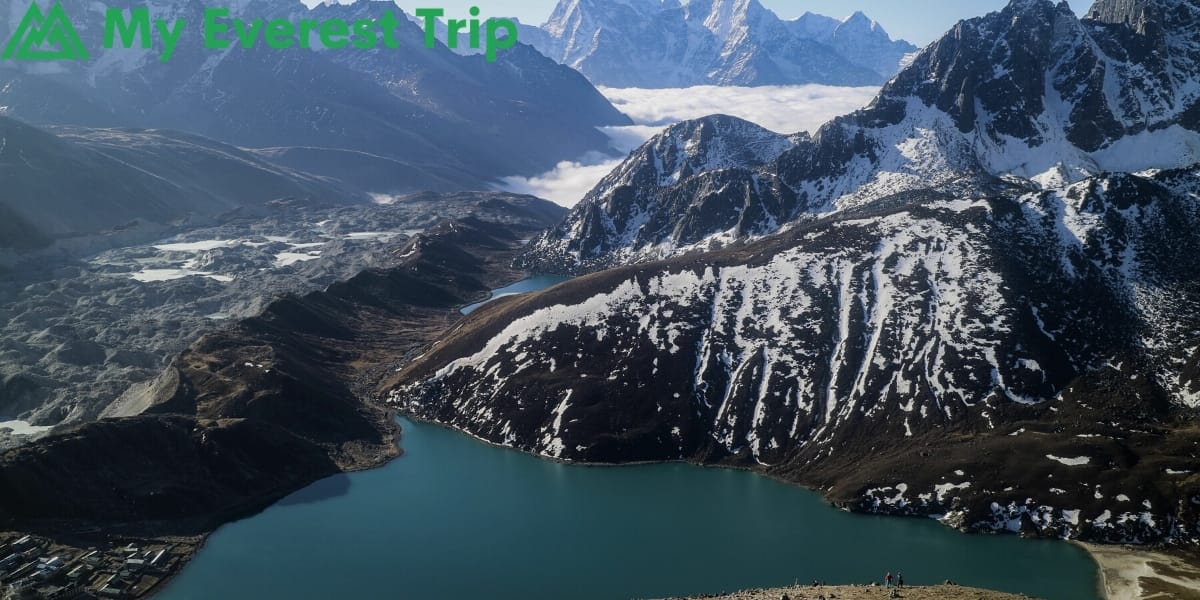 Gokyo trek altitude: Altitude sickness is another probable cause that limits your Gokyo lakes trek. At higher altitudes, oxygen composition in atmospheric air becomes thinner, which can cause altitude sickness to trekkers. Before trekking this Gokyo Nepal, you must consider these difficulties and challenges. Walking a couple of hours during preparatory phage daily and physical training is crucial for you. 
 Some people begin to feel sick around 3000m. Symptoms may be dizziness, nausea, and headache. Drinking plenty of water and tea can improve your ability to face altitude sickness. You can also go down to a lower altitude and wait overnight. Before trekking, you can consult your doctor and do physical exercise daily.  
Everest Gokyo RI trek Distance 
 Everest Gokyo trek distance is about 100 km. As it has a longer trekking route, you must walk around 5-7 hr daily. Among 13 days of the total Gokyo Ri trek, the trekking days are about 8kms. This means you will be walking 12 to 15 km each day, and even for a very experienced trekker, getting to Gokyo and back demands about ten days of walking. 
Best time for Gokyo Trek 
Choosing the best time for the Gokyo trek prevents you from dealing with unfavourable weather. Trekking during autumn and spring, i.e. around October and April, is the best time for the Gokyo village trek. During this season, you can explore clear mountain views with stable weather. But in the winter, you must face cold weather with frequent snowfall. Read the full article for the best season for trekking in Nepal.
Lukla to Gokyo RI Trek Cost 
The cost of the Gokyo Ri trek depends upon things such as mode of transportation, accommodation, guide and Porter, food, permit cost, etc. An average of around  1200-1800$ per person is required. MyEverestTrek Gokyo Trek's price is only $1199, including food, transportation, guide, porter, and permit costs. It's cheaper than the classic Everest Base Camp Trek.
 The cost of Lukla to Gokyo Ri for Independent trekkers can be divided into the following Category.
Transportation cost: A flight from Kathmandu to Lukla costs around 180$ per person one way. If you have plenty of time, taking a bus to Jiri from Kathmandu is another option that charges around 15-20$. Helicopters to Gokyo charge you more as compared to local buses or jeeps. 
Cost of food and drinks: In Kathmandu, it costs less than in Gokyo valley. You have many options to choose from, and it costs around 5-10$.
 But at a higher altitude, you have to pay higher for the food as lower options. For single meal costs around 6-7$ up to Namche, and as you go higher, the meal cost becomes more expensive. A single water bottle can cost around 2-3$.
Cost of accommodation: Around 5-7 $ per bed per night 
Cost of guide and porter: A trip without a guide and porter saves around 40-50$ per day. But hiring a guide and porter is crucial for you, as they help you navigate and identify mountains, peaks, and monasteries you pass through. You can have the option to hire a porter-guide, one who does work as a guide, and a porter.
Everest Gokyo Trek Permit 
 First and foremost, you need your visa to Nepal (except for Indians). You can get a one-month Nepal Travel Visa at TIA for $40 (Free for SAARC counties and Chinese). To go Gokyo Ri trek, you must receive two trek permits to Everest: the regional government and the national parks issue.
Local area permit 
Earlier, the Nepal government issued TIMS (Trekkers Information Management System) cards for trekkers in Kathmandu. But after 2018, the permit has to be replaced by a local area permit that can be issued in Lukla. After landing at Lukla airport, the officers ask for your visa and photo to give you the paper immediately. The Gokyo Trek permit costs $20, and you need to carry it throughout the journey. This Gokyo lakes trek permit for the local area goes for the promotion of tourism on Everest.
 Sagarmatha National Park Entry Permit
 At the entrance of Sagarmatha National Park, you must issue another permit for the Gokyo trek. This National Park is home to the Gokyo Lakes and Mount Sagarmatha, along with much unique flora/ fauna. The 30 USD + government tax you pay goes for nature conservation. It's money well spent. Our agency arranges all the permits while you enjoy the entire journey.
These are:
A local area permit costs around 20$ per person
Sagarmatha National Park entry permit, which costs about 30 $ including VAT.
Why US
MyEverestTrip is a Nepalese Travel and Trekking Agency based in Kathmandu. We have been operating in different trekking regions for more than a decade, traveling with hundreds of trekkers and travelers all around the world.
With the pure intention to bring trekkers to Nepal's safety and comfort, we have an entire team of travel planer, guides, and porters. We also have connections to hotels and restaurant lines all over Nepal for ensuring that our trekkers get the best possible facilities.   
So, here is the reason why you should travel with MyEverestTrip.  
Customize your itinerary:
We have designed a well-planned Itinerary for all travel destinations around Nepal. However, this Itinerary is customizable as per the need and requests of our trekkers. Just let us know when and how long you are staying so that we can arrange the rest. 
Our Expert guide: 
Although all travel agency claims to have a good guide, many of them are not informed about the place you are traveling to. However, MyEverestTrip has its own licensed guide in Nepal. They have been working in this field for over three decades, collecting all the information about the place/ culture, and learning to keep the travelers safe. Also, our guide is good at the English language. Upon special request, we can even hire a guide who can speak Chinese and other European languages for trekking in Nepal.
Fair and reasonable Cost:
MyEverestTrip has been known for its very economic trek packages in Nepal. You can compare the price we offer with any other travel agency in Nepal and only book with us if you are satisfied with our cost. We try to include all needed expenses during the tour so that you will not be overwhelmed with hidden expenses after the packages are booked. 
Your safety is our priority:
Obviously, the safety of our trekkers and our team is the utmost priority of MyEverestTrip. Our guide and porters who shall accompany you for the trip will have insurance of their own. We also encourage Travel insurance for our trekkers. Our treks and trip have been so designed that you only walk an appropriate distance. In any case of emergency, you will always have our back.
Responsible and Eco-Friendly 
MyEverestTrip operates with the belief in responsible tourism. This includes 
We are transparent about the services covered on the trip. There shall be no hidden cost (informed in advance if there's any)

We cover all the places that have been promised before the trek (the trend of skipping places once you book the package has to be discouraged). 

All our guides and porter are above 18yrs. We highly discourage child labor in the tourism industry

We do not leave any wastage behind on the trekking routes. We either dispose of the waste appropriately or carry them back with us and send it to the municipality

We do not engage in any activities that affect the people in the trek places of Nepal we stay.  
FAQ
Is The Gokyo Ri  Trek Possible?
Yes, you can do a Gokyo trek solo or hire a guide. Prior preparation to build physical stamina is necessary for your trek. Trekking without a guide does have problems with navigation. So  Hiring a guide is best for your hike.
How Long is Gokyo Trek?
MyEverestTrek Gokyo trek is about 13 days of the journey in total. Including two days for arrival and departure and one day in Kathmandu, your actual time in the mountains is ten days. Since there are two rest days, one in Namche and the other in Gokyo village, the solid trekking days are eight.
How Hard Gokyo Ri Trek?
You have to pass the steep mountain with a 5-7hr daily trek, which is not easy. During monsoons, the trail becomes more slippery due to heavy rainfall, limiting your hike. Difficulty level increases during the winter season with heavy snowfall and cold weather. Gokyo Ri is located at an altitude of 5357m; thus, altitude sickness is another problem. Drinking plenty of water and acclimatization can help the altitude sickness. However, all this pain is worth the beauty of Everest.
What are the Hotels in Gokyo Like?
You have plenty of options for choosing excellent, standard accommodation at a lower altitude. At higher altitudes, you have limited accommodation facilities. During the trek, you can find several tea houses facilitating capacity at a fair cost. They provide basic facilities like a single bed with a pillow and blankets. As the off-season begins, the rate of accommodation becomes cheap. Read the complete Everest Gokyo Trke Guide.
How to Reach Gokyo Lake?
There are plenty of options to reach Gokyo Lakes. You can take a flight to Lukla, ride to Jiri via bus, and then walk to Gokyo Lake. During the trek, you have to travel steep slopes and rivers. From Lukla, you must walk on foot via Namche to Gokyo. One can also reach Gokyo via a Helicopter flight to Everest.
Can you see Everest From Gokyo?
Yes, you can enjoy the great view of Mount Everest, the world's tallest peak, from Gokyo. Gokyo Ri, a hilltop above Gokyo village, is among Gokyo's most beautiful viewpoints. So, you can see Everest and other Himalayas ranges in the Khumbu region, which is above 8000 meters from Everest.
Map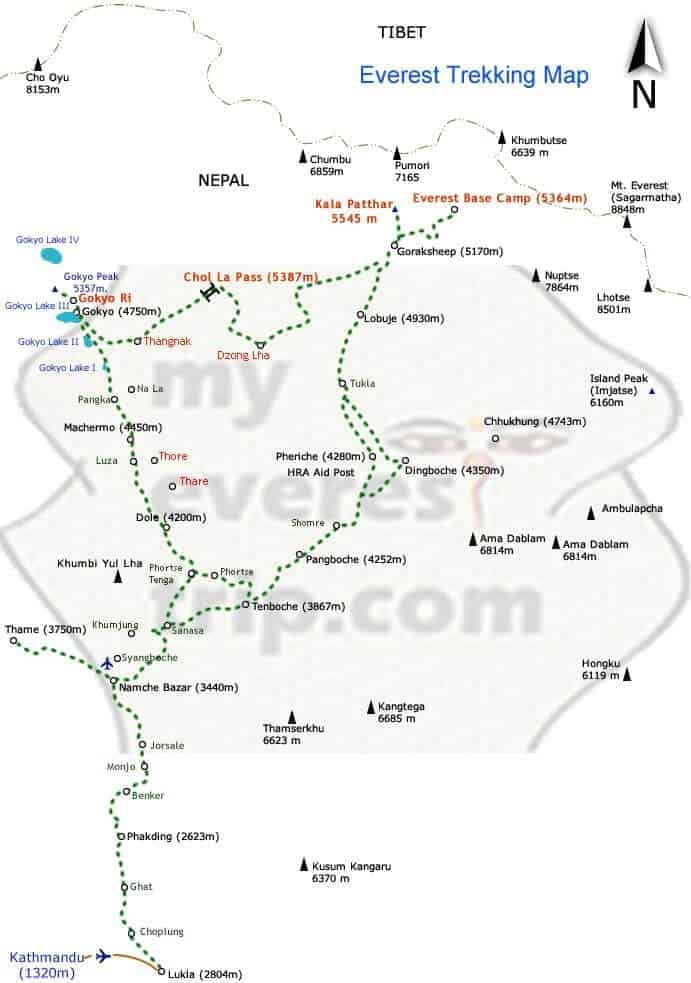 What's included
Airport/hotel pick up and drop off by private car.
At least two nights 3-star hotel in Kathmandu bed and Breakfast plan
Meals on the entire board (breakfast, lunch, and dinner) during the whole trekking
Domestic flights (KTM-Lukla-KTM) with all surcharges and airport taxes for guests and guide
Trekking map
An experienced Government license holder guide
Trekking porter/Sherpa who will carry your bags during the trekking
Insurance, salary, equipment, transportation, local tax for guide and porter
Group medical supplies (first aid kit will be available)
All necessary paper works and national park entry permits
Travel and rescue arrangement
TIMS (Trekkers' Information Management System)
All government taxes and tourist service charges
What's not included
Meals in Kathmandu before and after trekking,
Your travel insurance ( Rescue )
Nepal entry visa fee.
Tips for trekking staff and driver
Drinks (hot, cold, and alcoholic)
Personal shopping and laundry etc
Personal trekking equipment.
Choose a Private Trip
If you already know who you would like to take your adventure with and would prefer to enjoy your 'My Everest Trip' experience with your own group of friends, then we've got good news! All of our trips are also available as private adventures! Our private adventure specialists are on hand to give you a quote or talk you through some of the different options that we offer.
So feel free to give us a call on +977 9851069558 or Email us at [email protected]
Reviews
If you have already travelled with us and want to share your story and experiences to the world please send us your experiences by cliking the button below:
These reviews are from the travellers who have travelled with us previously.
Great Experience With Nepal Himalayan
This was my third trek with My Everest Trip and my husband and my son were first and it was fantastic! Our guide Ratna and Porters Birkagi and man Kumar make it created Himalayan magic! When we arrived at Kathmandu airport we are not worried cause I know them very well and they come to Welcomed us at Kathmandu airport by our previous guide Ratna and were cared for every day until we returned to the airport by this most impressive guide. When we fly Kathmandu to Lukla then we met our porters. On the mountain, Ratan. guided us daily to the most friendly and warm teahouses and made sure we had plenty of tea and make a short Break after 30 min to 1-hour walk. They always look at goos lodge. And the best good food for us, we always get warm showers and after fun card games. He helped us take our time with acclimatizing and kept us safe when the altitude and exertion accumulated. Our porter was always smiling and helpful and was amazing in his ability to move our gear up and down the mountain- he also plays a great card game! I highly recommend the Gokyo Lake trek for its beauty, the opportunity for stunning views of Everest and its neighbors.
Thank you My Everest Trip for a great experience With Nepal Himalayan For my Faimelyes and hope we will have another trek soon.
Amazing Trek in My Life
Everest Gokyo Ri trek is the Gorgeous trek in the Everest Region, the heart of Khumbu visit the busy and dynamic Namche Bazaar on the second day and then head off to a less trodden path up to Gokyo Lakes. It is trekking at its best, stunning and peaceful, with the pinnacle of the trek up to Gokyo Ri with the splendid Himalayan mountain views. Where we can see ( 4 of 8000 M) mountain with so many mountains with lake and sunrise, My guide Ram and porter Chandra were amazing, Thye taking well care of me enjoying their enthusiasm and joy of this spectacular region. I thought without them I can't do this trek, I just loved them, Me and my Friend trekked this time and enjoyed the solitude Trek, we get always the best accommodation and then the company at the guest and tea houses. It was perfect and I am already planning my next trek with My Everest Trip.
If any of you are planning to trek in Nepal I will highly recommend this company and organizer Mr. Puru.
Professional and friendly service
Used their services with their guide Ratna. It is a very smart guy who knows where to go and how to get there and get you the best rooms and meals 🙂 We have been trekking for 30 days from Lukla to Chukunk then to Everest base camp with a hike to Kalapattar. Next, we hike Chola Pass toward Gokyo, and after it was Renjo La Pass to loop back to Namche Bazaar. Highly recommended!
Package Summary
Highlights of Everest Gokyo RI Trek
A Scenic Flight From Kathmandu to Lukla.
I am getting to know Sherpa culture.
Visiting the Namche Bazaar and Khumjung valley.
Investigating Everest Viewpoint.
Encountering the Gokyo Lakes and Gokyo RI.
An excursion to the Hillary Museum.
Turquoise and quiet Gokyo Lakes
Great perspective on Mt Everest, Lhotse, Makalu, Cho Oyu, and 84 other distinct Mountains sees.
Buddhist supplication banner with Tibetan mantra composed of stone.
We Offer Group Discount
| No. of Persons | Price per Person |
| --- | --- |
| 1 | US$ 1399 |
| 2 | US$ 1250 |
| 3 - 7 | US$ 1049 |
We are your ultimate adventure partner.
MyEverestTrip is a reliable, Eco-friendly, and experienced tour company in Nepal – so if you're looking for the ultimate  Himalayan adventure, you've come to the right place. Our seasoned guides offer mountain trekking and peak climbing across Nepal, Bhutan, and Tibet – as well as a myriad of jungle safaris, sightseeing, bungee jumping, cycling, and paragliding packages. So to learn more about us click below and choose us as your ultimate adventure partner! Learn More About Us
Why Book With Us
70% Repeat Customers
Guaranteed Departures
Team of destinations Experts
Competitive Prices
99% Success Rate
Places of attractions, travel tips, news and more.Recent From Our Blog
April is a great time to trek in Nepal, with stable weather conditions, clear skies, and blooming rhododendron forests. Here are the top 5 trekking packages for April 2023 that offer a mix of adventure, stunning scenery, and cultural immersion. Everest Base Camp Trek 12 Days Duration: 12 days Max Elevation: 5,545m The Everest Base…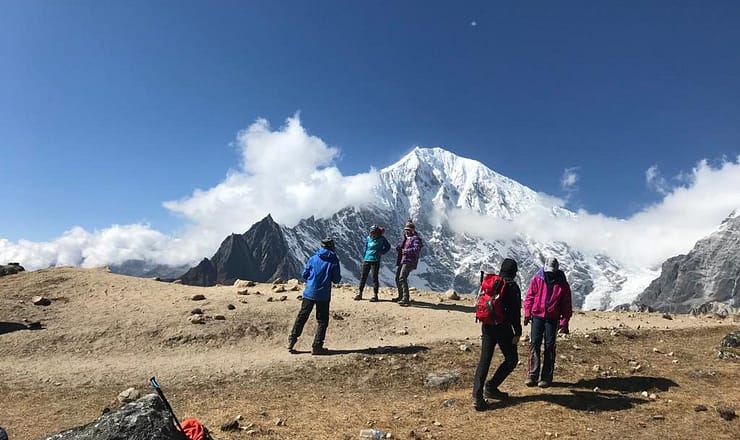 Know about the major Highlights of Langtang Valley Trekking before you book your trip. This article gives you an overview of the Langtang trekking route, including difficulty level, the best time for the Trek, walking hours, packing lists, permits and guide porter services. Let's imagine a place that has a great mountain range in the…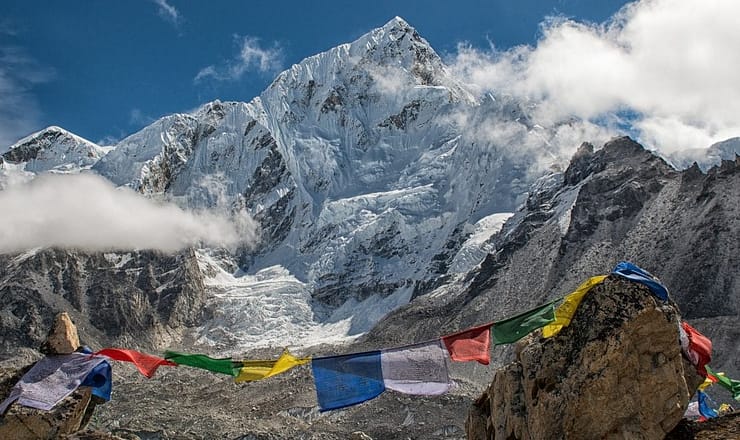 If you plan to trek in Nepal soon and want to know about the top Nepal trekking packages for 2023, this post is for your comfort.