Overview
Everest Base Camp Helicopter Tour is the best way to experience the mighty Mount Everest within a single day from Kathmandu. You can join a group or charter a helicopter as a private heli ride. 
Do you dream of seeing Mount Everest, but do not quite fancy spending a few weeks hiking there? Well, don't worry – we have the solution for you. We can take you on Everest Helicopter Tour in just 1 day – that's also within 4 to 5 hours and all in the comfort and thrill of a helicopter!
Everest Helicopter Tour Program
Starting your exciting luxury journey in Kathmandu, where you will be treated to an aerial view of the bustling city and its famed UNESCO World Heritage Sites, before heading towards the 'Gateway to Everest' (Lukla). Criss Cross over snowy mountain peaks, lush green landscapes, local settlements, and majestic monasteries, as you fly alongside the Himalayan range on your way towards Kala Patthar (5550 m), the most popular viewpoint in Everest Region. Step off the helicopter and enjoy up-close views of Pumori, Nuptse, Lobuche, and of course, Mount Everest.
Climb back into your luxury helicopter Tour and fly over trekkers cutting their way through mountainsides on their way to Everest Base Camp and its 8000-meter peaks. Enjoy the view as you hover above and observe the landscape peppered with multi-colored tents, and marvel at the frozen panorama of the Khumbu Glacier and Icefall.    
Then take your second stop at Shyangboche, and enjoy a breathtaking breakfast surrounded by Himalayan peaks, before one final swoop over the Goyoko lakes. The perfect way to explore one of the world's most beautiful sights, all from the comfort of a helicopter!
This is therefore ideal for anyone not able to trek, with limited time, or maybe just not keen on the idea of trekking itself. However, if this doesn't sound like you, but you still fancy the thrill of the helicopter, then why not combine the helicopter ride with one of our many trekking packages? You can still experience the sights on foot, but you can cut down on your journey, and enjoy the adventure of the Tour.
To find out more about the trip, or how to customize it and make it perfect for you, get in touch with a friendly member of our team, and we will be more than happy to help!
Read More
Read Less
Your Itinerary
Transfer to Tribhuvan International Airport: Everest Helicopter Tour: You will be collected from your hotel in the morning and driven to the airport. From here you will board your helicopter to Lulka – and the excitement will begin! Flying early in the morning, the skies should be clear as we fly east, enjoying panoramic views of Kathmandu before heading towards the mountains. We will then fly above Himalayan peaks on our thrilling ride, before reaching Lukla, a mountaintop Sherpa settlement known as the 'Gateway to Everest'. We will land at Tenzing-Hillary Airport to refuel and explore, before setting back off toward the mountains.
Fly from Lukla to Everest Base Camp; Stopover at Kala Patthar (5550m/19,290ft)Enjoy breathtaking views of glacial rivers, Sherpa settlements, and majestic monasteries as we get back on board and fly over the emerald Gokyo Lakes – their sparkling turquoise waters contrasting with the icy white frozen glaciers.
As we reach Everest Base Camp, your helicopter will hover over the expedition groups as they attempt to scale Mount Everest. If it's the climbing season, the snow-covered landscape will be filled with colorful tents, creating a beautiful patchwork for you to observe from above. Surrounding the trekkers you can view the broad glacial basin of Western Cwm, Khumbu Icefall, and Khumbu Glacier.
The helicopter will then touch base in Kala Patthar. At a height of 5545m, you are almost at the foot of Mount Everest and can take in the atmosphere as you are surrounded by one of the most incredible views on earth. A chain of some of the highest peaks in the World rises up around you as you soak in the views and take pictures. Due to the height, the air here is thin and oxygen levels are low. So, to ensure that you are not affected by the altitude, we will only stop here for 10 to 15 minutes, before flying onto Shyangboche.
Breakfast at Shyangboche (30-40 minutes) and fly back to Kathmandu Our next stop is in Shyangboche, where we will step off the helicopter for 20 – 40 minutes and enjoy one of the most magical breakfasts of your life. Flanked by the frozen walls of Ama Dablam, Thamserku, and Khumbu Himal, you can celebrate the completion of this wonderful tour.
Why US
MyEverestTrip is a Nepalese Travel and Trekking Agency based in Kathmandu. We have been operating in different trekking regions for more than a decade, traveling with hundreds of trekkers and travelers all around the world.
With the pure intention to bring trekkers to Nepal's safety and comfort, we have an entire team of travel planer, guides, and porters. We also have connections to hotels and restaurant lines all over Nepal for ensuring that our trekkers get the best possible facilities.   
So, here is the reason why you should travel with MyEverestTrip.  
Customize your itinerary:
We have designed a well-planned Itinerary for all travel destinations around Nepal. However, this Itinerary is customizable as per the need and requests of our trekkers. Just let us know when and how long you are staying so that we can arrange the rest. 
Our Expert guide: 
Although all travel agency claims to have a good guide, many of them are not informed about the place you are traveling to. However, MyEverestTrip has its own licensed guide in Nepal. They have been working in this field for over three decades, collecting all the information about the place/ culture, and learning to keep the travelers safe. Also, our guide is good at the English language. Upon special request, we can even hire a guide who can speak Chinese and other European languages for trekking in Nepal.
Fair and reasonable Cost:
MyEverestTrip has been known for its very economic trek packages in Nepal. You can compare the price we offer with any other travel agency in Nepal and only book with us if you are satisfied with our cost. We try to include all needed expenses during the tour so that you will not be overwhelmed with hidden expenses after the packages are booked. 
Your safety is our priority:
Obviously, the safety of our trekkers and our team is the utmost priority of MyEverestTrip. Our guide and porters who shall accompany you for the trip will have insurance of their own. We also encourage Travel insurance for our trekkers. Our treks and trip have been so designed that you only walk an appropriate distance. In any case of emergency, you will always have our back.
Responsible and Eco-Friendly 
MyEverestTrip operates with the belief in responsible tourism. This includes 
We are transparent about the services covered on the trip. There shall be no hidden cost (informed in advance if there's any)

We cover all the places that have been promised before the trek (the trend of skipping places once you book the package has to be discouraged). 

All our guides and porter are above 18yrs. We highly discourage child labor in the tourism industry

We do not leave any wastage behind on the trekking routes. We either dispose of the waste appropriately or carry them back with us and send it to the municipality

We do not engage in any activities that affect the people in the trek places of Nepal we stay.  
What's included
Pick up / drop from your hotel to the airport.
Breakfast in Everest View Hotel
Choose a Private Trip
If you already know who you would like to take your adventure with and would prefer to enjoy your 'My Everest Trip' experience with your own group of friends, then we've got good news! All of our trips are also available as private adventures! Our private adventure specialists are on hand to give you a quote or talk you through some of the different options that we offer.
So feel free to give us a call on +977 9851069558 or Email us at [email protected]
Reviews
If you have already travelled with us and want to share your story and experiences to the world please send us your experiences by cliking the button below:
These reviews are from the travellers who have travelled with us previously.
EBC With Helicopter Tour
Mr. Puru and his company My Everest Trip were a great experience!  They made things very easy for me and my father and mum on our trek to Everest Base Camp with  Helicopter Tours!  Very flexible, and helpful.  He is a very friendly person Mr. Puru and always happy to assist us with anything including flights and everything packages we need, last-minute changes, hotel arrangements, and tours.  Great guys always have a smile on their faces.  I really want them to continue their top service, They truly deserve it.  Give them a try, you won't regret it.   
Everest Base camp with Helicopters  
It was my dream to touch my soul to mt Everest base camp in my life but my age and my knee can't afford it, but finally, I show my Everest trip they have helicopters tour in his packages within 4 hours tour mt Everest base camp and come back, I was so surprised and I start to talk with my Puru who will arrange Myarrange  Mt, base camp by helicopters. and his office and we talk about the tour plans the next day morning he manages this trip by joining the group on a great  Helicopter Tours to Everest Base Camp & Kalapther Tour.   
I am really enjoying my short holiday in Nepal with Everest Heli Tour to Everest base camp, actually, we stopped close to the bottom of Kalapathar Hill, above Gorak shep and Everest viewpoint also a perfect spot for excellent close views of Mt. Everest and the alluring panorama of the whole mountain range of Everest and many others mountain Views.   
Package Summary
Within 4 to 5 hours and all in the comfort and thrill of a helicopter Tours
Get way to Everest ( Lukla ) Landing
Everest viewpoint  landing
Kalapather landing with a view of Khumbu glacier  and see many more mountain views
Back to Lukla – Kathmandu
| No. of Persons | Price per Person |
| --- | --- |
| 1 pax | US$ 1250 |
| 2 paxes | US$ 1200 |
| 3 - 5 paxes | US$ 1150 |
We are your ultimate adventure partner.
MyEverestTrip is a reliable, Eco-friendly, and experienced tour company in Nepal – so if you're looking for the ultimate  Himalayan adventure, you've come to the right place. Our seasoned guides offer mountain trekking and peak climbing across Nepal, Bhutan, and Tibet – as well as a myriad of jungle safaris, sightseeing, bungee jumping, cycling, and paragliding packages. So to learn more about us click below and choose us as your ultimate adventure partner! Learn More About Us
Why Book With Us
70% Repeat Customers
Guaranteed Departures
Team of destinations Experts
Competitive Prices
99% Success Rate
Places of attractions, travel tips, news and more.Recent From Our Blog
Once you've done the Everest base camp trek, the next most popular trek in the world is the Annapurna trek in Nepal. A goddess in Hindu mythology, "Ma Annapurna," whose name means "full of grains" or "giver of sustenance," is said to have given the peak its current name. The Annapurna Base Camp Trek is…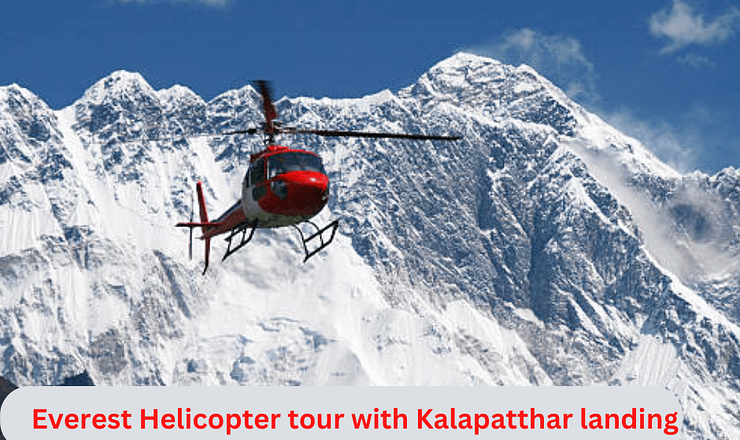 Are you dreaming of Everest Helicopter Tour With Landing at Kalapathar to see Mount Everest? If yes, a Helicopter tour to Everest is the best option. The Everest Base Camp Helicopter Tour with Landing at Kalapathar is the most popular helicopter ride in Nepal. The helicopter tour is a single-day package starting from Kathmandu airport…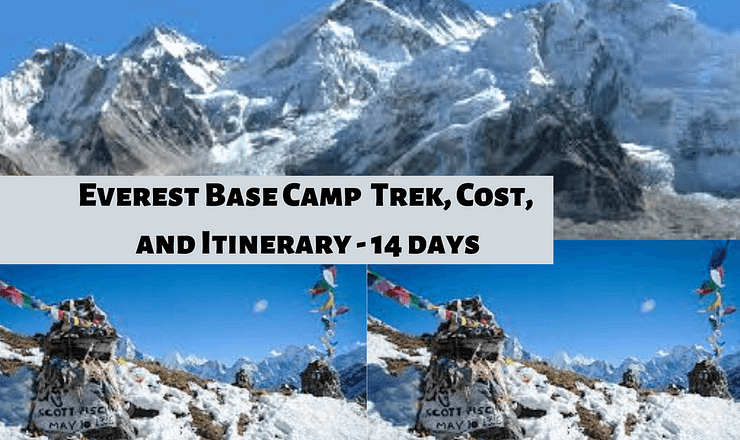 Everest Base Camp Trek Overview The Everest Base Camp trek journey is a top-tier adventure since it leads you to the base of the world's tallest mountain, Everest (8,848.68 m/29,029ft). Traveling through stunning high-altitude landscapes, high-altitude wildlife, traditional Sherpa culture, Buddhist monasteries, and snow-capped mountains, this tour will offer you a natural thrill at an…