Everest Panorama View Trek
Overview
The Everest Panorama View trek is one of the most accessible trekking routes in Nepal. People who do not have the experience, or are old, can quench their thirst for trekking. The Everest Panorama trek package is suitable for people who have a problem with high altitudes or have time restraints. While you move further, you will be stunned to see the panoramic view of the highest peak- Mount Everest (8848 m). This trek brings you up front to see the lifestyle and culture of the Sherpa people Khumbu region. This trek allows you to witness the magnificent Himalayan culture, tradition, museums, monasteries, and ethnic settlements of the local Sherpa people, along with the natural diversities.
Everest Panorama View Trek begins upon your arrival in Kathmandu. The next day, we will take a 40-minute scenic mountain flight which will take us to the world's most dangerous airport, Lukla. Lukla is the heart of the Solukhumbu region and commencing point of our trek. The trek continues as we move further to explore the diverse flora and fauna along with the lifestyle of the local people, Sherpa. We follow the Valley of Dudh Koshi River to reach Namche Bazar. This cultural trek allows you to live the moments with the local people. It takes you above Namche Bazar for the excellent view of Everest (8848 m) and other mountains in the Khumbu region– Amadablam (6812 m), Lhotse (8516 m), Thamserku (6623 m) and so on. The next day, we move to the Tengboche monastery, which gives you the spiritual feeling of the Buddhist Sherpa of this region. Then we descend back to Khumjung village, Thame, Monjo, and Lukla. We finally board a flight back to Kathmandu. The overall cultural trek is enthralling and mesmerizing as a whole. The fantastic view of the mountain range will leave you astonished. This trek is operated in the season of September to November and March to May.
With our experienced team and well service quality, you will not have any problems during the trip. Feel free to contact us and get the best experience of your lifetime. Everest Trekking Packages 
Read More
Read Less
Your Itinerary
Day 01: Fly from Kathmandu to Lukla (2880 m) and trek to Phakding 
Flying (40 minutes) and arriving at Lukla airport. Then, move towards Dudh Koshi valley through the local villages, tea houses, and stone walls. After 3 hours of trek, we crossed the river and reached Phakding. O/N at a lodge.
Day 02: Trek from Phakding to Namche Bazaar (3440 m)
Cross Monjo, arrive at Everest National Park and trek through Jorsalle village to cross the suspension bridge. Later cross another impressive suspension bridge and ascend for an hour to Namche. After 6 hours of the trek, we reach Namche Bazaar. O/N in Namche Bazaar.
Day 03: Rest at Namche Bazaar for acclimatization and excursion
Visit Sherpa Culture Museum and Everest Photo Gallery in Namche Bazaar. Begin 2 hours steep walk, passing Syangboche airstrip (3700m). Enjoy the mesmerizing view of the panoramic Himalayan range. Relax and enjoy the rest of the day visiting nearby villages. O/N in Namche Bazaar.
Day 04: Trek  to Thyangboche (3867 m)
Descend to Dudh Koshi and view Ama Dablam (6812 m), Kangtega (6782), Everest (8848 m), and Lhotse (8516 m). Cross the river at Phunki Thanga and walk through the rhododendron forest. Trek uphill to see Thyangboche Monastery, one of the Khumbu region's largest monasteries. The view is magnificent and unforgettable. O/N in Thyangboche.
Day 05: Trek from Thyangboche to Namche Bazaar (3440m)
Ascend and descend along the dusty trail, pass through Phunki Tenga, Sanasa, Khumjung, and down to Namche Bazaar. Experience villages, yaks, and local people as you move ahead. Get thrilled with the fantastic view with a sense of accomplishment. O/N in Namche Bazaar.
Day 06: Trek from Namche Bazaar to Lukla (2880 m)
We walk for about 5-6 hours down to the slippery roads. This will be our last evening of the trek, which calls for the celebration. Review of the tour during dinner. O/N in Lukla.
Day 07: Fly from Lukla to Kathmandu
Fly back to Kathmandu from Lukla. Feel free to stroll in the streets of Kathmandu and enjoy a traditional dinner. O/N at the hotel.
Additional Info
Why Everest Panorama View Trek is a Famous Trek?
Everest Panorama View Trek is a popular trekking route in the Solu-Khumbu region of Nepal that provides breathtaking views of the Himalayan mountains, including Mount Everest. The trek takes you through traditional Sherpa villages, lush forests, and high-altitude valleys, immersing you in the local culture and experiencing the region's stunning natural beauty.
Where to start Everest Panorama View Trek?
The trek starts and ends in Lukla, a town located at an altitude of 2,840 meters, and can be completed in 7 to 10 days. The hike reaches its highest point at Tengboche Monastery, which is at an altitude of 3,870 meters and offers panoramic views of the surrounding mountains, including the mighty Mount Everest.
In addition to the stunning mountain views, the Everest Panorama View Trek also offers opportunities to learn about the local Sherpa culture and religion and visit the famous Tengboche Monastery, one of the largest and most important monasteries in the Solu-Khumbu region.
How challenging is Everest Panorama View Trek?
The trek is suitable for people of all ages and fitness levels and can be completed throughout the year, although the best time to go is from September to November and from March to May. It is essential to be acclimatised appropriately and to take necessary precautions to stay safe and healthy during the trek.
Overall, the Everest Panorama View Trek is an excellent option for those looking for a short and relatively easy trek that offers spectacular views of the Himalayan mountains and a chance to experience the local culture and way of life in the Solu-Khumbu region.
Why US
MyEverestTrip is a Nepalese Travel and Trekking Agency based in Kathmandu. We have been operating in different trekking regions for more than a decade, traveling with hundreds of trekkers and travelers all around the world.
With the pure intention to bring trekkers to Nepal's safety and comfort, we have an entire team of travel planer, guides, and porters. We also have connections to hotels and restaurant lines all over Nepal for ensuring that our trekkers get the best possible facilities.   
So, here is the reason why you should travel with MyEverestTrip.  
Customize your itinerary:
We have designed a well-planned Itinerary for all travel destinations around Nepal. However, this Itinerary is customizable as per the need and requests of our trekkers. Just let us know when and how long you are staying so that we can arrange the rest. 
Our Expert guide: 
Although all travel agency claims to have a good guide, many of them are not informed about the place you are traveling to. However, MyEverestTrip has its own licensed guide in Nepal. They have been working in this field for over three decades, collecting all the information about the place/ culture, and learning to keep the travelers safe. Also, our guide is good at the English language. Upon special request, we can even hire a guide who can speak Chinese and other European languages for trekking in Nepal.
Fair and reasonable Cost:
MyEverestTrip has been known for its very economic trek packages in Nepal. You can compare the price we offer with any other travel agency in Nepal and only book with us if you are satisfied with our cost. We try to include all needed expenses during the tour so that you will not be overwhelmed with hidden expenses after the packages are booked. 
Your safety is our priority:
Obviously, the safety of our trekkers and our team is the utmost priority of MyEverestTrip. Our guide and porters who shall accompany you for the trip will have insurance of their own. We also encourage Travel insurance for our trekkers. Our treks and trip have been so designed that you only walk an appropriate distance. In any case of emergency, you will always have our back.
Responsible and Eco-Friendly 
MyEverestTrip operates with the belief in responsible tourism. This includes 
We are transparent about the services covered on the trip. There shall be no hidden cost (informed in advance if there's any)

We cover all the places that have been promised before the trek (the trend of skipping places once you book the package has to be discouraged). 

All our guides and porter are above 18yrs. We highly discourage child labor in the tourism industry

We do not leave any wastage behind on the trekking routes. We either dispose of the waste appropriately or carry them back with us and send it to the municipality

We do not engage in any activities that affect the people in the trek places of Nepal we stay.  
FAQ
What is the Everest Panorama View Trek?
The Everest Panorama View Trek is a popular trekking route in the Solu-Khumbu region of Nepal that offers stunning views of Mount Everest and the surrounding peaks. The trek can be completed in 5-7 days and is an excellent option for trekkers looking for a shorter and more accessible alternative to the full Everest Base Camp Trek.
How challenging is the trek?
The Everest Panorama View Trek is considered a moderate trek suitable for those with prior hiking experience and good physical condition. The trek involves walking for 4-6 hours a day on steep and rugged trails, so it is essential to be prepared for the physical demands of the trek.
What is the best time to trek?
The best time to trek the Everest Panorama View Trek is from September to November and from March to May, when the weather is clear and dry, providing the best views of the mountains.
Do I need a guide or a porter?
While it is possible to complete the Everest Panorama View Trek independently, hiring a guide or a porter is highly recommended. This not only ensures your safety but also supports the local economy and allows you to fully immerse yourself in the local culture and way of life.
What kind of accommodation is available during the trek?
Accommodation during the trek is available in local teahouses, which offer basic but comfortable rooms with twin beds, blankets, and sometimes a private bathroom. Meals can also be purchased at the teahouses, which typically provide a range of traditional Nepalese and Tibetan dishes.
What should I pack for the trek?
When packing for the Everest Panorama View Trek, it is essential to bring warm and waterproof clothing, a good quality backpack, sturdy hiking boots, and necessary personal items such as a headlamp, sunscreen, and insect repellent. Your trekking company will provide a detailed packing list.
Equipment Checklist
Light and expedition weight thermal tops
Sunglasses with UV protection
Fleece jacket or pullover
Sleeping bag rated to 0 degrees (3/4 season)
Fleece Wind-Stopper jacket (optional)
Head lamp (eg Petzl) spare bulbs & batteries
Lightweight thermal gloves
Small padlock to lock trek bag
Underwear (4)
Basic First Aid Kit (see First Aid Medicine below)
Waterproof shell jacket (preferably breathable fabric)
Plastic bags – for keeping items dry inside trek bag
Shorts (2)
Daypack (35-40 litres/2500-3000 cubic inches)
Lightweight cotton long trousers/pants
Camping mattress, eg thermarest pad
Light and expedition weight thermal bottoms
Water bottles (2)
Sun hat or scarf
Toiletries
Warm fleece hat or light balaclava
Small wash towel
T-shirts (2)
Footwear appropriate to the trip
Thin, lightweight (inner socks) (4)
Waterproof shell trousers/pants (preferably breathable fabric)
Map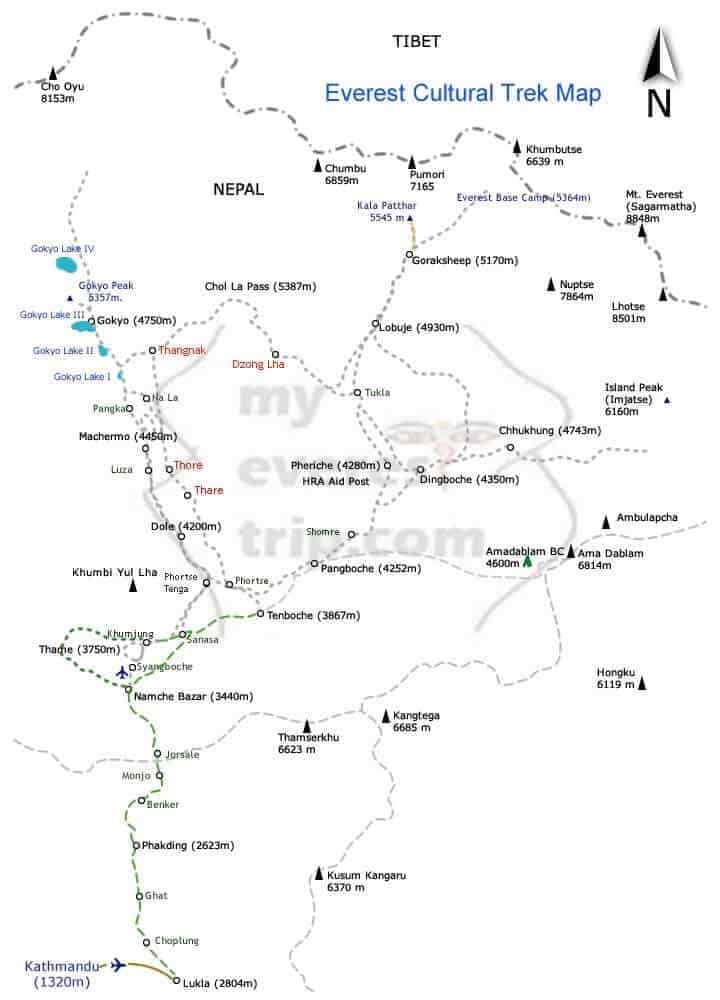 What's included
Airport/hotel pick up and drop off by private car.
At least two nights 3-star hotel in Kathmandu bed and Breakfast plan
Meals on full board (breakfast, lunch, and dinner) during the whole trekking
Domestic flights (KTM-Lukla-KTM) with all surcharges and airport taxes for guests and guide
Trekking map
An experienced Government license holder guide
Trekking porter/Sherpa who will carry your bags during the trekking
Insurance, salary, equipment, transportation, local tax for guide and porter
Group medical supplies (first aid kit will be available)
All necessary paper works and national park entry permits
Travel and rescue arrangement
TIMS (Trekkers' Information Management System)
All government taxes and tourist service charges
What's not included
Meals in Kathmandu before and after trekking,
Your travel insurance ( Rescue )
Tips for trekking staff and driver
Drinks (hot, cold and alcoholic)
Personal shopping and laundry etc
Personal trekking equipment
Choose a Private Trip
If you already know who you would like to take your adventure with and would prefer to enjoy your 'My Everest Trip' experience with your own group of friends, then we've got good news! All of our trips are also available as private adventures! Our private adventure specialists are on hand to give you a quote or talk you through some of the different options that we offer.
So feel free to give us a call on +977 9851069558 or Email us at [email protected]
Reviews
If you have already travelled with us and want to share your story and experiences to the world please send us your experiences by cliking the button below:
Package Summary
Highlights of Everest Panorama Trek
A Scenic flight from Kathmandu to Lukla.
Lifetime memorable movements.
Experience local Sherpa culture.
Magnificent views of the world's highest peaks, including Mt Everest.
Namche bazer and Khumjunj Village.
Tangboche Monastery
| No. of Persons | Price per Person |
| --- | --- |
| 1 | US$ 999 |
| 2 | US$ 950 |
| 3 - 5 | US$ 910 |
| 5 - 12 | US$ 880 |
We are your ultimate adventure partner.
MyEverestTrip is a reliable, Eco-friendly, and experienced tour company in Nepal – so if you're looking for the ultimate  Himalayan adventure, you've come to the right place. Our seasoned guides offer mountain trekking and peak climbing across Nepal, Bhutan, and Tibet – as well as a myriad of jungle safaris, sightseeing, bungee jumping, cycling, and paragliding packages. So to learn more about us click below and choose us as your ultimate adventure partner! Learn More About Us
Why Book With Us
70% Repeat Customers
Guaranteed Departures
Team of destinations Experts
Competitive Prices
99% Success Rate
Places of attractions, travel tips, news and more.Recent From Our Blog
April is a great time to trek in Nepal, with stable weather conditions, clear skies, and blooming rhododendron forests. Here are the top 5 trekking packages for April 2023 that offer a mix of adventure, stunning scenery, and cultural immersion. Everest Base Camp Trek 12 Days Duration: 12 days Max Elevation: 5,545m The Everest Base…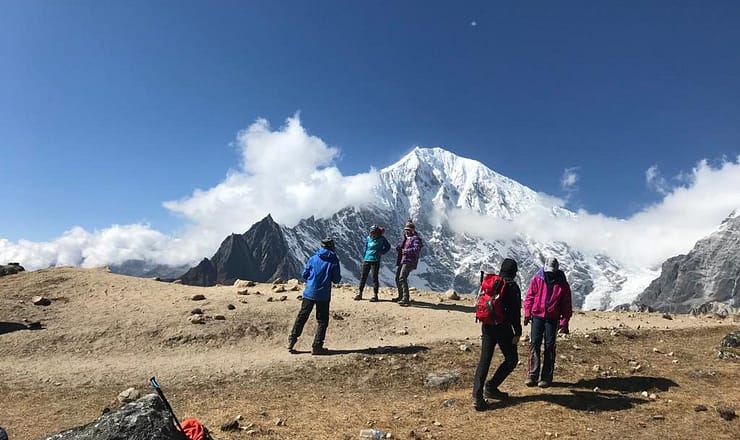 Know about the major Highlights of Langtang Valley Trekking before you book your trip. This article gives you an overview of the Langtang trekking route, including difficulty level, the best time for the Trek, walking hours, packing lists, permits and guide porter services. Let's imagine a place that has a great mountain range in the…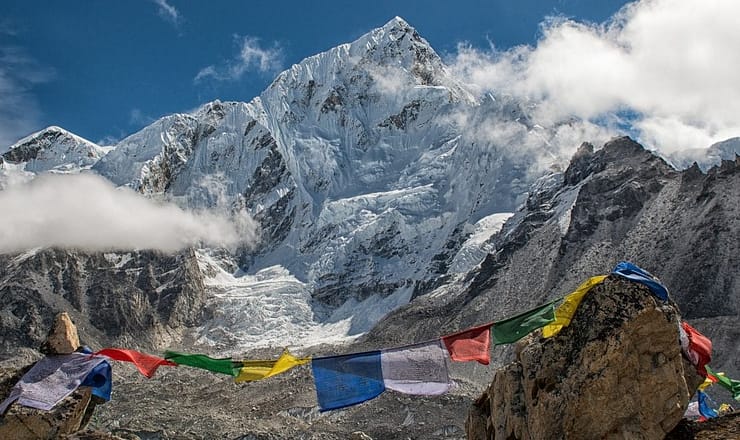 If you plan to trek in Nepal soon and want to know about the top Nepal trekking packages for 2023, this post is for your comfort.