Overview
If you want to experience trekking in Nepal, and admire the greatness of the mighty Everest (8848 m), but you want a short or easy option, then this Everest Short Trek or Everest Panorama trek is the one for you. This Everest trekking package lets you experience trekking in the Himalayas. Enjoy all the beauty and reward of venturing into the Everest region, in just a week.
The Everest short trek starts from the capital city, Kathmandu. Here you will embark on a flight to the most unique airport on earth, Lukla, to begin the journey. However, it is not only Everest that you will see, as this Panorama View Trek or short treks in the Himalayas truly lives up to its name. On this 5-day journey you will be able to witness the magnificent views of the highest and most spectacular mountain ranges in the world; mountains such as Mt. Lhotse (8516 m), Mt. Nuptse (7861 m), Mt. Thamserku (6623 m), and Mt. Ama Dablam (6812 m).
You will get to experience the beauty of the people and the villages of Nepal. On your trek, you will pass the village of Chauri Kharka (2680 m) and reach Phakding. Here the scattered Sherpa houses and the vicinity filled with spiritual calm will give you a true feeling of tranquillity. Later, you will visit the popular Sherpa market called Namche Bazar. It is also known as the Gateway to Everest, before taking a hike uphill to Syangboche. This will lead you to the largest monastery of Tengboche. It will give you an insight into the practices of Buddhism.
After you have explored the culture, tradition, nature, and stunning views of the country – all in just one week – you will board a flight from Lukla back to Kathmandu. This short trek needs a medium level of physical strength. It is recommended to be carried out between September and November or between March and May. These seasons maximize your chances to see the blooming rhododendron flowers and snowy peaks for which this trek is famed.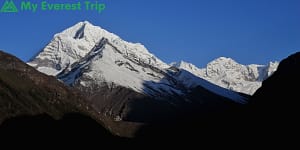 With our experienced guides, you will be in safe hands. It is our mission to make your trip fun and comfortable, which is why we have been regarded as the best in the industry in Nepal. For more information regarding the Everest short trek cost, Everest short trek difficulty, or anything else, then please do get in touch. Or if you would like to read about what it's like to join us on this adventure, you can see our Everest Short trek blog below.
Read More
Read Less
Your Itinerary
Day 01: Kathmandu – Lukla – Phakding [2,652 m/8,700 ft]: 3 – 4 Hrs  
We fly to Lukla (30 minutes) and then descend gradually, passing through the village of Chauri Kharka (2680m), small forests, and luscious fields to reach our trail. After Kusum Drargka, the trail crosses the Dudh Koshi River at Phakding, where we will stay overnight.
Day 02: Phakding – Namche Bazaar [3440 m/11,280 ft]: 5 – 6 Hrs  
We follow trails passing through blue pine forests to Benkar (2700m) and begin a challenging day as ascend to Chumoa and descend to Monjo Khola. Later, we reach Jorsale and hike up to Bhote Koshi. After continuing for 300m through the thin forest, we reach Namche Bazaar, also called the Gateway to Everest, a market town that sells goods to Sherpas as well as trekkers. O/N at the guest house.
Day03: Namche Bazaar Acclimatization Day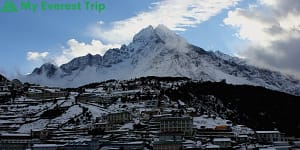 We will stay here to acclimatize and trek to a museum showcasing the tradition and history of the Sherpa community. Here you will get a panoramic view of Everest (8848 m) and Ama Dablam (6812m). We hike up to Syangboche airport and then to Khumjung village (3800m), the biggest known settlement of Sherpas, before heading back to Namche. O/N at the guest house.
Day 04: Namche Bazaar – Lukla [2,800 m/9,186ft]: 6 hrs
After Breakfast Trek down to Hillary bridge and later trek down to Monjo and towards Dudh Koshi River until we reach Lukla. O/N at hotel.
Day 05: Fly Lukla to Kathmandu
We board a flight from the unique airport in Lukla and fly for 40 minutes to reach Kathmandu. Here we will explore the streets of Kathmandu, celebrate completing our journey, and finally take some rest. O/N at 3-star hotel.
Additional Info
Everest short trek accommodation   
During the trek to Everest, you can have a variety of accommodation facilities. From Kathmandu to Namche you can have luxurious accommodations such as five-star hotels to three-star hotels. According to your budget and interest, You can select the accommodation that suits you. All rooms have a private bathroom, hot shower, and Wi-Fi.
In the peak season comes, the cost of a hotel in Namche might be higher. However, the same accommodation is available at a low cost during the offseason. From Lukla to Namche, you may have to adjust a night at the teahouse during peak season. In short, one can enjoy their trek with good accommodation and food.
Short Everest trek without a guide
You need a guide for Everest Trek when the trek routes are confusing and difficult. And in the case of short Everest trek, trekking routes are easier as you don't have to trek on poor mountainous steep slopes and high passes. In your trekking routes, you can find a number of tea houses. They can suggest the routes ahead. Thus you can also enjoy your journey without a guide till Namche when you are planning to go there on a low budget.
Hiring a guide is a always good option in the mountains. It makes the overall trekking experience less stressful and more comfortable. The choice is yours.
Best time for Everest short trek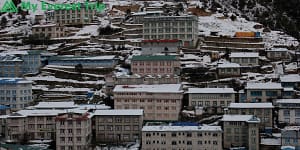 This trek is possible all around the year as you don't have to trek much in snowy areas at severely dropped temperatures. Trekking during spring and autumn is always ideal for the Everest area trek.
Spring 
Early March is still cold but the skies are clean and you can observe clear views of Everest. Trekking during late March and April are famous months for most trekkers. The Blossoms of many wildflowers including rhododendron make your trek attractive and memorable. So, many trekkers choose this season to see the clear sky along with a mesmerizing view of Everest and the colorful rhododendron forest. However, since it's peak season, the trekking route may overcrowded, even in Gokyo Lake Trek. 
Autumn
During the autumn season atmosphere becomes favorable for Short Everest Trek i.e. neither warm nor cold. You don't have to face the low night temperature and warm day, it makes your journey perfect. Trekking Everest in the Autumn season makes your journey easier due to zero chances of heavy rainfall and slippery routes. So most trekkers also choose this season to see clear blue sky, a perfect view of Everest, and alluring landscapes. The crowd of October can be an issue though.
3. Off-season
Trekking during winter is possible but the high-velocity wind with low temperature can limit your trek. Some enthusiastic trekkers choose this season for adventure. Everest short trekking in the summer season is also achievable. Heavy rainfall along with slippery routes makes it a bit uncomfortable, but with the right preparation, the Everest Trek in summer can obviously be fun. Sometimes, mountain Views are also blocked by the fog although the surrounding is green.
Views during the Short Everest trek
During the trek from Lukla to the Namche, you can observe several exciting things. After reaching Lukla by flight, you get to witness the Greenery of the landscape.
Phakding is your destination for the first-day trek, during which you can see the Himalayan yaks, donkeys, and horses. Passing the number of small Sherpa villages throughout the journey makes great memories. Plenty of tree species along with other fauna attract your eyes and you will get an opportunity to identify these species. Further, the Dudhkoshi rivers add peace to your trek. In Phakding, you can stay in a homestay which provides a chance to see the culture of Everest and the religion of the people who live there. During the night you get views of a star in the gloriously clear sky with a backdrop of mountains.
Trekking routes from Phakding to Namche consist of steep incline slopes. The routes make you cross the Dudh Koshi River through a suspension bridge many times. If the weather is clean then you get the opportunity to see the first view of Mt Everest while trekking on steep mountainous slopes. Before reaching Namche you will get the opportunity to cross a double suspension bridge. Here, you can nearly observe the Dudh Koshi River and its crystal clear water along with the peacefully blown wind.
Things that are seen at and around Namche
Everest viewpoint: After a short hike from Namche reaches the Everest viewpoint. It offers you the majestic views of Mt Everest along with the panoramic view of Mt. Cho Oyu, Mt. Makalu, Mt Ama Dablam, and other peaks
Traditional House and stupa: Namche offers you to visit a traditional house that was built about 150 years ago. Many Buddhist stupas make to think about their culture which is quite interesting. Tibetan-style painting makes the perfect structure.
Namche monastery: Namche monastery was built about 300 years ago and is also called Nyingmapa monastery.  Here, you can see the mesmerizing view of the Himalayas along with greenery and hilly peaks. Nyginge and Dumji festivals have greater importance in this monastery and many people come to pray for good.
Why US
MyEverestTrip is a Nepalese Travel and Trekking Agency based in Kathmandu. We have been operating in different trekking regions for more than a decade, traveling with hundreds of trekkers and travelers all around the world.
With the pure intention to bring trekkers to Nepal's safety and comfort, we have an entire team of travel planer, guides, and porters. We also have connections to hotels and restaurant lines all over Nepal for ensuring that our trekkers get the best possible facilities.   
So, here is the reason why you should travel with MyEverestTrip.  
Customize your itinerary:
We have designed a well-planned Itinerary for all travel destinations around Nepal. However, this Itinerary is customizable as per the need and requests of our trekkers. Just let us know when and how long you are staying so that we can arrange the rest. 
Our Expert guide: 
Although all travel agency claims to have a good guide, many of them are not informed about the place you are traveling to. However, MyEverestTrip has its own licensed guide in Nepal. They have been working in this field for over three decades, collecting all the information about the place/ culture, and learning to keep the travelers safe. Also, our guide is good at the English language. Upon special request, we can even hire a guide who can speak Chinese and other European languages for trekking in Nepal.
Fair and reasonable Cost:
MyEverestTrip has been known for its very economic trek packages in Nepal. You can compare the price we offer with any other travel agency in Nepal and only book with us if you are satisfied with our cost. We try to include all needed expenses during the tour so that you will not be overwhelmed with hidden expenses after the packages are booked. 
Your safety is our priority:
Obviously, the safety of our trekkers and our team is the utmost priority of MyEverestTrip. Our guide and porters who shall accompany you for the trip will have insurance of their own. We also encourage Travel insurance for our trekkers. Our treks and trip have been so designed that you only walk an appropriate distance. In any case of emergency, you will always have our back.
Responsible and Eco-Friendly 
MyEverestTrip operates with the belief in responsible tourism. This includes 
We are transparent about the services covered on the trip. There shall be no hidden cost (informed in advance if there's any)

We cover all the places that have been promised before the trek (the trend of skipping places once you book the package has to be discouraged). 

All our guides and porter are above 18yrs. We highly discourage child labor in the tourism industry

We do not leave any wastage behind on the trekking routes. We either dispose of the waste appropriately or carry them back with us and send it to the municipality

We do not engage in any activities that affect the people in the trek places of Nepal we stay.  
FAQ
Is a short trek to Everest base camp possible?
Of Course, the route is the same for both until reaching Namche. For a short trek, your ending point is Namche Bazaar. To reach Everest base camp you will have to go upward routes Tengboche, Dingboche, Dughla, Lobuche, and Gorak Shep, adding about 6 more days.
How to reach Everest view hotel
Everest View Hotel is the first-ever luxury hotel that was made at an altitude of 3963 meters from sea level. This is also the most magical viewpoint in the Khumbu region. 1 hour of the walk takes you to the Everest view hotel from Namche. For that, you need to trek to Namche from Lukla which takes 2 days.
Another way to reach Everest View hotel is via Aircraft which drops you in about 1 hr from Kathmandu. Through a helicopter, you get the opportunity to see the view of the Himalayas from above the clouds.
Can you book Everest's short trek solo?
Yes, you can, Everest short trek provides you with the opportunity to explore the natural beauty of the Himalayas. You can book your trek solo if your trek ends at Namche. But if you are planning to climb above the Namche, then considering deep forest routes, you may have a problem in the solo trek.
How hard is Everest View Trek?
Everest View trek is less than a week's journey in the Himalayas. It's the shortest and the easiest mountain trek in Nepal in terms of distance, altitude, and remotes. The total distance of the Everest View trek is about 40kms and the highest altitude is the Everest View Hotel at 3963m. So, the chances of altitude sickness are also very low. Further, this is a luxurious trekking region of Nepal with the best accommodation and Food. So, you don't need to worry about Short Everest Trek's difficulty. Having expert guidance from the MyEverestTrek team makes it even easier.
Map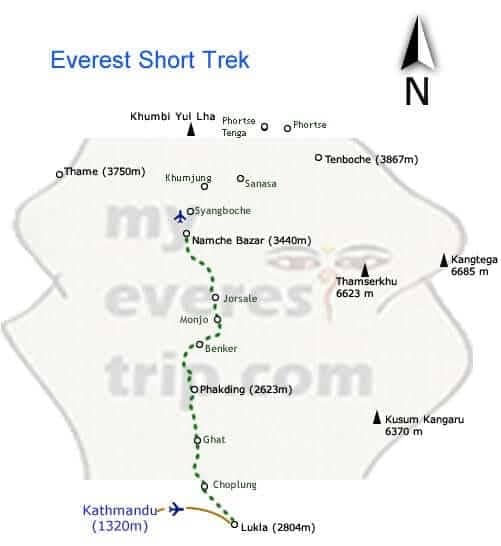 What's included
Airport/hotel pick up and drop off by private car
Meals on full board (breakfast, lunch, and dinner) in the whole trekking
Domestic flights (KTM-Lukla-KTM) with all surcharges for guests and guide
Trekking map
An experienced Government license holder guide
Trekking porter/Sherpa who will carry your bags during the trekking
Insurance, salary, equipment, transportation, local tax for guide and porter
All necessary paper works and national park entry permits
Travel and rescue arrangement
TIMS (Trekkers' Information Management System)
All government taxes and tourist service charge
What's not included
Meals in Kathmandu before and after trekking
Your travel insurance (Rescue)
Nepal entry visa fee.
Tips for trekking staff and driver
Drinks (hot, cold and alcoholic)
Personal shopping and laundry etc.
Personal trekking equipment
Choose a Private Trip
If you already know who you would like to take your adventure with and would prefer to enjoy your 'My Everest Trip' experience with your own group of friends, then we've got good news! All of our trips are also available as private adventures! Our private adventure specialists are on hand to give you a quote or talk you through some of the different options that we offer.
So feel free to give us a call on +977 9851069558 or Email us at [email protected]
Reviews
If you have already travelled with us and want to share your story and experiences to the world please send us your experiences by cliking the button below:
These reviews are from the travellers who have travelled with us previously.
Short time in Nepal
We took a short Everest trek because we had a very short time in Nepal. The time pressure caused us to shorten the trip, but adjusting the route of the office staff really helped me to fulfill my dream of a walk on Everest Short trek. I really recommend the My Everest Trip, because they are more efficient with their offers and the total price of the package is also regulated for them, which is much easier for us! The journey itself is unique and simply unique. Mr puru who is the owner of ( My Everest Trip) knows each and every step of the Everest trek and explain everything when I call him via WhatsApp and I believe he and I book a trip with him.
I love the landscape and the beautiful natural environment that is in this area and beautiful colorful prayer flags on every tree and parties in monasteries are very beautiful scenery. The topography of the whole place is very different; I've never experienced anything like it anywhere. People and their way of life are also very different; very straightforward, humble to look at. The cottages where we stayed, small inns, and snow huts in the mountains were very nice. I love getting up early in the morning and then having breakfast on the terraces of the tea houses overlooking the beautiful and peaceful slopes of the Himalayas, that's heaven! The Nepal Hiking Team will take care of everything and I have had a great time I can tell everyone that it is better for you to join the Nepal Hiking Team because they actually provide their services. !
Best EBC Trekking
We joined the Everest Base Camp Trek (EBC)  with My Everest Trip.  Perfect timing for every step. Easy to communicate with Hari who is our guide. We were so comfortable booking our trip so we did and it was our right decision. Our guide was helpful and Knowledgeable and I think he knows everything. Taking care of our food and explaining everything and as well as taking great care of our flight schedule to Lukla, Thank you for My Everest Trip. 
Everest Short Trek in Nepal
We had a short EBC  trek organized by My Everest Trip and it was an amazing trek. We were able to organize everything from France, getting all the information we needed very quickly. They organized our trip exactly as we wanted and every detail was perfect. Trekking guide and porters both are very friendly and very smart than others company used guise who care us in hole trip. were A great experience!!! For sure when I'll go back to Nepal I'll organize another trek with them very soon And if I meet some other clients I will highly recommend my Everest trip group and Mr. Puru who make our trip without any problems.
Everest Short Trek
The great Everest short trek ( EBC) is the most spectacular trip that I have ever known.
What I liked personally about this trek was the courtesy and reception of the inhabitants at this place. Even though the trek was steep and sharp we had ample routes to trek and enjoy. We even had time to take marvelous pictures at each and every step of the trek. I should say that I went on this trek at the right time. It was a life-changing experience for me!!
Better Accommodation and Good Food
My partner and I have recently completed the Everest Short trek with My Everest Trip in December. I could not have asked for a more supportive and trustworthy company to go with. Our guide Hari and porter Mr. Birman lama were a great and professional team from the minute we were picked up in Kathmandu and throughout our whole trek.
Hari and Birman were supportive and informative along the whole trek and I would recommend requesting them. We had a very good time without any problems, still, the views were good. My Everest Trip guides are knowledgeable and very attentive; they know very well about Sherpa culture and all the mountain names and Hight, they always look for us better accommodation and good food,  I would recommend this company to anyone thinking of doing the Everest Short Trek
Himalayan range and beauty of vast wildness
I came to know My Everest Trip by chance with my previous trekking to ABC at the end of last year This was my second time with My Everest Trip for organizing such a wonderful trip to Everest Short Trek with my wife and children and it was truly amazing, enjoyable trip, it leaves us a profound experience with spectacular view of some highest mountain and many others peak in the Himalayan range and beauty of vast wildness.
My Everest Trip range can be strenuous, but our guide Ram helps us every step of the way which makes the trip a complete hassle-free, we are very thankful for his service and would recommend it to anyone coming to Nepal for a hiking adventure.
Once again, thank you for all to make our trekking trip an unforgettable event for us And we are definitely coming back to Nepal again.
Experience a once in a lifetime adventure 
We just completed the s day hike to Everest short Trek. There were five of us on the trip, plus our guide, Hari The trip was amazing and our guides were there to help and assist every step of the way. He is very helpful and accommodating. hari has made this trip many times and shared about culture people and teach every mountain name and Hight. he has such good knowledge to know everything.
I would highly recommend this trip to any adventurous souls who want to experience a once in a lifetime adventure
Wonderful, Professional, and personable organization
I would like to thank My Everest Trip for organizing our trip. Their efforts created a seamless experience that allowed us to enjoy the wonders of the Himalayas, the warmth of its people, and the rich cultural heritage of this majestic land with Everest Views in front of our eyes.
Although this was considered a short trek, our guide, assistant guide, and porters all kept us well-rested, hydrated, and motivated to make our daily trek manageable and enjoyable.
They were also very flexible in our planning and were able to make last-minute adjustments to the schedule when we were ahead or behind pace. I also want to thank Mr. Puru who arrange everything during the trip it is A wonderful, professional, and personable organization from start to finish! Namaste!
Wow! Everest short trek with My Everest Trip
Thanks, Krishna for hosting us and for your patience with warm hospitality, and for showing your great country with the beautiful Himalayas.
It is my dream to trek Mt. Everest but I have a few days only but still Loved the Everest short trek accomplished in our short leisure.  Each & every activity was nicely managed for us.
Mr. Puru did his duty was very attractive to Evener who don't let any space for dissatisfaction.
We will surely be returning to do the Everest base camp trek in our long leisure.  The mountains and the people of Nepal are fantastic.
Best regards Mahakulina
Everest Short Trek
We absolutely fell in love with Nepal after doing the Everest short trek.  When my friend and I started to plan our trip to Nepal we were not quite sure which trek we wanted to do, just that it should not be a very long and strenuous one. The manager was very helpful giving us different options to choose from and in the end, we chose the Everest short trek which gave us the opportunity to see Mount Everest, fly to Lukla and visit the gate to Everest, Namche Bazar. It all seemed very appealing to us, and we don't regret it for a moment. We had the choice to go on a private trip on day 3 or join another group on day 4. We decided to join a group since it could be fun to meet more people. This also gave us the opportunity to be well-rested and well prepared.  
After a long flight and all the procedures at the airport, it was nice to go outside and be greeted by a friendly face, jump in a car, and be taken to a nice hotel. When you are a first-time visitor to Nepal, Kathmandu can be quite overwhelming, especially if you are not an experienced, traveler. So I was quite happy we asked the manager to find a hotel close to his office in the heart of Thamel. It was a nice and clean hotel, with good beds, air-conditioning, and hot water in the shower.
The day before we left for Lukla we met our group and our guide at My Everest Trip for a briefing and an update on the weather conditions, the weather can be quite tricky and can always cause delays when it comes to flying Lukla.
The next morning we were ready to go, the weather caused no problems and gave us the most spectacular view of the Himalayas from the plain.
It's not possible to describe in words how beautiful this place is, you really have to go and see it for yourself. Our guide did a great job, his knowledge and love for his country were reflected in everything he did. He was always close, making sure everybody was happy and safe and taking care of everything.
The Everest short trek is a good choice for a short trek. You see so much in a few days and learn so much about the history and the culture and we cannot thank My Everest Trip enough for giving us such a wonderful adventure.  
After returning to Kathmandu we visited the office several times for good advice or just to drink a cup of tea with the manager and every time we were greeted by his kindness and enthusiasm. The manager and his staff really offer the best service you could ask for. Therefore we will return to Nepal and My Everest Trip for another adventure because we are now in love with Nepal
Best Guide and Best Company
Being a second-time visitor to Nepal I know where to go when I want to go trekking.  A few years back I did the Annapurna circuit trek, this year I had less time so Puru suggested The Everest Short Trek, which was a good option for me as I really wanted to see the Everest region. Puru gave me Yam as a guide, I trekked with him last time also, he is very professional and we connected so well, so I was very happy that we could do another trek together.
At My Everest Trip things just happens in the blink of an eye, every request you might have is taken care of and you don't have to worry about the staff not being insured or any other issues. The treks are planned very carefully with the acclimatization days necessary to avoid altitude sickness and there is no rushing through.
Everest Short Trek was magnificent. It was great fun to visit Namche Bazaar, so vivid and with so many happy people preparing for adventures. I also enjoyed visiting the Tengboche Monastery, but the highlight was definitely the views of the most beautiful mountains the world can offer. I almost feel sad I did not have more time because I really wanted to explore this region.
I hope in a few years I find the opportunity to go back to Nepal for the third time. And I don't have to look for the company because I know exactly where to find Puru and his team, in his small orange office with a big smile on his face when you enter the door.
Thank you Puru and Yam for another great adventure.
Amazing Trip Amazing Guide
I went to Nepal for 10 days in March and I am a beginner at trekkers luckily I meet puru (MyEverestTrip) so he suggests Everest Short Trek.
I really love this trek in a short time I see Mt. Everest and many other mountains with culture and excited flight to Lukla, in the future I would love to again this trek and want to touch my soul on Everest.
If anyone wants to trek I will highly recommend this trek and this company ( www.myeveresttrip.com ) they are a really the best and most knowledgeable person.
Package Summary
A Scenic flight from Kathmandu to Lukla.
Visit the Namche Bazaar gateway of Mt. Everest.
Experience the Sherpa culture and lifestyle in Khumjung.
Witness Stunning panoramic views of Mt. Everest.
Everest viewpoint.
A short trek with an incredible view of the world's highest mountains.
We Offer Group Discount
| No. of Persons | Price per Person |
| --- | --- |
| 1 pax | US$ 885 |
| 2 paxes | US$ 840 |
| 3-5 Paxes | US$ 810 |
| 6 - 10 Paxes | US$ 785 |
| 11 - 15 paxes | US$ 765 |
We are your ultimate adventure partner.
MyEverestTrip is a reliable, Eco-friendly, and experienced tour company in Nepal – so if you're looking for the ultimate  Himalayan adventure, you've come to the right place. Our seasoned guides offer mountain trekking and peak climbing across Nepal, Bhutan, and Tibet – as well as a myriad of jungle safaris, sightseeing, bungee jumping, cycling, and paragliding packages. So to learn more about us click below and choose us as your ultimate adventure partner! Learn More About Us
Why Book With Us
70% Repeat Customers
Guaranteed Departures
Team of destinations Experts
Competitive Prices
99% Success Rate
Places of attractions, travel tips, news and more.Recent From Our Blog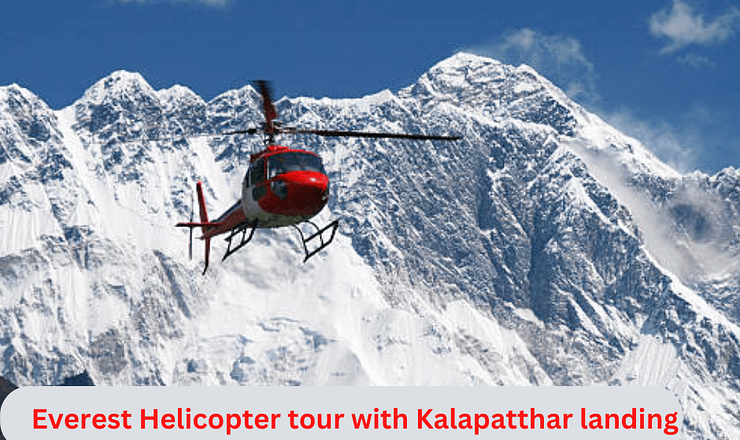 Do you long for the thrill of a helicopter ride across the Himalayas in Nepal to reach the summit of Mount Everest? Come with us, and we'll take you on an exciting Everest Helicopter tour with Kalapatthar landing. The Khumbu area of Nepal is stunning, and an Everest Base Camp Helicopter Tour is an extravagant…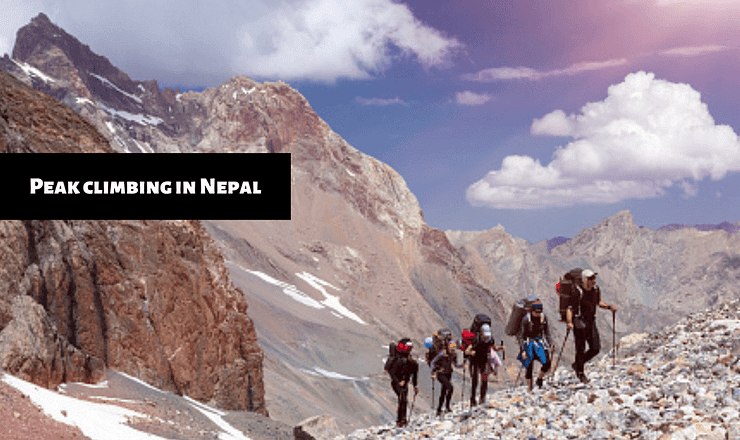 When it comes to extreme activities, peak climbing in Nepal is right up there. There are several reasons why people climb mountains. Thrill-seekers looking for an adventure want to push themselves, and although some climbers are motivated only by a need for adrenaline, for others, the urge to scale Nepal's highest peaks has been building…
Once you've done the Everest base camp trek, the next most popular trek in the world is the Annapurna trek in Nepal. A goddess in Hindu mythology, "Ma Annapurna," whose name means "full of grains" or "giver of sustenance," is said to have given the peak its current name. The Annapurna Base Camp Trek is…