Overview
Ganden to Samye Trek is among the most popular and challenging trek in Tibet. It was first opened to foreign travelers in 1985. Ganden to Samye Trek offers stunning Himalayan views including Mount Everest (8848m), Mount Kailash (6638m), Cho Oyu (8201m), and Shishapagma (8013m). Besides these astonishing Himalayan views, the trekker can also witness high altitude pristine lakes, amazing high altitude alpine forests, and observe wonderful Tibetan history and culture. Along the way, you will encounter two high passes and experience some astounding and remote regions of Tibet. Crossing two high passes: Shuga la pass (5250m) and Chitu la pass (5210m) is the most challenging part of this trek. However, if you are well acclimatized then you can easily cross the passes without any difficulty.
Best time for Ganden to Samye Trek
Between May and October is the best time for Ganden to Samye Trekking.
During your trek
Drive from Kathmandu to the city of Lhasa via Nyalam, Shegar, Shigatse, and Gyantse. Sightseeing in Lhasa where you will explore The Potala Palace and other monasteries. Then a 32km drive from Lhasa to Ganden where we begin our trek. Ganden to Samye Valley trekking begins from the Ganden Monastery (4180m) and ends at the Samye Monastery, the first Tibetan Buddhist Monastery.
Group or private
Ganden to Samye Trek is one of the most popular and challenging trekking destinations in Tibet. We operate this trek in an organized group. A Customized itinerary with personalized travel and accommodation is also available upon request.
Alternative option
Would you like to go to the Kailash Trek? Please take a look at the Tibet Kailash Tour.
Read More
Read Less
Your Itinerary
| | | | |
| --- | --- | --- | --- |
| Day | Section | Hours | Package |
| 01 | Arrival in Kathmandu (1,300m/4,264ft) then picked up from the airport to Hotel | |  O/N at 3 Star Hotel (A, D) |
| 02 | Kathmandu: Sightseeing and Trek Preparation |  8 |  O/N at 3 Star Hotel (A, B) |
| 03 | Drive to Nyalam (Nepal – Tibet border town) |  7-8 |  O/N at Guest Houe (A.B, L, D) |
| 04 | Drive to Shegar |  5-6 |  O/N at Guest House (A, B, L, D) |
| 05 | Drive to Shigatse |  5-6 |  O/N at Guest House (A, B, L, D) |
| 06 | Drive to Gyantse |  5-6 |  O/N at Guest House (A, B, L, D) |
| 07 | Drive to Lhasa |  3-4 |  O/N at 3-star Hotel (A, B, L, D) |
| 08-09 | Sight Seeing in Lhasa |  7-8 | O/N at 3-star Hotel (A, B, L, D) |
| 10 | Drive to Ganden monastery and sightseeing |  3-4 |  O/N at Guest House (A, B, L, D) |
| 11-13 | Trek to Samye monastery and sightseeing |  3-4 | O/N at Guest House (A, B, L, D) |
| 14 | Trek to Nigu river and drive to Gongar Airport |  1 |  O/N at Hotel (A, B, L, D) |
| 15 | Early morning fly to Kathmandu | |  O/N at 3 Stear Hotel (A, B, D) |
| 16 | Final Departure | | ( B) |
Why US
MyEverestTrip is a Nepalese Travel and Trekking Agency based in Kathmandu. We have been operating in different trekking regions for more than a decade, traveling with hundreds of trekkers and travelers all around the world.
With the pure intention to bring trekkers to Nepal's safety and comfort, we have an entire team of travel planer, guides, and porters. We also have connections to hotels and restaurant lines all over Nepal for ensuring that our trekkers get the best possible facilities.   
So, here is the reason why you should travel with MyEverestTrip.  
Customize your itinerary:
We have designed a well-planned Itinerary for all travel destinations around Nepal. However, this Itinerary is customizable as per the need and requests of our trekkers. Just let us know when and how long you are staying so that we can arrange the rest. 
Our Expert guide: 
Although all travel agency claims to have a good guide, many of them are not informed about the place you are traveling to. However, MyEverestTrip has its own licensed guide in Nepal. They have been working in this field for over three decades, collecting all the information about the place/ culture, and learning to keep the travelers safe. Also, our guide is good at the English language. Upon special request, we can even hire a guide who can speak Chinese and other European languages for trekking in Nepal.
Fair and reasonable Cost:
MyEverestTrip has been known for its very economic trek packages in Nepal. You can compare the price we offer with any other travel agency in Nepal and only book with us if you are satisfied with our cost. We try to include all needed expenses during the tour so that you will not be overwhelmed with hidden expenses after the packages are booked. 
Your safety is our priority:
Obviously, the safety of our trekkers and our team is the utmost priority of MyEverestTrip. Our guide and porters who shall accompany you for the trip will have insurance of their own. We also encourage Travel insurance for our trekkers. Our treks and trip have been so designed that you only walk an appropriate distance. In any case of emergency, you will always have our back.
Responsible and Eco-Friendly 
MyEverestTrip operates with the belief in responsible tourism. This includes 
We are transparent about the services covered on the trip. There shall be no hidden cost (informed in advance if there's any)

We cover all the places that have been promised before the trek (the trend of skipping places once you book the package has to be discouraged). 

All our guides and porter are above 18yrs. We highly discourage child labor in the tourism industry

We do not leave any wastage behind on the trekking routes. We either dispose of the waste appropriately or carry them back with us and send it to the municipality

We do not engage in any activities that affect the people in the trek places of Nepal we stay.  
What's included
Airport/hotel pick up and drop off by private car / Jeep
Two nights 3-star hotel in Kathmandu bed and Breakfast plan
Meals on full board (breakfast, lunch, and dinner) in the whole trekking
An experienced Government license holder guide
Trekking porter/ Sherpa who will carry your bags during the trekking
Group medical supplies (first aid kit will be available)
Basic camping gear like tents, mattresses, and sleeping bags.
All government taxes and tourist service charge
Necessary entrance fees
Tibet visa fee
What's not included
Meals in Kathmandu before and after trekking
Your travel insurance
Nepal entry visa fee.
Tips for trekking staff and driver
Drinks (hot, cold, and alcoholic)
Personal shopping and laundry etc
Personal trekking equipment.
Choose a Private Trip
If you already know who you would like to take your adventure with and would prefer to enjoy your 'My Everest Trip' experience with your own group of friends, then we've got good news! All of our trips are also available as private adventures! Our private adventure specialists are on hand to give you a quote or talk you through some of the different options that we offer.
So feel free to give us a call on +977 9851069558 or Email us at [email protected]
Reviews
If you have already travelled with us and want to share your story and experiences to the world please send us your experiences by cliking the button below:
We are your ultimate adventure partner.
MyEverestTrip is a reliable, Eco-friendly, and experienced tour company in Nepal – so if you're looking for the ultimate  Himalayan adventure, you've come to the right place. Our seasoned guides offer mountain trekking and peak climbing across Nepal, Bhutan, and Tibet – as well as a myriad of jungle safaris, sightseeing, bungee jumping, cycling, and paragliding packages. So to learn more about us click below and choose us as your ultimate adventure partner! Learn More About Us
Why Book With Us
70% Repeat Customers
Guaranteed Departures
Team of destinations Experts
Competitive Prices
99% Success Rate
Places of attractions, travel tips, news and more.Recent From Our Blog
Once you've done the Everest base camp trek, the next most popular trek in the world is the Annapurna trek in Nepal. A goddess in Hindu mythology, "Ma Annapurna," whose name means "full of grains" or "giver of sustenance," is said to have given the peak its current name. The Annapurna Base Camp Trek is…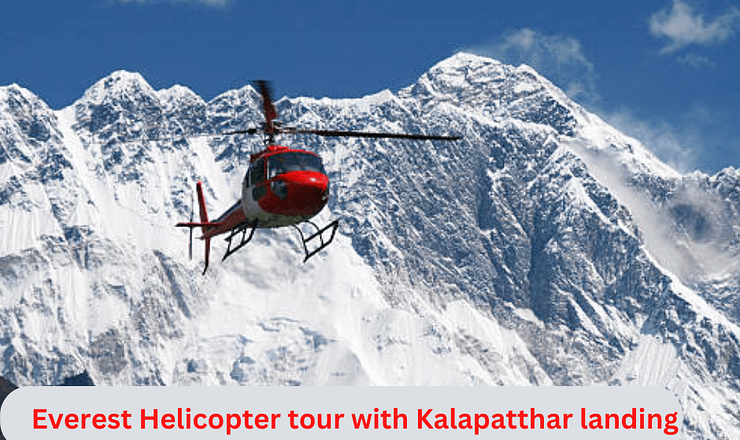 Are you dreaming of Everest Helicopter Tour With Landing at Kalapathar to see Mount Everest? If yes, a Helicopter tour to Everest is the best option. The Everest Base Camp Helicopter Tour with Landing at Kalapathar is the most popular helicopter ride in Nepal. The helicopter tour is a single-day package starting from Kathmandu airport…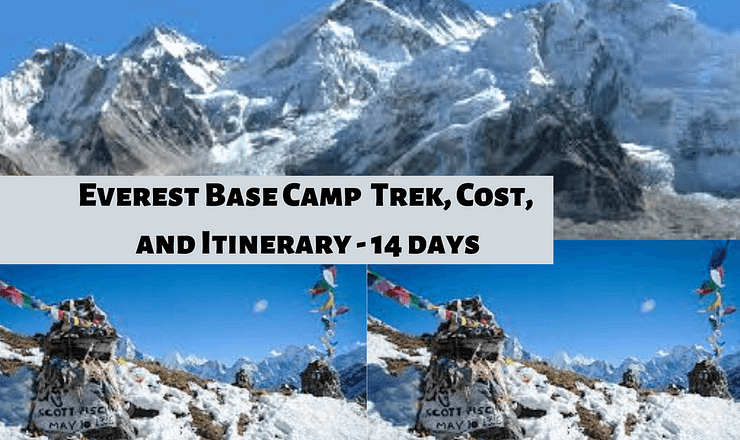 Everest Base Camp Trek Overview The Everest Base Camp trek journey is a top-tier adventure since it leads you to the base of the world's tallest mountain, Everest (8,848.68 m/29,029ft). Traveling through stunning high-altitude landscapes, high-altitude wildlife, traditional Sherpa culture, Buddhist monasteries, and snow-capped mountains, this tour will offer you a natural thrill at an…