Overview
Kathmandu is located in Nepal that lies at the intersection of an ancient civilization of Asia with more than 150 monuments, pilgrimage sites, and 7 world heritage sites within the valley. The Kathmandu Valley is a central economic hub and has been developing rapidly in all sectors. It is famous among tourists for its architecture, rich culture, and traditions of the indigenous Newar ethnicities. Kathmandu valley consists of three main cities- Kathmandu, Bhaktapur, and Patan. It is 1425m from sea level and is surrounded by four mountain ranges- Shivapuri, Phulchowki, Nagarjun, and Chandragiri. The major and holy river Bagmati separates Kathmandu from the valley. Apart from the scenic beauty, Kathmandu valley, being the central part of Nepal, is vibrant with a wide range of cultures and cuisines from all over the country.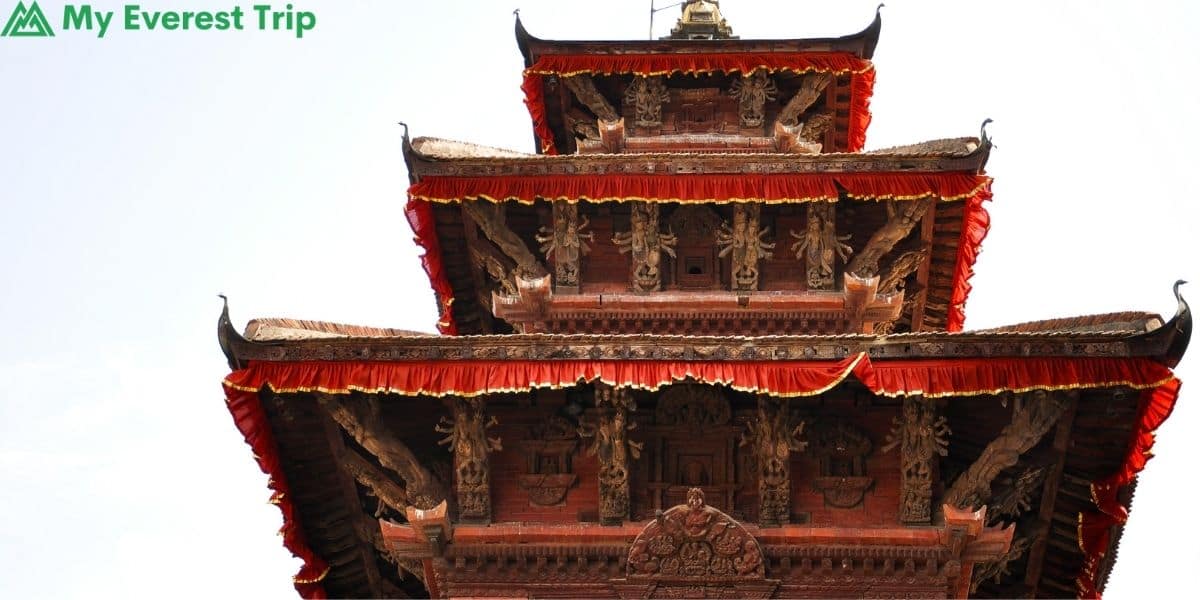 This 4-day Kathmandu Valley tour will give you an insight into the ancient cultural practices of the valley. The tour will be all about the culture and artifacts seen around Kathmandu, Bhaktapur, and Patan city. You will visit the ancient palaces of Kathmandu Durbar Square, Patan Durbar Square, and Bhaktapur Durbar Square.  Similarly, you will visit Swayambhunath (also known as the monkey temple) which is famous among Buddhists, and for the view of Kathmandu city from atop. Later, you will visit Patan Durbar Square which is famous for its inherited culture, temples, palaces, and stone sculptures. You will also step on the biggest Hindu temple- Pashupatinath Temple where you can see the sadhus and cemetery and then to Boudhanath, a stupa famous for the Buddhists. Also, you will explore Bhaktapur and see the 9-story palace, taste the delicious local food, and enjoy the city ambiance. The tour is less expensive and gives you first-hand experience of the ethnic culture, history, lifestyles, and so on. You can visit Kathmandu at any time of the year because the weather is moderate and suitable for every person.
My Everest Trip has been organizing tours around the country. Our guides are knowledgeable and will satisfy all of your curiosities. We can customize your tours as per your preference and time availability. With our services, you won't be disappointed!
Also, check out our Kathmandu Pokhara tour.
Read More
Read Less
Your Itinerary
Day 01: Arrival in Kathmandu (1,310m/4,298ft) 
You will be warmly greeted by our representatives at Tribhuvan International Airport, and then be taken to your hotel. Feel free to enjoy the magic of Kathmandu city. In the evening, the guide shall arrange a briefing session and a welcome dinner for our guests. O/N at 3 Star Hotel | Meals provided: Dinner
Day 02: Kathmandu Valley tour Day 1
Swayambhunath Stupa: We start our Kathmandu tour with an early morning visit to the Swayambhunath temple. On the way, you can see many monkeys wandering around. People say that the two big eyes of Swayambhunath look over the entire valley. From the top, you can see the entire Kathmandu valley below your feet, it's like a bird-eye view. This beautiful stupa will bring a very calming end to the journey. You can see many people going for morning and evening walks in the Swayambhunath area. 
Kathmandu Durbar Square: After the Shah dynasty combined all the fragments of Nepal into a large state, King Prithivi Narayan Shah established Kathmandu as his capital. He used to operate the entire nation from Kathmandu Dubar Square and since then Kathmandu has been the center of all economic and political events. Here, you can see the palaces and status of the kings, a few temples, and the Home to the living goddess. Nepal might be the only country that worships living goddesses. 
Patan Durbar Square: This is the 2nd among three Dubar Squares around Kathmandu that we shall visit. In the beautiful and quiet town of Patan, you will visit Patan Durbar Square where you can see Krishna Mandir, Mul Chowk, and Patan Museum.O/N at 3 Star Hotel | Meals provided: Breakfast and Dinner
Also, check Chitwan Jungle Safari Tour for a more adventurous time in Nepal.
Day 03: Kathmandu Valley tour Day 2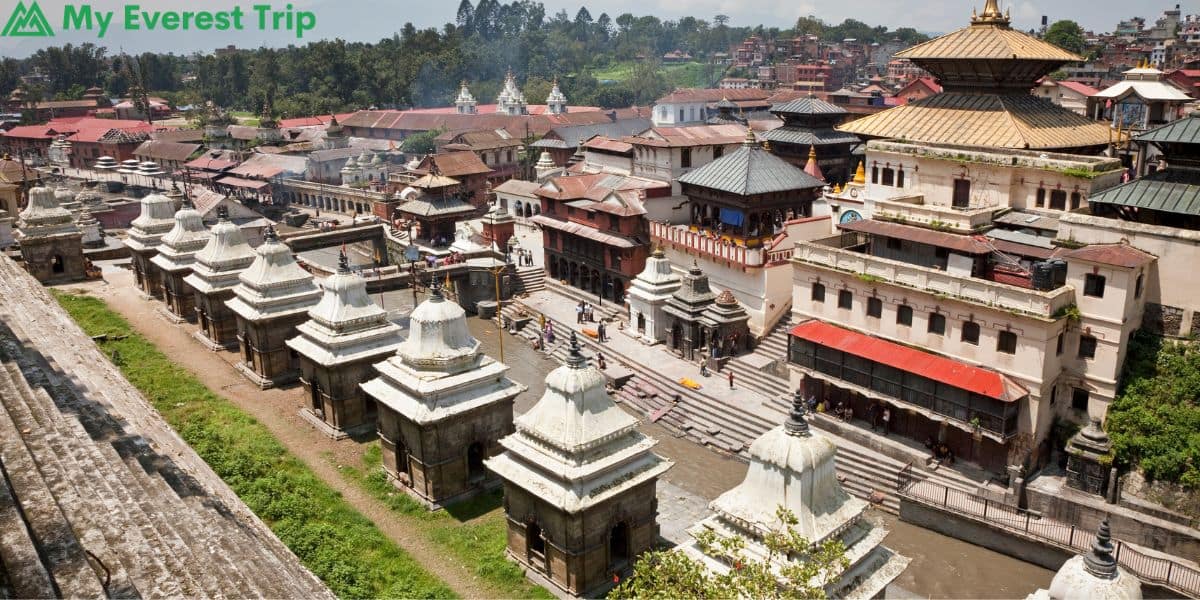 Pashupatinath temple: On the morning of this Kathmandu day tour, you will visit Pashupatinath. His laces hold religious values for Hindus around the world. On the premises, you can see many pagoda-style temples, small monuments, the statue of Lord Shiva, and a beautiful garden. The entire temple has been established on the bank of the Bagmati River where you can see the bodies of dead people being incinerated as per Hindu culture. This is a very emotional moment for each one of us. 
Boudhanath Stupa: After Pashupatinath, we visit the Bouddhanath stupa area. The rotating wheels around the stupa are carved with Buddhist mantras that give you great calmness. Also, you can take great photos with colorful prayer flags. The melodious Buddhist music adds to the charm. After about an hour we leave the place. 
 Bhaktapur: This is another small Newari town we shall visit during our Kathmandu tour and lies about 25 km from Thamel. It's more beautiful and vibrant than Kathmandu. In Bhaktapur, we will visit Changu Narayan temple and Bhaktapur Durbar Square, enlisted in the World Heritage Site by UNESCO, for their amusing culture, temples, and wood, metal, and stone sculptures. You can have the local curd, Juju Dhau, while in Bhaktapur, having a great time during the Kathmandu day tour. At this point, you might wanna add the Nepal sunrise sunset tour at Nagarkot. O/N at 3 Star Hotel | Meals provided: Breakfast and Dinner
Day 04: Departure
On this day, you will be leaving for your home country. You will be dropped off at the airport 3 hours before the scheduled time of your flight. It's the end of our Kathmandu Valley tour. Meals provided: Breakfast
Additional Info
Which is the Best Month to Visit Kathmandu? 
Well, Kathmandu is perfect in every season. Winter in Kathmandu is still very warm and pleasing. The temperature in the daytime is about 10 degrees Celsius and you can roam freely. Also, you might get to celebrate the Nepalese New Year (We already live in the late 2070s). Spring (March, May, and April) is very welcoming. With festivals like Holi and Shivaratri, everything about spring is fun. Autumn and Spring are also great times for treks in Nepal as the Everest Base Camp trek. 
Then we have summer when the temperature doesn't cross 30 degrees Celsius. As long as there's no rain, nothing is going to stop you from having a great time. And even if it's rainy, all you need is a raincoat- the Kathmandu tour will still be prodigious in the monsoon. Lastly, we have Autumn when Kathmandu valley appears at its best. The views of the Mountains are clear from Swayambhunath and the entire city is vibrant with festivals such as Dashain and Tihar. 
So, the biggest question is "When will you be free?". Just let us know when you plan to take this Kathmandu Tour and the MyEverestTrip will do the arrangements. 
Festivals of Kathmandu
The major festivals in Kathmandu are the Jatra celebrated by the Newari people. Ghode (horse) Jatra, Indra-Jatra, Gai Jatra, Bhote Jatra, and Bisket Jatra followed by a huge feast keep the city very vibrant. Similarly, people celebrate Dashain and Tihar in October and November. Pashupatinath temple is the center for the celebration of Teej and Shivaratri. Bouddhanath and Swayambhunath are especially crowded during Buddha Jayanti. Other festivals of the capital are Loshar, Holi, and Chaat, all celebrated by people of different ethnic groups.
All these festivals are celebrated on different dates as per the lunar calendar. Thus, if you plan to join the lives of people with one of these festivals on the Kathmandu tour, you must plan your trip accordingly. However, just a day of the visit is not enough to understand the culture and traditions of all people residing in the capital. 
Check the Tamang Cultural Heritage trail for a more fulfilling cultural experience in Nepal.
Accommodation and Food in Kathmandu
Kathmandu's stay will be pretty luxurious. As you arrive, you shall drive to a 3-star hotel in Kathmandu. The rooms with private baths and hot showers are available on sharing basis for two. You can also switch to higher facilities with swim and AC on your own. The options for accommodation in Kathmandu are unlimited, and you have nothing to worry about. Also, there's a great internet connection in Kathmandu so that you can travel while working. 
In Kathmandu, a wide range of national and international cuisine are available in the hotel. The unlimited choice of fancy restaurants in the colorful streets of Thamel will obviously keep you delighted. The choice of food is also great, and you are free to have anything you love.
The local food of Bhaktapur like Juju Dhau, Chatamari, Bara, Samyebaji, Pangra, Sukuti, and Chyang is a must-try. Also, the town of Patan has some great sweets and spicy foods. Sel Roti, Khir, Puri, Dhindo, Aalu Tama, etc are the Must-Have local foods of Nepal. Also, do try the local Momo, Thukpa, Laughing, etc while you are in Kathmandu.
Why US
MyEverestTrip is a Nepalese Travel and Trekking Agency based in Kathmandu. We have been operating in different trekking regions for more than a decade, traveling with hundreds of trekkers and travelers all around the world.
With the pure intention to bring trekkers to Nepal's safety and comfort, we have an entire team of travel planer, guides, and porters. We also have connections to hotels and restaurant lines all over Nepal for ensuring that our trekkers get the best possible facilities.   
So, here is the reason why you should travel with MyEverestTrip.  
Customize your itinerary:
We have designed a well-planned Itinerary for all travel destinations around Nepal. However, this Itinerary is customizable as per the need and requests of our trekkers. Just let us know when and how long you are staying so that we can arrange the rest. 
Our Expert guide: 
Although all travel agency claims to have a good guide, many of them are not informed about the place you are traveling to. However, MyEverestTrip has its own licensed guide in Nepal. They have been working in this field for over three decades, collecting all the information about the place/ culture, and learning to keep the travelers safe. Also, our guide is good at the English language. Upon special request, we can even hire a guide who can speak Chinese and other European languages for trekking in Nepal.
Fair and reasonable Cost:
MyEverestTrip has been known for its very economic trek packages in Nepal. You can compare the price we offer with any other travel agency in Nepal and only book with us if you are satisfied with our cost. We try to include all needed expenses during the tour so that you will not be overwhelmed with hidden expenses after the packages are booked. 
Your safety is our priority:
Obviously, the safety of our trekkers and our team is the utmost priority of MyEverestTrip. Our guide and porters who shall accompany you for the trip will have insurance of their own. We also encourage Travel insurance for our trekkers. Our treks and trip have been so designed that you only walk an appropriate distance. In any case of emergency, you will always have our back.
Responsible and Eco-Friendly 
MyEverestTrip operates with the belief in responsible tourism. This includes 
We are transparent about the services covered on the trip. There shall be no hidden cost (informed in advance if there's any)

We cover all the places that have been promised before the trek (the trend of skipping places once you book the package has to be discouraged). 

All our guides and porter are above 18yrs. We highly discourage child labor in the tourism industry

We do not leave any wastage behind on the trekking routes. We either dispose of the waste appropriately or carry them back with us and send it to the municipality

We do not engage in any activities that affect the people in the trek places of Nepal we stay.  
FAQ
Why is Kathmandu so famous?
Nepal's capital Kathmandu offers a pristine cultural and spiritual richness to the visitors. Amid the modern lifestyles of Kathmandu, people have been able to preserve their century-old tradition and culture in intact form. Thus, even a short trip to the beautiful city of the temple and living Goddess is a life-changing opportunity. And even after so many years of invasion, Kathmandu manages to preserve its nature and culture in a very pure form, making it a great city to visit. So, if you wish to understand the history and culture of Nepal in detail, this is the place. 
Also, Kathmandu has the largest International airport in Nepal, making it the beginning point of many tours and treks in Nepal. A large number of luxurious holidays, restaurants, and great touristic infrastructure of Kathmandu also make Kathmandu famous. Also, it's proximity to Tibet and Bhutan makes Kathmandu quite known.
It is safe to visit Kathmandu?                     
Yes, Kathmandu is a pretty safe country for the visit. This small town is a city of temples and faith. The people of Kathmandu are friendly and helpful. The incidence of attacks on tourists is very less in Kathmandu. Basically, yes Kathmandu is safe to visit for all international travelers and Solo trekkers.
Is Kathmandu in India or Nepal?
Kathmandu is the capital city of Nepal, a small landlocked country situated next to India. Since India is a huge country and it surrounds Nepal in three different sites i.e. South, East, and West, people assume that Kathmandu lies in India. However, to be true, Kathmandu lies in Nepal.
Can you see Mt. Everest from Kathmandu?
Kathmandu lies about 300kms away from Mt Everest, which is the tallest peak in the world. So, it's not very close to each other. On a clear day, you might be able to witness the distant view of Mount Everest from Views points along with Kathmandu such as Nagarkot and Dhulikhel. But, it's about chance and you can only get them in the morning. You can take Everest Short Trek to witness the majestic Everest from close. 
Is Kathmandu Worth Visiting?
Yes, Kathmandu and its beautiful architecture are worth visiting. Kathmandu might not be the cleanest and most peaceful city for a longer stay, but it's great for a few days of sightseeing tour. Further, there are many great sightseeing destinations around the city such as Nagarkot, Sundarijal, Helmabu, etc that will take you to the proximity of Mother Nature.
What's included
Hotel accommodation at respective hotels on a BB basis
All transfers using private cars.
All sightseeing tours are accompanied by a local guide. (please note this tour will be operated in the English language unless other language specified – We have French, Italian, German, Spanish, Japanese, Russian, Chinese, speaking guides are available)
Necessary entrance fees to Monuments.
What's not included
Airfare to/from Nepal.
Beverage and expenses of personal nature.
Personal Insurance.
Any Optional Sightseeing Tours and extension of tours, hotel accommodation, etc.
Tips to guide,  drivers, etc.
Choose a Private Trip
If you already know who you would like to take your adventure with and would prefer to enjoy your 'My Everest Trip' experience with your own group of friends, then we've got good news! All of our trips are also available as private adventures! Our private adventure specialists are on hand to give you a quote or talk you through some of the different options that we offer.
So feel free to give us a call on +977 9851069558 or Email us at [email protected]
Reviews
If you have already travelled with us and want to share your story and experiences to the world please send us your experiences by cliking the button below:
Package Summary
Kathmandu Valley Tour Highlights
Visit five out of seven UNESCO world heritage sites in Kathmandu valley

Deep understanding of the history and culture of Kathmandu 

Some insight into the lifestyle and culture of Nepalese people, especially the Newari people of Kathmandu

Explore the awesome wood art and metal art of Nepalese heritages 

A luxurious Kathmandu tour in a private car 
We are your ultimate adventure partner.
MyEverestTrip is a reliable, Eco-friendly, and experienced tour company in Nepal – so if you're looking for the ultimate  Himalayan adventure, you've come to the right place. Our seasoned guides offer mountain trekking and peak climbing across Nepal, Bhutan, and Tibet – as well as a myriad of jungle safaris, sightseeing, bungee jumping, cycling, and paragliding packages. So to learn more about us click below and choose us as your ultimate adventure partner! Learn More About Us
Why Book With Us
70% Repeat Customers
Guaranteed Departures
Team of destinations Experts
Competitive Prices
99% Success Rate
Places of attractions, travel tips, news and more.Recent From Our Blog
Once you've done the Everest base camp trek, the next most popular trek in the world is the Annapurna trek in Nepal. A goddess in Hindu mythology, "Ma Annapurna," whose name means "full of grains" or "giver of sustenance," is said to have given the peak its current name. The Annapurna Base Camp Trek is…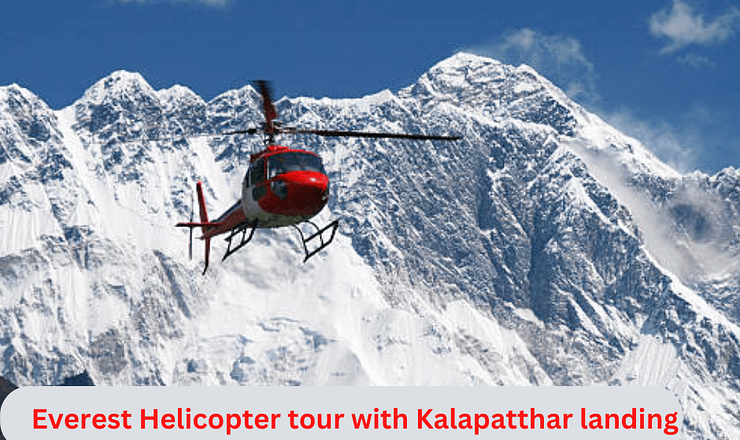 Are you dreaming of Everest Helicopter Tour With Landing at Kalapathar to see Mount Everest? If yes, a Helicopter tour to Everest is the best option. The Everest Base Camp Helicopter Tour with Landing at Kalapathar is the most popular helicopter ride in Nepal. The helicopter tour is a single-day package starting from Kathmandu airport…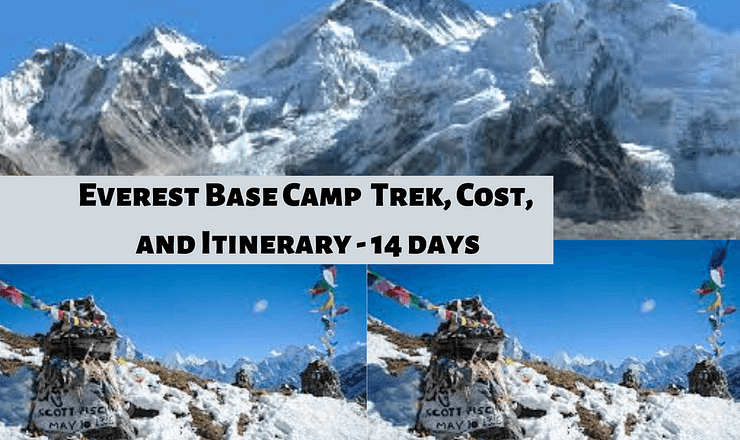 Everest Base Camp Trek Overview The Everest Base Camp trek journey is a top-tier adventure since it leads you to the base of the world's tallest mountain, Everest (8,848.68 m/29,029ft). Traveling through stunning high-altitude landscapes, high-altitude wildlife, traditional Sherpa culture, Buddhist monasteries, and snow-capped mountains, this tour will offer you a natural thrill at an…