Overview
Langtang Valley, located north of Kathmandu Valley, has become a popular destination for travel and trekking enthusiasts worldwide. It sits between narrow mountain valleys right at the base of the Himalayas. The trekking route will take you to a surreal world of traditional villages, virgin forests, and crystal-clear rivers as you experience the landscape of The Langtang region.
The Langtang Valley trek starts from Sybrubensi and follows trails along the River until you enter the Langtang Valley, also known as the 'Valley of Glaciers.' The trail passes through scattered Tamang villages, verdant forests, and alluring landscapes. You will enjoy a scenic climb to Chorko-Ri and a spectacular walk through the rhododendron forests before you reach Langtang village.
The trek will take you through beautiful local Tibetan villages, inviting you to experience the Tibetan Buddhist culture and way of life. Here you will also get the opportunity to visit shrines such as Langtang Gompa, King Jing Gompa – and Kyanjin Gompa, which have been held in high regard by Buddhist pilgrims around the Langtang region for centuries.
After visiting ancient Buddhist monasteries and passing through spectacular glaciers, you will be led to Langshisha Kharka (4080m), an area marked by several poles crisscrossed with multi-colored prayer flags. Upon reaching the top, you will be rewarded with a 360-degree panoramic view of Mountains such as Langtang Ri, Langsisa, Ganjala Peak – and Shisapangma, the only 8000m peak in Tibet. Here you will witness a breathtaking sunset and relax as you watch the golden light descend behind the mountain peaks surrounding you.
As well as its Langtang Gosaikunda trek, My Everest Trip operates various tours and excursions around the country. We have an outstanding team of knowledgeable tour guides and aptly experienced sherpas to give you an enjoyable and comfortable trekking experience. We take pride in the reviews provided by our previous clients regarding our excellent services, and we vouch to make your travel stress-free.
We recommend you enjoy this trek between March and May or September and November. For more information regarding trek details, such as the cost of the Langtang Valley trek or the difficulty, please contact our friendly team. Or, if you would like to hear more about what it is like to join our trekking journey, you can read our Langtang Valley blog below.
Read More
Read Less
Your Itinerary
Outline Itinerary for 8 Days
Day 1: Drive from Kathmandu to Syabrubesi
Day 2: Trek to Lama Hotel
Day 3: Trek to Mundu
Day 4: Trek to Kyangjin Gompa
Day 5: Trek to Tserko Ri and Back
Day 6: Trek to Lama hotel
Day 7: Trek to Syabrubesi
Day 8: Drive to Kathmandu
---
Itinerary in Detail
Day 1: Drive from Kathmandu to Syabrubesi    
Altitude: 1,600 meters
Walking time: 7-8 hours
After breakfast in Kathmandu, we then drive north along the river bank. After a few hours of driving, we stopped for lunch and got to Syabrubesi by the evening. Syabrubesi, a small settlement before the hilltop, is very beautiful. It's also the starting point of the short Langtang Trek and Langtang Gosaikunda Trek. The climate is windy yet enjoyable and offers fantastic views of Manaslu (8156m), Annapurna (8091m), and Ganesh Himal (7422m). We will stay overnight in Sybrubensi. This is your first experience with a tea house stay.
Day 2: Trek to Lama Hotel
Altitude: 2,470 meters
Walking time: 5-6 hours
Duration: 10.9kms
We first cross Bhote Koshi in the morning, which means 'Tibet River.' On the second day of the Langtang Lirung Trek, we pass through Rhododendron forests and walk up and downhill until we reach the suspension bridge over Bhote Koshi that leads to Thulo Syabru, where we cross the Langtang River. Then, we continued a steep trail above the river and walked towards Lama Hotel. Now, we start to see some glimpses of the Langtang Himalaya range. Here are some cozy small hotels around the villages.
Day 3: Trek to Mundu 
Altitude: 3,430 meters
Walking time: 4-5 hours
Duration: 14.8 km
The trail above the hotel now moves towards Ghora Tabela. After the high pasture, you reach Langtang village. We ascend uphill on the path to Langtang Valley, a valley that offers a picturesque view of Langtang Lirung (7227m). This was once the most significant settlement of the region and homed many Buddhist followers. But, the village was greatly destroyed by the 2015 earthquake. However, It's recovering now. After a visit to the Langtang Village, we climb to Mundu. The culture here is the same as the Tamang Heritage trek route.
Day 4: Trek to Kyangjin Gompa 
Altitude: 3,870 meters
Walking time: 2-3 hours
Duration: 6.8 km
From Mundu, we continue to walk via the yak pasture of Langtang, Nepal. After this, we will walk through the forest to reach Ghoda Tabela, where yaks and wild goats graze on the large meadows. We pass through several Tamang villages and Buddhist monasteries en route to Langtang village and have a chance to explore the valley, where we will stay overnight. Hiking beyond the beautiful streams and rivers, we reach the Kyangjin village, the major highlight of the short Langtang Trek. Here, we will visit the local cheese factory and a small monastery; it will be a beautiful journey.
Day 5: Trek to Tserko Ri and Back 
We wake up for the hike to Tserko Ri early in the morning. This hilltop is the trek's highest point and offers some of the most beautiful Himalayan vistas. After a brief time on Tserko Ri, we return to our hotel for breakfast. And then, we shall explore other areas of the village and give ourselves enough time to emerge into the local culture. Or you can keep this as a rest day while enjoying the views of Langtang Lirung. In Kyanjin village, we visit their traditional cheese factory and yak meadows before resting for the night.
Day 6: Trek to Lama hotel
Altitude: 3,430 meters
Walking time: 6 hours
Duration: 21.6 km
We start to hike toward the lower altitude, bringing our Langtang Trek Nepal towards the end. We leave Kyangjin after breakfast in the morning. Heading downwards, we walk via the thick forest of Rhododendron and Pine. We retrace our way to the Lama Hotel, walking through deep forests and abundant waterfalls. This gives you a chance to enjoy the view of the beautiful mountains you may have missed during your ascend. Walking over more Tamang villages, we get to Lama Hotel by night. From here, we might also head for Langtang Helambu Trek.
Day 7: Trek to Syabrubesi
Altitude: 2,230 meters
Walking time: 6-7 hours
Duration: 13.1 km
Today, we have two options for the trek. We can retrace our initial route or take a rather interesting path via Rimche. On the way to Rimche, we visit the village of Sherpa Gaon and get to Syabru Besi by evening. Or, we walk through oak and rhododendron forests and head back to Sybrubensi, where we bid goodbye to the Himalayan wilderness. Feel free to stroll around the local market before our Langtang Trekking route ends here.
Day 8: Drive to Kathmandu
Altitude: 1400 meters
Driving time: 7 to 8 hours
This morning we will return to Kathmandu. The drive on the hillside road from Syabru Besi to Kathmandu is fun. You can explore the city and enjoy it before being treated to a traditional Nepali dinner which we will host for you in the evening, before your final night's stay in the hotel.
Additional Info
Langtang valley trek difficulty
Langtang valley trek is about a 10-day journey in the rough mountain terrain. However, the walking days are only six days. From Lama hotel, we walk for about 20 km each day. Although this distance is quite long since we walk on an instead leveled path, our Langtang trekking is easier. Climbing to Tsrong Ri is the most challenging part of the Langtang Trek. Otherwise, you will not need any technical skills or mountain climbing knowledge. The newbie trekkers with zero experience of high altitude trekking can also conquer the Langtang Valley trek.
Read the whole Langtang Valley trek Guide.
The major challenge during the Langtang Valley trek is its altitude. As we climb to Tserko Ri, which lies at about 5000 m above sea level, the pressure of oxygen drops almost by one-third. This results in a deficit of oxygen in the blood, and symptoms such as vomiting and body pain become prominent. Strolling and drinking a lot of water helps to prevent altitude sickness. MyEverestTrip expert guide will come in handy during emergencies condition.
Best time for Langtang Valley Trek
The trek to Langtang Valley can be possible throughout the year. However, the number of trekkers is considerably high during Autumn and Spring. Since the sky in Autumn is always clear, and the chances of rainfall are low, the mountain peaks are apparent up to evening. Another peak season is Spring, when the temperature is high, and the beautiful blooms of wildflowers in the lush forest of Nepal make everything magical. The use of red, pink, and white flowers makes everything supernatural, and the mountains are visible in the morning. These are also the months for agriculture and festivals.
Summer, the Monsoon in Nepal, is the most challenging trek to Langtang Valley. The rainfall occurs for about 15 days in June and July, and the Langtang Lirung mountain views are often blocked. However, that trial is slippery, and you need a good pair of boots to keep the leeches away. Lastly, we have winter (Langtang trek in January, February, and December) when all the regions above Lama hotel are covered in snow. If you don't hate winter, walking on the snowy trail means you have the most amazing views of the mountains. In any season of Langtang Trek Nepal, you might face unimaginable challenges. It can only be completed with the proper guidance from the expert team in the off-season.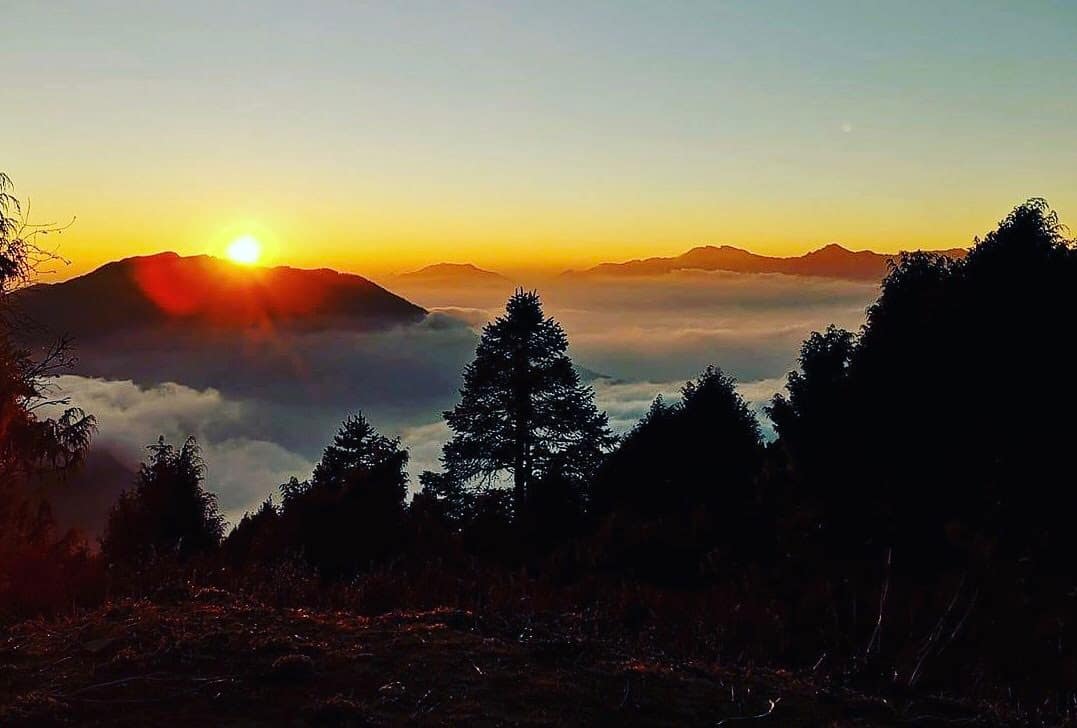 Langtang Trek accommodation
Langtang Valley trek is a famous tea house trekking trail in Nepal. This means you can stay in tiny houses made by locals at different stops along the Langtang Valley trek route. Those hotels have cozy rooms with a dining hall in the middle. The dining hall is heated with fire, and the rooms surround the arena. Each room has 2 to 3 small beds with a mattress and bedsheet. They also give you one blanket, but carrying your sleeping bag is preferable. The bathroom is usually on sharing basis, often Indian style. You can also get Wi-Fi, a shower, and electricity for a few additional dollars.
The hotels in Langtang also serve you good food on the menu. There is a large number of Nepalese, Indian, and international cuisine on the menu, available from dollar 6 to dollar 9. You can have breakfast and dinner at the hotels you stay at, and lunch is served along the Langtang short Trek trail.
Why US
MyEverestTrip is a Nepalese Travel and Trekking Agency based in Kathmandu. We have been operating in different trekking regions for more than a decade, traveling with hundreds of trekkers and travelers all around the world.
With the pure intention to bring trekkers to Nepal's safety and comfort, we have an entire team of travel planer, guides, and porters. We also have connections to hotels and restaurant lines all over Nepal for ensuring that our trekkers get the best possible facilities.   
So, here is the reason why you should travel with MyEverestTrip.  
Customize your itinerary:
We have designed a well-planned Itinerary for all travel destinations around Nepal. However, this Itinerary is customizable as per the need and requests of our trekkers. Just let us know when and how long you are staying so that we can arrange the rest. 
Our Expert guide: 
Although all travel agency claims to have a good guide, many of them are not informed about the place you are traveling to. However, MyEverestTrip has its own licensed guide in Nepal. They have been working in this field for over three decades, collecting all the information about the place/ culture, and learning to keep the travelers safe. Also, our guide is good at the English language. Upon special request, we can even hire a guide who can speak Chinese and other European languages for trekking in Nepal.
Fair and reasonable Cost:
MyEverestTrip has been known for its very economic trek packages in Nepal. You can compare the price we offer with any other travel agency in Nepal and only book with us if you are satisfied with our cost. We try to include all needed expenses during the tour so that you will not be overwhelmed with hidden expenses after the packages are booked. 
Your safety is our priority:
Obviously, the safety of our trekkers and our team is the utmost priority of MyEverestTrip. Our guide and porters who shall accompany you for the trip will have insurance of their own. We also encourage Travel insurance for our trekkers. Our treks and trip have been so designed that you only walk an appropriate distance. In any case of emergency, you will always have our back.
Responsible and Eco-Friendly 
MyEverestTrip operates with the belief in responsible tourism. This includes 
We are transparent about the services covered on the trip. There shall be no hidden cost (informed in advance if there's any)

We cover all the places that have been promised before the trek (the trend of skipping places once you book the package has to be discouraged). 

All our guides and porter are above 18yrs. We highly discourage child labor in the tourism industry

We do not leave any wastage behind on the trekking routes. We either dispose of the waste appropriately or carry them back with us and send it to the municipality

We do not engage in any activities that affect the people in the trek places of Nepal we stay.  
FAQ
FAQ
How much is the Langtang Trek distance?
Syabrubesi to Kyanjin and back to Syabrubesi make up about 70kms of the total Langtang Trek distance. From Kyanjin, Tsorng Ri is about 10 km. Every day, you walk about 20 km.
What Langtang Trek permit do you need?
Two kinds of permits are needed for the Langtang valley trek. The first one is a TIMS card which should be issued in Kathmandu. This $10 permit ($20 for individual trekkers) can be given in Kathmandu. There is a check post for the TIMS card at Syabrubesi. The other permit is Langtang National Park Entry Permit which costs $30. This permit can be issued either in Kathmandu or while you are on the trekking trail.
What kind of culture can you see in Langtang Valley Trek?
The Langtang region also makes an ideal cultural trek route for Nepal—this major Helambu settlement is home to the Tamang People. People follow the Buddhist religion the Tibetan region has been influenced by. They have a unique custom where the women and men wear colorful dresses during festivals like Buddha Jayanti and Loshar. These Tamang in the Langtang Valley also have their language and also speak Nepali. Only a few tea house owners can talk to English.
Do you need to hire Langtang Trek Guide?
Legally, it's not compulsory to hire and Langtang Trek guide. However, hiring a guide is wise since the path is primarily forested, and no people can speak English. You will also need to book a hotel in Langtang in advance; having a guide is very helpful.
Is Langtang Trek Solo possible?
Yes, the Langtang trekking region is very safe for solo travelers. Guided by the Buddhist values of peace and calmness, Langtang Trek is appropriate for lone male and female travelers. However, since the forest in this trekking region is quickly thick, it's fair to travel by hiring a guide.
Final Words 
Have you got any queries?
We will be happy to help. If you want to book your Langtang Valley Trek with MyEverestTrip, we will be pleased to help. Just let us know.
Equipment Checklist
Light and expedition weight thermal tops
Sunglasses with UV protection
Fleece jacket or pullover
Sleeping bag rated to 0 degrees (3/4 season)
Fleece Wind-Stopper jacket (optional)
Head lamp (eg Petzl) spare bulbs & batteries
Lightweight thermal gloves
Small padlock to lock trek bag
Underwear (4)
Basic First Aid Kit (see First Aid Medicine below)
Waterproof shell jacket (preferably breathable fabric)
Plastic bags – for keeping items dry inside trek bag
Shorts (2)
Daypack (35-40 litres/2500-3000 cubic inches)
Lightweight cotton long trousers/pants
Camping mattress, eg thermarest pad
Light and expedition weight thermal bottoms
Water bottles (2)
Sun hat or scarf
Toiletries
Warm fleece hat or light balaclava
Small wash towel
T-shirts (2)
Footwear appropriate to the trip
Thin, lightweight (inner socks) (4)
Waterproof shell trousers/pants (preferably breathable fabric)
Map
What's included
Airport/hotel pick up and drop off by private car.
At least two nights 3-star hotel in Kathmandu bed and Breakfast plan
Meals on the entire board (breakfast, lunch, and dinner) during the whole trekking
Kathmandu – Sybrubensi – Kathmandu By local bus / Jeep up to your request
Trekking map
An experienced Government license holder guide
Trekking porter/Sherpa who will carry your bags during the trekking
Insurance, salary, equipment, transportation, local tax for guide and porter
Group medical supplies (first aid kit will be available)
All necessary paper works and national park entry permits
Travel and rescue arrangement
TIMS (Trekkers' Information Management System)
All government taxes and tourist service charges
What's not included
Meals in Kathmandu before and after trekking.
Your travel insurance ( Rescue )
Nepal entry visa fee.
Tips for trekking staff and driver
Drinks (hot, cold and alcoholic)
Personal shopping and laundry etc
Personal trekking equipment
Choose a Private Trip
If you already know who you would like to take your adventure with and would prefer to enjoy your 'My Everest Trip' experience with your own group of friends, then we've got good news! All of our trips are also available as private adventures! Our private adventure specialists are on hand to give you a quote or talk you through some of the different options that we offer.
So feel free to give us a call on +977 9851069558 or Email us at [email protected]
Reviews
If you have already travelled with us and want to share your story and experiences to the world please send us your experiences by cliking the button below:
These reviews are from the travellers who have travelled with us previously.
Best trekking ever
I went on a trek with my mom and some of our friends In Langtang. We have been to Nepal several times; this was the best trip ever. Next time we go, we will choose My Everest Trip again.
Thank you, Puru, for a great time and new friendship.
Best regards, and see you again
Peik
Langtang Trek Reviews
When a lady travels alone, she must have people you trust around her while trekking. This is why I always go on My Everest Trip when I visit Nepal. I know my guide Puru very well by now. He is polite and friendly and always gives me the best service.
My Everest Trip is a tremendous trekking agency, and the manager always helps me and puts together the most excellent treks. Langtang valley Trek developed a great love for this region. This year we changed the itinerary a bit, and this is what I love about this agency. They listen to you and make the trip according to your wishes.
I like to do a lot of meditation when I go on treks, and Puru gives me time and space to do so. When I need him, he is there for me. Langtang is a beautiful place and one of my favourites in Nepal, and I recommend it to everybody to visit
this place.
Skønne Langtang
I efteråret 2018 kom min kusine hjem fra en rejse med tasken fuld af bedeflag, billeder og gode fortællinger. Hun havde været i Nepal og på Trek med My Everest Trip. Min interesse var vagt, og i marts 2019 var jeg den der var smuttet. Jeg blev hentet i lufthavnen af Puru og kørt til mit hotel i det pulserende Thamel, hvilket jeg synes var meget betryggende.
Langtang Valley er skøn, sikke en natur, blød, varm, farverig med de voldsomme Himalaya bjerge som en kontrastfuld kulisse omkransende det hele. Jeg blev meget betaget, både af omgivelserne, men også af den lethed der omgav min guide. Hans måde at ordne alting på når vi kom frem til vores overnatning, hans måde at fortælle på mens vi gik, var utrolig behagelig.
Jeg forstår godt at My Everest Trip nyder stor anseelse blandt deres gæster, og som min kusine videregav sin anbefaling til mig, videregiver jeg nu min anbefaling til andre med et stort Namaste!
Happy Trekking in Nepal
We were three girls taking a year off before going to university. We travelled to Asia, and in April 2019, we had planned for Nepal. We were preparing for Everest Base Camp or Annapurna Base Camp but did not find a company before we left home, thought we would plan along the way. In Sri Lanka, we met a guy just coming from Nepal, and he said we should do the Langtang Valley Trek with My Everest Trip because he just did, and that was amazing. We contacted My Everest Trip, and they responded very quickly; everything was settled at a very reasonable price in just two days.
Included in the trek were airport pickup and overnight in the hotel. After a somewhat challenging flight, we were so happy we bought a package, to be met by a friendly face in the airport and just taken to the hotel to rest. We quickly understood why the guy we met in Sri Lanka recommended this company, meeting the manager, Puru, who told us all about the trek and what to expect and met our guide.
We do not regret changing to Langtang Valley. The landscapes we walked through were beautiful: the clear rivers, waterfalls, Mountains, blooming rhododendron forests, small villages, gompas, prayer flags, and cute yaks. We visited Buddhist monasteries, saw a lot of Tibetan cultures, and met many lovely people.
Our guide was the sweetest guy and very professional in handling his job. All we had to do was walk and enjoy ourselves. One day one of my friends was not feeling so good, and the guide took her backpack to ease her walk.
One of the trek's highlights was the sunrise we watched from Tserko Ri on our rest day. Just sit and manage how the colours reflected on the mountains change as the sun rises and fills you with peace. Each day had something new to offer; no matter where you turn your eyes, you see something beautiful. The struggle you meet walking uphill vanishes the moment you reach the top. All the meals were included, so we did not have to think about that. Everything was just so easy and enjoyable.
These were indeed happy days.
Great Experience in Langtang Trek
I had a fantastic experience with My Everest Trip since the first time I talked with mr Puru; he takes care of everything for my trekking and is super friendly and well organized. I joined a group and was relaxed and super happy about that experience.
I will surereturnack again next year to do another trekking with My Everest Trip.
We Have Best Trek Ever
I went on a trek with my mom and some of our friends In Langtang. We have been to Nepal several times; this was the best trip ever. Next time we go, we will choose My Everest Trip again.
Thank you, Puru, for a great time and new friendship.
Best regards, and see you again
Peik
Awesome Langtang Trek
I took a 10-day trek through the Langtang Valley with guide Ratna. It was a challenging but beautiful and fulfilling experience. I felt I was in good hands the whole time.
Second time …even better !!!
I just went on my second trek with My Everest Trip. This time Langtang Valley with my son and a group of friends. My Everest Trip is still the agency I would recommend for all kinds of activities in Nepal.
We had so much fun, and again everything was so well organized. I'll be back in October for new adventures.
My blessings to all the staff.
See you again
Namaste from Liv
Package Summary
Langtang Valley Trek Facts
Trip Duration: 8 days
Walking days: 6 days
Lowest altitude: Kathmandu (1400m)
Highest altitude: Tserko Ri (5,184m)
Starting/ Ending Point: Syabrubesi (1600m)
Difficulty: Easy to Moderate
Permit: TIMS card and Langtang National Park Ppermit
Accommodation: Tea house (local guest house)
Langtang Trek cost: $490
Group size: 1 to 30
Walking hours: 6-7 hours/ per day
Langtang trek distance: 65 km
A superb drive from Kathmandu to Syabrubesi, with breathtaking views of beautiful landscapes.
Experience the fantastic culture of Tibetan Buddhist life.
Receive blessings from the old Buddhist shrines, such as Langtang Gompa and KanJing Gompa.
Enjoy a spectacular walk through the rhododendron forests.
Visit Langtang valley, also known as the 'valley of glaciers.'
Embark on a scenic climb to Chorko-Ri.
Panoramic views of mountains such as Langtang Ri, Langsisa, and Ganjala Peak.
| No. of Persons | Price per Person |
| --- | --- |
| 1 | US$ 550 |
| 2 | US$ 510 |
| 3 - 12 | US$ 490 |
We are your ultimate adventure partner.
MyEverestTrip is a reliable, Eco-friendly, and experienced tour company in Nepal – so if you're looking for the ultimate  Himalayan adventure, you've come to the right place. Our seasoned guides offer mountain trekking and peak climbing across Nepal, Bhutan, and Tibet – as well as a myriad of jungle safaris, sightseeing, bungee jumping, cycling, and paragliding packages. So to learn more about us click below and choose us as your ultimate adventure partner! Learn More About Us
Why Book With Us
70% Repeat Customers
Guaranteed Departures
Team of destinations Experts
Competitive Prices
99% Success Rate
Places of attractions, travel tips, news and more.Recent From Our Blog
April is a great time to trek in Nepal, with stable weather conditions, clear skies, and blooming rhododendron forests. Here are the top 5 trekking packages for April 2023 that offer a mix of adventure, stunning scenery, and cultural immersion. Everest Base Camp Trek 12 Days Duration: 12 days Max Elevation: 5,545m The Everest Base…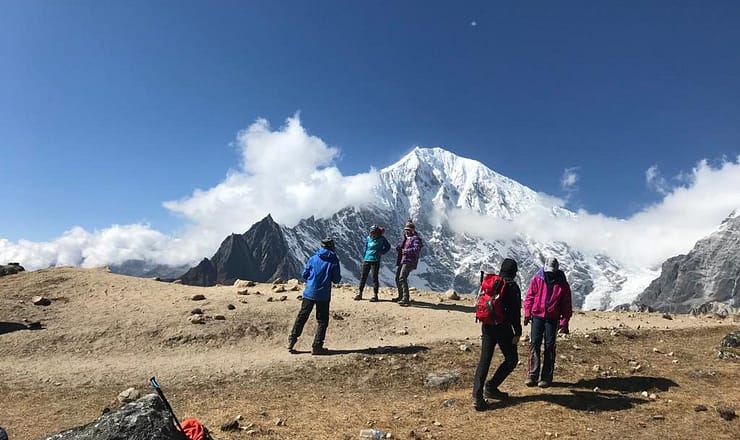 Know about the major Highlights of Langtang Valley Trekking before you book your trip. This article gives you an overview of the Langtang trekking route, including difficulty level, the best time for the Trek, walking hours, packing lists, permits and guide porter services. Let's imagine a place that has a great mountain range in the…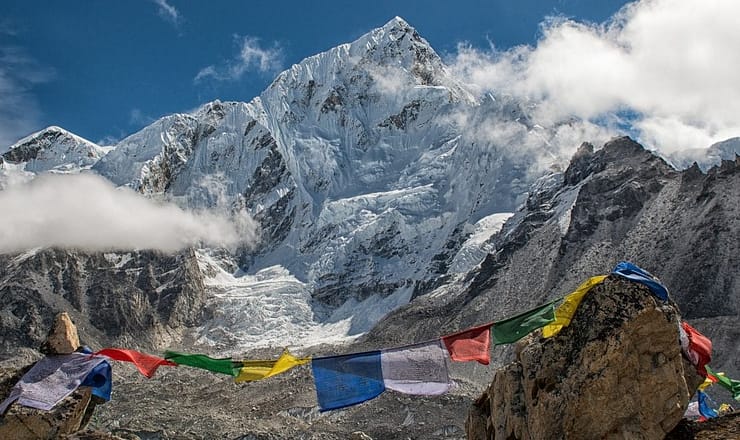 If you plan to trek in Nepal soon and want to know about the top Nepal trekking packages for 2023, this post is for your comfort.