Overview
Looking for an exciting yet easy and shorter trek in the Annapurna region? Then, this Mardi Himal trek is just the perfect trekking route for you. Mardi Himal Trek is an emerging destination in the Annapurna region of Nepal, gaining popularity among trekkers seeking shorter and easier treks. Mardi Himal (5587m) is situated just east of the Annapurna Base Camp and is known as the hidden treasure of the Annapurna Region – the 'Unseen Jewel' –making it perfect for those who want to avoid the crowds and experience trekking on the beaten off the path. If you are seeking a budget adventure, Mardi Himal Base Camp awaits you.  
This moderately difficult Mardi Base Camp trek is an adventure that covers amazing landscapes, dense forests, and stunning snow-capped peaks. Known as the Mardi Himal Base Camp trek, this hike passes through the heavily forested area and wilderness of the mountains. Starting at Kande, the landscape of the Mardi Himal Trek Map changes into the high Rocky Mountains as you pass through the forests filled with rhododendrons, pines, juniper, bamboo, and oaks. The forest is all green and fresh until Low Camp. Beyond that, as you approach the high camp, you can see the alpine grassland being dominant. From high camp, we climb to the Mardi Viewpoint and then to the Mardi Base Camp before walking down to Phedi.  
Throughout the trek, you witness the stunning views of some of the most famous mountains and mountain ranges in the world, such as the Annapurna range, Dhaulagiri (8167m), Manaslu mountain range, Mount Machhapuchhre (6988m), Mt. Hiunchuli (6441m) and of course Mardi Himal Peak (5587m) will accompany you. This Mardi Himal trail also gives our travelers the chance to experience the unique tradition and culture of Nepal, as we come across several villages like Siding, Lwang, and Ghale land, as well as terraced farms and sacred rivers. 
My Everest Trip makes sure that you stay safe and comfortable whilst trekking in Nepal – with our highly experienced Mardi Himal trek guides always available to help. Or if you would like to know more about what it's like to take this trip, you can check out our Mardi Himal trek blog below.  
Read More
Read Less
Your Itinerary
Day 1: Arrival in Kathmandu  
MyEveryTrip Mardi Himal Trek starts as soon as you land at the airport in Kathmandu. You will find our driver waiting with a car right outside the airport gate so that you can easily drive to your hotel in Thamel. In the evening we have an explanatory session for Mardi Trek and a welcome dinner planned for our guests. Before that, you can engage yourself in personal activities. If we have enough time you can also go sightseeing around Kathmandu. Our guide will also help you with some remaining shopping and get your bags ready for Mardi Himal Trekking.  
Day 2: Drive to Pokhara
Altitude: 800m

Duration: 8 hours/25 mins
 Pokhara, a beautiful city of lakes lying in the west of Kathmandu at about 200 km away, is the starting point of our Mardi Himal Trekking. We drive from Kathmandu to Pokhara in a tourist bus or fly from Kathmandu Airport to Pokhara airport. Driving along the Trishuli highway with the site of the lush green forest takes about 8 hours. Or, you can choose to fly directly into Pokhara. This is about 25 minutes of a flight accompanied by the views of the Mountains.
If we reach Pokhara early, we shall stop around Phewa for boating. We can also join the evening prayer (Arati) in Phewa and then enjoy the charm of the Lakeside and get lost in the nightlife of Pokhara.
Day 3: Drive to Kande and trek to Forest Camp
Altitude: 4500 meters

Duration: 7 hours walk
After breakfast on the bank of Phewa Lake, we hop in a private car that drives us from Pokhara to Kande via Hemja. Kande, a small settlement of 10 to 15 houses is where we start the Mardi Himal Trek on foot. From Kande, we walk on a path leading us to the Australian base camp. After this challenging part, we stop for an exciting lunch at the Australian base camp or Deurali. From Deurali, the trail is rather relaxing as we walk through the thick forest. They are a few uphill and downhill walks before we reach forest camp for the night. Forest camp has about ten tea houses where we can get good food and comfortable sleep.
Day 4: Trek to Low Camp
Altitude: 2540 m

Duration: 3 to 4 hours
After the long day of the walk to the forest camp, the 4th day of the Mardi Himal Base Camp trek is rather relaxing and fun. We enjoy a leisure-ish breakfast at forest camp and then start walking. After half an hour, we stop at a viewpoint for the mountain Panorama. Now as we walk upwards in the forest, the Mardi Himal trail is not marked well. So, make sure that you listen to your guide. carefully. We reach Low camp at about 1 p.m. Although many trekkers prefer to head towards Low Camp on the same day, we let our acclimatize. MyEverestTrip Mardi Himal Trek Itinerary is quite relaxing. 
Day 5: Trek to High Camp
Altitude: 3580 m

Duration: 4 hours
Since the walking duration from Low Camp to High camp of Mardi Himal Peak is only about 4 to 5 hours, we start the walk quite late in the morning. After breakfast at low camp, we start walking uphill. The forest has now changed into different kinds of landscapes with small glasses all around. On a newly made stone path, we climb beyond the middle camp and see the amazing mountain views before us. From about 2 to 3 pm, we find ourselves resting in one of the most beautiful hotels available at High Camp. It's amazing that locals have built such a comfortable hotel even in the rough landscape of mountains at high camp.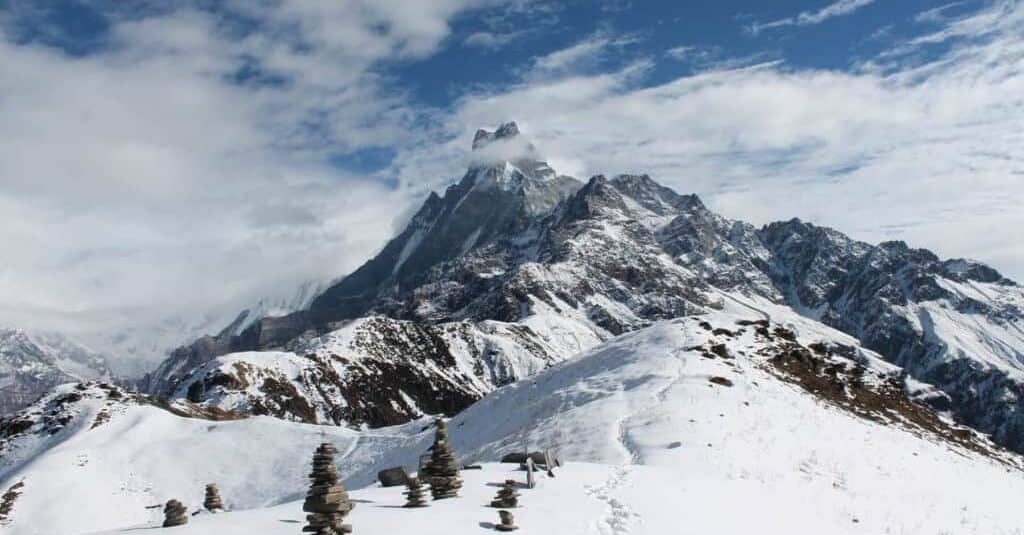 Day 6: Trek to Mardi Base Camp/ viewpoint and back
Altitude: 3580 m

Duration: 5 hours
Today is the most challenging day of your Mardi Himal Base Camp trek. We wake up at around 3:30 or 4:00 a.m. to climb up to the Mardi upper viewpoint before sunrise. If you manage to climb the tough hill from high camp to the Mardi viewpoint with the help of a flashlight, you will be at the viewpoint before Sunrise. The views of entire mountain vistas turning Golden in the morning are the most amazing sight of Annapurna, Fishtail, and Mardi during the trek. 
From the upper viewpoint, we can either walk to the Base Camp or return back to the high camp. Walk to base camp is about 3 hours from the viewpoint and the views of the mountains are not that clear, so many trekkers prefer to skip it. However, we suggest that you climbed up to the base camp and then walk back to the high camp in the daytime. You might want to carry some food in your handbag as there are no restaurants beyond high camp. As you return back to the high camp we have our lunch and the rest of our snacks. We will start to return only tomorrow. 
Day 7: Trek to Phedi and Drive to Pokhara
Altitude: 800 meters

Duration: 5 hours walk and 2-hour drive
Keep your knees strong as you have a long walking day today. We walk all the way from high camp to low camp and then start walking towards Phedi. The Mardi Himal trail leading to Phedi is quite steep and you need to be very careful about the falling rocks. After 4 to 5 hours of the walk, we finally cross Modi Khola and reach Phedi. At Phedi, a private Jeep will be waiting for us. The Jeep shall drive us to Pokhara in less than two hours. Plus, in the evening, you will find yourself enjoying the vibrant streets of Lakeside once again.
Day 8: Drive to Kathmandu
As the journey approaches the end, our plan for the 8th day of the Mardi Base Camp trek is to drive back to Kathmandu. After breakfast at our hotel in Pokhara, we hop into the tourist bus that shall drive along the Prithvi highway. Witnessing the awesome Trishuli River and the lush soft tropical forest, we reach Pokhara to Kathmandu by evening. Even then, you shall have some time for shopping and roaming up around Thamel. In the evening, we shall all gather for short interaction and a farewell dinner.
Day 9: Departure
Today, you fly back to your respective country, it's your final morning in Nepal. Inform us about your flight schedule so that we can send you a car to the airport. We wish you a safe journey home and probably we will meet again.
Additional Info
Accommodation in Mardi Base Camp  
In the trek: Mardi Himal Trek is a popular tea house trekking in the Annapurna region of Nepal. Don't know what a tea house is? It's a small guest house owned by the locals where you can get a comfortable bed a good food. The tea houses in the Mardi base camp trek route have been recently built. So, they have facilities like a hot shower, a shareable bathroom with a western seat, and a centrally heated dining room. 
 The rooms are also large enough for 2 to 3 single beds. You will get a clean mattress, pillow, and blankets. If you are lucky, the rooms shall have a mirror as well. The newly built tea houses in High camps are also very comfortable. Make sure you look for a couple of options before booking your stay. It's important to book your room well in advance. Especially in the peak season, spring and autumn, the rooms are quickly filled, and you might miss the best ones. Or, just let your guide for the Mardi Base camp trek do the bookings as you stay back and relax. 
Best time for Mardi Base Camp trek
 Trekkers claim spring and autumn to be the best time for the Mardi Himal trek. Along with unleashing the true beauty of mountains, it's also the time when the color of the flora and activities of fauna takes your heart away. The picturesque foreground of sub-tropical Rhododendron and Pine forest filled with spectacular mountain vistas in the backdrop makes a perfect setting. The mornings are warm enough to stroll around, and the days are cool enough for the hike. You can walk freely carrying a load of the bag, and the entire path of Treks in Nepal is vibrant. That's perfect, isn't it?
 Summer trek in Mardi is not so popular. That's because people are yet to acknowledge the beauty of the after-rain view. The newly born grasses, cleaner environment, and great after-rain views are the perks of the summer trek. However, you need to avoid the evening walk and aim to reach the destination quickly. With the right gear- raincoats, bag covers, and rain boots summer treks to Mardi Base camp are easily achievable. You will need very less packaging, and the walk gets easier. Similarly, the explicit views of winter with the thick layer of snow are second to none. All the regions above 3000 to 3500m are covered in the snow, and you will literally be surrounded by paradise. All you need is some extra pair of clothes and good guidance from the expert in the MyEverestTrip team. These being the off-season for trekking in Nepal, the trails are quiet and peaceful. The tea houses are mostly empty, and you can enjoy the utmost attention and also maybe some discount. Good luck…
Why US
MyEverestTrip is a Nepalese Travel and Trekking Agency based in Kathmandu. We have been operating in different trekking regions for more than a decade, traveling with hundreds of trekkers and travelers all around the world.
With the pure intention to bring trekkers to Nepal's safety and comfort, we have an entire team of travel planer, guides, and porters. We also have connections to hotels and restaurant lines all over Nepal for ensuring that our trekkers get the best possible facilities.   
So, here is the reason why you should travel with MyEverestTrip.  
Customize your itinerary:
We have designed a well-planned Itinerary for all travel destinations around Nepal. However, this Itinerary is customizable as per the need and requests of our trekkers. Just let us know when and how long you are staying so that we can arrange the rest. 
Our Expert guide: 
Although all travel agency claims to have a good guide, many of them are not informed about the place you are traveling to. However, MyEverestTrip has its own licensed guide in Nepal. They have been working in this field for over three decades, collecting all the information about the place/ culture, and learning to keep the travelers safe. Also, our guide is good at the English language. Upon special request, we can even hire a guide who can speak Chinese and other European languages for trekking in Nepal.
Fair and reasonable Cost:
MyEverestTrip has been known for its very economic trek packages in Nepal. You can compare the price we offer with any other travel agency in Nepal and only book with us if you are satisfied with our cost. We try to include all needed expenses during the tour so that you will not be overwhelmed with hidden expenses after the packages are booked. 
Your safety is our priority:
Obviously, the safety of our trekkers and our team is the utmost priority of MyEverestTrip. Our guide and porters who shall accompany you for the trip will have insurance of their own. We also encourage Travel insurance for our trekkers. Our treks and trip have been so designed that you only walk an appropriate distance. In any case of emergency, you will always have our back.
Responsible and Eco-Friendly 
MyEverestTrip operates with the belief in responsible tourism. This includes 
We are transparent about the services covered on the trip. There shall be no hidden cost (informed in advance if there's any)

We cover all the places that have been promised before the trek (the trend of skipping places once you book the package has to be discouraged). 

All our guides and porter are above 18yrs. We highly discourage child labor in the tourism industry

We do not leave any wastage behind on the trekking routes. We either dispose of the waste appropriately or carry them back with us and send it to the municipality

We do not engage in any activities that affect the people in the trek places of Nepal we stay.  
FAQ
 How Difficult is Mardi Himal Trek? 
MyEverestTrip neatly designed Mardi base camp trek package is 9 days long. However, the Mardi Himal trek duration is only five days long. The trail from Kande is about 64kms. Covering this duration in 6 days is literally no big deal. You will be walking for 4 to 5 hours per day and reach the tea house before evening. Trekking from the high camp to the base camp is the hardest part of the journey. The rest of the Mardi Himal trek route is among the easiest treks in Nepal. 
What are the Permits for Mardi Himal Trek?  
You need two kinds of permits for the Mardi Himal trek. The first one is ACAP, an entry card to the Annapurna Conversation Area. This $30 permit (Rs 200 for SAARC country) can be issued from Kathmandu/ Pokhara or even at the entry point while you are traveling. The money goes for the management of the conversation area itself. The next permit is called a TIMS card and costs $20 for solo trekkers and $10 for group trekkers. This Mardi Himal Permit permit is issued by the government and helps to trace your movement within the country. 
Is there Internet Service in Mardi Base Camp Trek 
Internet in the Mardi Himal trek is available but quite slow. There's no issue with free Wi-Fi in Deurali. In low and high-Mardi base camps, the Wi-Fi costs a few dollars ($1 to $3). But the internet is very unstable and slow. It might just be useful to send some texts. But you cannot stream high-quality videos or upload them with such a connection. Back to Siding, you might find free Wi-Fi with a not-so-good connection.
 In Kathmandu and Pokhara, there will be internet with good speed. The hotels provide internet for free, and you can easily do your work.
Final words,
You might still have a million questions in your head. If so, you can mail MyEverestTrip for any queries. If you want us to make the bookings for your Mardi Himal Trip, we will be more than delighted to do that for you. 
Let us know how we can be of help.
Equipment Checklist
Light and expedition weight thermal tops
Sunglasses with UV protection
Fleece jacket or pullover
Sleeping bag rated to 0 degrees (3/4 season)
Fleece Wind-Stopper jacket (optional)
Head lamp (eg Petzl) spare bulbs & batteries
Lightweight thermal gloves
Small padlock to lock trek bag
Underwear (4)
Basic First Aid Kit (see First Aid Medicine below)
Waterproof shell jacket (preferably breathable fabric)
Plastic bags – for keeping items dry inside trek bag
Shorts (2)
Daypack (35-40 litres/2500-3000 cubic inches)
Lightweight cotton long trousers/pants
Camping mattress, eg thermarest pad
Light and expedition weight thermal bottoms
Water bottles (2)
Sun hat or scarf
Toiletries
Warm fleece hat or light balaclava
Small wash towel
T-shirts (2)
Footwear appropriate to the trip
Thin, lightweight (inner socks) (4)
Waterproof shell trousers/pants (preferably breathable fabric)
Map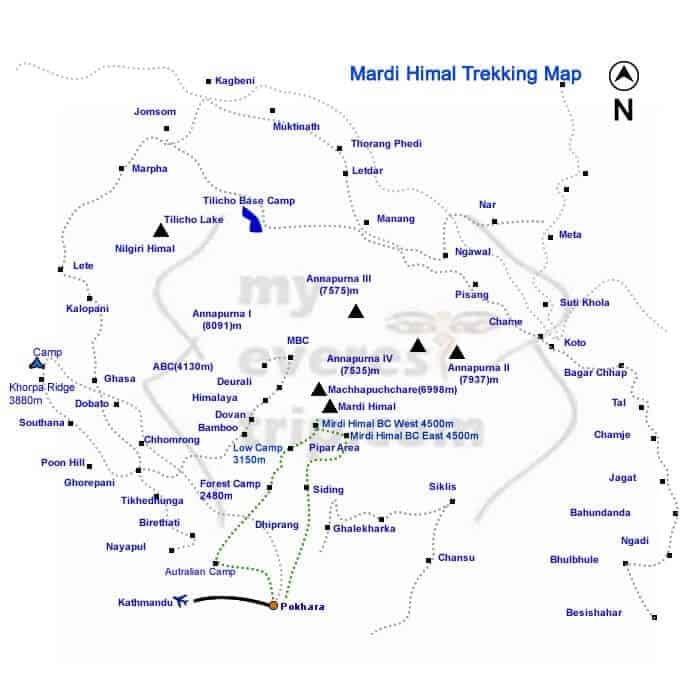 What's included
Airport/hotel pick up and drop off by private car
At least two nights 3-star hotel in Kathmandu and Pokhara Bed and Breakfast plan
Meals on full board (breakfast, lunch, and dinner) in the whole trekking
Trekking map
An experienced Government license holder guide
Trekking porter/Sherpa who will carry your bags during the trekking
Insurance, salary, equipment, transportation, local tax for guide and porter
Group medical supplies (first aid kit will be available)
All necessary paper works and national park entry permits
Travel and rescue arrangement
TIMS (Trekkers' Information Management System)
All government taxes and tourist service charge
What's not included
Meals in Kathmandu before and after trekking.
Your travel insurance ( Rescue )
Nepal entry visa fee.
Tips for trekking staff and driver
Drinks (hot, cold, and alcoholic)
Personal shopping and laundry etc
Personal trekking equipment
Choose a Private Trip
If you already know who you would like to take your adventure with and would prefer to enjoy your 'My Everest Trip' experience with your own group of friends, then we've got good news! All of our trips are also available as private adventures! Our private adventure specialists are on hand to give you a quote or talk you through some of the different options that we offer.
So feel free to give us a call on +977 9851069558 or Email us at [email protected]
Reviews
If you have already travelled with us and want to share your story and experiences to the world please send us your experiences by cliking the button below:
These reviews are from the travellers who have travelled with us previously.
Aktiv familieferie
Vi er en aktiv familie med to sønner på 11 og 13 år. Vi har altid rejst meget og vil gerne have fuld fart på vores ferier. Jeg havde egentlig aldrig tænkt på Nepal som et land hvor man rejste hen med børn, men da et ungt familiemedlem kom hjem og fortalte om sine oplevelser i landet blev vi alligevel nysgerrige og begyndte at undersøge hvad man egentlig kunne gøre sammen med børn i Nepal. Vi fandt My Everest Trips hjemmeside og indså hurtigt at der var masser af aktiviteter der var velegnede for børn på vores alder.
Efter et par mails frem og tilbage med manageren fandt vi frem til et fint lille trek som knægtene sagtens ville kunne klare, nemlig Mardi Himal.
Mardi Himal trekket var et rigtigt godt valg, man får udfoldet sig fysisk, men det er ikke hårdere end at man også kan hygge sig mens man vandrer. Både vores guide og vores portere var utroligt opmærksomme på vores sønner, lavede sjov og spillede kort med dem. Det var virkelig dejligt at se den gensidige glæde der udspillede sig mellem dem, på trods af sprog og kultur forskelle og det havde en utrolig afsmittende effekt på os som forældre at vi bare kunne nyde turen i ro og mag.
Trekket bare var en del af vores ferie i Nepal og vi besøgte også Chitwan nationalpark, Pokhara og selvfølgelig Kathmandu med alle dertilhørende seværdigheder, men der hersker ingen tvivl om at Mardi Himal var turens højdepunkt.
Nepal er et rigtigt dejligt land at rejse i med børn. Vi mødte så meget velvilje og godhed over alt.
Vores tur var sammensat af My Everest Trip i samarbejde med os, så vi fik set et bredt spekter af dette vidunderlige land. Det hele var så fint tilrettelagt og planlagt på forhånd at vi ikke skulle bekymre os om noget som helst.
Jeg kan varmt anbefale at tage børnene med til Nepal og jeg kan i dén grad anbefale My Everest Trip.
Great service
Good itinerary, skilled staff, reasonable price, and great service provided by My Everest Trip and the manager Puru added so much to this Trek.
It is obvious that the safety and well-being of the clients are a top priority. During the whole trek, our guide and porters showed respect and kindness.
The daily walks between 4 and 6 hours leave you time to admire the gorgeous surroundings. The Mardi Himal trek sure is a nice trek and since we did this trek in the spring the blooming rhododendrons were at their peak. Being in the Himalayas region is always a pleasure and being with good people makes it more joyful.
I appreciate everything My Everest Trip did to make this a great trip and I highly recommend this company.
First trek in my Life
Puru recommended this trek to me as I was a first-time trekker and didn't want to do the long and hard trek. This was a very good choice and Puru arranged everything so I did not have to worry about anything. He provided me with a very nice guide who always had my well-being in mind.
The Mardi Himal is a beautiful trek packed with gorgeous views and very nice trails to walk. My guide was very helpful in taking pictures with my camera and pointed out the good spots for pictures. It was obvious he did this trek many times, but he did not scatter over but told me many stories. When we returned to Pokhara after the trek I wanted an extra day in Pokhara to relax and explore the surroundings. This was no problem, I just contacted Puru and he made the arrangements in a very short time.
I will recommend the Mardi Himal trek, but most of all I will recommend My Everest Trip as they provide top service, makes you feel good taking care of and all the staff I met were good and kind people. I would love to do another trek with you guys again.
Thank you so much.
Package Summary
Mardi Himal Trek Facts
Trip Duration: 9 days 

Walking duration: 5 days

Lowest altitude: Pokhara (800m)

Highest altitude: Mardi Base Camp height of 4500 meters

Starting/ Ending Point: Pokhara

Difficulty: Easy to Moderate

Permit: ACAP and TIMS card

Accommodation: Tea house (local guest house)

Mardi Himal Trek cost range: $650

Group size: 1 to 30

Walking hours: 6-7 hours/ per day

Mardi Himal trek distance: 64 km  
Exciting Panorama of over dozens of mountain peaks including Mardi Himal Peak, Annapurna, and Dhaulagiri which is among the world's tallest mountain vistas
Sunrise before the mountains at the Mardi Upper Viewpoint.   
Begins with an exciting sightseeing around Kathmandu and a scenic drive to Pokhara
Pokhara visit including boating in Phewa Lake and dinner at the lakeside
Encounter many waterfalls and rivers that are hidden within the sub-tropical forest of the Mardi Himal Trek map
Witness the rich bio-diversity of the Annapurna Conservation area while spotting the rear flora and fauna
Comfortable stay and great food in the newly build tea houses along the trail
Avoid the crowd of Annapurna Base Camp Trek in the peak season and enjoy the solitude of nature all by yourself.
We Offer Group Discount
| No. of Persons | Price per Person |
| --- | --- |
| 1 | US$ 650 |
| 2 | US$ 615 |
| 3 - 5 | US$ 580 |
| 5 -12 | US$ 549 |
We are your ultimate adventure partner.
MyEverestTrip is a reliable, Eco-friendly, and experienced tour company in Nepal – so if you're looking for the ultimate  Himalayan adventure, you've come to the right place. Our seasoned guides offer mountain trekking and peak climbing across Nepal, Bhutan, and Tibet – as well as a myriad of jungle safaris, sightseeing, bungee jumping, cycling, and paragliding packages. So to learn more about us click below and choose us as your ultimate adventure partner! Learn More About Us
Why Book With Us
70% Repeat Customers
Guaranteed Departures
Team of destinations Experts
Competitive Prices
99% Success Rate
Places of attractions, travel tips, news and more.Recent From Our Blog
Once you've done the Everest base camp trek, the next most popular trek in the world is the Annapurna trek in Nepal. A goddess in Hindu mythology, "Ma Annapurna," whose name means "full of grains" or "giver of sustenance," is said to have given the peak its current name. The Annapurna Base Camp Trek is…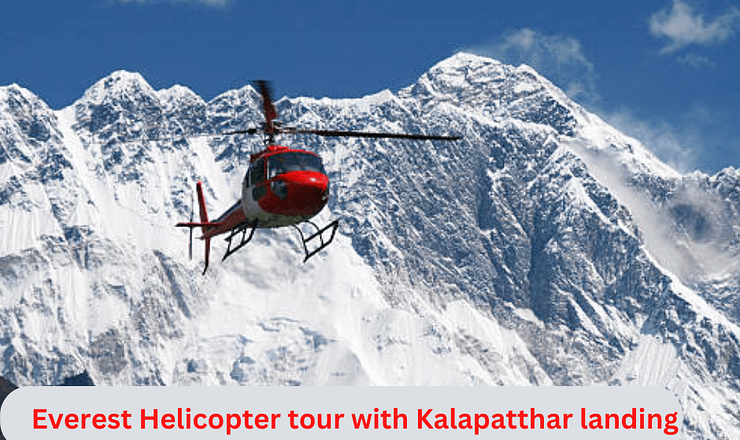 Are you dreaming of Everest Helicopter Tour With Landing at Kalapathar to see Mount Everest? If yes, a Helicopter tour to Everest is the best option. The Everest Base Camp Helicopter Tour with Landing at Kalapathar is the most popular helicopter ride in Nepal. The helicopter tour is a single-day package starting from Kathmandu airport…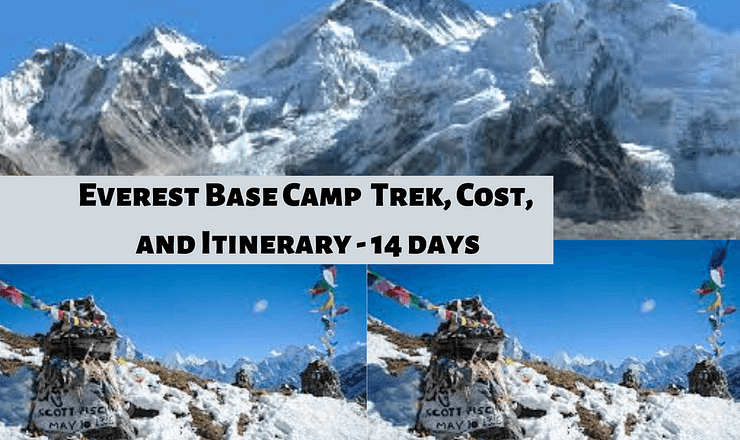 Everest Base Camp Trek Overview The Everest Base Camp trek journey is a top-tier adventure since it leads you to the base of the world's tallest mountain, Everest (8,848.68 m/29,029ft). Traveling through stunning high-altitude landscapes, high-altitude wildlife, traditional Sherpa culture, Buddhist monasteries, and snow-capped mountains, this tour will offer you a natural thrill at an…