Overview
Mount Kailash lies in the spiritual land of Tibet. The peak is 6714m and holds significance to Hindus and Buddhists.  It is one of the holiest places of pilgrimage to Tibetans as well. Tourists are drawn by the image of beautiful mountain scenery and holiness of this region which leaves them to strive for wandering lust. Each year numerous tourists from all around the world gather in Darchen to experience the mighty Mt. Kailash. The trek takes you to on a surreal journey with thin air and extreme altitude. Such a divine experience is certainly not found anywhere else in the world.
On our 20 days journey to Mount Kailash, we travel along pilgrimage routes and trade links and across the border into Tibet. You start by visiting Garuda valley which is a place believed to be the cradle of Tibetans during ancient times of the reigning kings. This was done long before Buddhism was found. By walking along the route in ascending and descending trails, you finally reach Kora valley. After three days of trekking in Kora valley, you finally arrive at Mansarovar Lake. This lake has a circumference of 90km thus making it one of the highest freshwater in the world. It also holds religious significance, and it is believed that once a person takes a dip in this holy water, their sins get washed. After the lake, we move on to Saga and to Zhangmu. After crossing the security needful, we will travel back to Kathmandu. The trek is moderate to strenuous but the fun and adventure do not fit into the grading system. The best time to visit Mt Kailash is from February to May and October to December.
Our experienced team will assist you in collecting surreal travel stories to share back home. Pack your bags and come visit this beautiful place on Earth.
Read More
Read Less
Your Itinerary
Day 01    Arrival in Kathmandu (1,300m/4,264ft)
Upon arrival in Kathmandu, you will be greeted by our representative and will be taken to your hotel. Feel free to enjoy the rest of the day.
O/N at 3 Star Hotel | Meals provided: Breakfast
Day 02    Kathmandu: Sightseeing and Trek Preparation
Today is a rest day and you will be taken to different places in Kathmandu for sightseeing. Also, our representatives will give you basic information about plans, places, and precautions for the trip. You can stroll in the street of Thamel later in the day.
O/N at 3 Star Hotel | Meals provided: Breakfast, Lunch, and dinner
Day 03    Fly from Kathmandu to Nepalgunj|1Hrs|
We take a flight to Nepalgunj which is in the western part of Nepal. Nepalgunj is a town near the Indian border. This place is an interesting town that shows diverse cultures, locally produced food, and ethnic villages.
O/N at 3 Star Hotel | Meals provided: Breakfast, Lunch, and dinner
Day 04    Fly to Simikot (2,985m/9,790ft) and trek to Dharapuri (2,360m/7,740ft)|4 – 6 Hrs|
We fly to Simikot (40 minutes) and get wanderlust to the beauty of the mountains. Here, we can experience indigenous people and their culture which is close to the Tibetans. From Simikot, we ascend and then descend to the trails to Tuling. We walk through the virgin jungles and villages along the Karnali River which leads to Dharapuri.
O/N at Tea House | Meals provided: Breakfast, Lunch, and dinner
Day 05    Dharapuri to Kermi (2,860m/9,383ft) |5 – 6 Hrs
We walk on flat trails along the Karnali River. We can see fields cultivated with rice, potatoes, buckwheat, etc. There are two hot springs near Kermi which can relieve your body aches. You can see Buddhist monasteries called Laikyo Gumba and Lhundrup Choeling Gumba once you get to Kermi.
O/N at Tea House | Meals provided: Breakfast, Lunch, and dinner
Day 06    Kermi to Yalbang (2,879m/9,445ft)|5 – 6 Hrs
We ascend to the steep trails to reach a small pass and then cross a suspension bridge over the Salli River. You can see amazing views of the Pine trees and the Karnali River. You can also experience a monastery called Namkha Khyung Dzong.
O/N at Tea House | Meals provided: Breakfast, Lunch, and dinner
Day 07    Yalbang to Tumkot (3,073m/10,082ft)|5 – 6 Hrs
We ascend further and see ample pine trees along the way. Upon reaching Tumkot, we can visit Dhungkar Choezom Gumba which is the important Sakya monastery in the Tibetan region.
O/N at Tea House | Meals provided: Breakfast, Lunch, and dinner
Day 08    Tumkot to Yari (3,663m/12,017ft)|6 – Hrs
Today is the easiest yet amazing trail over the Karnali River. After an hour hike, we experience a change in topography, vegetation, and temperature. Due to changes in climate, you will see short and low bushes rather than trees in the way.
O/N at Tea House | Meals provided: Breakfast, Lunch, and dinner
Day 09    Yari to Hilsa (3,647m/11,965ft) via Nara La pass|5 – 6 Hrs
After trekking for the day, we finally reach the Nara La Pass (4620m) where the landscapes are similar to Tibet. We can see Tibetan plains and the Yari village. Then, we descend down till we reach Hilsa which is a point for pilgrims to go to Mt Kailash.
O/N at Tea House | Meals provided: Breakfast, Lunch, and dinner
Day 10    Hilsa to Purang (3,772m/12,375ft)|2 – 3 Hrs
We cross a bridge at Hilsa and ascend from Hilsa to Purang bypassing Rinzing Zangpo Gumpa and Kangye Village along our trails. After reaching Purang, we will see Purang Gumba and Buddhist paintings of the 12th century.
O/N at Tea House | Meals provided: Breakfast, Lunch, and dinner
Day 11    Purang to Monster (4,450m/14,599ft) and sightseeing in Tirtapuri|3 – 4 Hrs
After passing Rakshas and Mansarover lakes, we reach Monster. After a while, we visit Tirtapuri located northwest of Mount Kailash. We can see Tirthapuri hot springs consisting of Guru Rinpoche's footprint. Later, we return to Monster.
O/N at Tea House | Meals provided: Breakfast, Lunch, and dinner
Day 12    Sightseeing of Garuda Valley, then transfer to Darchen (4,560m/14,956ft)|3 – 4 Hrs   
After 2 hours we reach Garuda Valley, southwest of Mt. Kailash. We can see the cradle of Tibetan civilization during the reign of Shang Shung kings. Afterward, we move to Darchen which is a small town situated in front of Mount Kailash.
O/N at Tea House | Meals provided: Breakfast, Lunch, and dinner
Day 13    First day of Kora: hiking to DiraPukMonasterys (5120m/16,792ft) |5 – 6 Hrs
We walk in a valley through walls of red rocks and cross plains to Shershong. Later, cross a bridge that leads us to Chhuku Gumba and then to Dirapuk. Here you can see the amazing view of Mt. Kailash (6638m).
O/N at Tea House | Meals provided: Breakfast, Lunch, and dinner
Day 14    Second day of Kora: hike to Dzutul-puk (4790m/15,765ft) |6 – 7 Hrs
Today is the difficult part where we climb Dolma-la pass(5750m). We can see five-colored praying flags. We descend to Dzutul-puk, we experience amazing Thungje Zinbu and caves.
O/N at Tea House of Dzutul-puk | Meals provided: Breakfast, Lunch, and dinner
Day 15    Third day of Kora: hiking to Darchen (4,560m/15,000ft)|  3 – 4 Hrs
We walk towards Barka plain. After holy Kora of Mt.Kailash at Darchen, we drive to Mansarovar Lake which holds religious importance to Hindus and Buddhists. The lake is the significance of purity and spiritual belief.
O/N at Tea House at Masarova | Meals provided: Breakfast, Lunch, and dinner
Day 16    Tour of the Mansarovar Lake|7 – 8 Hrs
Today, we take a tour of Mansarovar which has a circumference of 90km making it one of the highest freshwater lakes in the world. It is believed that drinking or taking the holy dip in the lake will clear up your sins. We circle round the lake in a vehicle and later visit Chui Gumba.
O/N at Tea House | Meals provided: Breakfast, Lunch, and dinner
Day 17    Mansarovar to Saga (4,600m/15,088ft)|8 – 9 Hrs
We drive through Hor Quo and Mayum La pass(5200m) where we can see small towns like Zhongba and Paryang. The journey takes us 270km away from Mansarovar to Paryang and connects Saga, 255km away from Paryang.
O/N at Tea House in Saga | Meals provided: Breakfast, Lunch, and dinner
Day 18    Saga to Zhangmu (3,750m/12,300ft)|4 – 5 Hrs
We drive from Saga to Nyalam for 2 hours and again to Zhangmu, which is the border town of Tibet.
O/N at Tea House of Zhangmu | Meals provided: Breakfast, Lunch, and dinner
Day 19    Zhangmu to Kathmandu: 153km|4 – 5 Hrs
After being checked at the border, our representatives will pick you up from the Chinese Friendship Bridge and drive you back to Kathmandu.
O/N at 3-star hotel | Meals provided: Breakfast, Lunch, and dinner
Day 20    Final Departure
Today, you will head back to your home country. After breakfast, our representative will leave you at the airport 3 hours before the scheduled time.
Meals Provided: Breakfast
Why US
MyEverestTrip is a Nepalese Travel and Trekking Agency based in Kathmandu. We have been operating in different trekking regions for more than a decade, traveling with hundreds of trekkers and travelers all around the world.
With the pure intention to bring trekkers to Nepal's safety and comfort, we have an entire team of travel planer, guides, and porters. We also have connections to hotels and restaurant lines all over Nepal for ensuring that our trekkers get the best possible facilities.   
So, here is the reason why you should travel with MyEverestTrip.  
Customize your itinerary:
We have designed a well-planned Itinerary for all travel destinations around Nepal. However, this Itinerary is customizable as per the need and requests of our trekkers. Just let us know when and how long you are staying so that we can arrange the rest. 
Our Expert guide: 
Although all travel agency claims to have a good guide, many of them are not informed about the place you are traveling to. However, MyEverestTrip has its own licensed guide in Nepal. They have been working in this field for over three decades, collecting all the information about the place/ culture, and learning to keep the travelers safe. Also, our guide is good at the English language. Upon special request, we can even hire a guide who can speak Chinese and other European languages for trekking in Nepal.
Fair and reasonable Cost:
MyEverestTrip has been known for its very economic trek packages in Nepal. You can compare the price we offer with any other travel agency in Nepal and only book with us if you are satisfied with our cost. We try to include all needed expenses during the tour so that you will not be overwhelmed with hidden expenses after the packages are booked. 
Your safety is our priority:
Obviously, the safety of our trekkers and our team is the utmost priority of MyEverestTrip. Our guide and porters who shall accompany you for the trip will have insurance of their own. We also encourage Travel insurance for our trekkers. Our treks and trip have been so designed that you only walk an appropriate distance. In any case of emergency, you will always have our back.
Responsible and Eco-Friendly 
MyEverestTrip operates with the belief in responsible tourism. This includes 
We are transparent about the services covered on the trip. There shall be no hidden cost (informed in advance if there's any)

We cover all the places that have been promised before the trek (the trend of skipping places once you book the package has to be discouraged). 

All our guides and porter are above 18yrs. We highly discourage child labor in the tourism industry

We do not leave any wastage behind on the trekking routes. We either dispose of the waste appropriately or carry them back with us and send it to the municipality

We do not engage in any activities that affect the people in the trek places of Nepal we stay.  
Equipment Checklist
Light and expedition weight thermal tops
Sunglasses with UV protection
Fleece jacket or pullover
Sleeping bag rated to 0 degrees (3/4 season)
Fleece Wind-Stopper jacket (optional)
Head lamp (eg Petzl) spare bulbs & batteries
Lightweight thermal gloves
Small padlock to lock trek bag
Underwear (4)
Basic First Aid Kit (see First Aid Medicine below)
Waterproof shell jacket (preferably breathable fabric)
Plastic bags – for keeping items dry inside trek bag
Shorts (2)
Daypack (35-40 litres/2500-3000 cubic inches)
Lightweight cotton long trousers/pants
Camping mattress, eg thermarest pad
Light and expedition weight thermal bottoms
Water bottles (2)
Sun hat or scarf
Toiletries
Warm fleece hat or light balaclava
Small wash towel
T-shirts (2)
Footwear appropriate to the trip
Thin, lightweight (inner socks) (4)
Waterproof shell trousers/pants (preferably breathable fabric)
Map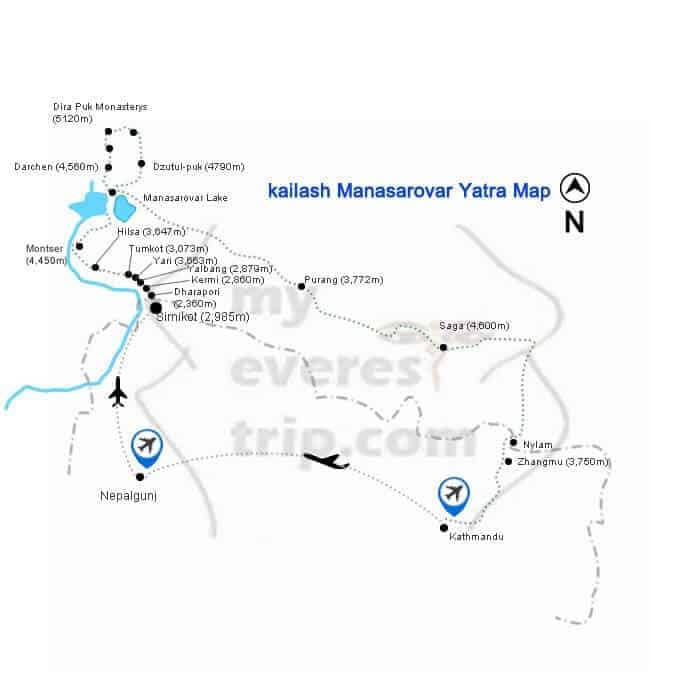 What's included
Airport / Hotel pick up and drop off by private car.
Kathmandu – Nepalgunj – Simikot airfare.
Humla / Simikot special permits.
Chinese Group visa fee and a Tibet permit.
English Speaking guide in Nepal and Tibet.
Two nights 3-star hotel in Kathmandu on Bed & Breakfast plan.
Meals on Full Board (Breakfast, lunch, and dinner) during the whole trek
Trekking map.
An experienced Government licensed holder guide.
Trekking porter / Sherpa who will carry your bags during the trekking.
Food, drinks, accommodation, insurance, salary, equipment, transportation, local tax for Guide, and porter.
Group medical supplies (first aid kit will be available).
All necessary paperwork and national park entry permits.
Travel and Rescue arrangement.
TIMS (Trekkers' Information Management System).
All government taxes and tourist service charge.
What's not included
Meals in Kathmandu before and after trekking,
Your travel insurance ( Rescue )
Tips for trekking staff and driver. (Tipping is expected but it is not mandatory)
Extra porter charge for a personal bag pack
Nepal entry visa fee
Tips for trekking staff and driver
Drinks (hot, cold and alcoholic)
Personal shopping and laundry etc
Personal trekking equipment
Choose a Private Trip
If you already know who you would like to take your adventure with and would prefer to enjoy your 'My Everest Trip' experience with your own group of friends, then we've got good news! All of our trips are also available as private adventures! Our private adventure specialists are on hand to give you a quote or talk you through some of the different options that we offer.
So feel free to give us a call on +977 9851069558 or Email us at [email protected]
Reviews
If you have already travelled with us and want to share your story and experiences to the world please send us your experiences by cliking the button below:
We are your ultimate adventure partner.
MyEverestTrip is a reliable, Eco-friendly, and experienced tour company in Nepal – so if you're looking for the ultimate  Himalayan adventure, you've come to the right place. Our seasoned guides offer mountain trekking and peak climbing across Nepal, Bhutan, and Tibet – as well as a myriad of jungle safaris, sightseeing, bungee jumping, cycling, and paragliding packages. So to learn more about us click below and choose us as your ultimate adventure partner! Learn More About Us
Why Book With Us
70% Repeat Customers
Guaranteed Departures
Team of destinations Experts
Competitive Prices
99% Success Rate
Places of attractions, travel tips, news and more.Recent From Our Blog
Once you've done the Everest base camp trek, the next most popular trek in the world is the Annapurna trek in Nepal. A goddess in Hindu mythology, "Ma Annapurna," whose name means "full of grains" or "giver of sustenance," is said to have given the peak its current name. The Annapurna Base Camp Trek is…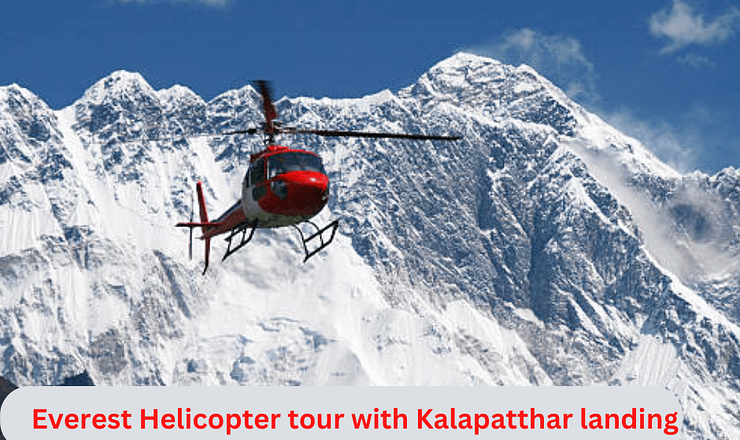 Are you dreaming of Everest Helicopter Tour With Landing at Kalapathar to see Mount Everest? If yes, a Helicopter tour to Everest is the best option. The Everest Base Camp Helicopter Tour with Landing at Kalapathar is the most popular helicopter ride in Nepal. The helicopter tour is a single-day package starting from Kathmandu airport…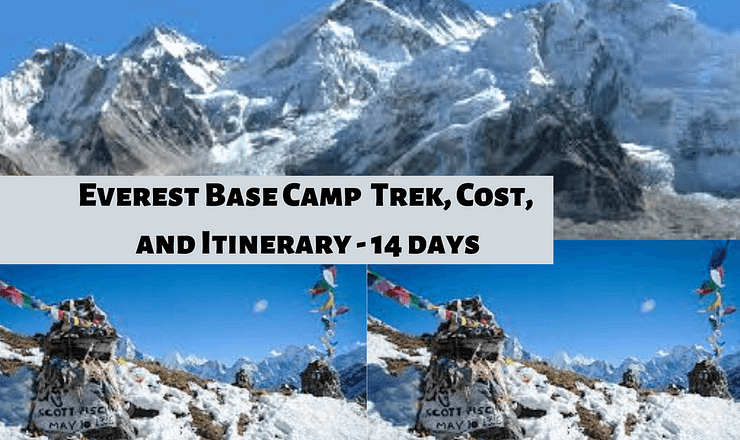 Everest Base Camp Trek Overview The Everest Base Camp trek journey is a top-tier adventure since it leads you to the base of the world's tallest mountain, Everest (8,848.68 m/29,029ft). Traveling through stunning high-altitude landscapes, high-altitude wildlife, traditional Sherpa culture, Buddhist monasteries, and snow-capped mountains, this tour will offer you a natural thrill at an…