Overview
Tilicho Lake Trekking is one of the popular trekking routes in the Annapurna Region as it lets you witness the scintillating Tilicho on rather rugged terrain. Tilicho Lake, at an altitude of 4910 m, is the highest lake in the world for its size. The glacier melt on the northern slopes of Annapurna and Thorang Peak is collected in Tilicho Lake. Tilicho lake trek takes you through some of the most beautiful places of the Annapurna region accompanied by a spectacular vista of the snow-capped mountains. If you are a person who enjoys being in close proximity to nature and loves to be greeted by the warm smiling faces of the people, then you can always opt for Tilicho Lake Trekking.
The 20 days of Tilicho Lake Trekking start as you drive to Syange from Kathmandu witnessing various settlements, rivers, waterfalls, and varying landscapes. You will cover places like Dharapani, Chame, Pisang, Manang, and Besisahar, during this trek. You will also visit ancient Buddhist monasteries and explore the Gurung communities which have distinct cultures and dialects. The rugged but beautiful terrains, the green flora, the diverse fauna, the smiling and friendly faces of the people, the gigantic views of the mountains, glaciers, and lakes, the diverse culture, and the beautiful monasteries will lead you to the mesmerizing Tilicho Lake. The enchanting Tilicho Lake with its deep blue water shining against the snow-covered rocks is sure to take your breath away.  Along the way, you will have a breathtaking view of the Himalayas including Annapurna massif (8091m), Dhaulagiri (8167m), Gangapurna (7455m), and Lamjung Himal (6983m) among others. The trek will come to an end as you walk back to the beautiful village of Manang to join the Marsayangdi River trail. The best season to do the Tilicho Lake Trekking is from March to May and September to mid-December.
My Everest Trip provides you with experienced and knowledgeable guides, who have led many trekking groups throughout the country. We do not compromise on the quality of services in order to give you an unforgettable trekking experience.
Read More
Read Less
Your Itinerary
Day 01: Arrival in Kathmandu (1300m/4264ft) then picked up from there at Hotel 
We will give you a warm reception upon your arrival at Tribhuvan International Airport. You will then be escorted to your hotel. O/N at the hotel.
Day 02: Kathmandu: Sightseeing and Trek Preparation   
Early in the morning, you will be taken to four of the seven world heritage sites in Kathmandu—Swayambhunath, Kathmandu Durbar Square, Pashupatinath, and Boudhanath. Before dinner, you will be briefed about your trek by your guide. O/N at the hotel.
Day 03: Drive from Kathmandu to Syange (1100m/3608ft)
After breakfast, you drive to Syange leaving Kathmandu behind. You pass alongside beautiful rivers, waterfalls, and varying landscapes, en route to Syange. O/N in Syange.
Day 04: Trek from Syange to Dharapani (1960m/6430ft)
You follow a zigzag trail, beside the Marsayangdi River, until you cross a suspension bridge over Marsayangdi. Then, you walk uphill to Tal, the first village in the Manang district, famous for its waterfalls. Passing through barley and potato fields, and pine forests, you reach Dharapani. O/N in Dharapani.
Day 05: Dharapani to Chame (2710m/8891ft)
You continue to walk on the south bank of Marsayangdi River as you walk through pine, oak, hemlock, maple, and rhododendron forests and apple orchards on the way to Chame. You will follow a mule trail to reach Chame from where you can see a panoramic view of Annapurna II (7937m), Annapurna IV (7525m), and Lamjung Himal (6983m). O/N in Chame.
Day 06: Chame to Pisang (3300m/10824ft)
You climb past Mani walls as you enter the buckwheat fields in Telekhu. You will also catch a glimpse of the tremendous Paungda Danda rock face as you ascend. You, then, continue the steep ascent towards Upper Marsayangdi through fir and pine forests. You will have a good view of Pisang Peak (6091m) and Annapurna II (7937m) when you arrive in Pisang. O/N in Pisang.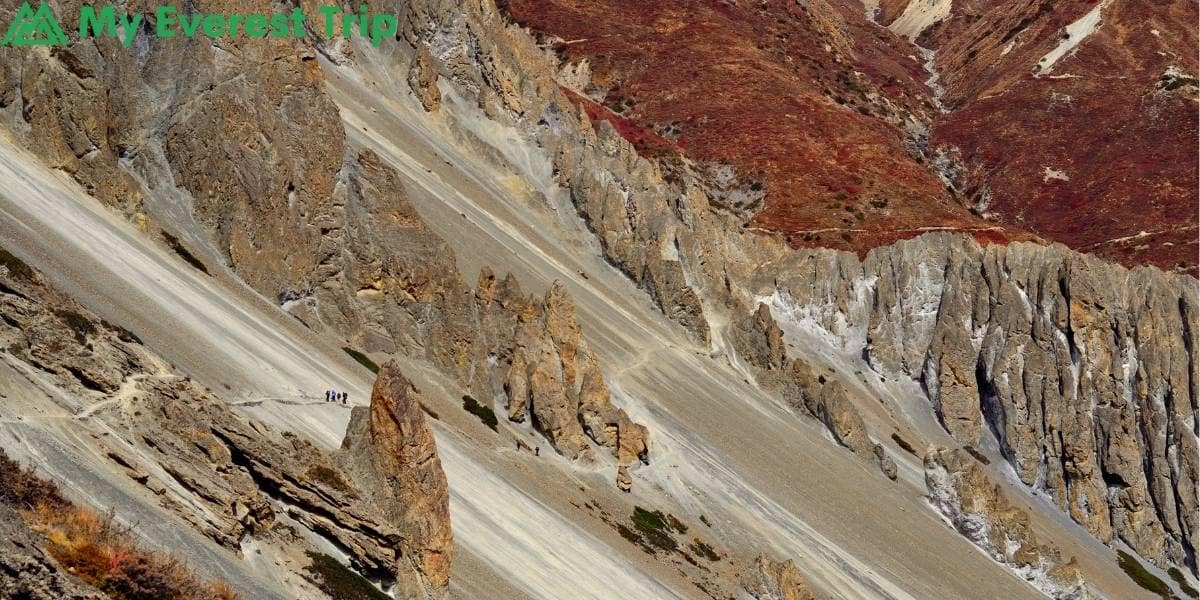 Day 07: Pisang to Manang (3500m/11482ft)
You pass through picturesque villages painted with Mandalas and trek through yak pasturelands and terraced farmlands. You will climb a steep ridge to Ngwal (3660m) for a stunning view of the Annapurna range and the Marsayangdi River Valley. O/N in Manang.
Day 08: Manang: Acclimatization day Today, you explore the famous Manang village as you acclimatize. Here, you will have a spectacular view of Gangapurna (7455m) as a backdrop to the traditional stone houses. You can also enjoy local Manangi food. O/N in Manang.
Day 09: Manang to Siri Kharka (4060m/13,320ft) You descend from old Manang and reach Marsayangdi River passing by a Chorten. After crossing a suspension bridge at Jharsang Khola, you continue on the trail by the River until Siri Kharka. O/N in Siri Kharka.
Day 10: Siri Kharka to Tilicho Base Camp (4140m/13,583ft)
You climb through steep trails passing monasteries and Chortens through juniper and sea buckthorn bushes. You cross a few streams and follow a zigzag slope toward Tilicho Base Camp. O/N in the base camp.
Day 11: Visit Tilicho Lake (4,949m/16,138 ft) then back to Siri Kharka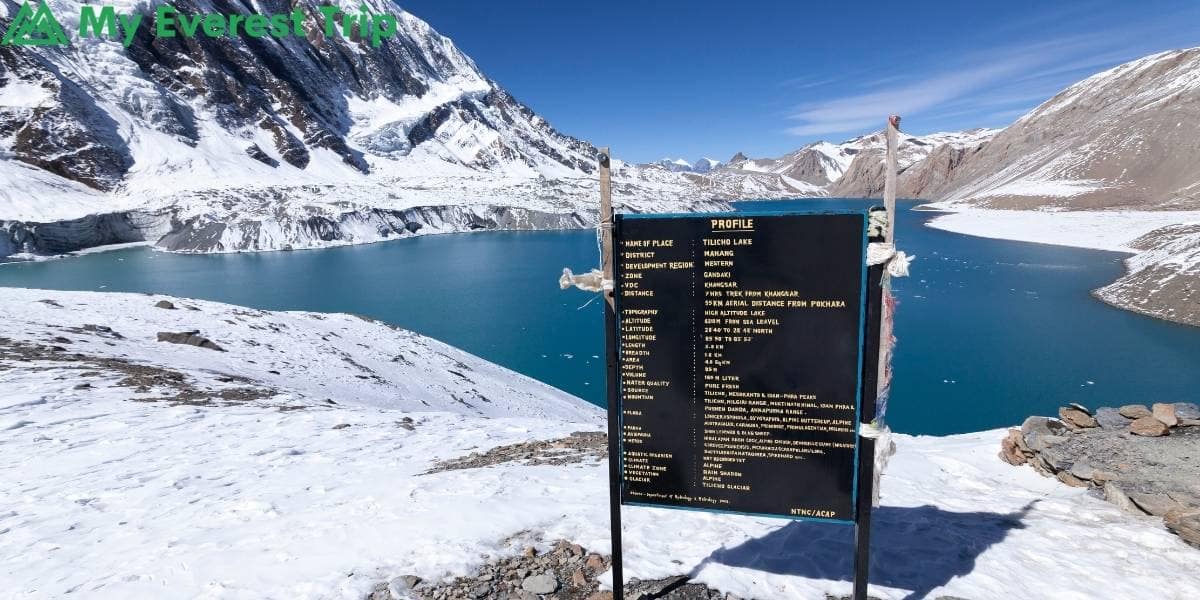 You walk through slippery moraines as you climb up to the pristine Tilicho Lake. You will have an amazing view of  Kangsar along with Gangapurna Himal (7455m). After spending some time there, you will hike back to Siri Kharka. O/N in Siri Kharka.
Day 12: Siri Kharka to Yak Kharka  (4050m/13,020ft)
Today's hike is an easier accomplishment for Yak Kharka. Crossing Marsyangdi River multiple times, we get closer to the mountain. The path covers a steep walk before we stop for the lunch. After a brief hour, we reach Yak Karkha (grazing ground for yaks). Here are a few tea houses for hour night's stop. O/N in tea house at Yak Kharka
Day 13: Yak Kharka to Thorang Phedi (4420m/14501ft)
Get prepared for an exciting day in the mountains as we set our journey to Thorang Phedi. While many people cross Thorang La Pass on the same day, we take things slowly. We walk for a couple of hours to Thorang Phedi in the morning. Now, if the situation is favorable, we hike to the High camp on the same day. Here, we stay at 4800m, the highest accommodation point of the Annapurna Circuit trek.  O/N in the tea house at Thorang Phedi.
Day 14: Thorong Phedi to Thorong La Pass (5416m/1176ft) to Muktinath (3800/12467ft)
This is the longest and toughest part of our walk. However, since we are already in High Camp, we save ourselves from a lot of pain. The team wakes you up quite early i.e. 4 to 5 am. Then, we take our packed lunch and start climbing to the Thorang Pass. After 3-4 hours, we get to the hilltop with the most beautiful view of the mountains. Filled with colorful flags, it's a great place for a photo session. After a short stop, we start walking down to Muktinath. If time permits, we might even walk down to Jomsom.  From here, we can even walk to Upper Mustang. O/N stay at the hotel in Jomsom/ Mukninath.
Day 15: Trek or Drive from Muktinath to Tatopani (1200m/3937ft).
Today, we woke up early for a short visit to the Muktinath. This holy temple of Nepal is filled with Hindu and Buddhist pilgrims. Next, we drive towards other popular places such as Kagbeni and Jomsom, the headquarters of Muktinath. We continue our off-road drive to Tatopani along the Kaligandaki gorges, the deepest gorges in the world. In the evening, we enjoy a relaxing bath in the natural hot springs. O/N at hotel in Tatopani.
Day 16: Tatopani to Ghorepani (2850m/9350 ft)
On this day, we join a recent path connecting us to Ghorepani. The path is mostly uphill along with the terraced farms. After a few hours of walking, we stop at for lunch. It's about 8 hours of walk from Tatopani to Ghorepani. The overall path is decorated with beautiful Rhododendron which blooms into a colorful red flower every Spring. By evening, we get to this beautiful village with lots of luxurious tea houses. O/N at a local lodge in Ghorepani.
Check only Ghorepani Poonhill Trek for a shorter trek in Nepal.
Day 17: Ghorepani to Poon Hill to Ghandruk (1950m/6396ft)
Today, we begin the day with an hour's walk to Poonhill before sunrise. The rays of the sun kissing the Panorama of dozens of high Himalayas is a truly mesmerizing scene. Then, we get back to the hotel in Ghorepani for breakfast. After that, we walk for 4 to 5 hours downhill, getting to a place called Tadapani. If you are already tired, we can stop at Tapdani or walk further to Ghandruk. From Tadapani the way to Ghadruk is mostly straightforward and easy.  O/N at a hotel in Ghandruk
Day 18: Trek to Nayapul then drive to Pokhara. 
In the morning, we visit the local museum in Ghandruk. After breakfast here, we trace our journey downwards towards Nayapul which takes about 4 hours. Here, we get a jeep that takes us to Pokhara by evening. In the evening, make sure that you enjoy the colorful and luxurious ambiance of Lakeside. O/N at a hotel in Pokhara.
Day 19: Drive from Pokhara to Kathmandu.
After the wonderful morning in Pokhara, we hop on a bus taking us to Kathmandu. Drive along the Priitihve highway is full of the beautiful scene of rivers and hills. We get to Kathmandu only in the evening. However, we will have some time for last-minute shopping in Thamel. Later, we all enjoy our last meal together as a team.
Note: Instead of a long drive, you can take a 25-mins flight from Pokhara to Kathmandu. This way, you will have some time to explore the beautiful city of Pokhara and KathmanduO/N at a 3-star hotel.
Day 20: Final Departure (B)
So, this is your final day in Nepal. Get your stuff packed and inform the driver about your flight time. A car will leave you at the airport a few hours before the flight for customs formalities. Wish you a wonderful journey!!
Additional Info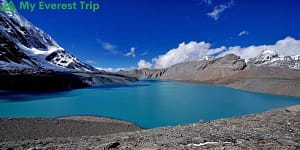 Tilicho lake short route 
MyEveryTrip Tilicho Lake Trek Itinerary here is 15 days long. Although it doesn't take this long to trek to Tilicho Lake, it covers everything right from the airport of Kathmandu. It takes four days to reach Manang and one day to stop here. Now, you can skip all these by directly driving to Manang from Besishar (starting point of the Annapurna Circuit trek).  
You must walk from Besisahar to Siri Kharkha and then to Tilicho Base Camp before you reach Tilicho. Then, getting back to Manang takes one day. You can get a jeep directly from Manang if you want Tilicho Lake's short route.
Here are different Tilicho Lake Trek Itinerary for a short trek
Tilicho lake trek 5 days 
To book the Tilicho Lake trek of 5 days, you shall first drive to Besisahar. You cannot directly reach Kathmandu to Manang on the first day. Kathmandu to Manang drive will be more than 14 hours and is only possible in a day if you have a private vehicle. Thus, we suggest you stay in Besisahar for one day before you drive all the way to Manang.
Day 1: Get to Manang 
As we have mentioned earlier, a 5-day Tilicho Lake trek is only possible from Besishar. From Besisahar, you can drive to Manang jeep. This is about 6 hours of ride, mostly on the newly built off-road trail. 
Day 2: Trek to Shree Kharkha
Same as MyEveryTrip Tilicho Base Camp Itinerary explained early. 
Day 3: Trek to Tilicho Base Camp
Same as MyEveryTrip Tilicho Base Camp Itinerary explained early. 
Day 4: Tilicho Lake to Shree Kharkha
Same as MyEveryTrip Tilicho Base Camp Itinerary explained early. 
Day 5: Shree Kharkha to Manang and drive back to Besisahar 
From Shree Kharkha, we start the trek quite early in the morning. If we start the walk before 5 am, you can get to Manang at 12 noon. After lunch here in Manang, we shall then drive to Besisahar. Depending upon the weather and condition of the road, the public jeep from Manang might or might not be available at this time of the day. If not, you might have to book a private Jeep or travel tomorrow morning. 
Pokhara to Tilicho Lake trek
Whether it be from Kathmandu or Pokhara, the Tilicho Lake Trek itinerary is almost similar. Instead of driving to Besisahar from Kathmandu, you will simply be driving to Besisahar from Pokhara and then following the exact route mentioned above.
 Since the distance from Pokhara to Besisahar is a bit less than that from Kathmandu, we might be able to reach Besisahar before noon on the first day and then drive to Manang on the same day. This means you don't need to stay in Besishar for an additional day, thus making your Tilicho lake trek exactly 5 days. On the last day, we might be able to get back to Pokhara if you are driving in a private jeep. Otherwise, you will have to stay in Manang or Besisahar for the fifth day and get back to Pokhara on the 6th.
Tilicho lake trek cost
MyEverestTrip Tilicho Lake Trek cost $1240 including all transportation, accommodation, food, and a guide. Being a slightly off-beaten path, this trekking in the Annapurna region is quite remote. There is only a handful of tea houses along the way and the accommodation/food in this trekking region is quite expensive. However, the cost of the Tilicho Lake trek Trek is very reasonable in comparison to other popular treks such as the Everest Base Camp trek.
The cost for a room in Hotel at Tilicho is USD 5 to USD 7. But, you need to pay for everything else like Wi-Fi electricity, and a hot shower. The food cost about dollar 30 per day. The largest portion of the cost goes for transportation from Kathmandu to Manang and then back to Kathmandu in a private vehicle. The cost for a guide and Porter is also high i.e. about $40 per day. And lastly, there's the permit for Tilicho Lake Trek which cost about $50. If you aim for a Tilicho Lake Trek solo with Guide and Porters, the cost can go up to $1500. Independent Travellers in a group spend about Tilicho Lake trek Price of about $900 because they share the cost of a guide, porter, and accommodation.
Tilicho lale trek cost for nepali
Tilicho Lake cost Trek for Nepali is low when they don't have to pay for a guide and accommodation. The cost of traveling from Kathmandu to Besisahar is about Rs 600 and that from Besishar to Manang in a jeep is about Rs 2500. The cost of food is about Rs 1500 per day and accommodation is Rs 500. Nepalese don't need to pay for the permit or even electricity. So, for Nepalese, a 6-day Tilicho Lake trek from Kathmandu cost about Rs 20,000. 
Tilicho lake trek difficulty 
How hard is the Tilicho lake trek? This is among the most frequently asked question while we are on the trekking route of Tilicho. Well, no trek in the Himalayas is luxurious, but with the right determination, it's not that hard. This trek is easier than other high-altitude treks such as the Everest Three Pass Trek and Island Peak Climbing. 
Tilicho Lake trek distance 
As for our Tilicho Lake route, this is about a 150kms of walk. Depending upon whether you drive to Syange, Chame, or Manang, the Tilicho Lake Trek distance differs greatly. For each day of the Tilicho Lake Trek, you need to walk 6 to 8 hours of the Tilicho Lake trek. Covering 15 km each day is not a difficult task if you have a good level of physical strange. A few months of cardio exercises before the trek with a backpack can obviously be helpful. 
Tilicho Lake Altitude 
Since we will be walking above 3000 m for days, altitude will have a great impact on us. At such altitudes, the lower oxygen level might develop altitude sickness in the body. This is why it's important to walk slowly and let our bodies acclimatize. Also, it is important that you drink enough water and avoid all kinds of foods including alcoholic drinks that keep you dehydrated.  
Even when we take such precautions, the symptoms of headache body pain, nausea, and shortness of breath might be prominent. As symptom sight-seeing, we will be walking down to a lower altitude. In severe conditions, helicopter rescue will be arranged as per your insurance policy. 
Why US
MyEverestTrip is a Nepalese Travel and Trekking Agency based in Kathmandu. We have been operating in different trekking regions for more than a decade, traveling with hundreds of trekkers and travelers all around the world.
With the pure intention to bring trekkers to Nepal's safety and comfort, we have an entire team of travel planer, guides, and porters. We also have connections to hotels and restaurant lines all over Nepal for ensuring that our trekkers get the best possible facilities.   
So, here is the reason why you should travel with MyEverestTrip.  
Customize your itinerary:
We have designed a well-planned Itinerary for all travel destinations around Nepal. However, this Itinerary is customizable as per the need and requests of our trekkers. Just let us know when and how long you are staying so that we can arrange the rest. 
Our Expert guide: 
Although all travel agency claims to have a good guide, many of them are not informed about the place you are traveling to. However, MyEverestTrip has its own licensed guide in Nepal. They have been working in this field for over three decades, collecting all the information about the place/ culture, and learning to keep the travelers safe. Also, our guide is good at the English language. Upon special request, we can even hire a guide who can speak Chinese and other European languages for trekking in Nepal.
Fair and reasonable Cost:
MyEverestTrip has been known for its very economic trek packages in Nepal. You can compare the price we offer with any other travel agency in Nepal and only book with us if you are satisfied with our cost. We try to include all needed expenses during the tour so that you will not be overwhelmed with hidden expenses after the packages are booked. 
Your safety is our priority:
Obviously, the safety of our trekkers and our team is the utmost priority of MyEverestTrip. Our guide and porters who shall accompany you for the trip will have insurance of their own. We also encourage Travel insurance for our trekkers. Our treks and trip have been so designed that you only walk an appropriate distance. In any case of emergency, you will always have our back.
Responsible and Eco-Friendly 
MyEverestTrip operates with the belief in responsible tourism. This includes 
We are transparent about the services covered on the trip. There shall be no hidden cost (informed in advance if there's any)

We cover all the places that have been promised before the trek (the trend of skipping places once you book the package has to be discouraged). 

All our guides and porter are above 18yrs. We highly discourage child labor in the tourism industry

We do not leave any wastage behind on the trekking routes. We either dispose of the waste appropriately or carry them back with us and send it to the municipality

We do not engage in any activities that affect the people in the trek places of Nepal we stay.  
FAQ
What is Tilicho Base Camp to Tilicho Lake distance?
Tilicho Base Camp to Tilcho Lake distance is 5kms ( aerial distance) and the distance for trekkers is about 8kms. This takes about 5 hours of walking in the rough terrain of Tilicho. From Manang (a major destination of Annapurna Circuit Trek) it's about 15.7kms.
What is the altitude of Tilicho Lake?
Tilicho lake's elevation is 4919 m above sea level. Formed from the ices of the Majestic Himalaya range, this is one of the highest situated Glacier lakes in Nepal.
Is Tilicho the highest lake in the world?
The Tilicho Lake of Nepal was previously regarded as a lake situated at higher altitude i..e 4,919 meters. However, in 2019, another lake was discovered in the Singarkharkha of Chame which replaced Tilicho on the list of the world's highest situated lakes. Right now, the highest lake in the world is Kajin Sara Lake at 5,200 meters above sea level.
What is the depth of Tilicho Lake?
Tilicho lake is 85m deep in the center and the surface area is 4.9km2. Shey Phoksundo Trek during Dolpo Trek is the deepest lake in Nepal i..e 200 meters.
Can you swim in Tilicho Lake?
No, absolutely not. Swimming, diving, and boating in Tilicho Lake are not allowed. Since this Lake lies at a very high altitude, and the water is freezing cold, you can swim in Tilicho. The lake remains frozen for almost half of the Year and there's no point in swimming in such a glacier lake. It's just the proximity of the Pristine lakes that keeps you refreshed.
Why is Tilicho Lake famous?
Tilicho Lake is one of Nepal's most popular trekking lakes. Mostly it is so famous because the landscape around the lake is absolutely stunning. The semi-arid land of Manang is filled with colorful rocks and alpine grassland. Also, the fact that the Tilicho remained the world's highest situated Lake for a long time made it popular among tourists. Its pristine blue Water and the surrounding lake make it very popular. It's the second most popular trek in Nepal after Gokyo Lake Trek. 
The natural beauty around Tilicho Lake has remained absolutely untouched for centuries and gives a true sense of wildlife to people around the world. The rich biodiversity and culture in the trekking route of Tilicho also make it popular.
Equipment Checklist
Light and expedition weight thermal tops
Sunglasses with UV protection
Fleece jacket or pullover
Sleeping bag rated to 0 degrees (3/4 season)
Fleece Wind-Stopper jacket (optional)
Head lamp (eg Petzl) spare bulbs & batteries
Lightweight thermal gloves
Small padlock to lock trek bag
Underwear (4)
Basic First Aid Kit (see First Aid Medicine below)
Waterproof shell jacket (preferably breathable fabric)
Plastic bags – for keeping items dry inside trek bag
Shorts (2)
Daypack (35-40 litres/2500-3000 cubic inches)
Lightweight cotton long trousers/pants
Camping mattress, eg thermarest pad
Light and expedition weight thermal bottoms
Water bottles (2)
Sun hat or scarf
Toiletries
Warm fleece hat or light balaclava
Small wash towel
T-shirts (2)
Footwear appropriate to the trip
Thin, lightweight (inner socks) (4)
Waterproof shell trousers/pants (preferably breathable fabric)
Map
What's included
Airport/hotel pick up and drop off by private car
At least two nights 3-star hotel in Kathmandu bed and Breakfast plan
Meals on full board (breakfast, lunch, and dinner) in the whole trekking
Trekking map
An experienced Government license holder guide
Trekking porter/Sherpa who will carry your bags during the trekking
Insurance, salary, equipment, transportation, local tax for guide and porter
Group medical supplies (first aid kit will be available)
All necessary paper works and national park entry permits
Travel and rescue arrangement
TIMS (Trekkers' Information Management System)
All government taxes and tourist service charge
What's not included
Meals in Kathmandu before and after trekking,
Your travel insurance ( Rescue )
Tips for trekking staff and driver
Drinks (hot, cold, and alcoholic)
Personal shopping and laundry etc
Personal trekking equipment's
Choose a Private Trip
If you already know who you would like to take your adventure with and would prefer to enjoy your 'My Everest Trip' experience with your own group of friends, then we've got good news! All of our trips are also available as private adventures! Our private adventure specialists are on hand to give you a quote or talk you through some of the different options that we offer.
So feel free to give us a call on +977 9851069558 or Email us at [email protected]
Reviews
If you have already travelled with us and want to share your story and experiences to the world please send us your experiences by cliking the button below:
These reviews are from the travellers who have travelled with us previously.
Tilicho Lake Trek
My Everest Trip was recommended to me by distant relatives and searching the website I saw so many treks to choose from. Puru was of great assistance in helping me to choose a trek suitable for me and my friends. We are experienced trekkers but had never been to Nepal, so this was the obvious choice.  
After a long flight to Kathmandu, it was nice to be met by a friendly staff member at the airport and driven to our hotel.  I also appreciate that day two was planned with sightseeing and preparation for the trek as it gave us time to recover from our flight and get a sense of the country and it was nice to meet our guide, Yam, for a briefing before we set off the next morning.
The Tilicho Lake trek is a great experience and being surrounded by friendly people made this the best trek I ever did and makes me regret I did not go to Nepal earlier. Yam is a super guide and he added so much to our days in the Himalayas, this would not have been the same without him. He made sure all the safety precautions were taken so everybody was safe always.  Since everything was arranged in advance we did not have to worry about where to sleep or our meals and we could just enjoy our trek in the magnificent Annapurna region. 
As soon as I get the chance I will return to Nepal for another adventure and I will definitely book with Puru again.
Package Summary
Highlights of Tilicho Lake Trekking
Follow the trekking trails with the Marshyndi river and natural wonders.
Visit the oldest monastery in Braga, Pisang, and Manang villages.
Culture of Tibetan And Gurung ( Buddhist and Bon culture).
World highest Tilicho Lake(4919 M).
Stunning view of Mt Manaslu (8163m), Annapurna 1 (8091), and Dhaulagiri (8167m) Crossing Throng La Pass (5416m).
Hindu sacred temple Muktinath with Buddhist Monastery.
The hospitality of the Thakali people and their culture.
We Offer Group Discount
| No. of Persons | Price per Person |
| --- | --- |
| 1 | US$ 1350 |
| 2 | US$ 1290 |
| 3 - 5 | US$ 1240 |
We are your ultimate adventure partner.
MyEverestTrip is a reliable, Eco-friendly, and experienced tour company in Nepal – so if you're looking for the ultimate  Himalayan adventure, you've come to the right place. Our seasoned guides offer mountain trekking and peak climbing across Nepal, Bhutan, and Tibet – as well as a myriad of jungle safaris, sightseeing, bungee jumping, cycling, and paragliding packages. So to learn more about us click below and choose us as your ultimate adventure partner! Learn More About Us
Why Book With Us
70% Repeat Customers
Guaranteed Departures
Team of destinations Experts
Competitive Prices
99% Success Rate
Places of attractions, travel tips, news and more.Recent From Our Blog
Once you've done the Everest base camp trek, the next most popular trek in the world is the Annapurna trek in Nepal. A goddess in Hindu mythology, "Ma Annapurna," whose name means "full of grains" or "giver of sustenance," is said to have given the peak its current name. The Annapurna Base Camp Trek is…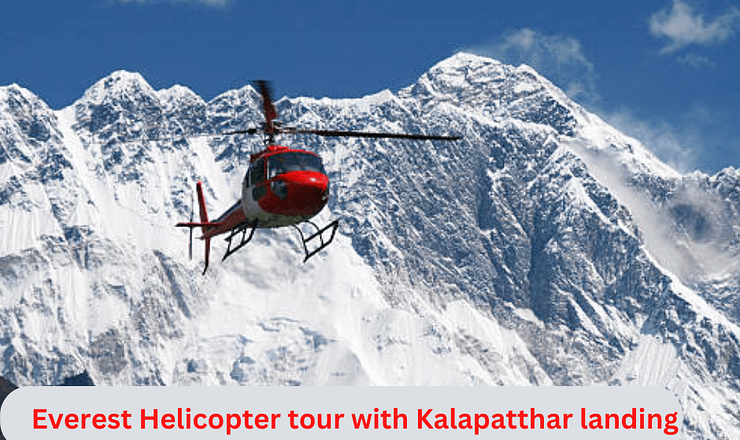 Are you dreaming of Everest Helicopter Tour With Landing at Kalapathar to see Mount Everest? If yes, a Helicopter tour to Everest is the best option. The Everest Base Camp Helicopter Tour with Landing at Kalapathar is the most popular helicopter ride in Nepal. The helicopter tour is a single-day package starting from Kathmandu airport…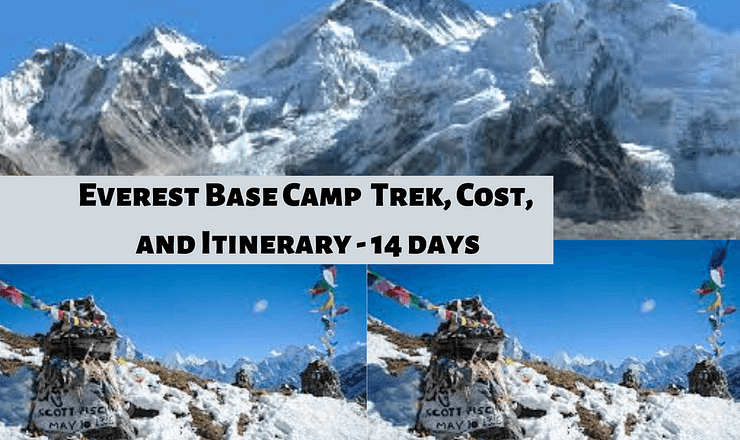 Everest Base Camp Trek Overview The Everest Base Camp trek journey is a top-tier adventure since it leads you to the base of the world's tallest mountain, Everest (8,848.68 m/29,029ft). Traveling through stunning high-altitude landscapes, high-altitude wildlife, traditional Sherpa culture, Buddhist monasteries, and snow-capped mountains, this tour will offer you a natural thrill at an…