Overview
Upper Mustang Trek is a popular choice for those wishing to experience trekking in Nepal. It is a famous and unique journey that has you venturing into the heart of the hidden and mysterious world of the old Buddhist Forbidden Kingdom of Mustang. 
This part of the Tibetan empire is tied to Tibet in terms of culture, language, and topography. Lying in the shadow of Dhaulagiri massif, the land is surrounded by mysterious rocks, whitewashed houses, barley fields, and prayer flags – that stand in stark contrast to the curiously dry and barren land that the trail takes you through on this surreal journey.
This 17-day trek starts with a flight from Pokhara to Jomsom, where our trek will begin. The trail follows the Kali Gandaki River to Kagbeni. Famous for the rituals performed here for the dead, we take time to join one of the sacred pilgrimages of Tibetan Buddhism and observe some of the ancient rituals that make this holy place so famous across the world.
From Kagbeni we begin our journey into the restricted area of Upper Mustang -across Chele, Syangboche, Gyami, and Chayang and on to Lo Mantang, the capital of the Last Forbidden Kingdom of Nepal. Here we can witness the remains of the abolished monarchy on the ancient land of the remote local Tibetan population. From here we continue our spiritual journey as we return to Dhakmar and find the infamous old cave and one of the oldest Tibetan monasteries, 'Lo Gekar'. Then finally we end our trek in Jomsom and return to Pokhara, to rest in one of the most beautiful spots in the World before returning to the capital.
We recommend you enjoy this trek between June to October. Or for the chance to experience the annual migration of the local people to lower altitudes for the winter season, we recommend you join us in November. My Everest Trip is a trusted trekking company in Nepal with a highly experienced team that will support you throughout your trek and help you with your permit.
So for more information about the cost or difficulty of the trek, then please contact our friendly team – who will also be happy to give you details of any of the other Annapurna treks that we offer. You can also read our blog below for an insight into what it's like to join us on this journey.
Read More
Read Less
Your Itinerary
Day 1: Arrival in Kathmandu   
Since MyEveryTrip Mustang Trek starts right from Kathmandu, you will not be in any dilemma when you land in Nepal. A driver with a private car will already be standing at the airport gate to receive you. From there, you will drive for about 30 minutes to the Hotel situated in Thamel. Once you are in the hotel you will be assisted by the guide in buying and renting some trekking gear for Trekking Upper Mustang Nepal. Then, you have a lot of time to roam around the street of Thamel before we join the screw for an explanatory season and welcome dinner. It's time for celebration.
Day 2: Kathmandu Sightseeing 
The day will begin with a tour of some of Kathmandu's top attractions: Swayambhunath, Kathmandu Durbar Square, Pashupatinath Temple, and Boudhanath, where you can explore ancient artifacts, architecture, and history. In the evening you will meet your fellow trekkers and be given all the details you need for the trek the next day. O/N at the hotel.
Day 3: Drive to Pokhara  
After breakfast at Kathmandu itself, it's time to drive to our next destination. The beautiful city of lakes, Pokhara is about 200 km and 8 hours of drive away from Kathmandu. The drive on the tourist vehicles along the bank of the Trishuli River with the views of lush green hills is always exciting. On the way, we stop at Many places for refreshments and lunch. When we reach Pokhara, if it's not already late we will enjoy boating in Phewa and visit the Tal Barahi temple. In the evening, you can have a wonderful time in the colorful streets of Lakeside, enjoying the nightlife of Pokhara.
Or, you can take an early morning 25 minutes flight from Kathmandu to Pokhara so that you can save some time exploring the beauty of Pokhara. You will have a whole day to shop and visit temples and caves before driving towards Jomsom.
Day 04: Fly to Jomsom and Trek to Kagbeni 
Altitude: 2,858m/9,375ft
Duration: 3-4 hours.
We start the Trekking Upper Mustang Nepal by flying to Jomsom which is famous for its ample apple and apricot orchards. Firstly, a private car picks us up at our hotel in Pokhara. Then, we shall be driving to the Pokhara airport. From here, Jomsom is about 20 mins in flight. In just 20 minutes, you get to the semi-arid landscape of Jomsom which is the headquarters of the Mustang district.
On arrival we begin our trek on open trails, pass Eaklibatti village and arrive at Kagbeni, a beautiful village filled with flat-roofed houses and an old fortress. We shall visit the fortress, suspension bridge, and monastery in Kagebeni.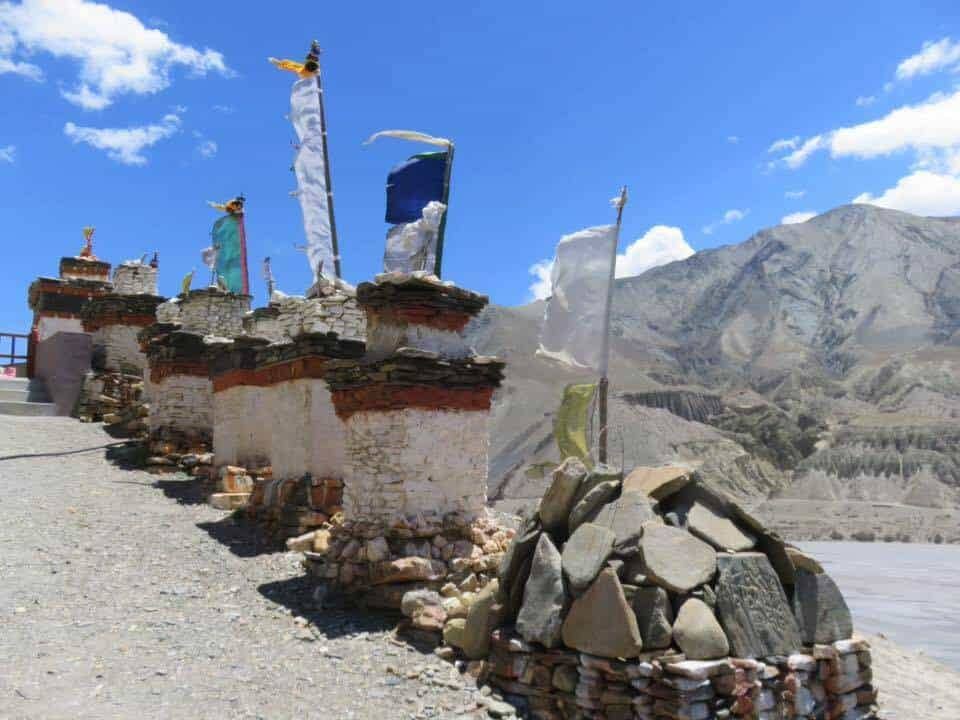 Day 05: Trek to Chele 
Altitude: 3,050m
Duration: 5-6hrs
On the 5th day of the Upper Mustang Trek, we hike on a gravel trail alongside Kali Gandaki River before battling strong winds and tackling the steep hill to Tangbe Village.
Get ready to become mesmerized by narrow alleyways, flat houses, buckwheat fields, and apple-apricot orchards. Enjoying the views of the Kaligandaki river that flows along with us, we reach Chhusang village in about 2 hours of walking. We continue from here past more villages and rivers before reaching Chele.
In Chele you can witness Tibetan culture is more prominent in the villages, making the perfect scenario for the Upper Mustang blog. O/N in Chele.
Day 06: Trek to Syangboche 
Altitude: 3,475m/11,398ft
Duration: 6-7hrs
The walk today involves crossing two passes, Taklam La Pass (3624m) and Dajori La Pass (3735m) – along with amazing views of the Tilicho Peak 7134m) Yaskawa Kang (6482m), Ramchung Cave, and Samar Village.
After walking past Samar village, we reach a ridge before descending to a stream, to reach Syangboche. O/N in Syangboche.
Day 07: Trek to Ghaymi 
Altitude: 3,520m/11,546ft
Duration: 5-6hrs
We begin by ascending the Yamada La pass, passing teahouses and beautiful villages along the way. Following a trek through forests and barley fields, we will then reach Nyi Pass and descend to Ghaymi – one of the biggest villages in the Lo region where we can enjoy the amazing view of the landscape. O/N in Ghaymi.
Day 08:Trek to Charang 
Altitude: 3,500m/11,480ft
Duration: 4-5hrs
After a descent through an irregular and slippery trail, we cross a suspension bridge over the Ghaymi Khola and begin ascending along the trail. On a relaxing day in our Upper Mustang Trek Nepal. Later we will cross the Tsarang La Pass and reach the Tsarang village which lies in the Charang Chu canyon, with a huge fortress and red Gumba. O/N in Charang.
Day 09: Trek to Lo-Mangthang 
Altitude: 3,700m/12,136ft
Duration: 5-6hrs
The day begins by descending into a canyon, crossing a river, and moving uphill to Lo La pass. Then we descend to Lo Manthang, the walled capital of the former Kingdom of Lo, rich in Tibetan Buddhist culture. We will also enjoy views of the Himalayas – including Nilgiri (7061m), Tilicho (7134m), Annapurna I (8091m), and Bhrikuti Peak (6364m). O/N in Lo-Manthang.

Day 10: Explore Lo-Mangthang. 
Today we rest and adjust to the environment. We will spend the day exploring the three major Gumbas of Lo Manthang, Jhumpa, Thupchen, and Chhoeda, and view the Tibetan culture of Lo, which is considered to be the best preserved in the world due to its isolated terrain. We end the day with a trek to Tingkhar, a village on the northwest side. O/N in Mangthang.
Day 11: Trek to Drakmar 
Altitude: 3,810 m/12,500ft
Duration: 6-7hrs
Today we shall first pass through the Gyakar village, another amazing settlement of Upper Mustang Nepal. This village is full of ancient traditional houses and Ghar Gumba with attractive rock paintings. According to tradition, people who make a wish at the Gumba will have it come true. After exploring the Gumba, we continue to Drakmar. But before that, we need to cross Dhi Pass at 4100m which is among the final high pass we cross. O/N in Drakmar.
Day 12:Trek to Ghiling 
Altitude: 3,806m/12,484ft
Duration: 5-6hrs
We Start the 12th day of Upper Mustang Trekking day by passing over the dry hills before Ghiling. The walk is relatively difficult due to strong winds but the good views of Dhaulagiri (8167m) and the Nilgiri (7061m) mountains keep us relaxed. On the way, we can visit the Rangchyung Chorten which is marked as the most sacred place in Mustang. We will enjoy exploring the village of Chilling in the evening. O/N in Ghiling.
Day 13:Trek to Chhuksang 
Altitude: 3,050m/10,004ft
Duration: 5-6hrs
On the way to Chhuksang, we can enjoy great views of the Himalayas and their surrounding small villages. In the morning, we visit the Chungsi Cave monastery and then stop at Samar village for the lunch. Then, as the sun starts to get dim, we walk down to Tetang and stop at the upper village of Shuksan. Beautifully placed between two hills, staying at Chhuksang gives you some escape from the fierce wind. O/N in Chhuksang
Day 14:Trek to Jomsom 
Altitude: 2,700m/8,856ft
Duration: 6-7hrs
Today will be the last day of our trek. After trekking for an hour, we finish our Mustang trail and join the trails of the Annapurna Circuit. After a stop for lunch, and a break at Kagbeni, we continue our trek to Jomsom. Walking via the bank of the Kaligandaki river in the colorful landscape of the Mustang will be fun. We shall have a good hotel to stay in Jomsom. There are also a few bars and restaurants for refreshments. O/N in Jomsom
Day 15: Fly back to Pokhara 
In the morning, we fly back to Pokhara, observing the amazing mountain range from the comfort of a plane. The flight is only 20mins long from Jomsom. In the daytime, we have some plans to visit Pokhara valley and take some well-deserved rest. There are many places to visit in Pokhara like Phewa, Caves, and Temples. We even enjoy boating in Phewa and immersing ourselves in the nighttime of Pokhara. O/N in Pokhara
Day 16: Drive from Pokhara to Kathmandu 
We take a bus from Pokhara to Kathmandu which will take about 8 hours. After a relaxing day in Pokhara, this is another exciting day of trekking in Pokhara. Upon reaching Kathmandu, feel free to spend your last night enjoying the delights of the capital. We shall also gather for the farewell dinner by our team. O/N in Kathmandu
Day 17: Final Departure 
It's the final day of Upper Mustang Nepal Trekking. Now, it's time to bid farewell to the team as well as Nepal. Our driver takes you to the airport as per your schedule, and you are only left with beautiful memories of the trip.
Additional Info
Upper Mustang Trek Permit 
The government of Nepal has protected a few special areas of Nepal that carry special culture and history as a restricted region. The aim is not to control the overflow of trekkers in Mustang and thus prevent its culture and history. This means you need a special permit issued by the immigration department to get this permit. Immigration Departments in Kathmandu and Pokhara issue this permit when you submit an Itinerary approved by MyEverestTrip, the detail of your guide, and insurance. Also, you need to be at least in a group of two people and must hire a licensed guide. 
Along with a restricted area upper mustang permit, you will also need an ACAP permit and TIMS card. Make sure you issue all of these in Pokhara before you leave for the trek. Also, note that the Upper Mustang Trek permit for Indians and people of SAARC country is also the same, but the price is slightly lower.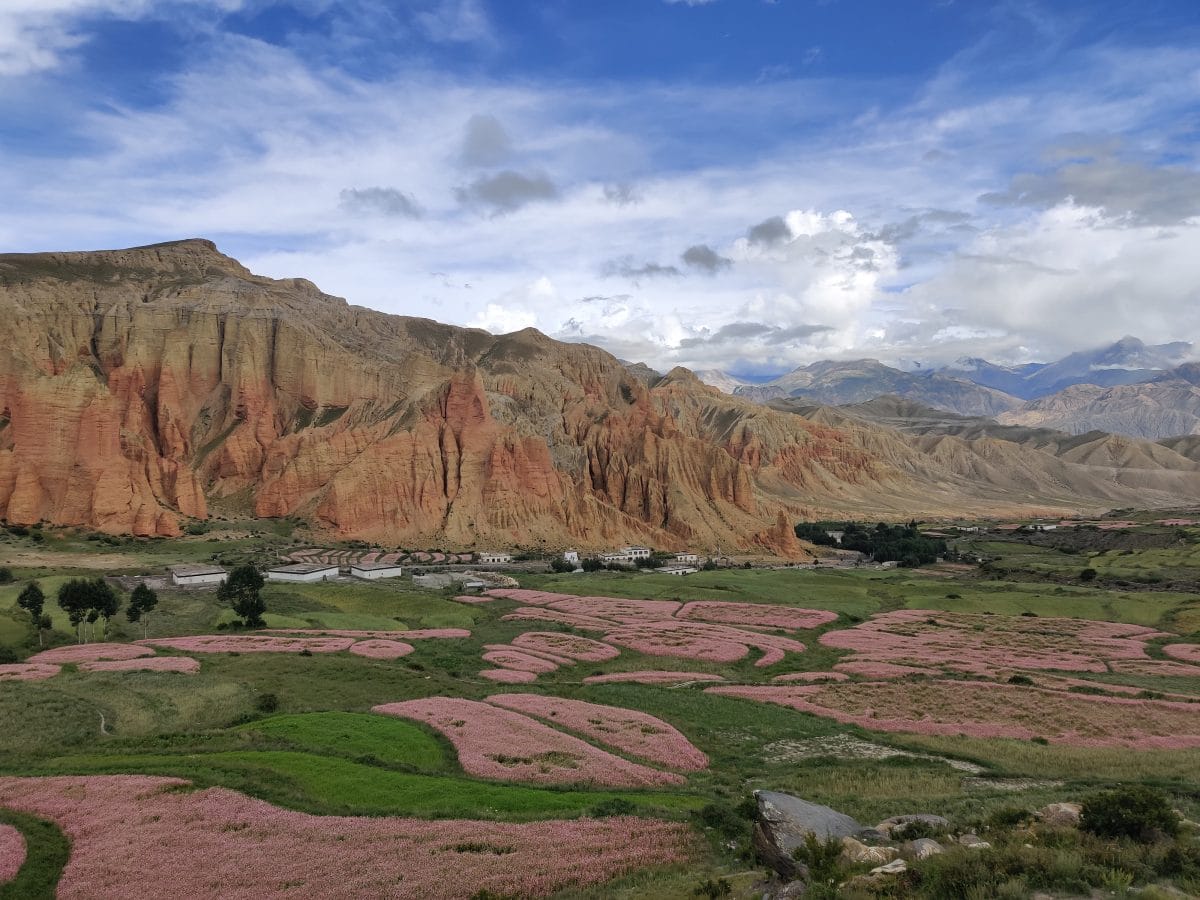 The difficulty of Upper Mustang by travel experts of Nepal is rated "Moderate". The somewhat leveled trail of the Upper Mustang is easier than other base camp trek which is very steep and rocky. However, since it's a long journey i.e. with about 14 days of walking ( 6 to 7 hours each day), it can be demanding in some parts. The only rest day is at Lo-Manthang. As long as you don't include crossing high passes such as Thorong La Pass, Mesokanto La pass, and Marang La, it's quite an easy journey. This also increases the difficulty level of the Upper Mustang trek.
Also compared to the other higher altitude, the Upper Mustang height is really low. The highest points during this walk are Marang La which lies at 4230 meters, Chooser at 3900m, and even Lo Manthang at 3810m. 
Although this is not a very high altitude, you might develop symptoms such as headaches, nausea, vomiting, body ache, etc. Enough rest, acclimatization, and hydrating yourself help to prevent altitude sickness. 
Season also determines your difficulty level. Trekking in heat of summer and snow during winter is hard. You can rather aim for the Autumn and Spring trek in Mustang for a comfortable journey. 
Upper Mustang Trek Cost by MyEverestTrip is $2050. This includes the cost of a guide, porter, transportation, permit, food, and accommodation. 
This 17 days journey going to be the most wonderful memory of your life. 
Since this is the most wonderful trek in Nepal (even better than the Everest Base Camp trek in some expect), the Upper Mustang trek price is also high. The high cost of a permit, off-road transportation route, and expensive accommodation for such a long journey makes it quite expensive. However, the price is worth it. Along with $2050 dollars for the Mustang Trek package, you will need about $500 for tips, donations, and personal expenses. 
Best season to visit Mustang
The month of autumn receives the highest number of trekkers for Mustang. Similarly, Kathmandu and Mustang valley are also very vibrant due to festivals like Dashain and Tihar. The views are evident, and the weather is favorable. 
In the same way, spring is also the best season for Upper Mustang Trekking. The colorful blooms of wildflowers, fresh alpine vegetation, stunning mountain views, and warm weather make spring a favorable month. 
Camping trek to Upper Mustang Trekking is easier when you pick the tour in stable weather. However, the guest houses in the Mustang Trekking route are over-occupied in spring and autumn. Make sure that you book the stay in advance during such favorable Upper Mustang weather. 
 Summer is also called the off-season for Nepal trekking; however, the rain doesn't impact the trans-Himalayan region. All you need is a flexible Itinerary, a good pair of trekking boots, and waterproof trekking great. A thick layer of snow covers every place above 3000m above sea level, and you will need a separate Upper Mustang Trek Itinerary in winter. The thick snow and a frozen lake are paradises to the people who love winter. MyEverestTrek can make special arrangements for off-season Upper Mustang Trekking.  
Why US
MyEverestTrip is a Nepalese Travel and Trekking Agency based in Kathmandu. We have been operating in different trekking regions for more than a decade, traveling with hundreds of trekkers and travelers all around the world.
With the pure intention to bring trekkers to Nepal's safety and comfort, we have an entire team of travel planer, guides, and porters. We also have connections to hotels and restaurant lines all over Nepal for ensuring that our trekkers get the best possible facilities.   
So, here is the reason why you should travel with MyEverestTrip.  
Customize your itinerary:
We have designed a well-planned Itinerary for all travel destinations around Nepal. However, this Itinerary is customizable as per the need and requests of our trekkers. Just let us know when and how long you are staying so that we can arrange the rest. 
Our Expert guide: 
Although all travel agency claims to have a good guide, many of them are not informed about the place you are traveling to. However, MyEverestTrip has its own licensed guide in Nepal. They have been working in this field for over three decades, collecting all the information about the place/ culture, and learning to keep the travelers safe. Also, our guide is good at the English language. Upon special request, we can even hire a guide who can speak Chinese and other European languages for trekking in Nepal.
Fair and reasonable Cost:
MyEverestTrip has been known for its very economic trek packages in Nepal. You can compare the price we offer with any other travel agency in Nepal and only book with us if you are satisfied with our cost. We try to include all needed expenses during the tour so that you will not be overwhelmed with hidden expenses after the packages are booked. 
Your safety is our priority:
Obviously, the safety of our trekkers and our team is the utmost priority of MyEverestTrip. Our guide and porters who shall accompany you for the trip will have insurance of their own. We also encourage Travel insurance for our trekkers. Our treks and trip have been so designed that you only walk an appropriate distance. In any case of emergency, you will always have our back.
Responsible and Eco-Friendly 
MyEverestTrip operates with the belief in responsible tourism. This includes 
We are transparent about the services covered on the trip. There shall be no hidden cost (informed in advance if there's any)

We cover all the places that have been promised before the trek (the trend of skipping places once you book the package has to be discouraged). 

All our guides and porter are above 18yrs. We highly discourage child labor in the tourism industry

We do not leave any wastage behind on the trekking routes. We either dispose of the waste appropriately or carry them back with us and send it to the municipality

We do not engage in any activities that affect the people in the trek places of Nepal we stay.  
FAQ
How to reach Upper Mustang? 
There are essentially 3 ways to reach Upper Mustang i.e. Trekking right from Jomsom, getting to Lo-Manthang on Jeep, or flying directly in a helicopter. Trekking from Jomsom, as given in the Upper Mustang Trek itinerary here, takes 17 days. Or, you can take a jeep on Upper Mustang Road which is mostly off-road. It will be 5 days of the journey from Pokhara and back. Lastly, you can charter a helicopter that takes you to Upper Mustang directly from Kathmandu or Pokhara to Lo-Manthang. Among them, trekking is the most popular option as you enjoy your way to the upper Mustang slowly.
What kind of Hotel do we stay at Upper Mustang Trek?
It's basically a tea house accommodation. In the lower region i.e. up to Muktinath, we will be staying in local lodges. The rooms only have two single beds, a mattress, pillows, and a clean white sheet. The bathroom might not be as clean as you expected. As you move above, the facility starts to get compromised but the rooms are still comfortable. You will need a sleeping bag of your own as the blanket provided in the tea house might not be enough.
What is the Upper Mustang Temperature Throughout the Year?
In Autumn, the daytime temperature gets beyond 15°C, and it is scorched. Nights in the mountains are pretty cold; about -2°C is experienced in Lo-Manthang. The Upper Mustang weather in winter is harsh as the temperature drops significantly, and December brings heavy snow. In winter, the daytime temperature falls below -10°C, and it gets as low as -18°C in January. As spring approaches, the Upper Mustang temperature increases. The snow melts only in March, and the overall temperature rises to about 10°C in May. The temperature in summer is about 25°C with few rainfall days.
Final words,
For more queries, please leave us a comment here or mail at [email protected]
MyEverestTrip has been operating in the Upper Mustang region for a decade. You will surely be in safe hands.
Safe Journey.
Equipment Checklist
Light and expedition weight thermal tops
Sunglasses with UV protection
Fleece jacket or pullover
Sleeping bag rated to 0 degrees (3/4 season)
Fleece Wind-Stopper jacket (optional)
Head lamp (eg Petzl) spare bulbs & batteries
Lightweight thermal gloves
Small padlock to lock trek bag
Underwear (4)
Basic First Aid Kit (see First Aid Medicine below)
Waterproof shell jacket (preferably breathable fabric)
Plastic bags – for keeping items dry inside trek bag
Shorts (2)
Daypack (35-40 litres/2500-3000 cubic inches)
Lightweight cotton long trousers/pants
Camping mattress, eg thermarest pad
Light and expedition weight thermal bottoms
Water bottles (2)
Sun hat or scarf
Toiletries
Warm fleece hat or light balaclava
Small wash towel
T-shirts (2)
Footwear appropriate to the trip
Thin, lightweight (inner socks) (4)
Waterproof shell trousers/pants (preferably breathable fabric)
Map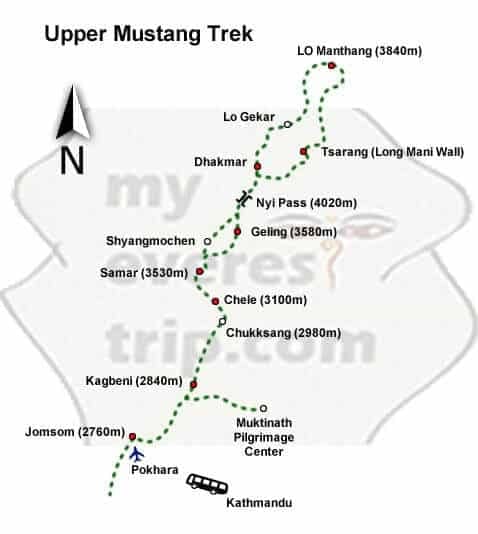 What's included
Airport/hotel pick up and drop off by private car
At least two nights 3-star hotel in Kathmandu bed and Breakfast plan
Meals on full board (breakfast, lunch, and dinner) in the whole trekking
Kathmandu Pokhara by the drive and Pokhara – Jomsom –  Pokhara By flight back and back to Kathmandu up to your request
An experienced Government license holder guide
Trekking porter/Sherpa who will carry your bags during the trekking
Insurance, salary, equipment, transportation, local tax for guide and porter
Group medical supplies (first aid kit will be available)
All necessary paper works and national park permits
Travel and rescue arrangement
TIMS (Trekkers' Information Management System)
What's not included
Meals in Kathmandu before and after trekking
Your travel insurance ( Rescue )
Nepal entry visa fee.
Tips for trekking staff and driver
Drinks (hot, cold, and alcoholic)
Personal shopping and laundry etc
Personal trekking equipment
Choose a Private Trip
If you already know who you would like to take your adventure with and would prefer to enjoy your 'My Everest Trip' experience with your own group of friends, then we've got good news! All of our trips are also available as private adventures! Our private adventure specialists are on hand to give you a quote or talk you through some of the different options that we offer.
So feel free to give us a call on +977 9851069558 or Email us at [email protected]
Reviews
If you have already travelled with us and want to share your story and experiences to the world please send us your experiences by cliking the button below:
These reviews are from the travellers who have travelled with us previously.
Upper Mustang Trek
Me and my wife decided to trek the Upper Mustang and luckily we chose  My Everest  Trip. We had a wonderful experience trekking in Upper Mustang. When we landed in TIA, we were welcomed by hari. He was very easy and responsive to work with us. He explained all the queries we had and gave a brief description of the tour. As we were watching his last mustang trek videos and reading blogs about Upper Mustang.  
We had a lot of expectations about the place and the trekking agency we were working with them. We had a private 18-day tour with a whole trip package, a porter guide, and everything that we needed on a trip. And to be honest, we found everything beyond our expectations. The hills, mountains, and monasteries were all amazing, especially Lo Manthang is a great place to visit. Our guide was also equally supportive and friendly. The team made our trek more enjoyable. While writing this, it reminded me of the days we had on the trails. Thank You again for the wonderful experience. Best wishes to Christan and Lisa  We will definitely love to return and probably do the Everest base camp Trek or Dolpo next time.  
Best Trip Forever in My Life
It has been my dream to visit the mustang for the past few years, which is half of my life, When we were in Kathmandu, we meet our trekking company (My Everest Trip) though, we Book was really lucky cause when we meet puru manager of My Everest Trip, He is asking few questions for us, and we feel safer and we fell more happy about his way how he works, through the rest of the trip with staying on schedule. He managed to get the flight to Jomsom and we drive to kagbeni cause from Jomsom to kagebeni there is traffic also. We started our trek with puru, the best guide ever not the only manager, when he start briefing all the person is looking for us and hearing about the way how he works then we felt more satisfied than we expect, but he also makes sure always had enough to eat and drink and care of everything's what we need support from him . we always get good and felt more comfortable in rooms, which was important to me as a female traveler.
We took a great route to Lo Manthang cause he knows very well which route is best and get old monastery and get a good landscape with the mountain route, some other people even doesn't know how to go this way, one of the highlights of my trip was horseback riding in Lo Manthang. We have been to so many places in lomanthang there are so many nice day trips. After this, we back to Jomsom and took a flight back to Kathmandu, when we back to Kathmandu we decided next year we go to Dolpo and we already told him we need you to have to guide us on this trip also, we recommended him and his company (My Everest Trip ) forever when we meet our friend and family who want to visit Nepal and do adventure trip.
Nice Trek in Upper Mustang
This trek offers everything that trekking is about. Challenging trails, sometimes rough weather conditions, spectacular views, and all the cultural treasures you meet along the trail.
We were a group of four accompanied by our guide Ratna and two porters. I am grateful for the way this trek was handled by the agency. I have no doubt in my mind that they hire only the best people. For us, being first-time visitors in Nepal, all the staff was very helpful and made sure we had the best trek.
We have been trekking on different continents over the last few years, but the people of Nepal are the friendliest we ever come across.
It is most likely we will return and do another trek with y Everest Trip
Enchanting Trek in Upper Mustang
I'm very proud of myself for doing this trek. But to be honest, I could not have done this without the great assistance offered to me by the professional team from My Everest Trip.    
This enchanting trek is hard work, but monitored by my guide Hari it was not a problem. The team planned everything the best way and I enjoyed every moment of it.  Hari was good company, sharing not only his great knowledge about the area but also giving good advice about how to walk cleverly, choose a good pace, and take rests. 
I recommend this trek operated by My Everest Trip, knowing they will get out of their way to keep their clients happy.
Best Trip in My Life
Being an experienced trekker I have been hiking many continents, but the Upper Mustang is so far one of my favorites. Not only because of the immense beauty of this region but also because My Everest trip added so much to the trip. Our Guide Hari and our porters were very nice people to be around making our days joyful, always making sure we were good.
I recommend if you have time to do the long treks to get the best experience and feeling of being part of nature. This trek is very nice balanced as we walk no more than 7 hours per day. This gives you time to enjoy all the magnificent views and be well-rested for the next day. And I must say, the Himalayas and The Upper Mustang region are in a special league.
I will definitely consider traveling to Nepal again, and I will not hesitate to contact Puru for arranging another trek. Hope to see all of you good people at My Everest Trip again.
My Everest Trip did amazing job
I recently did the Upper Mustang Trek with a group of friends. This was such a great adventure I feel urge to write good review for other adventurous people to benefit from
When you spend your hard earned money you really want value for it and My Everest Trip (MET) lived up to all my expectations and beyond. MET was recommended to me by family. My first contact with the company took place several months before our trip was planned. If you are unexperienced in trekking you have so many questions about equipment, guides, porters, how hard the trek is and so on. Corresponding with Puru made me relax more and more as he responded very quickly to all my emails. I soon realized I had nothing to worry about. He only works with certified guides, and everybody who works for him is ensured. He also gave good advice on equipment, what you should bring from home and what you can buy cheaper in Nepal. His directions about how to get smoothly through all the airport procedures also came in handy.
Upon arrival In Kathmandu Puru picked us up in the airport and took us to our hotel in Thamel. The next day we meet Hari who was our guide and we had all the final details about the trek and how to pack our backpack and day pack.
Upper Mustang was great. MET are so well organized. Hari and the friendly porters were great company, Hari in particular always making sure we were fine and sharing his big knowledge about the region. The porters, though carrying heavy weight, always friendly and smiling. When you do strenuous walking it's nice to be surrounded by good people to support and cheer you up, knowing that every night you have good accommodation and good healthy food that gives you strength to carry on.
The Upper Mustang Trek is loaded with cultural treasures and indescribable beauty of nature, having an experienced guide is essential, especially when he like Hari shares all his knowledge willingly and with great pleasure and proudness.
I understand why MET has such loyal clients. They are true to Nepalese tradition and have an amazing network of skilled people but they (very importantly) understand that their clients come from all parts of the world with different backgrounds and expectations. All the team members are humble and polite yet proud of what they do. Trekking runs in their blood and this is exactly what you need being a guest here.
From the bottom of my heart, Thank you Puru and MET, this trek will be treasured by me and my friends for the rest of our lives.
And I give My Everest Trip the highest recommendation possible…. Namaste
Package Summary
The hidden and mysterious world of the old Buddhist Kingdom.
Rocky plateau, golden terrain, and the gorgeous Himalayan range.
Tiji Festival.
Lo Manthang (Last Forbidden Kingdom of Nepal)
Explore ancient monasteries, caves, and Buddhist shrines
Breathtaking mountain views of Annapurna, Nilgiri, and Dhaulagiri
Visit Ancient Chhoser caves where 44 living rooms.
Experienced real Tibetan culture and religion.
Devil's landscape of dhakmar.
We are your ultimate adventure partner.
MyEverestTrip is a reliable, Eco-friendly, and experienced tour company in Nepal – so if you're looking for the ultimate  Himalayan adventure, you've come to the right place. Our seasoned guides offer mountain trekking and peak climbing across Nepal, Bhutan, and Tibet – as well as a myriad of jungle safaris, sightseeing, bungee jumping, cycling, and paragliding packages. So to learn more about us click below and choose us as your ultimate adventure partner! Learn More About Us
Why Book With Us
70% Repeat Customers
Guaranteed Departures
Team of destinations Experts
Competitive Prices
99% Success Rate
Places of attractions, travel tips, news and more.Recent From Our Blog
Once you've done the Everest base camp trek, the next most popular trek in the world is the Annapurna trek in Nepal. A goddess in Hindu mythology, "Ma Annapurna," whose name means "full of grains" or "giver of sustenance," is said to have given the peak its current name. The Annapurna Base Camp Trek is…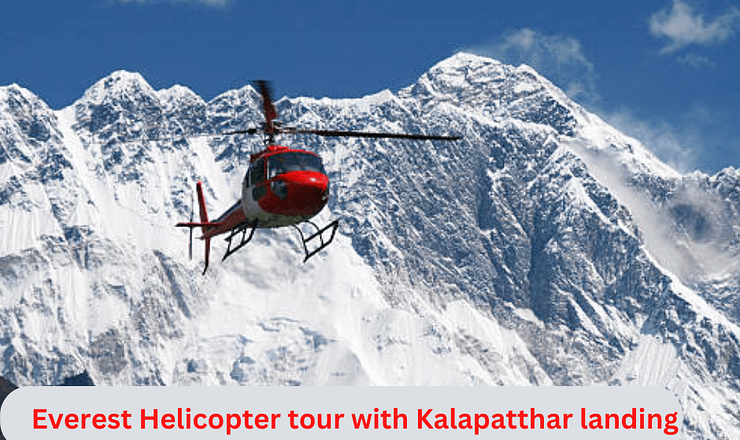 Are you dreaming of Everest Helicopter Tour With Landing at Kalapathar to see Mount Everest? If yes, a Helicopter tour to Everest is the best option. The Everest Base Camp Helicopter Tour with Landing at Kalapathar is the most popular helicopter ride in Nepal. The helicopter tour is a single-day package starting from Kathmandu airport…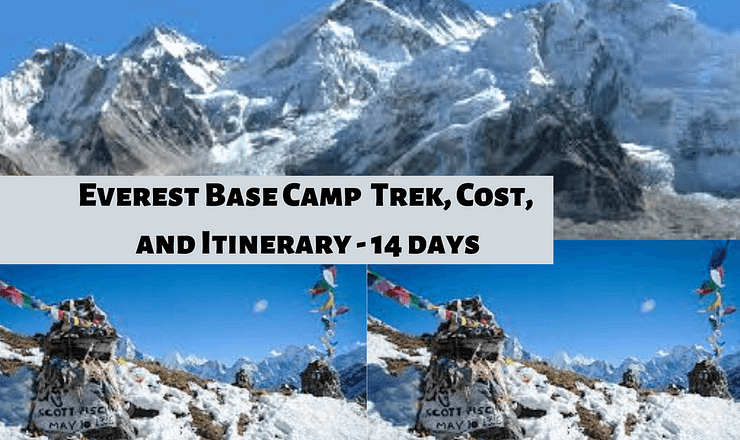 Everest Base Camp Trek Overview The Everest Base Camp trek journey is a top-tier adventure since it leads you to the base of the world's tallest mountain, Everest (8,848.68 m/29,029ft). Traveling through stunning high-altitude landscapes, high-altitude wildlife, traditional Sherpa culture, Buddhist monasteries, and snow-capped mountains, this tour will offer you a natural thrill at an…