Overview
The strenuous Yala Peak Climbing guarantees to quench your adrenaline thirst as you ascend the snowy mountain with a spectacular view of Shishapangma (8013m) and Gangchempo (6386m). Yala Peak (5500m) is one of the easiest peaks to climb in Nepal and is located near the Tibetan border in the Langtang region. Yala Peak climbing is royalty-free and does not require prior mountaineering experience. However, some physical fitness is always beneficial.
The 16-day Yala Peak Climbing offers an extraordinary view of different mountain peaks like Langtang Lirung (7234m), Mt. Shishapangma (8013m), Dorje Lakpa (6966m), and Gangchempo (6386m). The climbing does not only offer you to stand on top of the peak but also takes you through the amazing Langtang valley full of stunning natural and cultural diversities. The trail takes you through the dense jungle filled with colorful rhododendron, oak, pine, juniper trees, and huge meadows. The trail also takes you to the ancient Buddhist monastery "Kyanjin Gompa" surrounded by stunning peaks. The trail to base camp ascends through rocky glacier moraine.  You climb the peak gearing up the ax, crampons, and rope for assistance. Upon reaching the top, you are rewarded with a surreal view of the Himalayas. The trekking trail also passes through several villages inhabited by Sherpa and Tamang people. You also get a chance to explore the culture and lifestyle of the locals.
My Everest Trip is the leading and successful trekking agency based in Kathmandu. We always seek to provide our clients with an a-one service available in the hospitality business in Nepal. We provide our clients with the best accommodation and also have all kinds of public and private transportation facilities available.
Read More
Read Less
Your Itinerary
Day 01: Arrival in Kathmandu & Transfer to hotel | (A, D)     
Our team member will pick you up at Tribhuvan International Airport and transfer you to your hotel in Kathmandu for an overnight stay.
Day 02: Sightseeing in Kathmandu |O/N at 3-Star Hotel (A, B)
You explore some of the prominent places of Kathmandu like Patan Durbar Square, Kathmandu Durbar Square, and Swayambhunath Stupa. In the evening, your guide will provide you with details of the trip. Overnight at a 3-star hotel in Kathmandu.
Day 03: Drive to Sybrubensi (1460m/4788ftft) |O/N at Tea House (A. B, L, D)
Today, we start our journey and drive to Sybrubensi in a jeep moving alongside the large Trishuli River. Enjoying the countryside view throughout the drive, we arrive at Sybrubensi. Overnight at Tea House in Sybrubensi.
Day 04: Trek to Lama Hotel (2500m/8200ft) |O/N at Tea House (A. B, L, D)
Following the route of Bhote Koshi River, we leave Sybrubensi behind us and begin our first day of the trek by walking to Lama Hotel. Trekking up and down the trail, we enter a forest filled with rhododendron and oak trees. Before reaching the Lama Hotel, we also pass through the bamboo village where we may see a red panda. Overnight at Tea House in Lama Hotel.
Day 05: Trek to Langtang (3460m11348ft) |O/N at Tea House (A. B, L, D)
After ascending from Lama Hotel, we pass through a jungle full of colorful white and pink rhododendron, oak, and pine trees which take us to Ghoda Tabela. Accompanied by the stunning mountain peaks of the Langtang range in the background, we enter Langtang valley, home to Langtang National Park. We continue our trek passing through different settlements and reaching the Tamang settlement of Langtang village. Overnight at Tea House.
Day 06: Trek to Kyanjin Gompa (3870m12693ft) |O/N at Tea House (A. B, L, D)
We trek towards Kyanjin village which takes around 6 hrs to reach. We walk past Chortens, colorful Buddhist monasteries and prayer flags, and a large Mani wall carved with prayers. We arrive at the 400-year-old Kyanjin Gompa and enjoy the stunning view of Langtang Lirung (7234m) on the backdrop of the whitewashed monastery.  Upon reaching, Kyanjin village you will enter a sparse Sherpa settlement.  Overnight at Tea House.
Day 07: Excursion to Tserko Ri (5033m16508ft) |O/N at Tea House (A. B, L, D)
For acclimatization, we take a short pleasant hike to Tserko Ri where we are rewarded with a 360-degree view of different mountain ranges like Langtang Lirung (7234m), Yala Peak (5500m), Ganesh Himal (7422m), and many more. We hike back to Kyanjin Gompa and visit the local cheese factory. Overnight stay at Tea House.
Day 08: Trek to Yala Peak Base Camp (4800m/15744ft) |O/N at Tent (A. B, L, D)
Today we trek for around 7 hrs to reach Yala Peak Base Camp. We take a path through the rocky glacier to Yala Peak Base camp which can be challenging. Standing at the foot of Yala Peak, we get this amazing view of Tserko Ri (5033m), Gangchempo (6386m), and Naya Kang (5844m). Overnight at the base camp.
Day 09: Reserve Day for Contingency |O/N at Tent (A. B, L, D)
We take this extra day as a reserve day for contingency in case of bad climatic conditions that might occur unexpectedly around the Himalayas. We also go over some techniques of climbing and the use of our gear and equipment. Overnight at tented camp.
Day 10: Climb to summit (5500m) and return to Base Camp |O/N at Tea House (A. B, L, D)
Today is the most important day of our adventure as we head to the summit early in the morning. Following our climbing leader, we climb the peak through steep slope rocks and icy moraines. Upon reaching the summit, we are rewarded with an unbelievable view of Mt. Shishapangma (8013m), Dorje Lakpa (6966m), Langtang Lirung (7234m), Gangchempo (6286m), Naya Kang (5844m), and so on. After taking pictures and spending some time, we return back to the base camp. Overnight at Tea House.
Day 11: Trek to Ghoda Tabela (3050m/10004ft) |O/N at Tea House (A. B, L, D)
After the successful ascent, we head back to Ghoda Tabela. Passing through different settlements and beautiful Langtang valley on our way, we arrive at Ghoda Tabela. Overnight at Tea House in Ghoda Tabela.
Day 12: Trek to Syabru (2200m/7216ft)| O/N at Teahouse (A. B, L, D)
Trekking through the dense jungle filled with colorful rhododendron, oak, and pine trees, we arrive at Lama Hotel. We continue our trek passing through the bamboo village and forests to reach Syabru. Overnight at Tea House.
Day 13: Trek to Dhunche (1950m/6396ft) |O/N at Tea House (A. B, L, D)
Following Langtang Khola, and then Bhote Koshi River, we trek towards Dhunche leaving behind Syabru. We also pass through some alpine forests before we reach Deurali. We continue our trek, moving along the Trishuli River, to reach Dhunche. Overnight at Tea House.
Day 14: Dhunche Drive back to Kathmandu |O/N at Hotel (A. B, L, D)
We drive back to Kathmandu, relishing the stunning view of landscapes, snow-capped mountains, green hills, and flowing rivers. We transfer you back to your hotel in Kathmandu for an overnight stay.
Day 15: Free day in Kathmandu |O/N at 3 Star Hotel (A. B, D)
After a long journey, you will be given a free day in Kathmandu. You can either take a rest or stroll around the markets of Kathmandu to shop for souvenirs to take back home for friends and family. Later in the evening, a farewell dinner will be held at the local Nepali restaurant to celebrate the completion of our journey. Overnight at the hotel.
Day 16: Departure
Drop you at Tribhuvan International Airport approximately 3hrs before the scheduled flight.
Why US
MyEverestTrip is a Nepalese Travel and Trekking Agency based in Kathmandu. We have been operating in different trekking regions for more than a decade, traveling with hundreds of trekkers and travelers all around the world.
With the pure intention to bring trekkers to Nepal's safety and comfort, we have an entire team of travel planer, guides, and porters. We also have connections to hotels and restaurant lines all over Nepal for ensuring that our trekkers get the best possible facilities.   
So, here is the reason why you should travel with MyEverestTrip.  
Customize your itinerary:
We have designed a well-planned Itinerary for all travel destinations around Nepal. However, this Itinerary is customizable as per the need and requests of our trekkers. Just let us know when and how long you are staying so that we can arrange the rest. 
Our Expert guide: 
Although all travel agency claims to have a good guide, many of them are not informed about the place you are traveling to. However, MyEverestTrip has its own licensed guide in Nepal. They have been working in this field for over three decades, collecting all the information about the place/ culture, and learning to keep the travelers safe. Also, our guide is good at the English language. Upon special request, we can even hire a guide who can speak Chinese and other European languages for trekking in Nepal.
Fair and reasonable Cost:
MyEverestTrip has been known for its very economic trek packages in Nepal. You can compare the price we offer with any other travel agency in Nepal and only book with us if you are satisfied with our cost. We try to include all needed expenses during the tour so that you will not be overwhelmed with hidden expenses after the packages are booked. 
Your safety is our priority:
Obviously, the safety of our trekkers and our team is the utmost priority of MyEverestTrip. Our guide and porters who shall accompany you for the trip will have insurance of their own. We also encourage Travel insurance for our trekkers. Our treks and trip have been so designed that you only walk an appropriate distance. In any case of emergency, you will always have our back.
Responsible and Eco-Friendly 
MyEverestTrip operates with the belief in responsible tourism. This includes 
We are transparent about the services covered on the trip. There shall be no hidden cost (informed in advance if there's any)

We cover all the places that have been promised before the trek (the trend of skipping places once you book the package has to be discouraged). 

All our guides and porter are above 18yrs. We highly discourage child labor in the tourism industry

We do not leave any wastage behind on the trekking routes. We either dispose of the waste appropriately or carry them back with us and send it to the municipality

We do not engage in any activities that affect the people in the trek places of Nepal we stay.  
Equipment Checklist
Light and expedition weight thermal tops
Sunglasses with UV protection
Fleece jacket or pullover
Sleeping bag rated to 0 degrees (3/4 season)
Fleece Wind-Stopper jacket (optional)
Head lamp (eg Petzl) spare bulbs & batteries
Lightweight thermal gloves
Small padlock to lock trek bag
Underwear (4)
Basic First Aid Kit (see First Aid Medicine below)
Waterproof shell jacket (preferably breathable fabric)
Plastic bags – for keeping items dry inside trek bag
Shorts (2)
Daypack (35-40 litres/2500-3000 cubic inches)
Lightweight cotton long trousers/pants
Camping mattress, eg thermarest pad
Light and expedition weight thermal bottoms
Water bottles (2)
Sun hat or scarf
Toiletries
Warm fleece hat or light balaclava
Small wash towel
T-shirts (2)
Footwear appropriate to the trip
Thin, lightweight (inner socks) (4)
Waterproof shell trousers/pants (preferably breathable fabric)
What's included
Airport pick up and drop
Welcome/farewell dinner
Hotel accommodation in KTM
Tent and tea-house stay in trek
The bus drive to saybru and return back to Kathmandu
Meals as mentioned
National park permit
The royalty of Yala Peak
Equipment of climbing guide
Insured-equipped guide
Insured-equipped trekking crew
What's not included
Personal climbing equipment
Meals other than those mentioned
Drinks and bar Bill
Tipping
Personal insurance
Other things not mentioned
Choose a Private Trip
If you already know who you would like to take your adventure with and would prefer to enjoy your 'My Everest Trip' experience with your own group of friends, then we've got good news! All of our trips are also available as private adventures! Our private adventure specialists are on hand to give you a quote or talk you through some of the different options that we offer.
So feel free to give us a call on +977 9851069558 or Email us at [email protected]
Reviews
If you have already travelled with us and want to share your story and experiences to the world please send us your experiences by cliking the button below:
We are your ultimate adventure partner.
MyEverestTrip is a reliable, Eco-friendly, and experienced tour company in Nepal – so if you're looking for the ultimate  Himalayan adventure, you've come to the right place. Our seasoned guides offer mountain trekking and peak climbing across Nepal, Bhutan, and Tibet – as well as a myriad of jungle safaris, sightseeing, bungee jumping, cycling, and paragliding packages. So to learn more about us click below and choose us as your ultimate adventure partner! Learn More About Us
Why Book With Us
70% Repeat Customers
Guaranteed Departures
Team of destinations Experts
Competitive Prices
99% Success Rate
Places of attractions, travel tips, news and more.Recent From Our Blog
Once you've done the Everest base camp trek, the next most popular trek in the world is the Annapurna trek in Nepal. A goddess in Hindu mythology, "Ma Annapurna," whose name means "full of grains" or "giver of sustenance," is said to have given the peak its current name. The Annapurna Base Camp Trek is…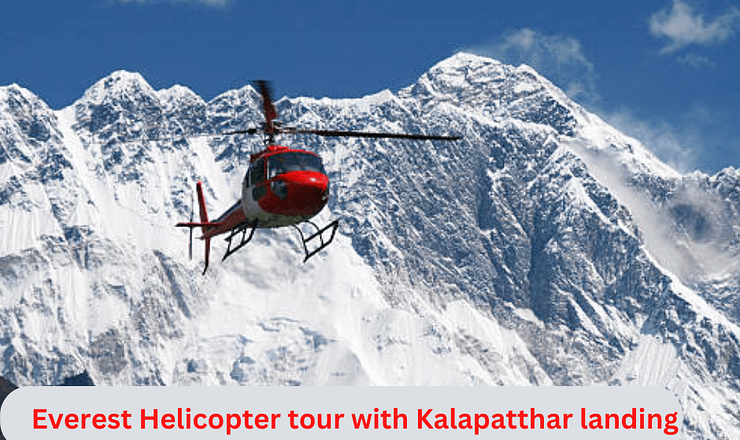 Are you dreaming of Everest Helicopter Tour With Landing at Kalapathar to see Mount Everest? If yes, a Helicopter tour to Everest is the best option. The Everest Base Camp Helicopter Tour with Landing at Kalapathar is the most popular helicopter ride in Nepal. The helicopter tour is a single-day package starting from Kathmandu airport…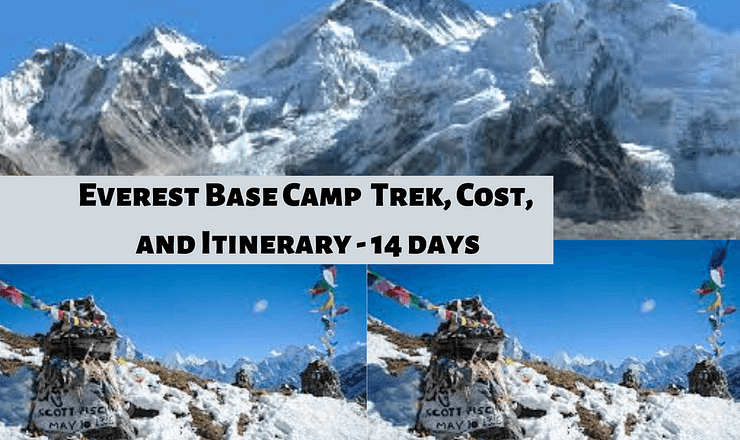 Everest Base Camp Trek Overview The Everest Base Camp trek journey is a top-tier adventure since it leads you to the base of the world's tallest mountain, Everest (8,848.68 m/29,029ft). Traveling through stunning high-altitude landscapes, high-altitude wildlife, traditional Sherpa culture, Buddhist monasteries, and snow-capped mountains, this tour will offer you a natural thrill at an…