Why My Everest Trip
My Everest Trip continues to thrive because of the wonderful visitors that we have every year. Worldwide trekkers, mountaineers, and adventurous tour lovers have continuously found reasons to trek with our My Everest Trip Group. So from our expert team to our unique tours, read about some of the top reasons why we have remained one of the most popular tour companies in Kathmandu, and why you should come and join us for your next adventure.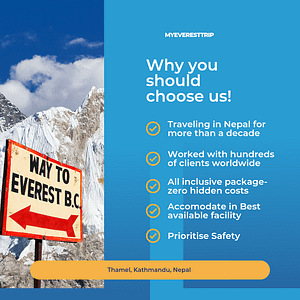 Authenticity
The founder of Himalaya Masters is himself a very experienced guide. So, he has prepared the entire team of experienced guides and porters, keeping everything authentic. Along with Nepal, we are also allowed to work in Tibet and Bhutan as well. Our love for our native land and the culture of Nepal enhances your traveling in Nepal.
History and Trust 
This is one of the main reasons why people approach us is our long history and good reviews. We have vast experience and excellent records of accomplishments for all tours in Nepal, Bhutan, and Tibet in our 15 years of experience. We ensure to make all treks in Nepal safe, secure, and enjoyable.
Flexibility
Unlike other travel agencies in Nepal with fixed departure dates and a solid Nepal trek Itinerary, our packages are extremely flexible. 
We ensure that no matter when you decide to travel to Nepal, MyEverestTrip will make all needed arrangements. You can shorten, lengthen, or change the Itinerary as per your will. 
Customers Satisfaction
Customer satisfaction is our major and most prioritized goal. In Nepal, there's a saying "Atithi Deva Bhava" which means "Guest is like God". 
And this is our motto when it comes to delivering excellent service to our clients. Based on this reputation, large numbers of people seek services from us MyEverestTrip. The trekkers in Nepal who have once traveled with us have always trusted us for future visits to Nepal. 
Profession and Responsbile 
Our team has a large number of friendly, professional, and helpful staff on hand. From the moment you arrive, up until the minute you depart, we provide you with a helpful necessary hand. 
From miss-placed luggage on your arrival to medical services based on your personal needs, we are always there for you. Whether you need advice about finding the right restaurant, what to pack, where to change money, or where to find the best nightspots – we've got you covered!
Also, we work for eco-friendly and responsible tourism in Nepal. 
Always Prioritize Safety
Without a doubt – safety is our top priority. My Everest Trip comprises some of the best peak climbing in Nepal and adventure sports in Nepal. We not only provide professional services for these activities but also deal expertly with emergencies. We have always maintained an impeccable reputation with travelers because of our ability to help a person overcome any trouble – no matter how big – in the least possible time. With us, Nepal is a safe country to visit.