Overview
The Ghorepani Poon Hill trek is one of the most popular trails for those wishing to experience trekking in Nepal. It is the perfect combination of challenging and achievable, and with its mix of traditional villages, beautiful rhododendron forests, and panoramic mountain views, it's easy to see why so many travelers choose this adventure when wanting to enjoy one of our Annapurna treks.
This 8-day Poon Hill trek or short and easy trek starts from Nayapul, where you will cross the suspension bridge of Tikhedhunga. The challenge then begins as you climb around 3000 stone stairs, reaching higher and higher into the enthralling presence of the Annapurna peaks. Throughout the climb, you will enjoy the picturesque landscape that hosts Gurung and Magar culture. And as you trek through the Gurung village of Ghandruck, and visit their traditional museum, you will be treated to breathtaking fishtails and Annapurna south views.
One of the highlights of this trek is the viewpoint of Poon Hill (3210m), which offers you the best sunrise with mountain views. From here you will see panoramic views of the Annapurna and Dhaulagiri range, along with Nilgiri, Tukuche peak, Lamjung Himal, Mt. Manaslu (8156m) ranges, Machhapuchhre (6993m), and more. As you take a break from your hike and relax, you will watch the mountains come to life as the sun rises and fills the region with morning light.
If you visit in April, you will walk through the dense rhododendron forests that, along with a wealth of other flora and fauna, make this trip particularly unique and memorable. It is recommended therefore to join us for this trek between the months of March and May, or between September and November.
The Ghorepani Poon Hill trek can be done as a 5-day Annapurna short trek, or for those wishing to take their time, it can be extended for up to 09 days. This makes it the perfect choice for anyone wishing to try an easy and short trek and is ideal for people of all age groups who wish to quench their thirst for an Annapurna adventure. For Short Himalayan treks, it really cannot be beaten.
My Everest Trip provides excellent services to our national and international clients and our team of experts makes it their mission to ensure that your trek is as comfortable as possible. They are qualified and knowledgeable and on hand to answer any questions you may have about the Ghorepani Poon Hill Trek Cost or the Poon Hill trek difficulty. Or, If you would like to learn more about what it is like to take part in this exciting experience, you can read our Poon Hill trek blog below.
Read More
Read Less
Your Itinerary
Day 1: Arrival  
Altitude: 1400 meters
After receiving you, we shall drive to the hotel in a private vehicle. During the 30 minutes drive, you can enjoy the views of Kathmandu. If you are not feeling Jetlag, you can visit the places around you and stroll in Thamel. In the evening, we shall have a group interaction to inform you about our journey ahead.  Overnight stay at Kathmandu.
Day 2: Drive/ Flight to Pokhara
Altitude: 800 meters  / Duration: 8 hours/ 25-minutes
Today, we leave the city of Kathmandu and drive calmly on the Prithivi highway. While driving from Kathmandu to Pokhara, We move on the bank of Trishuli and Marsyangdi along with beautiful hills accompanying us for a long drive. In the evening, we enjoy a great dinner in the charming stress of the lakeside.
Or, a morning flight of 25 minutes will take you to Pokhara. During the flight, you can enjoy the views of mountain vistas below your feet while also getting to visit Pokhara. Overnight in Pokhara
Day 3: Drive to Nayapul and Trek to Tikhedhunga
Altitude: 1540m / Duration: 3-4 hour trek
Today we will drive to Nayapul in a private vehicle. The drive is scenic with views of the countryside. From Nayapul, we will start our trek. First, we descend for a few moments and then start up towards Tikhedhunga. This section of the walk can be quite demanding for the newbie as the path is mostly uphill. However, the rivers and suspension bridges keep us excited.: Overnight in Tikhedhunga
Day 4: Tikhedunga to Ghorepani 
Altitude: 2850m / Duration: 6-7 hour trek
The 4h day of Ghorepani Poonhill Trekking is quite relaxing. After breakfast, our walk heads along the river bank to Tikhedunga. The hike to Ghorepani is usually uphill with a small staircase. During the journey, the forest of pine, oak, and Rhododendrons gives us great company. The Ghorepani village is like a base camp to Poonhill; it's got some very luxurious tea houses, Overnight at Ghorepani
Day 5: Ghorepani to Tadapani 
Altitude: 2610m / Duration: 5-6 hour trek
In the morning, we trek to Poonhill for the stunning sunrise view. We can capture some beautiful glimpses of Annapurna, Dhaulagiri, Fishtail, Lamjung Himalayan ranges, etc from Poonhill. After enjoying such a beautiful scene for an hour, we will walk down to Ghorepani. After breakfast, we start our trek to Tadapani. The path in the forest with a beautiful stream accompanying us is quite interesting. Tadapani is a lovely village with a few colorful lodges. Overnight in Tadapani
Day 6: Tadapani to Ghandruk 
Altitude: 1940 meters / Duration: 3 hours
The trek from Tadapani to Ghandruk starts quite late on Ghorepani Poonhill Trek for 6 days. We enjoy a leisurely breakfast with the views of the mountains before us. Then we walk on a quite leveled path from Tadapani. Among the sub-tropical forest of Annapurna, this is probably the easiest day of your walk. Spotting some wild birds, we reach Ghandruk for lunch.
After some rest, we will have enough time to explore the wonders of Ghandruk. First, we visit the local museums, a temple on the hilltop, and the traditional villages. You can even try the Gurung dress for Photoshoot and enjoy some local foods here at Ghandruk.
Day 6: Drive Ghandruk to Pokhara 
Altitude: 800 meters / Duration: 3 hours
The morning view of the mountains from Ghandruk is magical. Mt Annapurna appears every close and exciting from Ghandruk. If we have some areas around Ghandruk left yesterday, we visit them today. After the delicious breakfast from Ghandruk, it's time to get back to Pokhara. The trekkers prefer to walk down from Ghandruk for about 2 hours so that we can join our vehicle at Kimche. You can even walk up to Nayapul which is not so common nowadays. Further, if you don't feel like walking from Ghandruk, we can get the Jeep to Pokhara right from the village.
Anyways, we will be enjoying an exciting dinner on the shore of Lakeside. It's a perfect time to hit a bar and enjoy the nightlife of Pokhara or rejuvenate your body with a Spa. Overnight in Pokhara
 Day 7: Drive/ Flight to Kathmandu
Altitude: 1400 meters / Duration: 8 hours/ 25-minutes
This is the day to get back to Kathmandu either by bus or flight. If you take a flight, we get to explore some nearby places around Thamel. Later, you can shop for some souvenirs from your loved ones. For the evening farewell dinner, you can share your experience during the trip and make any suggestions for us. Overnight in Kathmandu
Day 8: Departure
Enjoy a beautiful breakfast in your hotel, and then you can start packing your bags. Inform your guide when you want to drive to the airport and the arrangements will be made.
Wish you an incredible journey back home.
Additional Info
Permits For Poonhill Trek   
Firstly, the trekkers have to issue a Tourist visa to Nepal. The visa can be received upon arrival at the entry points of Nepal, including the airport. As long as you have a valid passport, the visa is easily available for about USD 50.
Being a conversation area, you need a special permit to get into the Ghorepani Poonhill region. Some areas of Annapurna have been under conservation to preserve the local wildlife from extreme invasion. Annapurna Conservation Area Project permit costs USD 30 per person for foreigners and Rs 200 per citizen of SAARC country. TIMS card is available at the Tourist Service Center, Kathmandu, or Pokhara at the cost of NRs. 1,000 for group trekkers and NRs 2000 per solo trekkers for Ghorepani Poonhill Trek from Pokhara.
Thankfully, MyEverestTreks does all the paperwork while you enjoy your time in Nepal. That's why trekking with a Ghorepani Poonhill trek package is an easier option.
Hotels in Ghorepani
Did you know that this short Poonhill Ghandruk trek has become so popular due to its comfortable accommodation? Throughout the trekking trails, you can find great hotels and plenty of teahouses with tons of facilities. Teahouse accommodation having a basic twin-sharing bed is common during the trek. And the word "basic" means a bed, a mattress, a pillow, and a blanket. That's all! It's wise to carry your own lightweight blanket/ sleeping bag, especially for the winter trek.
Guesthouses in Ulleri and Ghorepani provide way better facilities than other top trekking places in Nepal. Almost all lodges have in-room plugs, Wi-Fi, and a hot shower. The bathroom is mostly on sharing basis. Nowadays, Ghorepani has a star hotel with an attached bathroom. Tadapani has a few cozy hotels run by locals and remains very crowded during the peak season. Make sure that you book your rooms in advance.
In Kathmandu and Pokhara, all the accommodations will be on a sharing basis. You will be staying in a 3-star hotel with a private bathroom and hot shower. All basic amenities are available in the room. You might also switch to other 5-star hotels around the valley on your own. However, we can assist you with the booking process.
Thankfully, the Ghorepani Poonhill trek is one such exciting trekking trail in Nepal that can be conquered throughout the year. The region looks completely different in all seasons and offers different kinds of perks in different weather. Let's discuss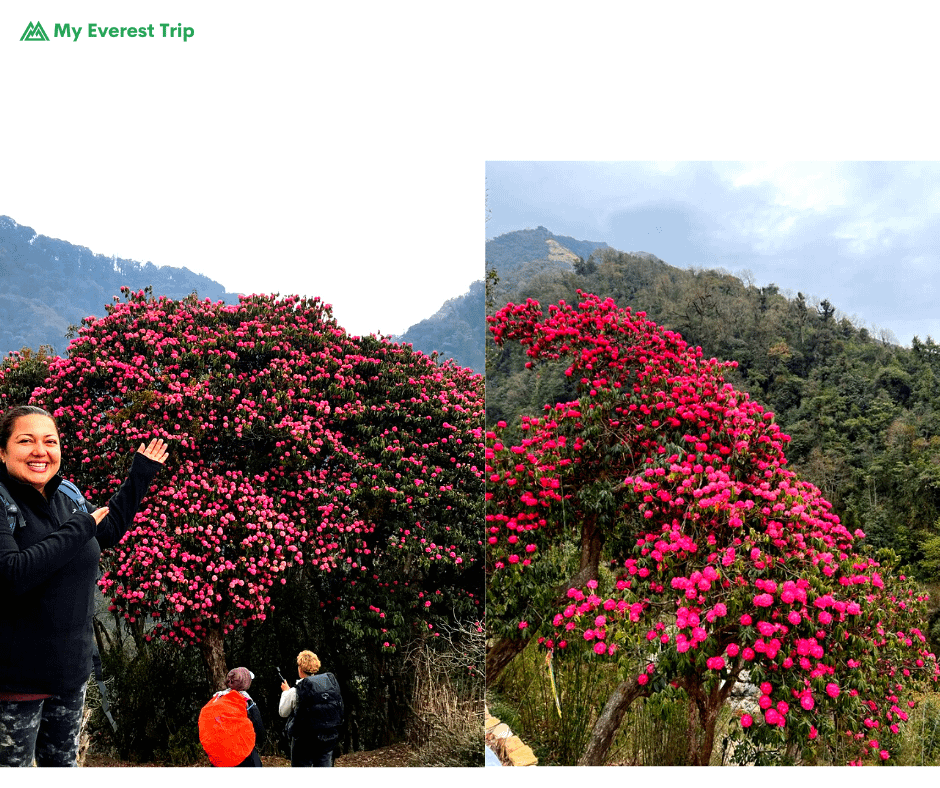 Autumn in Poonhill: If your target is the exciting mountain view, Autumn might be the best season for the Ghorepani Poonhill trek Itinerary. The mountain can be seen right from morning to evening, with the Panorama clear than ever. With no chance of rain and warm temperature, this is the peak season.
Spring in Poonhill: Well, imagine being in a very thick forest full of red, pink, and white wildflowers. The heavy bloom of Rhododendrons in Spring literally makes it look like a piece of heaven in Spring. The only problem is, if it rains in Spring, the mountains might not be quite visible.
Winter in Poonhill: Almost all area of Ghorepani and Poonhill is covered with snow from late December to early Feb. The white glittering mountains and snowfall all above the tree make it a very exciting time for traveling. All you need is warm clothes and guidance from the MyEverestTrip guide.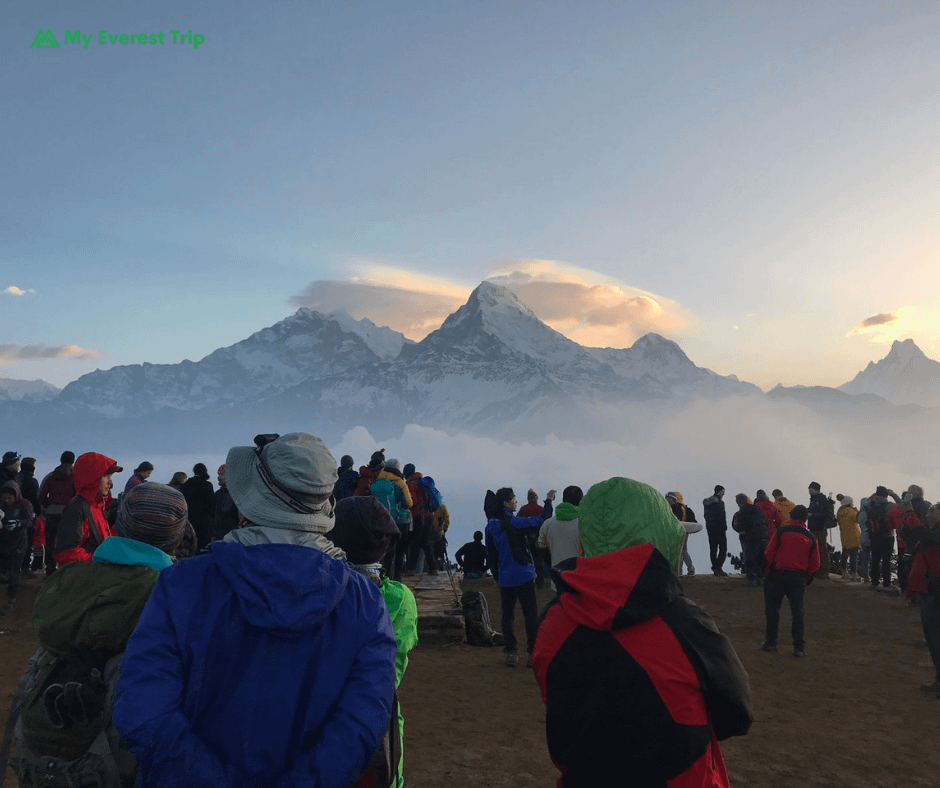 Summer in Poonhill: Most probably, this is the least preferable time for the Ghorepani Poonhill trek. The rainfalls and bliss hide the mountain with dark clouds in the evening and the path is also slippery. However, it's green and fresh with new vegetation emerging everywhere.
Why US
MyEverestTrip is a Nepalese Travel and Trekking Agency based in Kathmandu. We have been operating in different trekking regions for more than a decade, traveling with hundreds of trekkers and travelers all around the world.
With the pure intention to bring trekkers to Nepal's safety and comfort, we have an entire team of travel planer, guides, and porters. We also have connections to hotels and restaurant lines all over Nepal for ensuring that our trekkers get the best possible facilities.   
So, here is the reason why you should travel with MyEverestTrip.  
Customize your itinerary:
We have designed a well-planned Itinerary for all travel destinations around Nepal. However, this Itinerary is customizable as per the need and requests of our trekkers. Just let us know when and how long you are staying so that we can arrange the rest. 
Our Expert guide: 
Although all travel agency claims to have a good guide, many of them are not informed about the place you are traveling to. However, MyEverestTrip has its own licensed guide in Nepal. They have been working in this field for over three decades, collecting all the information about the place/ culture, and learning to keep the travelers safe. Also, our guide is good at the English language. Upon special request, we can even hire a guide who can speak Chinese and other European languages for trekking in Nepal.
Fair and reasonable Cost:
MyEverestTrip has been known for its very economic trek packages in Nepal. You can compare the price we offer with any other travel agency in Nepal and only book with us if you are satisfied with our cost. We try to include all needed expenses during the tour so that you will not be overwhelmed with hidden expenses after the packages are booked. 
Your safety is our priority:
Obviously, the safety of our trekkers and our team is the utmost priority of MyEverestTrip. Our guide and porters who shall accompany you for the trip will have insurance of their own. We also encourage Travel insurance for our trekkers. Our treks and trip have been so designed that you only walk an appropriate distance. In any case of emergency, you will always have our back.
Responsible and Eco-Friendly 
MyEverestTrip operates with the belief in responsible tourism. This includes 
We are transparent about the services covered on the trip. There shall be no hidden cost (informed in advance if there's any)

We cover all the places that have been promised before the trek (the trend of skipping places once you book the package has to be discouraged). 

All our guides and porter are above 18yrs. We highly discourage child labor in the tourism industry

We do not leave any wastage behind on the trekking routes. We either dispose of the waste appropriately or carry them back with us and send it to the municipality

We do not engage in any activities that affect the people in the trek places of Nepal we stay.  
FAQ
How Hard is the Ghorepani Poonhill Trek?  
Poonhill trek difficulty is graded as "easy". It's an easy walk below 3,000 meters at sea level. Ghorepani Poonhill Trek distance is also about 60 km only, which is to be completed in 5 days. Quite leveled path, comfortable tea houses, and the lower altitude of Poonhill make this a wonderfully easy trek in the Annapurna region. It needs no expertise and preparation. So, this Ghorepani Poonhill Trek 5 days is quite an easy trek in Nepal.
Is Food Included in the Ghorepani Trek Package?
During the trek, all three meals of the day are included. The same menu is available throughout the trek, and the price is very reasonable. You are going to love the Dal Bhat combination the most. Do try local foods such as Thukpa and butter tea. Also, you might ask the owner to prepare their traditional soup made of meat, vegetables, and local species. Most of the foods served in the guest house are grown locally and taste great.
How can you get to Nayapul From Pokhara?
From Pokhara, we need to reach Nayapul, the starting point of this journey. The ride to Nayapul is about 2 hours long on the Baglung- Pokhara highway. You can hire a private Jeep/ cab from Lakeside. Or, one can get public transportation to and from Nayapul from Zero km/ Hari Chowk / Baglung Bus Park. The bus fare is somewhat cheaper, but getting a private Jeep is a way more comfortable choice. If you wish to avoid the steep walk to Ulleri, you can take a private Jeep to this village. Also, a public bus and Jeep are available from Ghandruk to Kathmandu.
Is there Electricity/ Wi-Fi in Poonhill Ghorepani Trek?
Yes, the entire trekking route has been connected with Wi-Fi and electricity. The tea house owner might or might not charge you for using the electricity but you have to pay a few dollars for using Wi-Fi in the Ghorepani Poonhill trek.
Final words,
So, what are your thoughts about booking MyEverestTrip Ghorepani Poonhill Trek? We will be glad to be helping you with all trips and treks in Nepal including this one. Send us an email for general queries or bookings.
We are excited to meet you…
Equipment Checklist
Light and expedition weight thermal tops
Sunglasses with UV protection
Fleece jacket or pullover
Sleeping bag rated to 0 degrees (3/4 season)
Fleece Wind-Stopper jacket (optional)
Head lamp (eg Petzl) spare bulbs & batteries
Lightweight thermal gloves
Small padlock to lock trek bag
Underwear (4)
Basic First Aid Kit (see First Aid Medicine below)
Waterproof shell jacket (preferably breathable fabric)
Plastic bags – for keeping items dry inside trek bag
Shorts (2)
Daypack (35-40 litres/2500-3000 cubic inches)
Lightweight cotton long trousers/pants
Camping mattress, eg thermarest pad
Light and expedition weight thermal bottoms
Water bottles (2)
Sun hat or scarf
Toiletries
Warm fleece hat or light balaclava
Small wash towel
T-shirts (2)
Footwear appropriate to the trip
Thin, lightweight (inner socks) (4)
Waterproof shell trousers/pants (preferably breathable fabric)
Map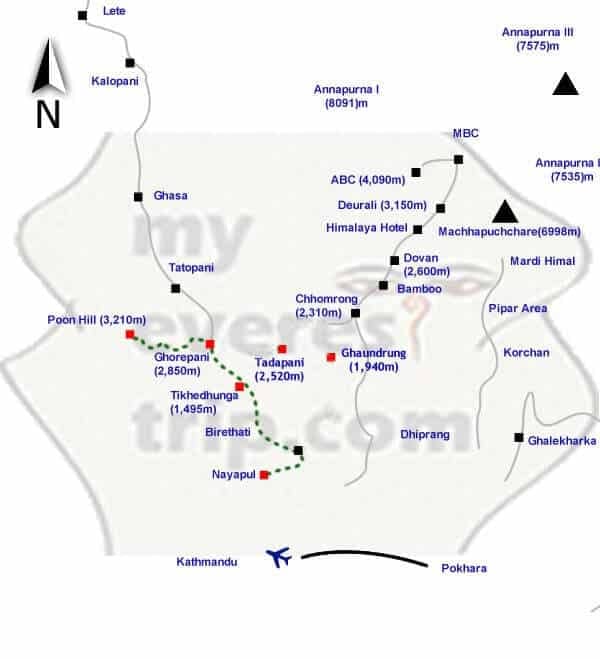 What's included
Airport/hotel pick up and drop off by private car
At least two nights 3-star hotel in Kathmandu bed and Breakfast plan
Meals on full board (breakfast, lunch, and dinner) in the whole trekking
Kathmandu – Pokhara – Kathmandu By tourist bus/flight up to your request
Trekking map
An experienced Government license holder guide
Trekking porter/Sherpa who will carry your bags during the trekking
Insurance, salary, equipment, transportation, local tax for guide and porter
Group medical supplies (first aid kit will be available)
All necessary paper works and national park entry permits
Travel and rescue arrangement
TIMS (Trekkers' Information Management System)
All government taxes and tourist service charge
What's not included
Meals in Kathmandu before and after trekking
Your travel insurance ( Rescue )
Nepal entry visa fee.
Tips for trekking staff and driver
Drinks (hot, cold, and alcoholic)
Personal shopping and laundry etc
Personal trekking equipment
Choose a Private Trip
If you already know who you would like to take your adventure with and would prefer to enjoy your 'My Everest Trip' experience with your own group of friends, then we've got good news! All of our trips are also available as private adventures! Our private adventure specialists are on hand to give you a quote or talk you through some of the different options that we offer.
So feel free to give us a call on +977 9851069558 or Email us at [email protected]
Reviews
If you have already travelled with us and want to share your story and experiences to the world please send us your experiences by cliking the button below:
These reviews are from the travellers who have travelled with us previously.
A wonderful experience
The first trip to Nepal was organized by MyEverestTrip. Met at the airport after a very long flight from the UK by the owner of the company and transferred to a lovely hotel in the center of Kathmandu. The next day was spent exploring Kathmandu – had traditional Nepali lunch at a local cafe. Visited a few temples and sites of interest. Saw monkeys! The next day – early doors – transferred to Pokhara by tourist bus – a long but fascinating journey – with the assistance of our lovely guide and porter. Lots of toilet stops en route. Hotel overnight at Pokhara – amazing!! From there we started the trek. I can't easily explain the variety in this trek – from the landscapes to the food to the accommodation – all I can say is that it's full of interest, beauty, and well worth the effort. Thank you My Everest Trip for organizing the seamless travel and accommodations. See you again!!
Trekking with kids
We are a Norwegian family with 2 boys aged 8 and 10. We have been walking the mountains in Norway and Austria since the boys were very small. This year we wanted to do something very special with the kids.
We were curious about Nepal and started our research about the country. We soon realized there were so many companies to choose from. When traveling with kids you are extra cautious, and really want to make the right decision when choosing a company. For many days we read "about us" articles from many companies, and then we come across My Everest Trip. The company had existed for many years, the manager was not just a person in a suit doing business he was also a very experienced guide and they had very good reviews. I send him an email and the next morning I woke up the already responded.
We decided to do the Ghorepani Poon Hill, this is a very popular trek but suitable for kids and it gave us the opportunity the see Pokhara also and try paragliding.
Poon Hill was a good choice. Puru gave us very good guides and porters. The trek was a good mix of beautiful nature and cultural experience. The kids were so happy, that they quickly had a good connection with the porters, developing their own way of communication. The sunrise from Poon Hill was spectacular on a clear morning. The landscapes offer so much beauty, from the softness of the rhododendron forests to the roughness of the snow-covered mountains. It was fun to visit the Gurung cultural museum, as we try to teach our kids that people live in many different ways.
Doing this trek was very good family time and the service was great. Because we did not have to worry about anything we could just enjoy every minute of our journey.
We would like to thank Puru and his great team for a fantastic vacation in Nepal and we highly recommend My Everest Trip.
Best regards from Geir
Best Trek Ever
I had a wonderful time in Nepal and went trekking in the mountains on My Everest Trip. Everything worked perfectly for the 9 days Poon hill trip and the price was very good.
Poonhill Ghorepani trek
Doing a trek in Nepal has been one of the best experiences in my life. And I couldn't choose a better agency than My Everest Trip. I don't say this just because Puru and Ratna are really professionals, but also because they are very kind and generous people. I was very fortunate to have both of them as guides on two different trips and I could notice that both share that same philosophy of teaching you how to walk the road safely, quietly, and happy. They are very patient and always try to take care of you.
Puru is the owner, he has vast experience and he knows very well the treks and tours offered, in addition, he is always open to making the adjustments you need and takes care of you as much as possible. And all his team participates in this style. For my next treks, I will not hesitate to hire their services.
Amazing guide for an unforgettable trek
Puru guided my sister and me on a three-day trek to Poon Hill, on the Annapurna Range. I trek a lot, and this was hands down the best trekking experience of my life. We walked through incredible rain forests, hillside Buddhist temples in gorgeous villages accessible only by foot, and reached Poon Hill summit for an absolutely stunning view of the Himalayas. We met up with some other travelers along the way and became lifelong friends. Puru is an incredible guy who knows every inch of those trails, the type of thoughtful, well-mannered, and genuine person who you can easily trust. He's also a fun person who can show you a good time, which matters on those long trails. He even helped me get over my fear of leeches! We remain close friends to this day.
Poon Hill – Ghorepani trek with a very nice and professional guide
For us ( 3 people, of who 1 couple) it's been very nice trekking, which has fit our expectations and needs.
The guide, Ishwor, Was special. Many thanks to him and to Puru for the very nice organization. Just one little suggestion to improve the journey, it is possible to take a jeep from Pokhara to the trekking start point (and vice versa) it could be better for the state of the road, also if are needed some dollars more.
Thanks again and I will highly recommend this company and guide to ishower.
Excellent
It was my first trekking tour experience and even if at the beginning of the first day it seemed to be a mission impossible for me, thanks to our special guide Ishwor, everything went great!!!
Ishwor has a big experience in Poon Hill Trekking and he's a really kind and professional guy; he takes care of us for every request.
NEPAL: Never Ending Peace And Love
Nepal is a great place to visit at least once in a lifetime!
Most people there are friendly, kind and helpful. The terrain is diversely different from the Southern National Forest of Chitwan National Park to the valley and river along the way from Chitwan to Pokhara and of course, to the mountain ranges in the North. And so is the diversity of the weather in the mountain area, it could be bright & sunny in the morning turning into the overcast, dark clouds, rain, heavy rain, and then hail storm in the mountains. We were blessed to only have a relatively light and short taste of hail storms in 2 of the late afternoons. This is also the interesting part to experience quite the extremes all within the same day.
We also love seeing the different trees, flowers, insects, animals, kids, rock sediments, …Besides enjoying the nature there, we had also visited several World Heritage Sites and were even in time to experience the Holi Festival. There were also opportunities to visit orphanages and meet interesting people from around the world along the way.
We were grateful to have great guides arranged for our journeys. We had a young but knowledgeable and wise tour guide in Chitwan to show us around patiently and took us to bird watching early in the morning. Our trekking guide, Mr. Puru Thapaliya, was also a wonderful and experienced trekker, he was even kind enough to cook for us lest letting us starve. Without him, I wouldn't be able to reach Poonhill.
For one of a kind experience, thanks again!
NEPAL:
Never
Ending
Peace
And
Love
Outstanding guide!
Puru was a fantastic guide! Knowledgeable, friendly, and extremely helpful. He had lots of good ideas but was also flexible to meet our needs. He even went above and beyond to arrange additional travel for us. Anyone would be lucky to have him as a guide while trekking.
Package Summary
Ghorepani Poon Hill Trek Facts 
Trip Duration: 8 days
Walking days: 4 days
Lowest altitude: Pokhara (800m)
Highest altitude: Poonhill altitude 3,210 m (10,530 ft)
Starting/ Ending Point: Pokhara
Difficulty: Easy to Moderate
Permit: ACAP and TIMS card
Accommodation: Tea house (local guest house)
Poonhill Trek cost: $650
Group size: 1 to 30
Walking hours: 6-7 hours/ per day
Poonhill trek distance: 64 km
Ghorepani Poon Hill Trek Highlight
The mesmerizing sunrise view above Poonhill with the Panorama of many world's tallest mountain
Stunning natural beauty was witnessed on the trail- waterfalls, rivers, hills, forests, and animals
A cultural insight into the life of mountain people over Ghandruk village
Exciting sightseeing around Kathmandu and Pokhara.
Easy mountain trekking experience with some luxurious accommodations even in the remote villages
Views of The Annapurna and Dhaulagiri Himalayas range.
Walkthrough Rhododendron, Oak, Pine, and Bamboo forests.
Enjoy the hospitality of the major Gurung and Magar people.
We Offer Group Discount
| No. of Persons | Price per Person |
| --- | --- |
| 1 | US$ 680 |
| 2 | US$ 630 |
| 3 - 5 | US$ 580 |
| 5- 10 | US$ 550 |
We are your ultimate adventure partner.
MyEverestTrip is a reliable, Eco-friendly, and experienced tour company in Nepal – so if you're looking for the ultimate  Himalayan adventure, you've come to the right place. Our seasoned guides offer mountain trekking and peak climbing across Nepal, Bhutan, and Tibet – as well as a myriad of jungle safaris, sightseeing, bungee jumping, cycling, and paragliding packages. So to learn more about us click below and choose us as your ultimate adventure partner! Learn More About Us
Why Book With Us
70% Repeat Customers
Guaranteed Departures
Team of destinations Experts
Competitive Prices
99% Success Rate
Places of attractions, travel tips, news and more.Recent From Our Blog
Once you've done the Everest base camp trek, the next most popular trek in the world is the Annapurna trek in Nepal. A goddess in Hindu mythology, "Ma Annapurna," whose name means "full of grains" or "giver of sustenance," is said to have given the peak its current name. The Annapurna Base Camp Trek is…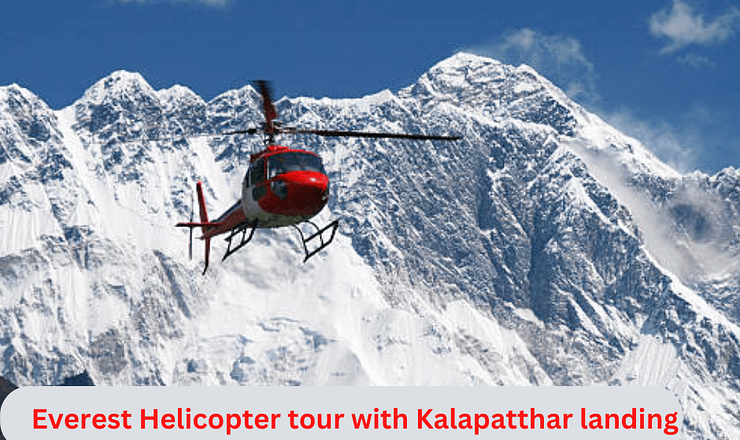 Are you dreaming of Everest Helicopter Tour With Landing at Kalapathar to see Mount Everest? If yes, a Helicopter tour to Everest is the best option. The Everest Base Camp Helicopter Tour with Landing at Kalapathar is the most popular helicopter ride in Nepal. The helicopter tour is a single-day package starting from Kathmandu airport…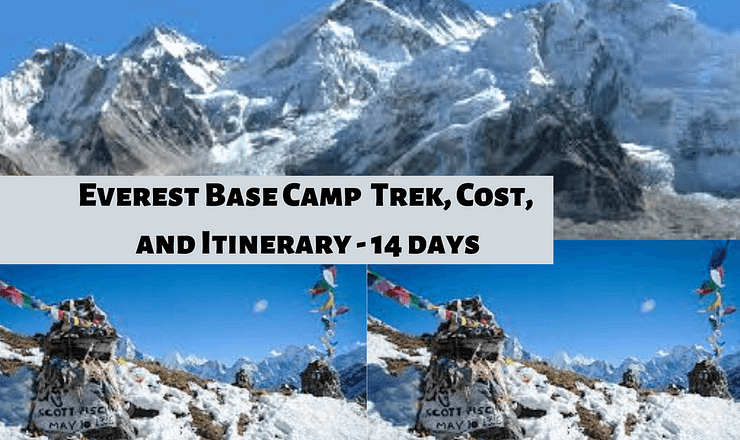 Everest Base Camp Trek Overview The Everest Base Camp trek journey is a top-tier adventure since it leads you to the base of the world's tallest mountain, Everest (8,848.68 m/29,029ft). Traveling through stunning high-altitude landscapes, high-altitude wildlife, traditional Sherpa culture, Buddhist monasteries, and snow-capped mountains, this tour will offer you a natural thrill at an…